Visitors often ask which are the cheapest Greek islands to visit. In this article, you will find ten cheap Greek islands where you can have an affordable island holiday in 2023.
The Best Greek islands for budget travellers
Many people dream of visiting Greece and travelling to the Greek islands, but are put off by the costs.
Granted, villas and boutique hotels in places like Mykonos and Santorini can cost several hundred euro per night. In addition, upscale restaurants and bars on those islands can be very pricey.
But that's only one side of Greece. There's 117 other inhabited Greek islands to choose from, and thankfully they are not all expensive.
(Even Santorini can be affordable if you adjust your expectations). Many islands in Greece are very affordable, and they are ideal for people on a tighter budget.
If all you're doing is hanging around on the beach all day, how much money do you really need anyway?
My definition of a cheap Greek island
Having lived in Greece since 2015, I've visited many islands, both in the Aegean and the Ionian Sea. I usually avoid travelling in late July and August – these are the busiest and most expensive months, known as the peak season.
When I say "cheap Greek island", I am referring to an island where you can find a basic but good-quality, affordable hotel room or apartment, and where you can find reasonably priced restaurants.
In my experience travelling around Greece, a simple budget double room on the cheapest Greek islands can cost between 30 and 40 euro a night. Forget AirBnb – just use Booking as it's far cheaper (often for the same properties!) and has way more choice.
A local meal at a taverna for two people will usually cost around between 25 and 40 euro, depending on how much you eat and drink. If you sit at a grill house, you can comfortably have a souvlaki or gyros meal for under 10 euro per person.
Here's our budget for a month travelling around the Greek islands: Is Greece expensive?
Where are the cheapest Greek islands to visit?
I've got a slightly contrarian view about the best Greek islands to visit if you're on a budget. Many people seem to think that the smaller, more remote islands are the cheapest.
While this may be true to some extent, I've found that the largest islands in Greece like Crete and Rhodes offer much better value for your money.
For example, restaurant and accommodation prices on bigger Greek islands tend to be lower than on smaller islands. There's more competition, and so places keep their prices reasonable – unlike somewhere like Mykonos!
Plus, you may be able to get there on a direct international flight, which will save you the extra costs of Greek island ferries.
(If you do need to travel by ferry, I recommend Ferryhopper as a place to buy your ferry tickets online.)
In addition to your initial travel flights or ferries, accommodation, and food, you'll also need to factor in how to get around. Again, the bigger Greek islands are more budget friendly in this regard with better public transport and more competitive vehicle hire.
Discover Cars is where you can find great deals on car rentals on the islands of Greece. You'll also find plenty of local rental agencies offering cars, ATVs and scooters.
So if you're looking to save money on your holiday, I would recommend avoiding the smaller, more remote islands and instead choosing one of the larger ones. You'll get a lot more for your money!
Visit Greece 2023 – Cheapest Greek islands
Here are ten of the cheapest Greek islands to visit in 2023.
Crete
Rhodes
Kos
Naxos
Samos
Chios
Lesvos
Zakynthos
Evia
Aegina
Let's take a closer look at these Greek islands to visit on a budget.
1. Crete – The best Greek island for low prices
Crete is Greece's largest island. It's also one of the most beautiful, diverse and cheapest islands in Greece. It is famous for the Palace of Knossos, the iconic beaches of Elafonisi and Balos, and the fantastic local cuisine.
Crete has some of the best beaches in the Mediterranean Sea. It literally has hundreds of beaches to choose from, so you can easily enjoy a day out without breaking the bank.
Other low-budget activities include strolling around the picturesque towns and villages, and hiking in the various gorges, like the Samaria Gorge.
Accommodation and food in many areas in Crete are very affordable. You can find rooms for as little as 20-25 euro per night, even in peak season. Many restaurants serve up traditional dishes for under 10 euro per person.
Here is some more information about Crete.
How to get to Crete
Crete is located to the south of mainland Greece, and has two international airports, Heraklion and Chania.
There are dozens of flights from all around Europe in spring, summer and autumn. There are also several domestic flights per day from the Athens international airport.
Alternatively, you can take the night ferry from Piraeus port in Athens. One-way ticket prices usually start at 39 euro.
Read: How to get from Athens to Crete
2. Rhodes – The island of the Knights
Rhodes is the largest of the Dodecanese islands in the Aegean Sea. Its main attraction is the incredible medieval castle town of Rhodes, a UNESCO World Heritage Site. Other attractions include the ancient site of Lindos, the Butterfly valley and the numerous white sand beaches.
While Rhodes has a reputation of a party island, you will only find this in certain resorts like the famous Faliraki. When the night falls, the small town comes alive with loud bars and clubs.
Related: How to get from Rhodes Airport to Faliraki
Rest assured that Rhodes has something for every traveler – couples, families, history addicts, surfers, and people who just want to take it easy and relax on the beach.
High season prices for double rooms in Rhodes start at 25-30 euro per night, and they are cheaper during the shoulder season. Eating out is also very affordable, and you will find many options for Greek food and international cuisine.
How to get to Rhodes
Rhodes is south-east of the Greek mainland, close to the Turkish coast. The best way to get to Rhodes is by direct flight from a European city, or from Athens.
The ferry from Piraeus takes about 16-18 hours to reach the beautiful island, and prices start at 57 euro.
3. Kos – The birthplace of Hippocrates
Kos is another of the Dodecanese islands, and is located close to Rhodes. While it's one of the popular islands with party-goers, it's ideal for everyone due to its fantastic sandy beaches and nice traditional villages.
Hippocrates, the great ancient Greek physician, also known as the "father of medicine", was born in Kos. Today, you can see the so-called "tree of Hippocrates", his former teaching place.
Most travelers also visit the Asklepion, the important healing centre on the island, the Ancient Agora of Kos and the Casa Romana, an impressive Roman mansion.
Kos is one of the most affordable islands in Greece, with rooms starting at around 30 euro / night for August. If you visit in the shoulder season, and you will find some real bargains.
How to get to Kos
There are direct flights from several European cities to Kos. Alternatively, you can take a short domestic flight from Athens.
The ferry from Piraeus port to Kos takes around 12-14 hours, and costs 49 euro.
Related: Where is Kos island?
4. Naxos – Authentic villages and amazing beaches
Naxos is the largest of the Cyclades islands, to the east of the Greek mainland. It offers a great mix of adventure, history and relaxation, and some of the best sandy beaches in the Aegean Sea.
The large, mountainous island is well known for its beautiful main town, Chora. There are dozens of white-washed houses with colourful doors, built inside the walls of a Venetian castle. The famous Portara of Naxos just outside the town is a fantastic place to watch the sunset.
Explore the west coast of Naxos, south of Chora, and you will find a series of beautiful beaches with blue waters and white sand. Here, you can spend a few hours soaking up the sun.
But that's not all – Naxos has several traditional mountain villages, wild hiking trails, and many ancient ruins scattered all around. It's one of the best islands in the Cyclades for exploration and authentic experiences.
Due to the abundance of hotels and rooms, Naxos is one of the most affordable Greek islands in the Cyclades. Hotel rooms during the peak season start at 45-50 euro, while prices are much lower during June and September.
Here are some more things to do in Naxos Greece.
How to get to Naxos
Naxos has a small domestic airport, where you can get on a short flight from the Athens International Airport.
There are also several daily ferries from Piraeus port in Athens. Ferry ticket prices start at 32 euro.
Read: How to get from Athens to Naxos
5. Lesvos
Lesvos is the largest of the North Aegean islands. It's located in the Aegean Sea, very close to Ayvalik town on the Turkish coast.
The island is known for its Petrified Forest, a UNESCO World Heritage Site. Visitors will also find beautiful, authentic villages, stunning natural beaches, olive groves, pine tree forests, and plenty of natural spas.
The main town on Lesvos is Mytilene. It's a lively town with many cafes, restaurants and fish tavernas, and an overall great atmosphere.
One of the main highlights in Mytilene is the impressive castle, where you can see elements of Byzantine, Venetian and Ottoman architecture. This is not to be confused with the castle of Molyvos (or Mythimna), on the west side of the island.
Maybe the number one attraction in Lesvos is the Geopark, which is home to numerous fossilized trees. They were formed 15 – 20 million years ago, as a result of volcanic activity. The Natural History Museum in Sigri explains in detail how the Aegean Sea was created.
Lesvos is famous for its production of olive oil and ouzo, a strong alcoholic drink. Don't miss a visit to the unique ouzo museum!
Even in high season, you can get budget accommodation in Lesvos starting at 20-25 euro per night. As much of the produce is local, meals tend to be cheaper than in other Greek islands.
Overall, Lesvos is one of the best Greek islands for budget travellers, and not only.
How to get to Lesvos
There are a few flights daily to Lesvos from the Athens International Airport. The flight takes just over an hour.
Alternatively, you can take a 12-hour ferry journey from Piraeus, with one-way ticket prices starting at 35 euro.
6. Chios
Chios is the second largest of the North Aegean islands, and one of the least known to people from abroad. It's located south of Lesvos, close to Cesme town on the Turkish coast.
The beautiful island is home to some of the best-preserved medieval villages and castles in the whole of Greece. Visitors will enjoy the incredible architecture and unique character of the island.
Travelling to Chios will also reward you with stunning nature, where you can see over 1,200 species of plants and trees. These include the endemic mastiha trees, that are unique to Chios island. You can find out more about them at the Mastiha Museum in Chios town.
Visitors who like swimming will love the dozens of beautiful, unspoiled beaches. Many of them are easily accessible by road, while others can only be reached by sea or a hike.
Chios town, the capital, is a lively town with narrow streets, and plenty of cafes and restaurants. Apart from the imposing medieval castle, visitors will enjoy the diverse architecture, with Venetian, Ottoman and neoclassical elements.
Accommodation in peak season starts at 30-35 euro. If you go earlier in the summer, you can find bargains for well under 30 euro a night.
How to get to Chios
The quickest way to get to Chios is on a flight from the Athens Airport. The flight takes just over an hour.
Ferries from Piraeus depart for Chios, and then continue to Lesvos. The ferry takes around 9 hours, and the cheapest tickets cost about 31 euro.
7. Samos – A lesser known Greek island in the Aegean Sea
Samos is another one of the islands in the North Aegean Sea. It's a mountainous island covered in pine forests, with many pretty villages and a wild coastline. It's among the most beautiful islands on a budget in Greece for a relaxing getaway.
Samos is known as the birthplace of Pythagoras and Epicurus, two of the most important Greek philosophers. There is plenty to do if you are interested in history and archaeology.
Start by visiting the Heraion, the ancient site of Thermae, and the Castle at Pythagoreion. Then explore the island's archaeological, folklore and ecclesiastical museums, and don't miss the Monastery of Megali Panagia.
Samos is a paradise for nature lovers. You will enjoy hiking on the Ambelos and Kerkis mountains, and swimming on the numerous great beaches. If you are here in the off-season, you should also visit the wetland of Alyki, which attracts thousands of migratory birds.
Even during the high season, you can find double rooms in Samos at around 30 euro per night. Prices are even lower in June and September, and you often get free cancellation.
How to get to Samos
The easiest way to get to Samos is by an hour-long flight from Athens.
Ferries from Piraeus port in Athens take 8-9 hours to reach Samos. Ticket prices start from 46 euro.
8. Zakynthos – Beautiful beaches and lively nightlife
Zakynthos, also known as Zante, is one of the Ionian islands in Greece. It's located in the Ionian Sea, to the west of mainland Greece, south of Kefalonia and Ithaca.
The island is famous for Navagio beach, one of the most photographed beaches in Greece. The iconic shipwreck, after which the beach is named, attracts thousands of visitors every year.
Visitors, especially families, will love the National Marine park, where they can see sea turtles and other creatures living in the Mediterranean Sea. The island also has many sea caves where you can get to on a boat tour.
The Marine park is located on Laganas beach, an area which also happens to be famous for its wild nightlife. But don't worry – not all resorts in Zakynthos fit that description.
You can find rooms in Zakynthos for the summer months for under 30-35 euro a night, though you should expect to pay around 40 euro in August for a budget room.
How to get to Zakynthos
During summer, there are direct flights to Zakynthos from several European cities. If you are in Athens already, you can take a short domestic flight.
As Zakynthos is off Greece's west coast, there are no ferries from Piraeus. If you prefer to avoid flying, you can catch a bus from Athens. Your trip will include a ferry ride from Kyllini port in the Peloponnese.
9. Evia
Evia is a large island just an hour east of Athens. It's connected to mainland Greece through a bridge, and is accessible by road as well as by ferry.
Due to its location, Evia is popular with Athenians, especially on weekends, but given its size it never gets too crowded.
One of the main attractions in Evia are the wonderful beaches on the east side of the island. Note that they are mostly unsuitable when the meltemi winds are blowing.
Chalkida is Evia's capital, and an easy day trip from Athens. Many people visit Edipsos town on the north, and enjoy its natural spas. Other popular resort towns include Eretria and Karystos, on the south.
Sadly, the massive fires in summer 2021 have destroyed part of the incredible pine tree forest, on the north side of the island.
You will find very affordable accommodation in many areas in Evia, starting at 20-25 euro per night, even during the high season. Many of the local tavernas will only cost you about 10-15 euro per person.
How to get to Evia
You can get to several places in Evia either by bus from Athens on the Oropos to Eretria ferry route, or by boat from Rafina port. The best way to explore this large island is in a rental car.
10. Aegina – Only an hour away from Athens
Aegina, one of the Saronic islands, is one of the best low budget destinations close to Athens.
The small island is known for the ancient temple of Aphaia, dating from 500-490 BC. Another highlight is the monastery of Agios Nektarios, one of the biggest and most impressive monasteries in Greece.
Most of the beaches in Aegina have facilities, like beach bars and umbrellas. You can also take a small boat from Perdika port and head to Moni, an uninhabited islet nearby.
Even in August, you can find rooms in Aegina for under 40 euro a night. This is a bargain, especially when compared to nearby islands like Spetses and Hydra.
How to get to Aegina
The only way to get to Aegina is by ferry from Piraeus. Depending on the type of ferry, travel time is about an hour. Ferry tickets start from around 20 euro round trip.
There are several daily connections from Piraeus, and also connections with other Saronic islands.
Travel tips for island hopping Greece on a budget
Most visitors want to visit two or more islands – but they soon realize that the costs add up. Here are a few tips that will help you visit the Greek islands on a budget:
Visit islands close to each other, or at least in the same island group
Take the slower ferries (e.g. Blue Star), as tickets are much cheaper than the fast ferries
Take night ferries, and save on accommodation cost
Check if you qualify for a discount (e.g. if you are a student or have young children)
Use the local buses instead of car rentals (however, you can see more with your own transportation)
Rent a room with a kitchenette, and cook your own food
Avoid tour operators, and plan your Greece trip on your own
Skip the most popular destinations, such as Santorini and Mykonos, and visit other islands instead
Visit in shoulder season, when room prices are significantly cheaper – this is perhaps my most important travel tip!
Wondering where to get ferry tickets in Greece? I recommend Ferryhopper.
Frequently asked questions about the Greek islands
Here are a few questions my readers have asked me in the past when looking for travel tips on coming to Greece on a tight budget:
Which Greek island is cheapest?
When it comes to accommodation and food, some of the cheapest islands in Greece are Crete, Kos, Rhodes, Lesvos, Chios and Evia.
How much money should I bring to Greece?
If you are on a budget, you can enjoy your vacation with no more than 50 euro per person per day, based on two people sharing. Travelling in the shoulder season and going to the larger islands, where there is more choice for accommodation, will help bring the costs down.
Is Santorini cheaper than Mykonos?
On the whole, Santorini is cheaper than Mykonos. You can find affordable accommodation on the east side of the island, even in peak season. However, the two islands are among the most expensive destinations in Greece.
Is Milos a cheap island?
Milos and the rest of the Western Cyclades (Kythnos, Serifos, Sifnos and Kimolos, a true hidden gem) are not among the cheapest Greek islands in terms of accommodation. You will find lower prices if you travel in April / May or late September / October.
Is Greece affordable?
Greece is an incredibly affordable destination for travelers. With a wide range of accommodation options, from budget-friendly hostels to luxury resorts, you can find something that fits your budget. The biggest expense of a trip to Greece is likely to be the cost of flying from your home country.
Also read: Money and ATMs in Greece
---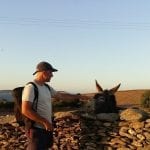 –
Dave Briggs
Dave is a
travel writer
originally from the UK, and now living in Greece. As well as writing this travel blog post about the best Greek islands to visit on a budget, he's also written many more travel blogs about popular destinations in Greece. Follow Dave on social media for travel inspiration from Greece and around the world: