I've compiled this list of essential travel resources based on 25 years of self-funded travel adventures around the world. Travel further for longer by using the travel products and services below!
Best Travel Resources, Products, and Services
After 25 years of backpacking and cycling around the world on a budget, there's products and services I come to rely on when I travel.
These cover the entire spectrum of a trip, including research, travel planning, accommodation, tours and more.
There's also a few tools and services I have used over the last 15 years of travel blogging that help keep Dave's Travel Pages up and running.
Good hosting and social media scheduling software are among the most important, but there are also many others.
I've listed all these companies, products and services on this travel resources page so you too can benefit from using them. Remember, each one of these I use myself, and am more than happy to keep using.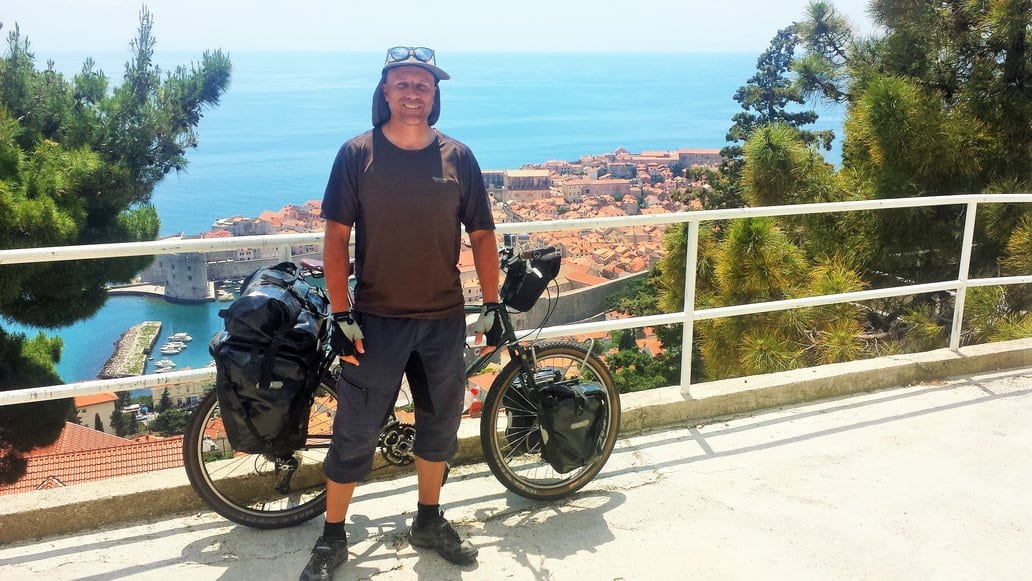 Travel Researching Resources
I sometimes call the research phase of travel planning the 'dreaming' phase. This is normally, because I start by imagining all the places I want to go, and the things to do there!
Eventually I settle on a place or places I want to travel to, and then start researching based on my reason for visiting. For example, I backpacked around Central and South America in 2005 in order to visit archaeological sites. In 2010, I was back in the region again, but this time on a bicycle cycling from Alaska to Argentina.
Both trips required different types of planning, because they had different aims. This list of travel research resources covers my 'go to' places when it comes to planning a trip.
Pinterest
This fun and easy to use website and app enable you to pin images onto different boards you create. Think of it as creating a vision board, but it's more than that, because each image can link back to a blog post or travel article.
If you've never used it before, give it a try. You can check out my own pinterest boards here: Dave's Travel Pages on Pinterest.
Maps
Once I've worked out where I'm going, I like to stick a map of the area up on a wall. This means that it is always present in my sight and therefore my mind. It helps me to remember where places are a little easier, and is a good way to plan out itineraries.
Give it a go yourself, and you'll see what I mean!
Guide Books
I went through a phase of not using guide books, but I'm back to using them again in some circumstances. They are just a lot more real to hold in your hands and absorb the information than a Kindle (which I also own by the way).
Sure, some of the information can be a little out-dated, but there's always one or two little gems in them you find out about. We would probably never have visited Con Dao in Vietnam or Pulau Kapas in Malaysia had we not read about them in a guidebook.
Shop for guidebooks here: Amazon
Travel Blogs
I also love checking out other travel blogs about places I'm going to visit. I've heard that Dave's Travel Pages is a good place to start!
Transport Resources
Once I've worked out where I'm going, the next step is to work out how I'm going to get there! This is actually a lot easier when I'm on one of my bike tours. I don't need to worry about finding flights, trains or any of that! However, I don't always travel by bicycle, so do have to look at finding airfares, ferries, and buses from time to time.
This section includes the resources I use to both arrive at a destination, and to get around. Each one of these I've found invaluable over the years.
Related: Layover Flight Rules
Skyscanner
I've always found Skyscanner to be a good starting point when looking for flights. To be honest, once I've found the flights on Skyscanner, I then check out the airlines own website to see if there are any cheaper flights than those shown. Often that is the case.
Check out their website here: Skyscanner
Google Flights
Google flights is also a pretty good tool for finding out flights between destinations. It's another good starting point when looking for transport, and more than once, I've found a budget flight in Asia that cut down on bus times by 8 hours or more.
More here: Google Flights
Ryanair
They are the Marmite of air travel in Europe. Either you love them or hate them! Personally, I have never had any issues with Ryanair, and have used them for over 20 years.
A lot of people complain that they are ruthless in their business practice. And maybe they are. But for me, when I was travelling on their 10 pound flights from the UK as a minimum wage worker, it was a way to see Europe that was previously reserved for people with a lot more money than I had.
The 10 pound flights might be an endangered species now, but you can still find interesting places to travel in Europe at cheap prices.
Check out their website here: Ryanair.
Ferryhopper
Since moving to Greece in 2014, I've had the opportunity to travel to many of the Greek islands. It's not been easy though, because getting good information about Greek ferries in English can be difficult.
Thankfully, I discovered the Ferryhopper site, which is not only the best site for Greek ferries, but one of the best travel transportation sites in the world. At least I think so!
Check out their website here: Ferryhopper.
Welcome Taxis
Whilst for the most part I prefer to take public transport when landing at airports, sometimes a taxi makes the most sense. One service I recommend, (especially if you are traveling to Greece!), is Welcome taxis. You can pre-book a taxi online, and a driver will be waiting for you at the airport when you arrive.
Find our more here: Welcome taxis.
Google Maps
We take Google Maps for granted now, but even so, many people don't use it to the full potential. It's far more than a navigation aid – you can look at a street view to help you find a hotel, see places to eat in your local area, and work out public transport routes.
Look here: Google Maps
Accommodation Websites
Next up is how to find accommodation when traveling. There's a couple of online companies I use both as a way of comparing prices and double checking reviews.
By the way, I'm probably the only travel blogger in the world never to have used AirBnB. As a result, you won't find them listed here!
Booking
I pretty much only use Booking these days, simply because their site is easy to use and seems to have the best prices for the most part. There's also different tiers depending on how many bookings you've made, and the so called Genius Level means you get better discounts and deals. So I can officially say I am a Genius… according to Booking in any case.
Search for hotel here: Booking.
Tripadvisor
I always like to double check reviews for hotels and restaurants, and find that Tripadvisor comes in useful for that. I'm fully aware that it's very possible to manipulate their review system, which is why I use it as a secondary source when it comes to reviews.
Check their website here: Tripadvisor
Warmshowers
A curious sounding name right?! Well, for long distance cyclists on bike tours around the world, this is a hospitality site second to none. Like-minded cyclists put themselves forward as hosts, and cyclists passing through get in contact to see if it's possible to stay the night. I met some lovely people this way when cycling from Alaska to Argentina. No backpackers allowed – Cyclists only!
More here: Warmshowers
Sleeping in Airports
Another quirky website, but also a good one! I think this site started around the same time as mine, and it's gotten better and better over time. If you have a long layover in an airport, plan on sleeping at the airport to save on hotel expenses, or even want a WiFi code, this is the site to check out!
Visit here: Sleeping in airports
Travel Money
Are you old enough to remember back to the days of travelers cheques? If you don't, trust me, you've not really missed anything! It's a lot easier to get hold of your money when you travel nowadays, with ATMs virtually everywhere in the world.
The only things is, you need to pick and choose how you get hold of your money quite carefully in order to avoid exchange fee rip offs and transaction fees. Here's three cards I use to get around those fees.
Halifax Clarity Card
There might be similar cards available in your own country, but in the UK the Halifax Clarity Credit Card is still the best travel card. It gives a perfect exchange rate with no hidden fees on purchases and cash withdrawals. The only thing is, you need to pay off the balance immediately on cash withdrawals to avoid interest charges. Worth looking into if you're from the UK.
Revolut
It's about time that someone gave PayPal and traditional banks a run for their money, so step forward Revolut. Part pre-paid cash card, and part app based account management, this is perfect for dealing in multiple currencies. Not only do I use Revolut for spending and withdrawing money overseas, but I also get paid into my online business via Revolut. I've literally avoided hundreds of dollars in exchange fees with Revolut!
Check out my Revolut Card Review
Transferwise
In a similar fashion to Revolut, Transferwise is another online banking app and cash card. Their fees are marginally more expensive than Revolut, but the exchange rates are also excellent. We used both Revolut and Transferwise when traveling around Asia.
More here: Transferwise
Also read: How to hide money when traveling – Tips and Travel Hacks
Tour Companies
Whilst I generally prefer to explore destinations at my own pace, I do choose to take an organised tour from time to time. This is particularly the case if a schedule would be too much of a hassle to organise myself, or a guide would be able to give some insights.
When looking for tours, I might consider locally run tours, or tours recommended by other travelers. I also use the following sites to book tours and check out reviews.
Get Your Guide
My number one choice for booking tours when traveling. This all comes down to how easy the site is to use, and how easy the booking process is. Many other tour websites seem very clunky and cluttered by comparison, If you haven't already, give them a go!
Find out more here – Get Your Guide
Travel Blogging Resources
This travel blog has been online since 2005, and during that time, I've used dozens of different products to keep it running. I now have a 'core kit' of services and online apps I use on a regular basis. These travel blogging resources are listed below.
1and1 Webhosting
When if first bought my domain name and set my site up, I opted for 1and1. 15 years or so later, and I'm still with them which probably demonstrates how good I find them to be more than my words can. They've got good customer service, which has gotten even better over the years, and have different packages you can upgrade to and downgrade from as needed.
Check out their website here: 1and1
Tailwind
This is one of the main social media scheduling tools I use for Pinterest. It's got some especially useful functions like the ability to set schedules based on when my audience is most active, scheduling pins way into the future, and collaborating with other bloggers via its Tribe function.
It's a paid tool, but worth every penny. You can also upgrade for additional functions that suit you.
Check out their website and try it free for a month through this link: Tailwind.
FPTraffic
This is a social media queuing tool for Facebook that most bloggers haven't heard of. Whilst it's pointless having it for one Facebook page, if you run many (like I do indifferent niches), FPTraffic is worth its weight in gold. You can queue posts up literally months in advance, set it, and forget it.
Check out their website here: FPTraffic.com
Buffer
This is another tool I use to queue posts for social media channels. I mainly use it for Twitter and Instagram accounts, and I pay for a version that allows me to have 10 social media accounts connected. It's a really simple tool to use, and I think the most suitable for anyone starting out in blogging.
Check out their website here: Buffer.com
Canva
Designing simple graphic for social media and Pinterest has become an integral part of blogging over the last few years. I'm never going to be the world's best graphic designer, so I need to use a quick and simple drag and drop style image creator and editor.
Step forward Canva! I've been using it for the last few years, and it's perfect for my needs. There is a free and a pro version available. I personally pay for the pro version, as I use some of the features for my T-Shirt designs (a side-hustle!).
Check out their website here: Canva.com
Keysearch
If there is one tool all bloggers who want to take their craft seriously should use, it's a good keyword research tool. I've used many different types over the years, sometimes abandoning them and coming back to them in a couple of years. Truth be told, in the early days I wasn't really using the tool correctly.
Fast forward a few years, and good keyword research finally 'clicked' with me when using Keysearch. I now use it as an essential part of my blog writing process.
Essential Travel Resources
And that's some, but not all, of the travel resources I use when planning my trips! I hope you find some of them useful. Feel free to share the image below to one of your Pinterest boards…. now that I explained to you what Pinterest is all about!
You might also want to read: How to travel in Greece cheaply