The most popular Greek islands to visit after Mykonos include Santorini, Paros, Naxos and Milos. Here's how to get to the islands near Mykonos in Greece.
Mykonos Island Hopping
As you might guess, Santorini is a popular Greek island to go after Mykonos due to it being the other 'big name' destination of the Cyclades islands in Greece.
What few people realise though, is that Santorini isn't particularly close to Mykonos, and you'd be missing out on a lot of incredible islands along the way!
The aim of this guide, is to show which Greek islands near Mykonos might also appeal to you, and how to get to them.
Toward the end of the post, I've got more dedicated articles on how to get from Mykonos to other islands in the Cyclades. That includes Santorini of course!
Closest Islands Near Mykonos
A quick word before we start. As you'll see from the map below, you may find the Greek island of Mykonos spelled in a number of different ways.
The most popular is Mykonos, but for some reason, you may find it on Google maps as Mikonos.
As you'll also see from the map, Santorini doesn't even appear there! It's a little further south, so it didn't fit on. But it does illustrate the point that there are many other islands closer to Mykonos.
In fact, the nearest inhabited island to Mykonos is Tinos. This is a little visited island by foreign tourists, although popular with Greeks, especially those who make a religious pilgrimage there.
The island over to the left is Siros (most common spelling is Syros), and this is the main capital and administrative centre of the Cyclades islands.
Islands to go after Mykonos
It's always going to be a tough choice deciding which island to visit next after Mykonos. Even more so if you are traveling in Greece with limited time.
You should also note that while there is talk of an airline starting flights with a small 12 seater plane between Cyclades islands, you can only realistically travel between Mykonos and other Greek islands by ferry.
You can check ferry timetables and book tickets online at: Ferryscanner
Here's my top 5 suggestions of which islands near Mykonos to visit after, not including Santorini:
Naxos Island
The island of Naxos is in a different category than Mykonos. You don't visit Naxos for the clubbing scene, but you will find excellent beaches and amazing food. The photogenic Portara of Naxos makes for one of the best sunset spots in Greece.
As the largest of the islands in the Cyclades, Naxos has a lot more to offer than Mykonos. There's more authentic villages, hiking trails, culture and history. It's also a lot more affordable than Mykonos!
Naxos is a good choice for families as well as anyone who likes the idea of hiring a car and exploring an island at their own pace. There's plenty to see and do in Naxos, and you could easily spend a week on the island and only barely scratch its surface.
Read more here: Things to do in Naxos
---
Tinos Island
It's probably best to visit Tinos after Mykonos only if you are heading back to Athens. Otherwise, you may end up backtracking in order to reach many of the other Cycladic islands.
Tinos is quite a remarkable island though, and certainly worth the effort in reaching.
To Greeks, Tinos is most famous for the Church of Panagia Evangelistria. This is an important pilgrimage destination for Orthodox Greeks, and when visiting on a pilgrimage people approach the church up a hill on their knees.
For more regular tourists though, Tinos island is full of surprises and all the things that make a Cyclades island a wonderful destination. The landscape is epic, especially the boulder strewn countryside around Volax. The villages are beautiful, and the beaches very relaxing.
I enjoyed Tinos so much, I co-wrote a travel guide book for it. You can find it on Amazon for Kindle and paperback here: Tinos and Andros islands in Greece.
Ferry Information: How to get from Mykonos to Tinos
---
Paros and Antiparos
I suppose you could say I've cheated here by pairing two islands together! Paros and Antiparos are so close though, that the local ferry between the two takes just 7 minutes. Besides, it would be a waste to visit Paros and then not got to Antiparos.
Paros has a healthy rivalry with Naxos as they are quite similar in many respects. There's quite a large expat community in Paros, and English is more widely spoken to a higher standard making communication a little easier.
As you might expect, it has great beaches and food, as well as some nightlife for those that like a few late night drinks. Fun fact: Tom Hanks has a villa on Antiparos and is now a Greek citizen!
Ferry Information: How to get from Mykonos to Paros
---
Milos
It's been an up and coming destination for a few years now, but Milos still feels like a refreshing change when visiting directly after Mykonos.
Famed for its wonderous geological landscapes, there are over 80 beaches in Milos, each one different from the last.
Sarakiniko beach and Kleftiko Beach might be the most well known, but there are sandy beaches all over the island you can sometimes find yourself alone on, with just the sound of the waves for company.
There's no party scene in Milos, instead you can expect pleasant late night dining, a romantic atmosphere, and a sense of adventure as you head out on the dirt roads around the island on a quad bike.
More here: Milos island in Greece
Ferry information: How to get from Mykonos to Milos
---
Sikinos
This is by far the most under the radar Greek island in my list of islands near Mykonos you could visit afterwards. With a local population of just 300 people (on a good day!), it's a simple island where life is slow and easy.
If you feel the need to relax and unwind, pack a few books and head to Sikinos. You've a choice of three nice beaches, some lovely hiking trails, and a few places to eat and drink at night.
I feel somewhat torn mentioning it at all, but I somehow doubt that me writing about it is going to lead to mass tourism. That's just not what the island is about at all.
More here: Best things to do in Sikinos island
Ferry Information: How to get from Mykonos to Sikinos
---
Santorini
As mentioned previously, Santorini isn't particularly close to Mykonos, but it is a popular destination to visit either before or after.
In fact, first time visitors to Greece from the US often combine Athens – Mykonos – Santorini in to what I call the Classic 7 Day Itinerary in Greece.
Not a lot needs to be said about this amazing destination. Santorini is a famous Greek island known for its whitewashed buildings, blue domed churches, and incredible sunset spots.
Most people choose to travel from Mykonos to Santorini by ferry. In 2023, there is rumour of a small airline operating a flight between Mykonos and Santorini – watch this space!
If you want to go to Santorini after you visit Mykonos, you'll find 4 or 5 ferries a day in the peak season. The quickest ferry ride is around 1 hour and 55 minutes.
More here: How to get from Mykonos to Santorini
---
Delos Island
Finally, a quick word about the island of Delos. You can visit Delos on a day trip from Mykonos, but unlike the other Cyclades islands mentioned here, you can not stay the night.
Delos is in fact one big archaeological site, and played an important role in the ancient Greek world. It was considered to be the birthplace of Apollo, and was a sacred island. Over time, Delos also became an important trading center.
Today, Delos is a UNESCO World Heritage Site and definitely worth spending time at if you have a few days in Mykonos. In addition to the archaeological sites, there is also a small archaeological museum which is worth spending 10 minutes or so in.
---
Island Hopping From Mykonos
These aren't the only islands you can visit. There's 24 inhabited islands in the Cyclades chain alone.
Here's my guides on how to get from Mykonos to the other Greek islands in the Cyclades.
Mykonos Ferry Port
Ferries to and from destinations in the Cyclades island complex as well as to and from mainland Greece use Mykonos New Port. The new Mykonos port is located in Tourlos, just over 2 kilometers from Mykonos main town (sometimes referred to as Chora). Note that Mykonos Old Port is no longer in use.
There is public transport to and from the New Port to Mykonos Chora and there are also taxis available.
I would advise to aim to be at the port an hour before your ferry is due to depart, just to allow for any traffic problems you might encounter along the way.
Greek Island Travel Tips
Greek island hopping from Mykonos to other places in the Cyclades island group is quite straight forward, but I thought I'd share a few tips with you.
The first, is that I find it easier to both research and then book ferry tickets online using the Ferryhopper website. This means you can pre-arrange your travel tickets before you leave.
If you like to leave things more flexible, you can use a local travel agency in Mykonos Town. Just keep in mind that during peak season, it's not unusual for ferries to sell out, particularly on popular routes with only a few crossings per day.
Related: Cheapest Greek islands to visit
FAQ about Islands Close To Mykonos
These are a few of the most commonly asked questions people have when researching which islands to travel to near Mykonos in Greece:
What islands can you visit from Mykonos?
You can visit all of the islands in the Cyclades chain from Mykonos, as well as other Greek island destinations such as Crete. Some islands such as Naxos and Paros are closer to Mykonos than other islands, and the Mykonos Santorini journey takes 2 hours by ferry.
Is Santorini or Mykonos better?
Mykonos and Santorini are very different from one another, so it's a little like comparing apples to oranges. Mykonos has by far the better beaches, whereas the sunset views and architecture of Oia in Santorini are incomparable. Take a look here at my thoughts on Mykonos vs Santorini.
How many days do I need in Mykonos?
How long you spend in Mykonos really depends on what you want to get out of your trip. I'd suggest that 3 days in Mykonos is enough time to see all the main highlights and get a feel from the island. If your wallet is big enough though, you could spend all summer there if you like partying!
What is the best way to get around the Greek islands?
The best way for most people to travel between the Greek islands is to use the ferry network. There are nearly a dozen main ferry operators and many more smaller ones connecting the Greek islands with one another, as well as important ports such as Piraeus at Athens. I recommend Ferryhopper as a place to look for the latest timetables and ferry ticket prices.
Best Islands In Greece Near Mykonos
As you can see, there are many beautiful Greek islands near Mykonos that offer a variety of different experiences. Some of the best Greek islands close by include Naxos, Paros, Syros, and Tinos. Although Santorini isn't very close by, many people choose to visit Santorini as their next island after Mykonos if they haven't visited it before.
In my opinion, all the Greek islands near the Cyclades are amazing, so you can't really go wrong!
Do you have any questions about visiting an island near Mykonos. Would you like to know more about peak season travel in the summer months in Greece? Drop a comment below, and I'll get back to you!
---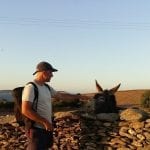 – Dave Briggs
Dave is a travel writer who's been living in and writing about Greece since 2015. He spends his time creating travel guides such as this one about the Greek islands near Mykonos so that other travelers can enjoy Greece as much as he does.
Follow Dave on social media for travel inspiration from Greece and beyond: