What is the ideal amount of time to spend in Mykonos? I feel that 3 days in Mykonos is about the perfect amount of time. Here's why.
Visiting Mykonos
Mykonos is an incredible Greek island with a lot to offer. The beaches are beautiful, the food is delicious, and there's plenty of nightlife too.
However, how many days do you need in Mykonos?
That depends on what you want to do while visiting Mykonos.
If you're looking for some relaxation in paradise or want to explore this historic place then 3 days might be enough time!
But if you're looking for a more adventurous trip with lots of day excursions and tours then we recommend 5-7 days at least!
How many days in Mykonos?
Three days in Mykonos is enough time to see the top attractions, important sites, and enjoy the unique island vibe. You'll easily be able to experience Little Venice at night, see a sunset by the windmills, visit Delos, explore Mykonos Town and soak up the sun on a few beaches in three days.
Of course, if you really want to get to know the island, then you can think about spending longer there.
Just keep in mind that Mykonos is one of the most expensive islands in Greece. Stays of a week or longer, especially in the peak months of July and August, can be rather expensive!
What to see in 1 day in Mykonos
What if you only have one day to see Mykonos? Normally, this is the position that cruise ship passengers find themselves in. Sure, it's not ideal, but even so you can squeeze a lot in during you day if you work hard enough!
Unless you are looking for a day off from sightseeing, you might as well remove beach visits from your itinerary. Instead, concentrate on the core attractions which might include:
Exploring Mykonos Town
Taking a half day trip to Delos
Enjoying Little Venice
Take a look at my guide here for a full one day itinerary for sightseeing in Mykonos.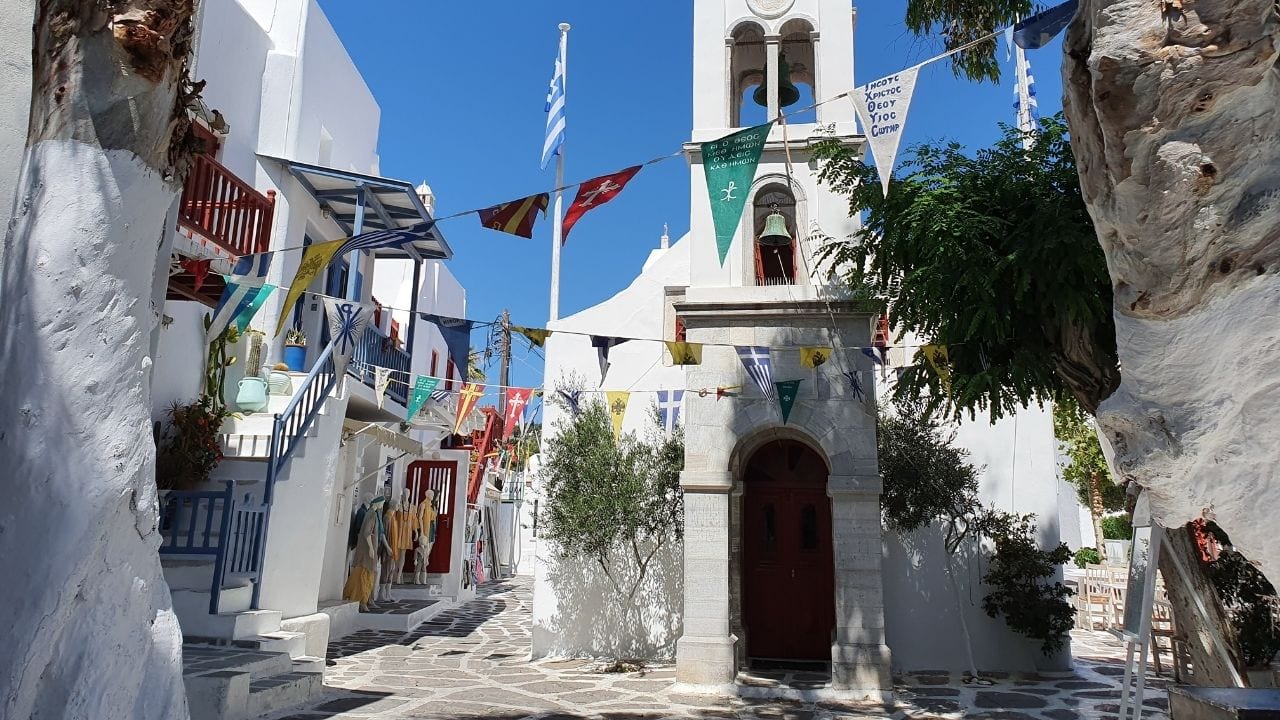 What to see in 2 days in Mykonos
Two full days in Mykonos is a little more like it when it comes to having time to more fully enjoy the island. You'll have time to spend on a beach, get to partake in the legendary nightlife by going into bars or nightclubs, and in general not feel too rushed.
If you rent a car for one of the days, you'll be able to drive up to Ano Mera and see the beautiful Panagia Paraportiani church, perhaps shop at the fresh produce sellers in the car park, and then drive out to some of the further beaches.
If you do plan to visit Mykonos for 3 days, consider spending 3 nights so you can better enjoy the sunset spots, bars and nightlife!
3 Days in Mykonos Itinerary
As we've more or less decided that 3 days is about the right amount of time to visit Mykonos, what is there to do?
Well, you should check out my itinerary for 3 days in Mykonos for a detailed game-plan, but here's an outline:
Best area to stay in Mykonos
If you're planning to spend just a night or two in Mykonos, then Mykonos Old Town, or somewhere close, is probably the better choice. For stays of more than a couple of nights, areas like Ornos, Psarou, Platys Gialos, Super Paradise or Elia Beach might be good options.
I've a full guide here you might want to look at: Where to stay in Mykonos
What are the best beaches in Mykonos?
Mykonos is a perfect destination for beach lovers. If you can, hire a car and drive around Mykonos in order to check as many out as you can!
Best Mykonos beaches for partying – Paradise, Super Paradise, Paraga, Psarou
Best beaches in Mykonos for water sports – Ftelia, Korfos, Kalafatis
Best Mykonos beaches for families – Panormos, Agios Stefanos, Lia
Best beaches in Mykonos to avoid the crowds – Kapari, Fokos, Mersini, Merchias, Tigani, Loulos
I've a full guide here to the beautiful beaches in Mykonos.
How to get to Mykonos
The Greek island of Mykonos may be a small one, but it does have an international airport. Some people may therefore find it more convenient to fly directly there, especially from major European cities. There are also regular connections with the main airport in Athens, and a flight should take less than an hour.
Like all Greek islands, Mykonos has many ferry connections. You can easily get to Mykonos from Athens and other islands in the Cyclades. If you want to find out ferry timetables and ticket prices, I suggest using Ferryhopper.
You might also want to read: How to get from Athens to Mykonos
Best Day Trip from Mykonos
If you're looking for a good day trip to do in Mykonos during your stay, then visiting Delos should be high on your list.
Delos island is designated a UNESCO World Heritage Site, and can easily be visited on a half day trip from Mykonos on an organised tour. You'll get to find out more about the ancient history of the Sacred Island of Delos, marvel at the structures as you walk around, and enjoy an insight into its importance.
Find out more here: Visiting Delos island from Mykonos
Onward Travel To Greek Islands After Mykonos
If you plan to visit Greece and want to go to more places after Mykonos, you can take a ferry trip to the Cycladic islands which surround Mykonos.
Tinos is a great island to visit after Mykonos, and other good destinations include Syros, Paros, and Naxos. Take a look at my guide to Greek islands near Mykonos.
Mykonos Travel Tips
No matter how long you intend to stay on Mykonos island, these travel tips will prove to be extremely useful:
---
Accommodation sells out quickly and is a lot more expensive in high season. Try to visit Mykonos outside of July and August if you're budget conscious.
---
Outside of the tourist season (May to October), there isn't a great deal to do on the island as it's too cold to properly enjoy those gorgeous beaches.
---
Mykonos is a relatively small island, but you may want to use the local buses or hire a vehicle to explore the whole island.
---
FAQ About planning a trip to Mykonos island
Readers who are planning to spend some time in Mykonos as part of their vacation in Greece often ask questions similar to:
Is 3 days enough in Mykonos?
Three days in Mykonos is enough time to enjoy the main highlights such as Little Venice, Mykonos Town, the beaches, and of course that fabulous nightlife for which the island is famous!
How many days do you need in Santorini and Mykonos?
If you have time, try to spend three days in both Mykonos and Santorini. This way, you'll have plenty of time to enjoy both islandswithout missing a thing!
Which is better Santorini or Mykonos?
Both islands offer different experiences, so it is difficult to pick between them. However, if you can only visit one, then consider Santorini. It has a greater variety of things to see and do, and offers more affordable accommodation. What Santorini really lacks is the great beaches of Mykonos, as the beaches of Santorini are not so outstanding.
How do I spend my 4 days in Mykonos?
With 4 days in Mykonos, I suggest that you rent a car and explore some of the more off the beaten path areas of the island and more remote beaches.
If you liked this post on how many days in Mykonos is enough, or have any insights to add, please leave a comment below. It will help other people planning a trip to this famous island in Greece.
Mykonos is a small island with plenty to offer, from sandy beaches and rich history to charming streets. If you're looking for the perfect amount of time in Mykonos, I recommend 3 days or more!
You'll have enough time to explore all that this beautiful place has on offer while still leaving some room for relaxation. Whether you want your stay for the famous Mykonos nightlife and partying or family-friendly activities like water sports, there's no shortage of things to do here.
---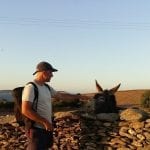 –
Dave Briggs
Dave is a
travel writer
from the UK who's been living in Greece and writing about the country since 2015. As well as creating this travel blog post on how long to spend in Mykonos, he's written many more articles about destinations in Greece. Follow Dave on social media for travel inspiration from Greece and beyond: