From time to time, people ask me for my favourite travel tips are. In all honesty, being bald is the best one I can think of! Here's why I love being bald, and why I think it's awesome when you travel.
I love being bald
Having hair is a pain. At least, I think it is. It's been some time since I've had any!
In fact, I've had no hair for so long now, I honestly can't remember what it's like.
And I like it this way. Life is simple. It's hassle free. And travelling is so much easier!
Put simply, I love being bald!
Being Bald Is Awesome When You Travel
Here's a look at what advantages us bald guys have when it comes to traveling:
Pack Light – The sum total of the hair care products I take when I travel, is zero. Great isn't it! There's no need for a hairbrush, hairdryer, shampoo, conditioner, and all the other stuff that people have to use. It means my bags are always light (perfect for when I am bicycle touring!), and they also have more space left over. This is a great advantage when flying on budget airlines with just carry-on hand luggage!
---
A Huge Money Saver – I must have quite literally saved myself thousands of pounds over the last 20 years by having no hair. As I don't need to buy shampoo and all the other products that other people do, it's saved me a fortune. I've used all this money to travel with! Here's some more ideas on how to save money when you travel.
---
No Need To Find A Barber – Do people still call them barber's shops nowadays? Anyway, the last time I had my hair cut in a barbers shop was about 20 years ago. Since then, I just shave my head with a razor blade. This has not only saved me money (see above point), but also eliminates the hassle of having to find a barbers shop in a strange city.
---
It Saves Time – Like everyone else today, I never seem to have enough time. I really couldn't contemplate having to add on an extra half hour or more to my day for hair maintenance! How do those hipster guys do it? When you are bald, you are never late to catch a bus due to washing you hair!
---
Hot Water Cutting Off Not An Issue – Ever had the hot water cut off half way through washing your hair in a hostel or hotel? Water pressure problems affect your conditioning routine? I haven't!
To conclude – Having no hair is the perfect travel tip. In fact, it surprises me that more long-term travellers, backpackers, and bicycle tourers don't do it. Are you ready to shave your head yet?
Bald guys have more fun – and we're sexier too!
Still not sold on the idea? Well lets take a look at some famous bald men:
1. Bruce Willis
2. Dwayne Johnson
3. Vin Diesel
4. Patrick Stewart
5. Jason Statham
These guys are all tough, handsome and totally bald. They prove that you don't need hair to be cool, successful or attractive. So if you're thinking about shaving your head, don't let the fear of being bald hold you back – go for it! You might just surprise yourself.
Have I persuaded you that being bald is the perfect travel solution? Comments below please, and also share this with a smooth headed friend! And remember – Bald is beautiful!
More Travel Tips
If you enjoyed this post, please check out these other travel tips!
---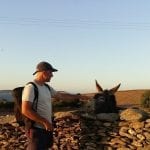 –
Dave Briggs
Dave is more than just another cool person with a bald head. He's also a
travel writer
who spends his time traveling around and writing about Greece. Follow Dave on social media for travel inspiration from Greece and beyond: