There are a few ways that you can afford to travel more often, mainly involving cutting down on unnecessary expenses and planning a travel budget.
Saving Money To Travel
If you've always dreamed of travel, but wondered how you can afford it, you've come to the right place.
Whether you're planning to start a new life as a digital nomad, or just want to make the most of your next vacation, these travel insights will help you experience more for less!
In order to afford to travel, there are a few things you can do such as save your spare change, get a side hustle, or be flexible with your budget.
You can also look into getting a travel credit card. If you want to travel long-term, some tips include downsizing, saving every penny possible, and setting a daily budget.
Lastly, you can also try to find cheap flights and stay in hostels. Let's look at each travel hack in detail.
Related: Where do you stay when traveling?
Travel does cost money, but…
Traveling the world is a lot more affordable than you might think. If you're willing to do a bit of research and planning, it's completely possible to travel as much as you want for as long as you want.
I've been traveling the world for over 30 years (I'll leave you to work out my age!). During that time, I've taken a year long road trip around Australia, cycled from England to South Africa, cycled from Alaska to Argentina, and worked and travelled through dozens of other countries.
How to afford travel
As you might expect, I've picked up a few useful tips and tricks to help keep costs down. Even visiting major attractions in popular destinations needn't be expensive – if you know how!
In this blog post, I'll share with you some of these insights and travel hacks that might help you. Don't let having little or no money stand in the way of your travel dreams!
Before you go – Save Money!
Before you quit your job to travel, think about how much money you might need.
It doesn't matter if you plan to work as you travel or not – saving money before you go will always help. It's easier to save money than find the cash as you go.
There are a few key ways to save money for travel:
– Cut back on unnecessary monthly expenses – cancel your cable TV, gym membership, eating out, etc. Do you really need a takeaway coffee every day?
– Make a budget and stick to it – avoid any unnecessary shopping sprees!
– Open a specific savings account just for your travel fund. Only deposit into this bank account before you travel – never withdraw from it!
– Move closer to work or look for a new job with a lower commute. Thinking about it, take an extra job on as well!
– Sell your car, cancel your auto insurance and ride a bicycle to work
– Stop eating out and cook your own food to keep more money in your pocket
– Live as frugally as you can – Spend less money in your regular life so you can spend money when you travel!
– Have a dedicated travel savings account. Put all the money you save into this account, and don't touch it under any circumstances. This is your world travel fund, not your weekend emergency party fund!
Basically, stop spending so much money on useless things, and think how much more beneficial it will be to add as much money as you can into your dedicated travel fund.
Research and forward thinking
Ok, so I'll be the first to admit that simply earning money, living frugally, and saving as much as possible can get a bit dull at times. It will give you time to do research though.
Are there any credit cards with cashback offers you can apply for? Will an online banking account like Wise or Revolut be useful when you travel? What about airmiles?
Perhaps most importantly for long term travelers – Is there an online business you can start or any freelance work you can do to earn money as you travel? Now would be the perfect time to start thinking about it and getting the ball rolling.
I've a great guide here to the best digital nomad jobs for beginners.
– Make sure you have adequate travel insurance – this can often be purchased very cheaply.
– Get travel vaccinations – some may not be available in your home country.
– Make copies of important documents like your passport and driver's license, just in case you lose them while on your travels
– Store these copies in a secure location, like a Dropbox account or email them to yourself.
– Start working out where a cheap flight can be found.
– Start looking for good travel cards and see if any have useful sign up bonuses
What do you estimate you will spend each month?
Ensure that when figuring out how to afford traveling the world , you think beyond just flights and accommodation – consider all of your regular monthly expenses too!
Once you've done this, make sure to add an appropriate amount of money for the unexpected – things like buying new clothes if your old ones wear out, or allocating some more for entertainment once in a while.
Don't forget how often you might need to eat out at restaurants each day, compared with how much you're eating out now.
Related: Reasons Why Long Term Travel Is Cheaper Than Regular Vacations
Destinations For Budget Travel
You know, one of the most affordable ways to travel is to go to cheaper countries. If you can combine these countries with some cheap flights, you're winning before you even start!
Here are some cheap destinations that offer hostels, hotels, and food all for under $40 per day.
– Southeast Asia – Thailand or Vietnam
– Eastern Europe – Romania or Bulgaria
– Central America – Belize or Panama
There's also many great digital nomad hotspots around the world where you can find not just affordable places to stay, but also people who can help you to get started with your online business or digital nomad job.
– Chiang Mai in Thailand is the place to go if you're after a low cost lifestyle and want to become a Digital Nomad.
– Medellin in Colombia is another great destination for anyone looking to live cheaply and start an online business.
– Lisbon in Portugal is a great place to find affordable accommodation, good weather, and a lively nightlife.
Keep your options open and do some research on where you can go that will offer you not just a great travel experience but also value for your money!
Related: Cheap Greek Islands To Visit
Getting There – Find Cheap Flights
Now that you have a bit of money saved, and you know more or less where you are going, it's time to start planning your trip!
One of the biggest expenses when traveling is flying. However, there are a few ways to make this more affordable:
– Search flights early and often. The cheapest fares are usually found around 2 months before departure. You may be surprised at the lower cost of flights to dream destinations around the world if you get in early enough!
– Use flight comparison websites like Kayak or Skyscanner – they'll show you the best deals on multiple airlines.
– Sign up for airline email newsletters, as they often send out special discounts codes not available to the general public.
– Try flying budget airlines like Ryanair or Air Asia – their fares can be as much as 50% cheaper than the major airlines. I took a great flight with Scoot from Athens to Singapore that was ridiculously cheap!
The best way to save on getting there is to earn airline miles by signing up for reward programs associated with your credit cards. The bigger the annual fee, the larger your signup bonus will be.
Many people fly all around the world using free airline miles. You can also often offset the cost of flights by purchasing them with travel vouchers.
Accommodation – Wherever you lay your hat is home!
Aside from flights, accommodation is one of the biggest costs you'll incur when traveling. If possible, try and secure cheaper accommodation in advance:
– Try using hostelworld or booking.com – these sites often have special offers which aren't available elsewhere and you can find plenty of budget accommodation on them.
– If you're traveling in a group, look for apartments or houses to rent – this can be cheaper than staying in hotels.
– Couchsurfing is a great way to travel cheap, meet locals and save money on accommodation.
– House swapping is another great way to save – just make sure your home is in a good state for guests!
– House Sitting or Pet Sitting is another way to get free accommodation. Build your profiles on this platform before you leave to travel around the world!
– Camping is another option. I spent a year driving around Australia and camping – Saw a lot and saved heaps! It must have been quite a few years ago, because if you look carefully, I've still go hair in this photo!
Transportation – How to see more of where you travel
Getting from A to B is an inevitable part of traveling, so get used it! There are some great ways to cut costs here too so you can travel cheaply:
– If you're not in a hurry, travel by bus instead of trains or planes.
– Use car sharing apps like Uber or Lyft.
– Wander the city on foot – this is a great way to see more and save money on transport.
– If you're traveling in a group, hire bikes or scooters instead of cars.
– Travel by bicycle – I highly recommend it!
– Buy a car and resell it when you've finished. Couldn't resist to add another photo from my first trip around the world of my trusted Toyota Corolla!
Food – Eat like a local!
Eating out can be a real drain on your travel budget, so it's important to find ways to save. One of the best ways is to eat like a local:
– Head to the local markets and buy fresh produce – this is always cheaper than eating in restaurants.
– Try cooking your own meals – this is a great way to save money, and hey, you'll be used to this by now after spending time at home saving your money up to travel the world!
– Get coffee and snacks from local cafes instead of Starbucks or other international chains.
– Use a water filter rather than buying bottled water. It saves on the amount of plastic you use as you travel too!
– Drink water instead of buying drinks in bars and restaurants.
– Eat at street stalls – the food is usually cheaper and just as good as what you'll find in restaurants.
Related: Best Road Trip Snacks
Final Tips for Affording Travel
There are a few other things to keep in mind when trying to save money on your travel expenses:
– Avoid buying souvenirs – you can always buy these cheaper once you get home.
– Buy a local SIM card in each country you visit
– Travel during off-peak times – prices for accommodation and flights are usually cheaper.
– If you're able to, travel during the shoulder season (just before or after high season).
– Use a travel rewards credit card to earn points which can be used towards your next trip.
– Make a budget and stick to it!
– Why not combine work and a vacation into a workation!
FAQ and Travel Tips on how to afford to travel
Readers looking for ways to afford travel on long or short trips will find the answers to these frequently asked questions useful:
How do people afford to travel?
Most people who travel the world do it on a budget and cut back in some areas to make traveling easier and more affordable. They may not be able to afford their dream home, but they can afford a dream adventure! And that's really what living is all about.
How can I travel with no money?
Volunteer – there are many organizations who need volunteers to help with a variety of tasks, and in return you'll often get free food and accommodation. Many backpackers take on short-term jobs while they're traveling to subsidize their trip. This could be anything from working in a bar to teaching English.
What jobs can I do when I travel?
Back in the day, backpackers would take on temporary jobs in places they visited for extra cash. Nowadays, a generation of travelers finds it easier to work online as they travel, creating a perfect lifestyle balance. Travel bloggers seem to have the best of all worlds!
How do I get enough money to travel?
There's no secret – work hard and save your money! Unless you're due a big inheritance of course.
How much money should I have saved to travel?
There's no one definitive answer to this question. It really depends on where you want to travel, and how long for. Generally, I would recommend having at least 3-6 months' worth of expenses saved up so you can relax and enjoy your time away without having to worry about money too much.
Also read: Money and ATMs in Greece
This article has some great tips and tricks for traveling on a tight budget so that your travels are enjoyable while at the same time affordable! From getting cheaper flights by signing up with airline reward programs or avoiding restaurants by cooking at home, there are plenty of ways to save money without sacrificing quality of life.
What's your favorite tip for saving when it comes to international travel? Do you have any ways to avoid spending money on everyday purchases so you can travel further for longer? Let us know in the comments below!
Read this next:
---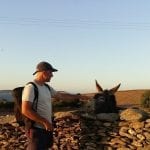 – Dave Briggs
Dave is a travel writer has been writing on this travel blog since 2005. In addition to this guide on how to afford to travel, he's written quite literally thousands of other travel blog posts, road trips guide, and other itineraries here at Dave's Travel Pages.
Follow Dave on social media for travel inspiration from Greece and beyond: