This was my bicycle touring gear list for cycling from Greece to England. It was a three month cycling tour on mainly sealed roads through Europe. Read on to find out more.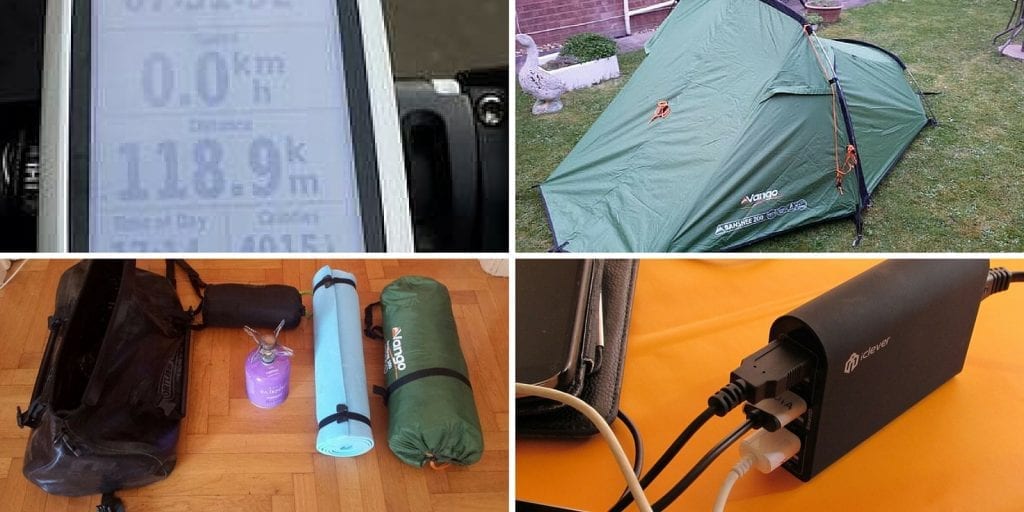 Bicycle Touring Gear List
Before I start with this bicycle touring gear list, here's a shout-out to all you ultra-light bicycle touring enthusiasts. Yes, I know you probably cycled from the Arctic to Antarctica carrying only a toothbrush, one spoke, and a spare pair of underpants. You are awesome!
So kindly refrain from saying that this gear list is 'too heavy'. You didn't have to cart it around anyway!! With that said, if anyone has positive contributions to make, (especially in regards to anything you think I may have forgotten), please leave them below. Cheers!
Choosing gear for bike touring
A brief bit of background before I detail the bicycle touring gear list. I have completed a few long distance cycle rides in the past, (England to South Africa, Alaska to Argentina). Much of what I had chosen to take with me was based on these past experiences, and knowledge of what I might need.
There was also another important factor that I had to take into consideration, which was that I needed to work during this cycle trip across Europe. Hence the abundance of tech gear.
Still, with all that in mind, the bags weighed in at around 22kgs, which isn't 'too bad'. Actually, if you want to know exactly how much they weighed, watch the video below. In the video, I also go more in-depth about the bicycle touring gear, and why I have chosen it.
Bicycle Touring Gear For Cycling From Greece To England
I've broken down the bike touring kit I used for this trip into different sections below. I think this includes 99% of the gear I took with me on the bike tour across Europe.
Bike Touring Gear – Personal Items
Wet wipes
Sunglasses
Lipbalm
Reading Glasses
Passport
Wallet
I also made copies of all my documents such as passport, credit cards, and International Health Insurance, and stored the details online in Evernote.
The Bicycle for Cycling Across Europe
I used a Stanforth Kibo+ bicycle for the cycling trip from Greece to England. The bike was kindly loaned to me by Simon Stanforth so that I can test it out on the road.
I have written a brief review about the bike which you can find here – Kibo+.You can also check out the short video I made about the bike below.
If you have time, check out my YouTube channel for the post trip review. Very few people make a video of their expedition bicycles after a trip, which again, you might appreciate.
Bicycle Panniers for Touring
Ortlieb Back Roller Classic – These are almost standard issue for bicycle touring. Well designed, well made and long lasting, I wouldn't tour with anything else. I have 2 rear panniers and 2 front panniers.
Ortleib Rack Pack – The Ortleib Rack Pack is designed to sit on top of the 2 rear panniers, and straps securely on to them. This extra storage space will get used for my tent and cooking gear.
Ortleib 5 Handlebar bag – Not the best handlebar bag in the world. I think I got it free from somewhere. Is it even waterproof? I will soon find out, no doubt!
Bicycle Touring Tool Kit
Bike Pump – No bicycle touring gear list would be complete without mentioning the bike pump! As I have grown older and wiser, I have realised the importance of having the correct tyre pressure, and so I have opted for the Topeak Mini Dual DXG pump with pressure gauge. Read about the review here – Topeak Mini Dual DXG Review.
Bike lock – I have an OnGuard bike lock for times when I need to lock the bike to something, and go for a wander.
Spare Inner Tube – just the one tube needed for this trip at the moment. No doubt I will buy more along the way.
Alien 2 Multi-Tool – A good general purpose multi-tool. During this trip, I doubt I will need anything more complex than this, as I will be rarely more than a days ride away from a bicycle shop. (Although watch this space!!).
Puncture Repair Kit – Obviously
3 tyre levers – They are going to get some use I think!
1 pair of veltuff gloves – To keep my hands clean when tinkering with the chain. Sandwiches taste a lot better without chain oil all over them!
9 spare spokes – Just in case!
Rear cassette removal tool – If I do break a spoke, you can bet it will be on the back wheel!
Check out the video below for the full bicycle touring tool kit I am taking with me to cycle from Greece to England.

Camping Gear for bikepacking Europe
I camped about 50% of the time during this cycling trip from Greece to England. This is the camping gear I used on the way.
Vango Banshee 200 (Pine)
Snugpak Chrysalis 1 Sleeping Bag
Sleeping mat (foam style)
Karimmor Camping Pillow
Swiss Army Knife
Bike Tour Cooking Kit
Camping also necessitates a cooking kit. I was all set to bring my MSR Whisperlite Universal on this trip, but I noticed at the last minute that it was faulty.
In the end I took a Camping Gaz type stove. During the last month of the trip, I didn't use it at all. this is not the first time I have not used a camping stove on a long distance cycling trip. Perhaps I will write a fuller article about if a camping stove is neccessary for bicycle touring.
Camping Gaz style cooker
1 fuel cannister
Stainless Steel Cookpot
Stainless Steel Cup
Knife, fork and spoon set
Lighter/matches
Water Bottles x 3
Food For Bicycle Touring
I normally carry about 2 day's food in my panniers when bicycle touring. This gives me the flexibility to wild camp when I choose, and means I always have extra to eat if I want it! Bicycle touring makes you hungry!
The list of what I am actually leaving the apartment with is below. Why these foods? You can read up here about the best foods for bicycle touring.
Oats
Pasta
Brew kit comprising of tea, sugar and coffee.
Cupasoups x 3
Tinned fish x 2
Peanut butter
3 x cereal bars
Mixed chickpeas and raisins
Bananas
Couple of sandwiches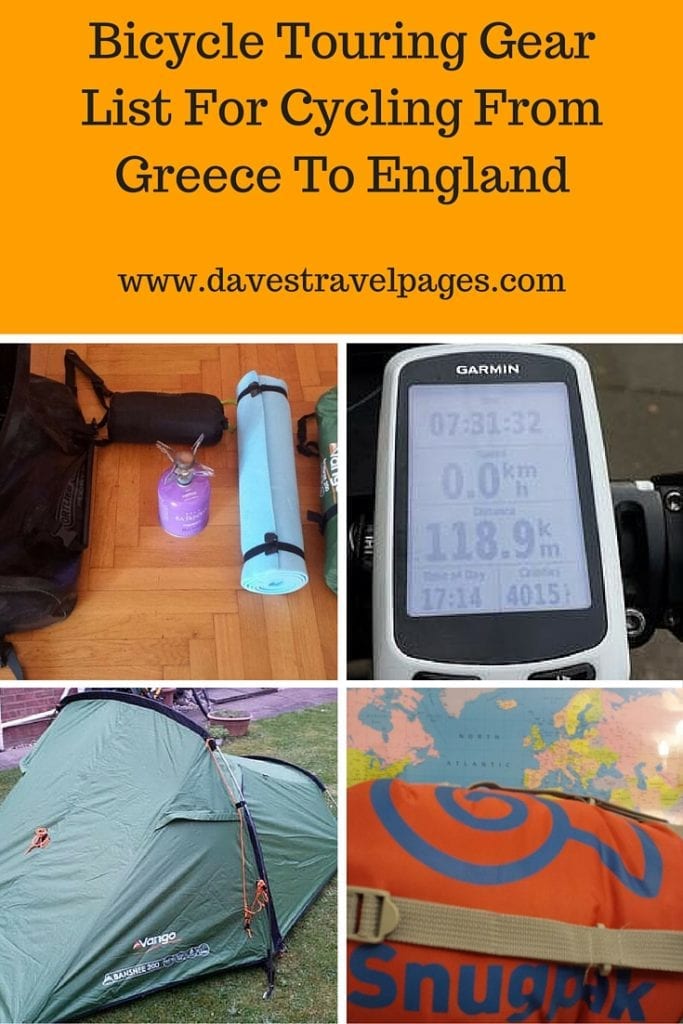 Tech Gear for cycling in Europe
I have various leads, chargers, and odds and ends I am going to take with me. You can check the bicycle touring gear list for cycling from Greece to England video for more details. The main items are listed below.
Laptop
Go Pro
Canon Powershot Camera
2 x Power Banks (reserve batteries for tech gear). Check the Tecknet Iep1500 Power Bank.
Samsung S4 Phone (still going strong!)
Garmin Touring GPS
Clothes For Bicycle Touring
2 Padded Liners
3 Cycling Tops
2 Caps
1 base layer t-shirt
1 Shirt
1 pair of trousers
1 pair of swimming shorts
1 pair of underwear (only 1… what!!!)
3 pairs of socks
1 Fleece
1 Pair of bicycle touring shoes
1 pair of trainers
Wet-weather gear –
Sealskinz hat – Look here for the Sealskinz hat review
Sealskinz socks
Gore Jacket
Waterproof and windproof gloves
Waterproof trousers
Washing and Medical Kit
1 Lifeventure Quick drying towel
Toothbrush
Toothpaste
Razor
Bar of Soap
Small shower gel from a hotel
Assorted medical kit including anti-inflammatory, plasters, wipes, and insect repellent
During the trip, I found all the items on this bicycle touring gear list to be useful. On some trips, I end up ditching some items as they are too heavy. On this occasion though, I had it just right. What gear do you take when bicycle touring? I would love to hear from you, so please leave a comment below!
Further reading