Create the best bike tool kit for your home with this guide on the best bike tools for bicycle maintenance and repair.
Home Workshop Bicycle Tool Kits
There's two ways to approach building up a bicycle tool kit for your home workshop. The first, is to buy a handful of essential tools, and then add more as and when you realise you need them.
The second, is to simply go all in on a professional set of bicycle tools right from the beginning.
When you consider that a good set of bike tools by respected company Park Tool may last the rest of your life, it could be a good investment taking the second option.
It will also give you the incentive to discover more about bicycle maintenance and repairs. In the long run, you'll save on repair bills, as you'll have a well-maintained bike and know how to fix problems should they arise.
Best Bicycle Tool Kit
I'm not going to beat around the bush – Park Tool offer the best bicycle tools around. They're well designed, high quality, and reliable.
They have a number of different options when it comes to complete bike tools kits, ranging from professional tool collections to home enthusiast.
Let's look at some of the best bike tool kit choices you can make when it comes to Park Tool.
Best Bike Tool Kits To Have At Home
If you want to go beyond casual repairs, and delve deeper into the mystical arts of bike maintenance, these bike tool kits are worth considering.
Some are comprehensive to an extent that you may never need or even use many of the individual tools in the kit. The top end bike tool kits are very much more pro-mechanic than casual dabbler.
Others are ideal if you are maintaining your and your family's bikes, or like to keep your road and mountain bikes in efficient cycling condition.
Bicycle Repair Stand
Once you've got the best bike tool kit organised, you're going to need a bike repair stand. Being able to work on your bike on a comfortable level makes life so much easier and more enjoyable.
Feedback Sports Sport Mechanic Bicycle Repair Stand
A bicycle repair stand is also useful for when you want to properly clean the bike. If you're going to spend any decent amount of time in your home bicycle workshop, a bike workstand is all but essential.
Take a look at this post on where to clamp a bike on a bike repair stand.
Talking of essential, what if you just want a basic tool kit for your bike? Here's some items you should consider.
Essential Bicycle Tools To Keep At Home
If you don't want to start off with an all encompassing tool kit for bicycle maintenance, build it up slowly instead. Here's the best bicycle tools to begin with.
1. Bike Pump with Pressure Gauge
Tires inflated to the wrong pressure cause all sorts of problems. They can slow you down, make punctures more likely, and even damage rims.
A good bike pump with a pressure gauge will solve all that. Just look on the side of the tires for the correct pressure you should be inflating to, and match it.
For a home bicycle workshop, a floor pump might be a nice option as it takes less effort to inflate the tires. If you prefer though, you could buy a handheld mini-pump with a pressure gauge, and then take it with you on your cycling trips as well.
Related: Why is my bike pump not working
2. Tire levers
There's all sorts of ways you can remove a bicycle tire from a wheel, but dedicated tire levers make the job a lot easier! They are commonly sold in pairs or threes (I prefer three for the stiffer bike touring tires I use).
Typically made from a strong, solid plastic, a good tire lever also has a small hook to aid in the process of removing the bike tire from the wheel.
Buy a set for your home bicycle workshop, and keep another in your bike saddlebag along with a spare inner tube for when you're riding.
3. Puncture repair kit
Every cyclist should know how to fix a flat tire with a patch kit! Although while you are out riding, it will be far easier just to swap in a spare inner tube if you get a puncture, back at home, you can patch the old tube up and then use it again.
A bicycle puncture repair kit typically contains a few patches of different shapes and sizes, some adhesive, and a small piece of sandpaper.
Patch kits come in tiny boxes, so no excuses not to take one out on your next bike trip!
4. Allen Keys
No matter what bike you have, there will be bits such as water cages, fenders, racks, and seat posts which are held in place by bolts that need to be tightened with allen keys.
All those allen keys are likely to be of different sizes as well, hence the need for an Allen key set!
5. Chain Breaker
We're starting to push the comfort zone of bicycle tinkerers now we've mentioned a chain breaker! If you're a regular rider though, you might need to think about replacing your bicycle chain every six months or even more frequently depending on circumstances.
A chain breaker will help you remove and then fix a new chain on your bike. It's a bike maintenance task that when performed once or twice, will make you wonder what was so daunting about it originally!
Related: Reasons bike chains fall off
6. Spoke Key
If you have well made wheels, there's a chance you'll never need to use a spoke key to tighten and true a bike wheel. If you haven't got well-built wheels though, standby!
It's only as you begin to tighten and untighten bicycle wheel spokes that you realise the 'simple' machine you are riding might be slightly more complex than you appreciate.
Like any bicycle maintenance though, it's a skill that should be learned, and so a spoke key is another must-have for your bike tool kit essentials.
7. Cassette Removal Tool
If you are riding a bike with a derailleur system, you'll need a cassette removal tool sooner or later. In a best case scenario, it will be to replace the rear cassette. In a worst case, it will be to remove the cassette in order to change a broken spoke.
Regardless, you'll need the correct cassette removal bike tool for your type of rear cassette. You'll also need one more piece of kit…
8. Chain Whip
A chain whip is designed to stop the cassette turning in the removal process. It's a piece of cycling kit you will never know you need – until you need it.
I still remember a group of cyclists I met on the road when cycling the Pacific Coast Highway trying to use a spare chain as a chain whip so they could get a cassette off to fix a broken spoke. Fun times!
Other items to consider: As you are building out your bicycle tool kit, you'll discover that having the right tool for the right job makes your life a whole lot easier! Along the way you might also want to add in bottom bracket tools, cassette lockring tool, torque wrench, hex wrenches, pedal wrenches, a disc pad spreader and any other specific tools you need for occasional maintenance and repairs.
Best Portable Bike Tool kit
The basic items I always take with me on any ride whether a daily commute or longer bike trips, are a small bike pump with a gauge, tire levers and puncture repair kit. I never leave home without them!
When bike touring in different parts of the world, I take a selection of tools with me for repairs on the road (and in hotel campgrounds).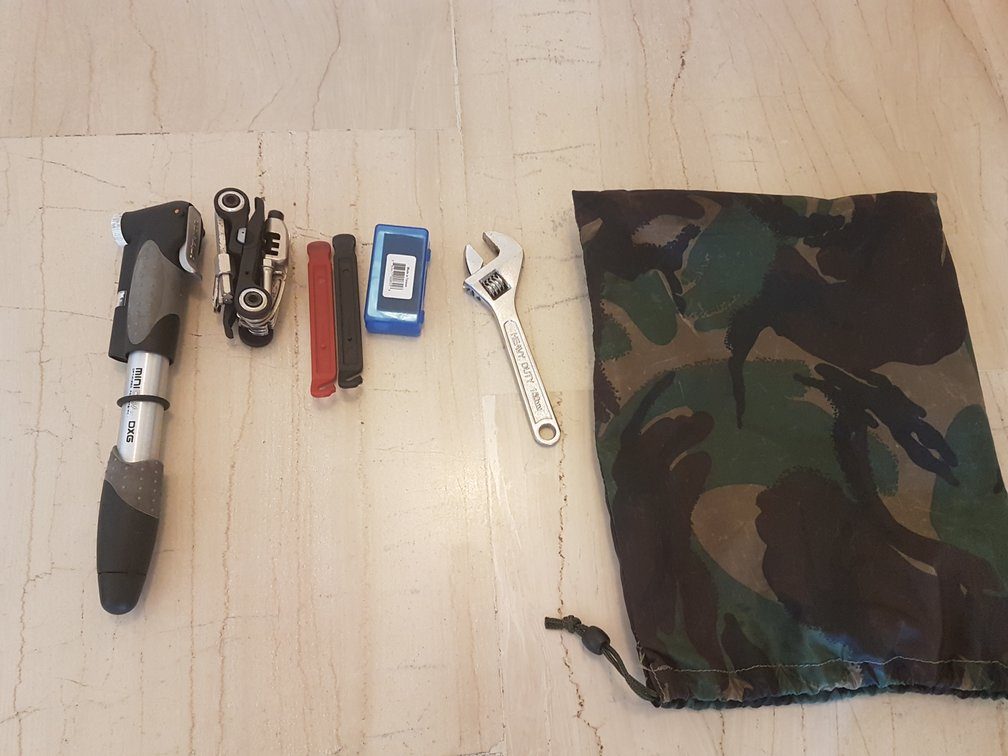 The core component of my bike touring tool kit is a multi-tool, and I've settled on the Topeak Alien II Multitool. In addition, I might take a couple of tools specific to the bike I am riding, such as a cassette removal tool.
On a recent bicycle tour in Greece, my tool kit included the following:
Patches and glue
1 spare inner tube
2 tire levers
Chain oil
I'm happy to say I only needed to use the bike pump and chain oil on that tour!
Interested in more bike touring gear? Check out these other reviews and guides:
Best Bicycle Tools FAQ
Readers looking to acquire a complete kit or just working out all the tools they would need to make do it yourself repairs and perform basic maintenance during a cycle tour, often ask questions similar to:
What tools should I keep on my bike?
At the very minimum, keep a tube repair kit, bike pump, and a bike multi tool that includes a chain tool. If your chain uses a master link, take a spare couple of links as well.
What is a good bike tool kit?
Park Tools make good quality tools for home use or even if you wanted to open your own bike shop! The best bike multi tool to carry around with you should probably be an Alien II multi Tool.
Do I need a chain tool for my bike?
A chain tool is unlikely to be needed every day, but it is an essential tool for your bike kit when servicing your bike at home or for emergency situations out on the road.
What should a bike multi-tool have?
The best bike multi tools normally include a spoke wrench, chain tool, flat head screwdriver, pedal wrench, allen keys, and tire levers.
---
– Dave Briggs
Dave has cycled around much of the world on different bicycle tours and learned most of the little he knows about bicycle maintenance the hard way, usually in the middle of nowhere! In addition to this guide about putting together the best bicycle tool kit, he's written many other guides to bike touring.
Follow Dave on social media for travel, adventure and bike touring inspiration: