A complete travel guide listing the best things to do in Kimolos island Greece. Ideal for planning your Cyclades island vacation in Kimolos Greece.
Kimolos in Greece
Kimolos is one of the Cyclades islands in Greece. It is located 1 kilometre away from the better-known Milos island at its closest point, and has a population of just 900 permanent residents.
Although Kimolos island is a fairly popular day-trip from Milos, it is not a very common destination per se. As a result, Kimolos has kept its authenticity more than the other Cycladic islands I've had the chance to visit.
This is perhaps due to mining, agriculture and farming being the main industries on Kimolos island. Tourism does exist of course, but it's very small scale. As such, Kimolos is an ideal destination if you are looking to relax and take it easy.
I spent a week on the island, and created this Kimolos travel blog to share some of its highlights with you. Whether you are planning to spend a day trip or your entire vacation there, this guide should have all the information on Kimolos you need.
** Guidebook to Milos and Kimolos now available on Amazon – Click here! **
What does Kimolos mean?
Due to its volcanic nature, the island of Kimolos has plenty of bentonite, caoline and perlite. This explains the white rocks which you will see all around. In fact, the name "Kimolos" is related to "kimolia", the Greek word used for chalk. Maybe.
According to legend, however, Kimolos took its name from the first inhabitant, a legendary character called Kimolos.
The Venetians had another name for the island. They called it Arzantiera or Arzentiera, because from the Aegean sea those rocks looked silver.
What are the popular things to do in Kimolos?
Despite its relatively small size, there are plenty of attractions to visit in Kimolos. We found that it was good to balance days between a little hiking, spending time on the beach, and visiting Chorio in the evening.
Having stayed in Kimolos just over a week, I'd suggest you consider the following things to do in Kimolos Greece when planning your own travel itinerary.
Walk around Chorio, the main town
If you've been to the Cyclades before, you may remember that the main towns are generally called "Chora". In Kimolos, the main town is called "Chorio", literally meaning "village".
Despite first appearances, Chorio is a fantastically picturesque main town. It's a maze of white-washed, winding roads, dotted with some restaurants, cafes, bakeries, dozens of churches and a few shops.
Unlike other main towns I've visited in the Cyclades, Chorio seems to have mostly retained its unique, authentic character. We saw many locals sitting in the tavernas and kafeneia. Apart from a couple of souvenir shops, everything else seemed to be catering for them, rather than primarily for visitors.
While an hour is probably enough to wander around Chorio, you will definitely want to walk up and down the alleys many times. Then you can take in all the little details, like the colourful window shutters and the matching flowerpots.
Just opposite the impressive Panagia Odigitria church, you can also visit the small Archaeological museum of Kimolos. Here, you can see several ancient artefacts that have been found on Kimolos island, dating from the 8th – 7th century BC.
Explore the Venetian Castle in Kimolos
One of the highlights of Chorio is the castle, or rather what has remained of it. To fully appreciate its history, we need to go a little back in time.
Back in 1207, the Venetians conquered several islands in the Aegean, including Kimolos. Marco I Sanudo was the first Duke of the Duchy of the Archipelago.
In the next few centuries, a Venetian castle was built on the island, though the exact dates of the first construction are unknown. It is believed that what is called "the castle of Kimolos" was completed towards the end of the 16th century.
In later years, the village expanded outside the Venetian castle walls. The island was attacked by pirates in 1638 and was nearly deserted.
Today, you can walk around the picturesque ruins of the old castle. You can also see the church of the Birth of Jesus, dating from 1592.
Occasionally, a voluntary group based on Kimolos, called Kimolistes, organize outdoor movie nights inside the castle. We found the setting absolutely fascinating!
Inside the castle there is also a small Folk and Maritime Museum. It showcases everyday objects that have been used on the island in the 19th and 20th century. Unfortunately, it was closed when we visited in September 2020.
Windmills in Kimolos
Like many other islands in the Cyclades, Kimolos has some old windmills. These are all but abandoned now, but can be an interesting visit, as most often their location to catch the wind also makes for a good viewing point.
I have to say as we were visiting Kimolos after some other Greek islands which also had windmills, we were 'windmilled out' at this point, so didn't take the time to visit them!
Relax on the beaches in Kimolos
For most people, the Greek islands are synonym with swimming and life by the sea. Kimolos island is no exception, as there are many wild, natural beaches all around the coastline.
We found that one of the best things to do on Kimolos island, was to check out a different beach every day – sometimes two beaches!
Transportation is neccessary of course, and we had taken our own car to Kimolos. On most years, there is a bus service running around certain parts of the island, taking you to the most easily accessible beaches.
However, if you want to be more independent, you can rent your own car or ATV. Note that the island has many dirt roads, so make sure you rent a suitable vehicle.
Read more here: Renting a car in Greece
Best Kimolos Beaches
Beginning from the port town, Psathi, and going clockwise, here are some of the best beaches in Kimolos Greece.
Psathi beach
This is a small sandy beach, right by the port, and there are a few loungers and umbrellas. You can spend a few hours here, looking at the small ferries connecting Kimolos with Milos island.
While many people visit Kimolos on a day trip from Milos, there is nothing stopping you doing just the opposite – though you'd probably struggle to choose what to do in Milos in just one day!
As Psathi is the port town, you will find a few rooms to let, as well as cafes, restaurants and travel agencies.
Ennias beach
If you are driving towards Aliki, you will see a sign pointing to Ennia / Ennias beach. In all honesty, this is hardly visiting, as there are some large, uncomfortable pebbles.
Aliki beach
"Aliki" means "salt pan" in Greek, and there is a salt pan here indeed. The actual beach is quite long, with a combination of sand and pebble along with some some cedar trees.
While the salt pan behind it is drained in summer, it is home to migratory birds during spring and autumn. It looked really cool after a long rainy day.
While we were staying right on Aliki beach, we thought that the beaches close by, Bonatsa and Kalamitsi, were nicer.
Bonatsa beach
In Greek, "Bonatsa" is a word used to indicate calm waters. The way Kimolos beaches go, this is your best bet in case of the northern meltemi winds.
Bonatsa is a large sandy beach with shallow waters, and therefore popular with families. You will find some cedar trees for shade. There are some rooms to rent and a couple of restaurants nearby.
Kalamitsi beach
Just after Bonatsa, you will find Kalamitsi. There are actually two beaches here, both with cedar trees. The first one, which is west-facing, is sandy and the next one is pebbly.
Kalamitsi Kimolos area is great for snorkelling and relaxing with a view of the island of Milos. There is also a fantastic little taverna with great homemade dishes, who also offer a few rooms to let.
Fykiada
Literally meaning "seaweed area", this bay is probably better suited for photos than for swimming, though we were told that it's a great area for spearfishing.
Over here, you will see some very photogenic remains of the island's mining industry. The backdrop of rusted metal and a blue sky was very appealing. The photo is of me trying to stand up on a VERY windy day!
Dekas beach
This long, sandy, west-facing beach was very quiet when we visited. Apparently, it's a popular spot with free campers, naturists and couples. Access is through an easy dirt road.
Ellinika beach
This beach is famous for the sunken ancient town. However, in our experience, it was rather difficult to locate the ancient remains underwater, or at least be certain that what you saw was ancient.
That said, a lot of the ancient artefacts found on Kimolos were found either here, or on the small islet of Agios Andreas.
The beach itself is not very special at all, and the seabed is very rocky. If you want a relaxed day, my suggestion is to stay on the next beach, Mavrospilia.
Mavrospilia beach
This natural sandy beach was probably our favourite beach in Kimolos. The setting is really wild, with some pretty white rocks jutting out of the sea. Unfortunately, on both times we visited, it was too windy to swim around them.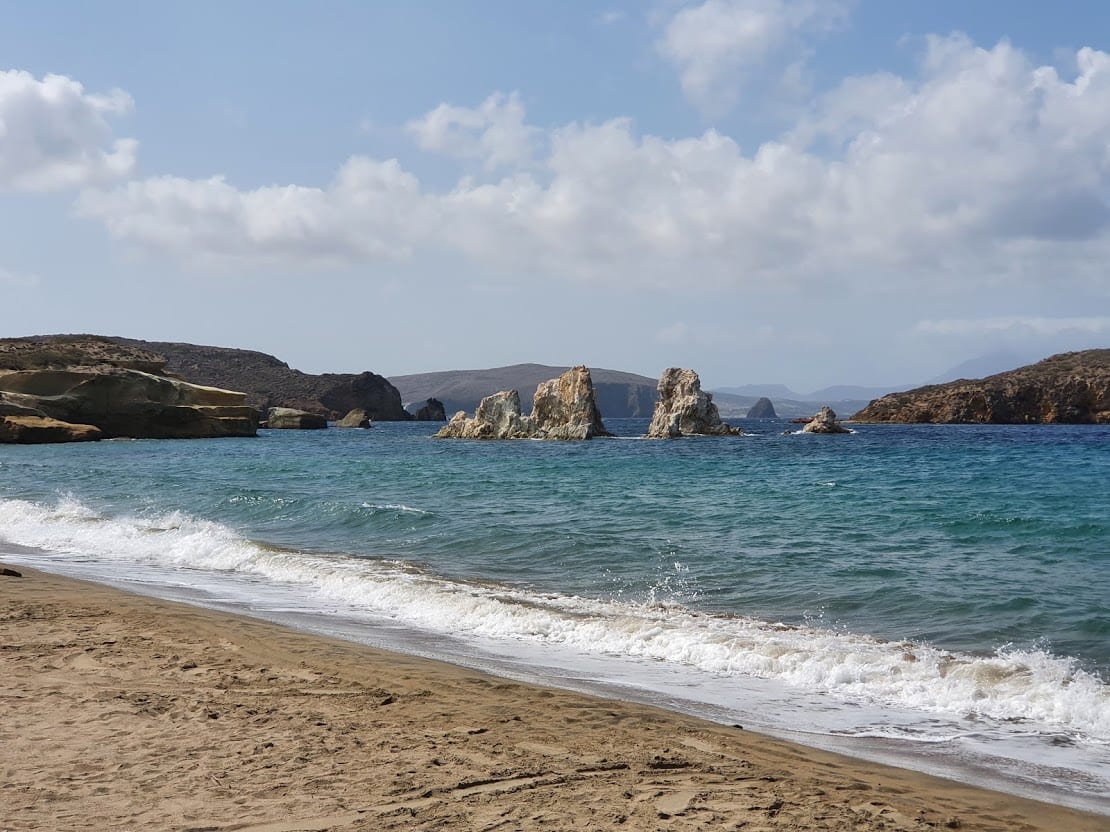 Mavrospilia is also great to see the sunset from. You can walk along the shore and climb on the rocks to enjoy the beautiful, wild views.
Soufli and Monastiria beaches
These beaches are located to the north-east of Kimolos. You will have to take a long dirt road to get here. If you have a 4WD, you can probably drive all the way to Monastiria. In our case, we left the car up on the hill, and continued on foot.
Monastiria is a beautiful, wild beach surrounded by impressive, wild rocks. It's best avoided on days with northern winds, as it's very exposed.
If you hike for about 20 minutes from Monastiria, you will get to Soufli. This is a protected beach with many cedar trees, which seemed to be a popular spot for free camping. Surprisingly, there is also a house on the right hand side of the beach.
Vromolimnos
The name of this beach wasn't very appealing – it means "dirty lake" in Greek. Regardless, we decided to come here anyway. Our advice – don't bother, as this beach is indeed not very pretty at all!
Prassa beach (Agios Georgios Beach)
Prassa beach is one of the most popular beaches in Kimolos. It is definitely very picturesque, with coarse white sand and lovely, shallow turquoise water. Also known as Agios Georgios, it's one of the few beaches on Kimolos with a beach bar, loungers and umbrellas.
At the south part, near a concrete pier, you can find some thermal waters. Not that I imagine you'll need them on a hot summer's day!
In our experience, Prassa beach wasn't very relaxing, as there is a mining area nearby. Large trucks go up and down the road, so there is lots of noise and dust.
Still, it's worth coming here for a couple of hours, and that amazing blue water is a great place to take a photo! You can also swim to the nearby islet, Prassonisi – just be aware of any boats going around.
Klima beach
Klima beach is under a half hour walk from Chorio, just after the only gas station on the island. There's a mix of sand and pebbles and several cedar trees, providing much needed shade.
Related: Best Greek Islands For Beaches
Let's leave the beaches for now, and look at other things to do in Kimolos.
Goupa Karra – Rema Fishing Villages
These two fishing villages are among the most picturesque spots in the whole of Kimolos island. Here, you will see the traditional fishermen's houses and boat garages with brightly painted doors, called sirmata. If you have been to Milos island, you will definitely remember seeing similar settlements.
In both Goupa and Rema, there are many flat rocks from where you can jump in the crystal-clear blue sea. Rema also has a rather non-descript pebbly beach. When it's not windy, the water is really amazing, and the nearby rock formations are ideal for snorkelling.
Take a boat tour around Kimolos Island
One of the best ways to explore any Greek island is by sea. Boat tours take you to beaches and coves that are difficult or impossible to reach by land.
There are a few boat tours going around Kimolos and the uninhabited island of Polyaigos. You will see the rugged locations of Geronikolas and Gerakia, just off the coast of Kimolos.
The incredible seacaves and wild rocks may remind you of Kleftiko Bay in Milos. You may also stop at Agioklima, a remote beach with a hot spring.
Boat itineraries generally vary, depending on winds and other weather conditions. For up-to-date information, ask around at the travel agencies in the port or Chorio.
Hiking in Kimolos
Like most of the Cyclades, Kimolos is great for people who like hiking. There are seven major hiking trails that you can take to explore the island.
Even if you are not an outdoorsy person, I'd suggest that hiking is one of the best things to do in Kimolos. It's the only way you can get to the famous Mushroom Rock Skiadi, for example.
While some of the spots you can get to are also accessible by car or vehicle, others are not. For example, it is possible to hike to some of the most remote beaches, like Agioklima.
You can find more information on the hiking paths on the official website of the municipality of Kimolos.
Hike to Skiadi rock
A unique spot in Kimolos which is only accessible through a short hike, is Skiadi. This is an interesting rock formation which looks like a giant stone mushroom. It is part of the Atlas of Geological Monuments of the Aegean.
This natural landmark is composed of several different types of rock. Apparently, the bottom part is made up of softer materials. Gradually, these materials have been blown away by the strong winds in the area.
To get to Skiadi, you can follow the signs through Chorio and onto a rough dirt road. You will leave your vehicle, and then you will need to walk on an easy trail for 20-25 minutes. Note that the area around Skiadi rock may be unusually windy all of a sudden – at least this was our experience!
From up there, you will have a lovely view of the western beaches. It is also possible to continue your hike to some of them, like Ellinika or Mavrospilia.
Enjoy the delicious food
Food is an important element of any Greek vacation. In my experience, Kimolos has some pretty amazing tavernas! We liked every single meal we had on the island.
My favourite place to eat in Kimolos was a grill house in Chorio, called I Palaia Agora. Now I'm not saying that all the other places we ate were bad. Not at all. It's just that all meat dishes in that souvlaki place were really out of this world. Apparently the meat is all local, which definitely makes a difference.
Another place we enjoyed eating was Kalamitsi, by the beach. These guys proudly grow their own vegetables that taste great.
But in all honestly, everywhere we ate was very good. Unfortunately, a couple of tavernas that we wanted to try had closed for the season. Keep this in mind if you are visiting Kimolos in late September, like we did.
In terms of local dishes, you should try the different bakery goods like ladenia, tirenia and elenia. These are similar to a bread or perhaps a pizza, topped with different ingredients.
If you like soft cheeses, make sure you order your Greek salad with the local cheese called ksino. Really good!
And before I forget – make sure you pop in for a fancy ice-cream at Stavento. It's top quality, like you would expect to find in a gelateria in a modern city!
Find out more here: Where to eat in Kimolos
Talk to the locals
The people of Kimolos are among the chattiest I've ever met while travelling around Greece. I mostly let Vanessa do the talking, but was impressed at the time they took to have a chat!
They are really friendly and hospitable, which you may not encounter to the same degree in other, more famous locations.
Relax and enjoy!
This is probably the most important thing to do in Kimolos! While the island has enough to keep you occupied for several days, it is also a fantastic place to just relax, unwind, and do nothing.
Make sure you bring a couple of books, leave the mobile phone behind, and just enjoy your time on an unspoilt Greek island!
And if you haven't got a book, don't worry. Kimolos not only has a bookstore, but there are also a few open libraries, run the Kimolistes volunteers! Just pick a book you like, and perhaps leave one behind when you are departing.
How to get to Kimolos
The most popular way to get to Kimolos is from Milos. I've got a full guide you can read here – How to get to Kimolos from Milos Greece.
Kimolos is also connected to Athens and other Greek islands in the Cyclades. My guide here looks in more detail about how to get from Athens to Kimolos.
Take a look at Ferryhopper for updated ferry schedules and prices.
Kimolos hotels
There is a range of Kimolos accommodation to suit all budgets and tastes. Take a look at the interactive Kimolos map below to get an indication of prices and locations.


Note: Not all hotels in Kimolos will appear on this map if you are looking out of season. Some hotels take their rooms off the platform during the off-season.
What to do in Kimolos FAQ
Readers planning in island hopping through the Western Cyclades, and who want to include Kimolos along with nearby islands in their travel itinerary often ask questions such as:
Do you need a car in Kimolos?
Using a car is the best way to get around Kimolos as you'll get to see much more of this fascinating place. There are several car rental companies in Kimolos, including at the port where all visitors to this small island arrive.
How do I get to Kimolos?
The only way to travel to Kimolos is to take a ferry. The most popular route is to take a ferry from Milos, but there are also Greek ferries from Piraeus Port in Athens as well as other islands such as Folegandros and Santorini.
Does Kimolos have an airport?
The island of Kimolos does not have an airport. The closest airport is Milos Island National Airport on the nearby island of Milos, which has flight connections with the main airport in Athens.
How do you get to Milos Greece?
You can either fly from Athens directly to Milos, or take a ferry from Piraeus Port in Athens or other islands in the Cyclades group.
What are the nearby islands to Kimolos?
The closest islands to Kimolos are Milos, Sifnos, Folegandros, Sikinos, Antiparos and Paros.
Is Kimolos worth visiting?
Kimolos is definitely worth visiting! With its strange rock formations, beautiful beaches, medieval castle and friendly locals, Kimolos could be your new favourite Greek island.
Kimolos Greece Travel Guide
If you enjoyed reading this Kimolos travel blog, feel free to share it using the buttons in the bottom right hand corner of you screen. That way, other people can find this travel guide on Kimolos island.
You might be interested in the following Greek travel blogs:
---