I've been asked quite a few times why I decided to choose a Rohloff hub for bicycle touring. After all, they are pretty expensive and not easily repaired if something goes wrong. Here's why I made up my mind to buy one, and why I think it's worth the investment.
Rohloff Hub for Touring Bikes
Why did you buy a Rohloff-equipped touring bike, aren't they expensive?
I get this quite often. Sometimes, it is from other cyclists who are considering buying one themselves. Other times, it's from non-cyclists who can't quite believe that I spent that much on it!
Believe me, it was not a snap decision. I spent a long while weighing up the pros and cons of choosing a Rohloff hub for my expedition bicycle before parting with my hard earned cash.
Using a Rohloff Hub
Before we go any further, I need to mention that I've not always used a Rohloff hub. My previous journeys such as cycling from England to South Africa and cycling from Alaska to Argentina were undertaken on bicycles with traditional rear derailleur systems.
They did the job, but I started to appreciate the benefits that a Rohloff hub might offer. Of course, benefits are one thing. Being in a position to buy one is another matter entirely!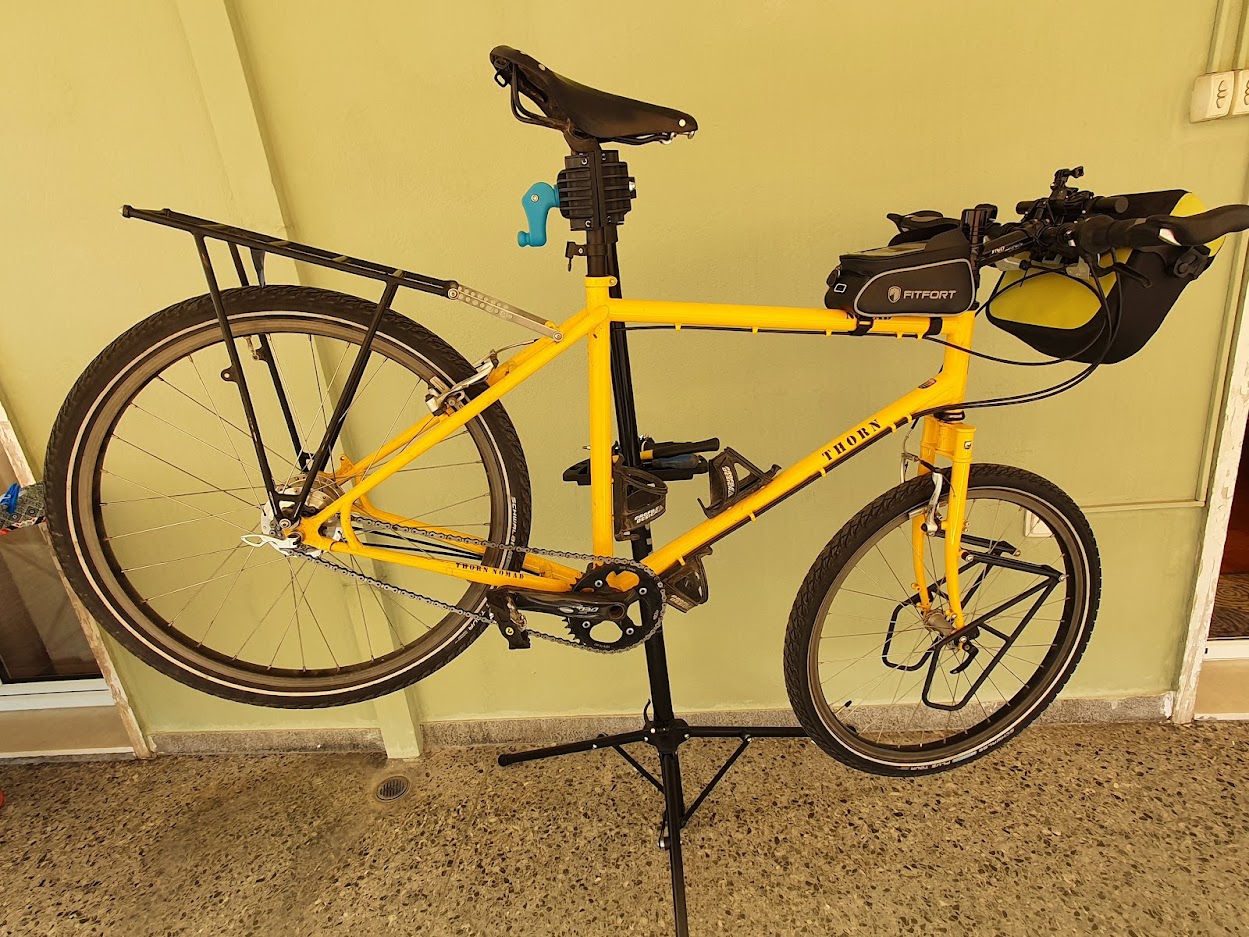 Deciding to buy a Rohloff Speedhub
Returning to England from Argentina in 2011, I began to plan my next trip differently.
Usually, I would work and save from between eight months and a year, and then travel for a year or so until the money ran out. This time though, I wanted my next adventure to be a complete cycling trip around the world.
As it might take anywhere between four and six years to complete, I would have to work and save a lot longer than usual beforehand.
During this time, I would also re-equip myself with all the gear I would need. This included a new expedition bike, and I decided that I would opt for one with a Rohloff hub.
Rohloff Hub Bikes
After returning (completely broke!) from the Alaska Argentina bike tour, it took me a couple of years to be in a position where I felt comfortable buying such an expensive bike. Well, not comfortable exactly – but I did it anyway!
At the time, there were quite a limited number of Rohloff bikes for touring available, with the Thorn Nomad being the most well known. Nowadays, there's a lot more availability with Stanforth, Koga, and Surly offering Rohloff equipped bikes to name just three.
Buying my bike with some personal specs on the 24/09/2013 (I still have the receipt in 2022!) this cost me £2705. It was a lot of money then, but I suspect that Rohloff hub touring bikes are even more expensive now for the same spec. A quick look at the 2022 Stanforth Kibo Rohloff hub bike shows a £3600 price tag.
So, something to keep in mind when choosing which bicycle you want for long distance touring – They don't really get cheaper as the years go on, so if you buy a quality bike that will last, it's really an investment.
Why Choose a Rohloff Hub for Bicycle Touring
What is a Rohloff Hub?
The Rohloff internally geared hub has been on the market since 1998, and features 14 gears. Unlike derailleur gears, there is no overlapping. Each one is spaced out equally, is unique and usable, and is changed by a single grip twist shifter. The chain does not need to move in order to alter gears, which means that gear changing can be done whilst stationary.
There are also no exposed components which might be damaged on rough tracks. This means that the Rohloff hub is popular with mountain bikers as well as bicycle tourists, who appreciate its deceptive simplicity and build quality.
Rohloff are proud of the fact that they have not known the internals of a hub fail. Other general problems are few and far between. There is probably no better example of German engineering excellence for bicycles than the Rohloff hub!
Reasons to Choose a Rohloff Hub for Bicycle Touring
No vulnerable outer parts – As all the moving components are in the sealed unit, the speedhub is more robust than a derailleur system. This makes it far more suitable for bikepacking and touring, where the bicycle may be ridden over challenging terrain.
Low Maintenance – Apart from changing the oil every 5000 kms (or every year if the distance isn't met), no other maintenance is required.
Easy to change gear – One of the things that I find most appealing with the Rohloff hub, is being able to change gear whilst stationary.
On a derailleur equipped bike, there is nothing more annoying than being brought to an abrupt halt in traffic or on steep hills, and finding yourself in totally the wrong gear.
To put it in the right one, involves either physical strain, or getting off the bike and pushing for a bit as the gears change. With the Rohloff, you just use the gripshift to literally fly through the gears.
Lower Running Costs – All of the above means that the overall running costs using a speedhub will be lower when averaged out over several years. This is something that is very appealing to anyone setting out on a multi year RTW cycle ride.
Cons to using a Rohloff Speedhub
Very few things are perfect in this world, and of course deciding to buy a Rohloff bike does have its drawbacks.
Initial upfront cost – Whilst the overall running costs may be lower, buying either the Rohloff bike or Rohloff rear hub does involve a rather large initial upfront cost. When I bought the Thorn Nomad speedhub bike in 2014, the cost of the hub was around 700 pounds. Updating this in 2020, you'll be lucky to get one for under 1000 pounds.
Heavier rear wheel – The addition of the hub makes the wheel a lot heavier than normal. Overall, when taking into account the drivetrain and hubs, using a Rohloff adds about an extra half kilo in weight.
Not repairable yourself – It is a sealed unit, meaning that if you have a problem with the internal hub gears, you'd have to send it back to Rohloff for repairs. A bit inconvenient if you are in the middle of a bike tour!
Shifter – The handlebar gear shifter is a bit divisive among certain people. Personally I love it, but to others it may limit their choice of handlebars or feel too flimsy.
Rohloff Bike Carbon Belt or Chain?
When I bought my MK2 Thorn Nomad in 2013, carbon belt systems were really just being developed and were not widely available, hence I have a chain drive bicycle.
Updating this in 2022, belt systems are becoming more popular, but personally, I need some convincing that they are a good idea for long distance bike touring. If something goes wrong (and everything goes wrong at some point), replacing belts looks like a massive hassle. With a chain system, I can just replace the chain in 5 minutes.
The comments section at the end of this post is worth reading as other people have shared their experiences and thoughts. Please add yours there as well – always good for cyclists to consult the hive mind when planning bike tours!
Final Thoughts on the Rohloff Hub
Having used the Rohloff speedhub on my bike now for over nine years, I can honestly say that I am very happy with it. It's one of those bits of gear that has a higher upfront cost, but repays itself over the long run.
Somewhat ironically, I never got to go on the multi-year bike tour, but I have cycled a few mini-tours with the Thorn Nomad Rohloff hub bike with zero issues. As long as you change out the oil when recommended, and swap the chain when needed, it all works great!
The gear ratio is just fine for cycling with a fully loaded touring bike, and you never knew you loved gear shifting when stationary so much until you've ridden one.
More importantly, it gives piece of mind. When you are on the bike for 8 hours a day, day in and day out, having confidence that the bike you are riding will not let you down leaves you to enjoy the simple things, which is really what bike touring is all about.
Next thorough test of the bike: Bike touring Iceland in 2023. Stay tuned!
Related Bike Touring Posts
Rohloff Hubs FAQ
Here are some commonly asked questions about Rohloff Hubs.
How much is a Rohloff hub?
Rohloff hubs can be quite expensive, starting at $1300 in the US for just the hub. In the UK, you can expect to pay around £1000, whilst in the EU the price for a Rohloff Speedhub is 1100 Euros. Rohloff-equipped touring bikes can begin at the $3000 mark.
Are internal gear hubs any good?
An internal gear hub, such as the Rohloff, allows you to shift gears even when stationary. This is a big bonus when bike touring on inclines with heavy loads. while you're not pedaling. The Rohloff internal hub is very low maintenance, only requiring an oil change at set intervals.
How much does a Rohloff hub weigh?
When weighing the Rohloff Speedhub 500/14, you should take into account reduced rate of rings and chain length needed with derailleurs. The fitted Rohloff system with changers and cables weighs in at around 1800 g. This is approximately 300 g more than a comparable derailleur system.
How often should I swap Rohloff Oil?
It is recommended that you change the oil in a Rohloff hub every 5000kms, or at least once a year if you don't make that distance. Working on the assumption that riders clock up 10,000 kms per year on long distance round the world tours, a twice a year oil change is needed.