Greece travel itineraries for couples, families, backpackers, history buffs, bucket list tickers, off the beaten path explorers and everyone else!
Planning an itinerary for Greece
Greece is the kind of place that will leave you with countless memories and stories to tell. It's natural beauty, rich history, and diverse cities are an experience like no other – but it can be overwhelming trying to plan your trip!
The first step in planning a Greece itinerary is deciding what type of trip you want. Do you prefer the big city life or would rather relax on a secluded beach? Would you like to visit historic ruins or party at one of Greece's legendary island destinations?
Greece is a country that has everything to offer, from beaches to snowy mountains. Whether you're looking for relaxing vacations or action-packed adventures, Greece's diverse landscape will make your trip unforgettable.
Choosing a Greece itinerary
The hardest part of traveling to Greece is planning your itinerary. There are so many beautiful places that you want to visit, and it's hard to choose which ones!
These Greek travel itineraries will help you narrow down the list of things you want to see in Greece, and they'll give you some ideas for where to stay along the way.
Whether this is your first trip or your tenth, there's got a vacation plan here for everyone. Explore these Greece itineraries to find the perfect place in Greece for you.
---
First and Only Time in Greece
If you are going to Greece for the first and only time in your life, then you should probably choose the classic Santorini, Mykonos and Athens itinerary.
This travel itinerary can be adapted from anywhere from 7 to 12 days, and provides a good experience of the 'big name' destinations Greece has to offer.
Highlights of this classic Athens – Santorini – Mykonos itinerary include:
Visit the The Acropolis (UNESCO Site)
See picturesque villages of Fira and Oia in Santorini
The Santorini sunset
Explore Mykonos Old Town
Take a day trip to Delos from Mykonos
Read more: Make the most of your 7 day Greece itinerary with this local's guide
---
Athens – Santorini – Crete – Rhodes
If you're looking for a great travel itinerary in Greece, this one is perfect. You'll be able to see Athens, Santorini, Crete and Rhodes! From the birthplace of democracy to medieval castles and beautiful beaches – it's like four vacations in two weeks!
Perhaps you've visited Greece before but haven't been to these destinations. Maybe you've never been to Greece, but Mykonos doesn't appeal and you'd prefer to see more historic sites than bars.
This itinerary is suitable for all age groups and categories of people, and can easily be covered in a 2 week period.
Highlights of the Athens – Santorini – Crete – Rhodes itinerary include:
Visiting the Parthenon and Acropolis
Enjoying Caldera views and sunsets in beautiful Santorini
Exploring the Minotaur's Lair in Knossos, Crete
Marveling at the UNESCO rated medieval city of Rhodes
Read more: 2 Weeks in Athens – Santorini – Crete – Rhodes
---
Road Trip in Crete
When you think of a road trip, what do you envision? If it's beaches and adventure, then Crete may be the ideal destination for your next vacation.
This Greek island is full of cultural treasures to explore, as well as hidden beaches that are ideal for relaxing during your time off.
Planning a road trip can be overwhelming; however, with these tips from an experienced traveler in Crete, you will have everything you need to enjoy this type of excursion more than ever before!
This travel itinerary is suitable for people who are used to driving in another country, are comfortable in a hire vehicle or are traveling with their own vehicle.
Highlights include:
Knossos and Archaeological Museum
Dikteon Cave and Lasithi plateau
Spinalonga Island Crete
Milatos Cave in Crete
Crete Historical Sites – Gortyna and Phaestos
Matala Caves
Read more: Highlights of a Road Trip in Crete
---
Independent Family Vacation in Greece
If you're reading this travel guide, the chances are you're an independent traveler happy to make their own travel arrangements. That's good, because my suggested Athens, Naxos, Crete itinerary for families is not likely to appear at travel agencies!
It's a shame, because this combination of destinations in Greece works out perfectly, with a mix of culture, history, and of course fantastic beaches.
This itinerary is probably best suited to families happy to pack their bags and move to their next destination every few days, and who are travel savvy.
Highlights of the Greece family itinerary include:
Delve into the past of Ancient Athens
Enjoy the fantastic beaches of Naxos
Take a culinary tour to sample local products
Explore Knossos and castles in Crete
Read more here: Family vacation in Greece itinerary
---
Mainland Greece Explorer
Whilst many people dash off to the islands as soon as they arrive in Greece, there's others that like to see what the mainland has to offer. It it offers a lot!
The landscape of Meteora for example is simply mesmerizing, and the mainland abounds with must see ancient sites such as Delphi, Mycenae and Olympia.
This itinerary is most suited to people that will either drive themselves around, or are happy to travel by local transport. Whether you're a backpacker or amateur archaeologist, you'll be sure to enjoy highlights such as:
Athens
Corinth canal, and Ancient Corinth
Mycenae
Ancient Olympia
Delphi
Meteora
Read more here: Best places to visit in mainland Greece
---
Greek Island Hopping
It's impossible to mention Greek travel itineraries without including a little island hopping! For years, travel in Greece was synonymous with backpackers traveling from island to island over the summer months.
Putting together a Greek island hopping trip is as simple as looking at a map, and then working out which islands are closest together. Aim to spend 3 or 4 days on each island, and then see how many you can get through during your vacation time!
If you're new to island hopping in Greece, the easiest place to begin is the Cyclades chain of islands. These include the big name destinations such as Mykonos and Santorini, but also hidden gems such as Sikinos and Kimolos.
Highlights of a Cyclades island hopping trip include:
Santorini sunsets
Endless beaches in Naxos
The peace and calm of Sikinos
Romantic island of Milos
Backpacker's party scene of Ios
Read more: Cyclades islands in Greece
---
UNESCO World Heritage Visitor
If you're the type of person that likes to plan a vacation around visiting UNESCO World Heritage sites, then your luck is in when you come to Greece!
There are 18 UNESCO sites in Greece, ranging from the ancient city of Mycenae to the medieval city of Rhodes. Keep in mind though, that unless you are traveling in Greece for a month, it's going to be tough to see all the Greek UNESCO sites in one itinerary!
Highlights include:
Read more here: UNESCO sites in Greece
---
City Lover
The beaches of Greece are fantastic, but don't overlook the cities. That said, in many cases, the cities of Greece also have beaches, so it's a win-win!
It goes without saying that Athens, the birthplace of democracy has plenty to see and do, but so also do other major Greek cities such as Thessaloniki, Patras, Ioannina, Kalamata, and Heraklion.
Basing a Greek itinerary around cities might not be everyone's cup of tea, but might appeal to digital nomads who want to get to know the real Greece a little more.
Highlights include:
Live like an Athenian
Enjoy Byzantine remains in Thessaloniki
Spend the summer at the beach town of Kalamata
Read more here: Best cities in Greece
---
Cycling around Greece
This is definitely one for adventure lovers! I've taken several cycling trips around Greece now, and whilst the terrain can be hard going because of all the mountains, the scenery is always worth it!
There's many different routes you can put together when planning to bring your bicycle to Greece and see the country on two wheels. My top recommendation is to plan a cycle tour around the Peloponnese.
When bike touring around the Peloponnese, you get all the highlights of the natural beauty, as well as the opportunity to visit ancient sites and places of interest. A great way to see off the beaten path Greece!
Read more here: Cycling the Peloponnese in Greece
---
More itinerary suggestions for Greece
Even after all I've mentioned above, we've barely scratched the surface when it comes to places you can see in Greece! To be honest, there's an endless combination of destinations and activities you could put together, as well as different time scales you could do everything in.
So, it's probably best that I leave you with a few key travel guides which might be nice to slot together so you can plan your own Greece holiday itinerary.
Greece Itinerary FAQ
Readers often ask questions similar to these about where to go in Greece:
How many days are enough in Greece?
Spend at least seven days in this beautiful country and explore Athens plus one or two of the Greek islands (pair Mykonos with Santorini, for example).
How much does the average trip to Greece cost?
This really depends on what type of traveler you are. A backpacker who likes to camp could spend less than 30 Euros per day in Greece, while a caldera view Santorini hotel might cost 500 Euro a night!
What can you see in Greece in 7 days?
The best things to do in 7 days in Greece include seeing the highlights of Athens such as the Acropolis, enjoying the unparalleled beauty of Santorini, and savoring the cosmopolitan lifestyle of Mykonos.
What can you see in Greece in 10 days?
A well thought out 10 day itinerary for Greece will enable you to experience a wide variety of landscapes and places to see. A typical 10 day trip to Greece for first time visitors might include Athens, Santorini, Mykonos, or Naxos.
---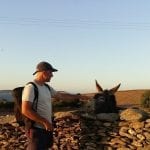 –
Dave Briggs
Dave is a
travel writer
currently based in Greece As well as creating this travel blog post about planning an itinerary Greece, he's also written many more travel blogs about destinations in Greece. Follow Dave on social media for travel inspiration from Greece and beyond: