There are 18 UNESCO sites in Greece, ranging from the ancient city of Mycenae to the medieval city of Rhodes. Let's take a look at these unique archaeological and natural world heritages sites in Greece.
UNESCO World Heritage Sites in Greece
Of all the many thousands of historical sites in Greece, 18 have made it on to the UNESCO World Heritage List. Of these, 16 are classed as cultural sites, and two classed for being a mix of cultural and natural significance.
From the list of Greek UNESCO Sites, 5 are on the Greek islands, there are 12 UNESCO sites on mainland Greece, and the final one is split between the mainland and islands.
This makes visiting all the UNESCO World Heritage Sites in Greece on one vacation a little tricky – unless you have plenty of time!
UNESCO Sites Greece
Here's a look at these Greek UNESCO world heritage sites in more detail.

1. Acropolis, Athens
The Acropolis is one of the most well known UNESCO sites in Greece. This ancient, fortified citadel would have been the very core of Ancient Athens, and evidence suggests it has been occupied since 4000 BC.
A sum of its parts, the Acropolis in Athens achieved UNESCO status thanks to its outstanding remaining buildings – The Parthenon, the Propylaia, the Erechtheion and the Temple of Athena Nike.
These principal monuments date from what we term the Classical Greek era. They perfectly showcase the pinnacle of architectural development from the golden age of Greece.
It goes without saying that no visit to Athens is complete without seeing the Acropolis, and it is one of the most popular historical attractions in Greece. It was made a UNESCO heritage site in 1987.
Find out how to visit the Acropolis: Acropolis Guided Tours
2. Archaeological Site of Aigai (Vergina)
The ancient city of Aigai is situated near modern town Vergina in northern Greece. This was the first capital of Macedon, and the place where Alexander the Great was made King after his father was murdered there.
Vergina is one of the more recently discovered archaeological sites in Greece. Excavations began in the 1970s, and revealed a collection of burial tombs that had been undisturbed – quite a rarity in Greece! Even more importantly, one of the tombs was that of Alexander's father Phillip II.
Awarded UNESCO World Heritage status in 1996, Aigai (Vergina), is a fascinating place to visit, with tombs, a palace, and a very important museum containing artefacts discovered at the site.
3. Archaeological Site of Delphi
Delphi is one of the most famous landmarks in Greece. Today, Delphi is a two and a half hour drive from Athens, but to Ancient Greeks it was the center of the world.
People would make pilgrimages from all around the Mediterranean in order to consult the Oracle, or take part in the Pythian Games, one of the four PanHellenic Games of Greece.
This ancient sanctuary occupies a large space on the slope of nearby Mount Parnassus, with incredible views out over the surrounding valley. Whilst many of the temples have long been destroyed, enough remains to give a feel for just how special this place must have been.
Delphi was made a UNESCO heritage site due to its huge cultural significance and influence upon the Ancient Greek world and beyond. It also has an excellent museum on site which helps to explain not only the purpose of the sanctuary, but some of the history of Greece. Delphi was made a UNESCO site in 1987.
Find out how to visit Delphi: Delphi Day Trip from Athens

4. Archaeological Site of Mystras
Mystras in the Peloponnese region is one of the least known UNESCO World Heritage Sites in Greece. Even many Greeks are unaware of it!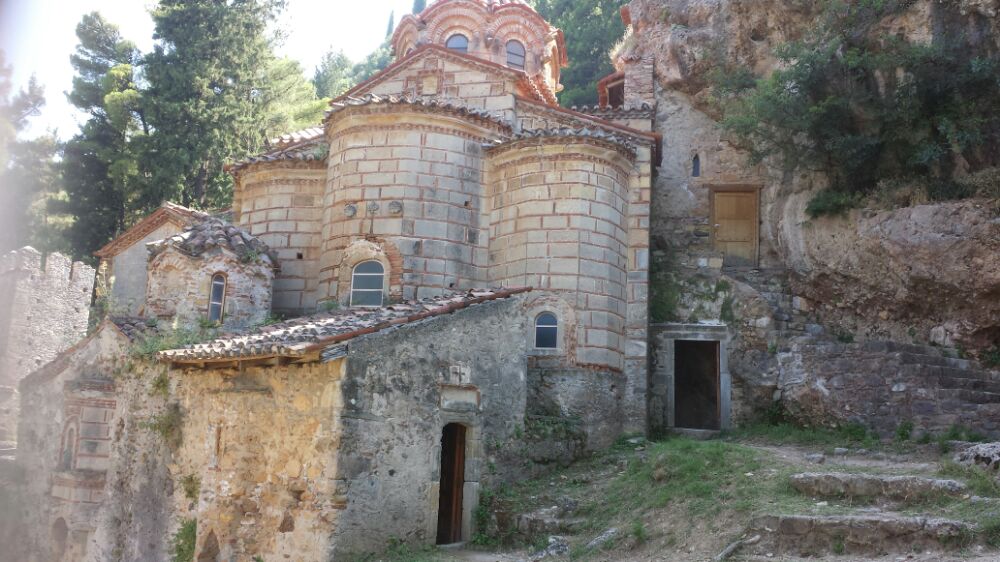 This fortified Byzantine town played an important role during the 14th and 15th centuries, and was a centre for Byzantine scholarship. It flourished during a period some call the Byzantine Renaissance until the Ottoman occupation in 1460.
Today, we can see the remains of countless Byzantine churches, buildings, and defensive walls. From the top, there are panoramic views of the surrounding landscape, and it is easy to see how commanding its position must have once been.
Mystras became a world heritage site in 1989, and to this day remains one of the least promoted and visited archaeological sites in Greece.
Find out how to visit Mystras: Mystras World Heritage Site in Greece

5. Archaeological Site of Olympia
Located in the north-west of the Peloponnese in Greece, Ancient Olympia was another important sanctuary in the Ancient Greek World. Like Delphi, it was one of the sites of the PanHellenic Games.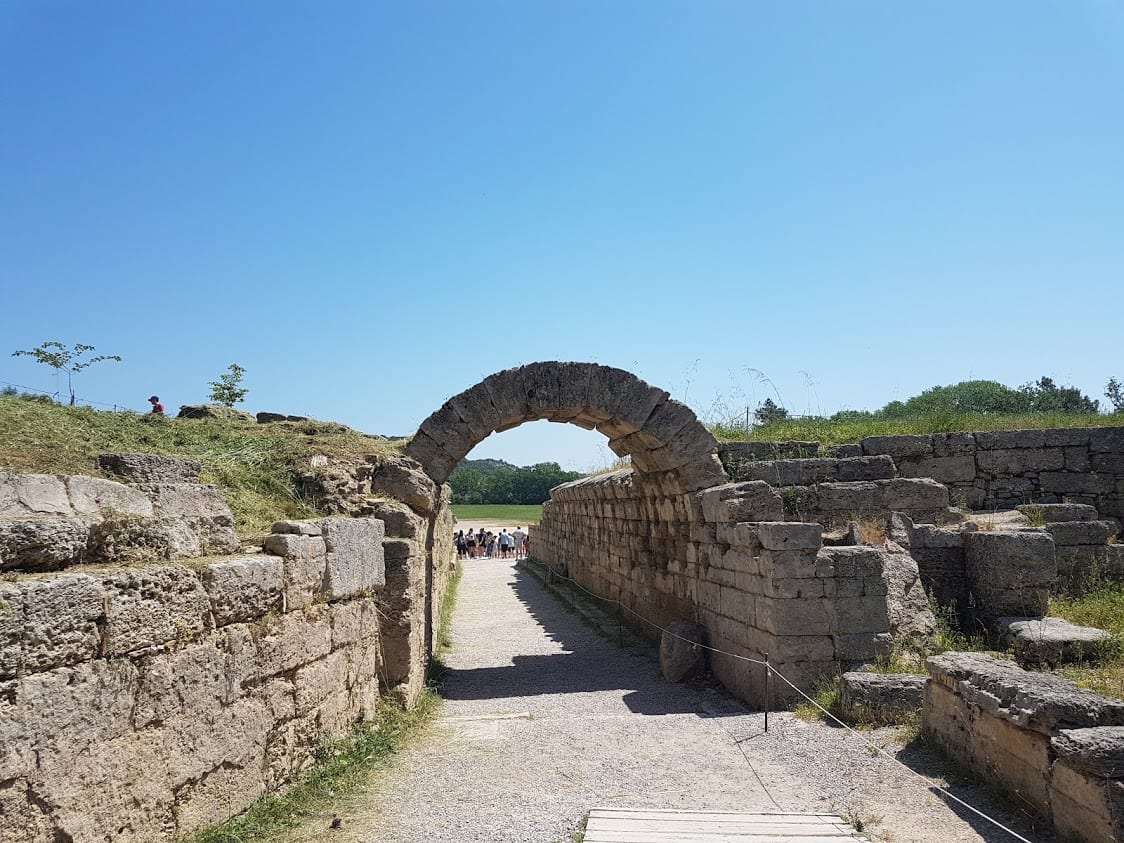 People would travel from all over Greece to compete in games at Olympia. As Greek city states were often at war with one another, a period of truce covered athletes travelling to and from the Games.
Today, little remains of the buildings that once dominated this impressive site. Still, there is enough to give an impression of what it was once like. Visitors even have the chance to run on a track used thousands of years ago in the ancient Olympic Games!
Olympia was made a UNESCO site in 1989. Two museums on site are dedicated to the ancient and the modern Olympic Games. Many treasures that were made as offerings to the Gods thousands of years ago were found here, and these too are on display at the Olympia museum.

6. Archaeological Site of Mycenae and Tiryns
The ancient city of Mycenae in Greece is located in the Peloponnese, and perhaps occupies a place somewhere between Greek mythology and reality.
Its most famous King was (maybe) Agamemnon, and it was a major centre of Greek civilisation, spawning an era we call the Mycenaean.
It is an acropolis type fortress, set high on a hill with good visibility and intricate defences. The most famous part of Mycenae is the Lion Gate, which in fact was how the city was identified as being Mycenae in 1700.
The second archaeological site, Tiryns, is located a little further away quite close to the town of Nafplion on the coast. In some sense, this site is even more spectacular than Mycenae thanks to its huge walls.
Mycenae and Tiryns were made a joint UNESCO site in 1999. They can be visited as a day trip from Athens, or as part of a road trip around the Peloponnese.
Find out more about visiting Mycenae and Tiryns: Mycenae Archaeological Site, Tiryns in Greece

7. Delos
In classical Greek culture, the sacred island of Delos was said to have been the birthplace of the Greek God Apollo. It was an important religious center for thousands of years, and also a prosperous trading port.
The geographical position of Delos puts it at almost the center of the Cyclades, and maritime trading interests meant that it had connections with the eastern Mediterranean world. This is reflected in Greek architecture that includes a Doric temple dedicated to an Egyptian God!
You could say that Delos has always attracted visitors from around the world, and that is still the case today as it is one of the most visited heritage sites in Greece. You can reach the island of Delos on a day trip from Mykonos or Naxos.
Look here for more day trips and Mykonos tours.

8. Historic Centre (Chora) with the Monastery of Saint John (Patmos)
Located on the Greek island of Patmos, the historic centre of the Chora and the Monastery of Saint John achieved joint UNESCO status in 1999.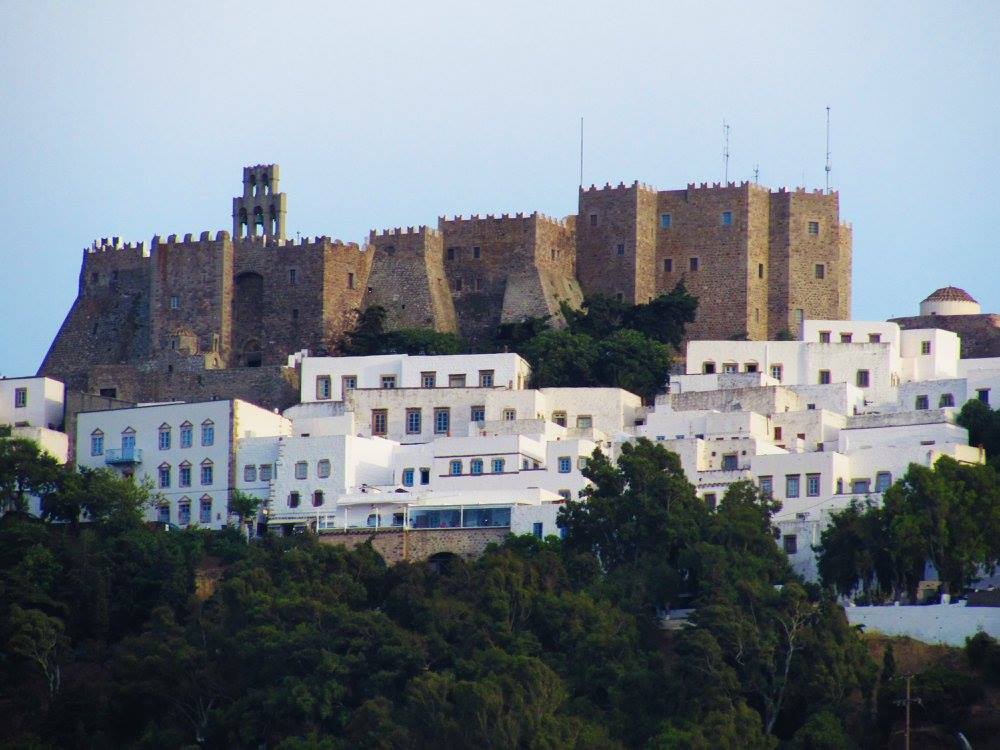 Sometimes referred to as the Island of the Apocalypse, this is where St. John the Theologian spent some time and wrote his gospel and Book of Revelation. There is also a cave on the island, where John was said to have received his visions.
Find out more about Patmos: The Greek island of Patmos

9. Medieval City of Rhodes
The medieval city of Rhodes is classed as another of the Unesco heritage sites Greece.
When the Knights Hospitaller settled in Rhodes, they began transforming and developing the city into an incredible stronghold. For just over two hundred years between 1309 and 1523 they held sway, with the Palace of the Grand Master of the Knights of Rhodes being a monumental design.
Finally, the walled city fell to Ottoman rule, and the surviving Knights then moved to Malta. Development of the complex continued, and during Ottoman occupation, mosques, baths and other buildings were constructed in the lower town. The upper town retained its Gothic splendour.
After Turkish and Italian rule, the Germans ruled briefly in World War II before Rhodes was surrendered to the British in 1945. The island was finally reunited, with the rest of the Dodecanese islands, with Greece in 1947. The medieval city of Rhodes was given UNESCO Heritage status in 1988.

10. Monasteries of Daphni, Hosios Loukas and Nea Moni of Chios
This UNESCO site in Greece is actually spread out over three separate locations. They have been classed together due to their similar aesthetics which represent was is considered to be an important era in Byzantine art in the 11th and 12th centuries.
Daphni Monastery is located just a short drive away from Athens centre. Hosios Loukas is in Boeotia, and Nea Moni is on the Greek island of Chios.

11. Old Town of Corfu
The Old Town of Corfu is classed as one of the Unesco Greece site. Corfu Town occupies a strategic position at the entrance to the Adriatic Sea on the Greek island of Corfu. It is believed the town has been occupied since the 8th century BC.
The town has three notable forts which were used by the Venetians to protect trade routes and materials from attack by the Ottoman Empire. As a result, Corfu is the only part of modern day Greece not to have fallen under Ottoman rule.
With neoclasscial buildings that date from both Venetian times and the 19th century, the old town has retained an authentic look, leading to its designation as a World Heritage Site in 2007.

12. Paleochristian and Byzantine Monuments of Thessaloniki
Laid-back Thessaloniki was awarded with UNESCO World Heritage status in 1988 thanks to its PaleoChristian and Byzantine monuments.
Thessaloniki is a pleasant city to walk around, with many of its Byzantine churches and archaeological excavations easily seen within one day.

13. Pythagoreion and Heraion of Samos
The ancient sites of Pythagoreion and Heraion of Samos are jointly listed, making a joint entry in the list of UNESCO Heritage Sites in Greece that offer a glimpse into ancient Greek civilization.

By Tomisti – Own work, CC BY-SA 4.0, Link
This archaeological site contains one of the few surviving sanctuary areas dedicated to the Goddess Hera. Along with the Pythagoreion, and ancient fortified port, it was awarded UNESCO status in 1992.

14. Sanctuary of Asklepios at Epidaurus
In Ancient Greece, Epidaurus was a renowned healing centre, and thought to be the birthplace of Apollo's son Asclepius. People would journey from all over the Greek world to be healed at the sanctuary, and there were even sleeping quarters with over 160 guest rooms available.
Perhaps the most well known feature of Epidaurus is the theatre. This miracle of human engineering has unparalleled acoustics that still baffle scientists to this day. Anyone sitting in the top seats can literally hear a pin drop on stage and the tiniest whisper. It's something to be experienced to be believed! Epidaurus became a UNESCO site in 1988.
Find out how to visit Epidaurus: Mycenae and Epidaurus Day Trip from Athens

15. Temple of Apollo Epicurius at Bassae
This Greek UNESCO site is located on the western side of the Peloponnese, about an hour's drive from Ancient Olympia. This temple is unique for combining several architectural styles, namely Ionic, Doric, and Corinthian.

By Carole Raddato from FRANKFURT, Germany – The Temple of Apollo Epikourios at Bassae, east colonnade, Arcadia, Greece, CC BY-SA 2.0, Link
The temple is dedicated to Apollo in his form as the God of Healing, and was constructed sometime between 450 and 400 BC. Currently, it is being preserved underneath a gigantic canopy-like structure, which is in itself something of a modern marvel!
The Temple of Apollo Epicurius at Bassae in the Peloponnese is really only accessible to people with their own transport, and is best included as part of the journey to or from Olympia. The Temple achieved UNESCO Heritage status in 1986.

16. Meteora
Meteora, located in central Greece, is a unique and breathtaking destination that should be on everyone's travel list.
This impressive site is home to monasteries perched atop towering natural rock formations, which offer stunning views of the surrounding valley. It's no surprise that Meteora has been designated as one of the UNESCO World Heritage Sites Greece has to offer.
Meteora in Greece is a place that never fails to impress visitors. The combination of unique natural beauty, and architectural bravery in the form of monasteries that cling precariously to eroded rock faces is simply stunning.
These monasteries were built by monks seeking to be at one with their studies. Later, they played an important role in keeping Greek culture and the Orthodox religion alive during the Ottoman occupation.
Located in central Greece, it is technically possible to visit Meteora on a day trip from Athens. Two days is better though, and three ideal in order to fully appreciate this beautiful part of Greece. Meteora became a UNESCO site in 1988.
Find out more about Meteora: Visiting Meteora in Greece

17. Mount Athos
Mount Athos is a unique and spiritually significant destination situated in northern Greece, and has been recognized as one of the Greece UNESCO World Heritage Sites.
This is the holiest centre in Greece for the Orthodox faith, and has an autonomous statute. This means they get to make the rules, such as no women or children being allowed to enter the territory.
Occupied since 1054, this Orthodox spiritual centre now has over 1400 monks living in around 20 monasteries.
It is possible to visit this area and stay overnight, but only after completing an application process. It's not something I have done yet, but would love to one day visit this most special of the cultural sites in Greece!

18. Philippi

By MrPanyGoff – Own work, CC BY-SA 3.0, Link
Philippi was only added onto the list of UNESCO sites in 2016. As the name might suggest, this ancient city was named after Macedonian King Phillip II in 356 BC, before passing into the hands of the Roman Empire 300 years later.
Philippi was abandoned in the 14th century after the Ottoman occupation, and the first archaeological excavation began in 1914. The site has buildings from many eras, including a magnificent theatre from the Hellenistic period.
Unesco Heritage Sites in Greece
Readers planning to visit Greece and find out more about the ancient world and cultural heritage of the country sometimes have questions similar to:
How many Unesco heritage sites are there in Greece?
Greece has 18 World Heritage properties as of 2021, 16 of which are cultural sites and two (Meteora and Mount Athos) are mixed due to both natural and cultural aspects.
Is Santorini a World Heritage Site?
The Greek island of Santorini is not currently a heritage site. There has been talk that its wine making history may make it viable for inclusion on the list of Intangible Cultural Heritage of UNESCO.
Is the Parthenon a Unesco site?
The Acropolis of Athens is a UNESCO World Heritage Site for its cultural significance and value, having been inscribed in 1987. The Parthenon, the most distinctive and famous of these ancient buildings on the Acropolis of Athens, is included within this designation.
Is Knossos a Unesco World Heritage Site?
The Minoan Palatial centre of Knossos is notable by its absence when it comes to Greek world heritage sites. This monumental palace has been put forward for recognition but so far, no progress has been made in granting it heritage status.
What is a heritage site and why are they important?
World Heritage Sites are cultural and/or natural sites that the World Heritage Committee considers to be of "Outstanding Universal Value," and for which they have been added to the World Heritage List. These locations or structures are believed to be significant for all people.
When was Mycenae designated as world heritage site?
The ancient city of Mycenae, located in the northeastern part of the Peloponnese peninsula in Greece, was designated as a UNESCO World Heritage Site in 1999. This impressive site is home to some of the most important and well-preserved archaeological ruins of the Mycenaean civilization, including the famous Lion Gate, which stands as a testament to the incredible engineering and architectural abilities of the ancient Greeks.
Pin this guide to UNESCO Greece
Please use the image below to pin this guide to world heritage sites in Greece for later. You can search for more info online here: Greek heritage sites
---