How to make the 20 minute hike to Katergo Beach – One of the most scenic beaches on the Greek island of Folegandros.
Katergo Beach Folegandros
Some of the most appealing things about Folegandros island in Greece, are the natural, untouched beaches. Up until now (and we hope this continues!), beach bars and sun loungers have been kept at bay.
Related: Best Greek Islands For Beaches
This means that the Folegandros beaches still have a raw, untamed nature, and perhaps the most beautiful of all these is Kartego beach.
Located on the south-eastern side of Folegandros, Katergo is a lovely beach and a must-visit when on the island. In this quick-read guide I'll show you how to get there, what to take, and a few other tips.
Note: Despite the epic pose, it's a hike anyone with reasonable fitness and mobility will enjoy!
How to get to Katergo Beach
There are two ways to get to Katergo beach – A short boat trip (water taxi) or to hike.
The boat trip to Katergo Folegandros takes 10 minutes from the main port of Karavostasis, and leaves roughly every hour from 11.00 am costing around 10 Euro return.
There's no need to pre-book tickets, and you can just arrive at the port and ask for the boat to Katergo Beach. The port in Folegandros is tiny, so you will hardly get lost!
The hourly boat tours to Kartego are a simple transfer service, and whilst you will get to see a bit of the coastline, the journey is perhaps not the most interesting other than to get photos of Katergo beach from the sea.
In my opinion, the best way to get to Katergo beach is to hike.
How to hike to Katergo Beach
Hiking to Katergo Beach is a great experience and very rewarding. You get to see some of the wonderful landscape of Folegandros, discover old stone buildings, and get a little exercise all at the same time.
The best thing though, is the view down onto the beach from the top of the cliff once you have reached the coastline.
Finding the hiking path to Folegandros Kartego Beach is easy. Take the road out to Livadi Beach (not to be confused with Livadaki on the other side of the island), and then follow the sign posts for Kartego.
Some maps show a small settlement called Livadi which is nothing more than a small collection of scattered houses. Around here you will find the signs for the beach.
Park up your vehicle, and then follow the well-marked path.
The Trail to Katergo Beach
It takes most people between 20 and 30 minutes to hike from the beginning of the path to Katergo Beach. The ground is rough rock and loose pebble.
Whilst you could walk it in good quality sandals, you won't make it in flip-flops! A decent closed pair of shoes is best, as occasionally you may brush past small thorny plants.
The rocky path is well maintained (at least in 2020 it was!) and easy to follow. You'll see an occasional KT painted on to rocks so you know you're still on the right track.
The only difficult section comes right at the end once you can see Katergo Beach below you. Here, the path becomes quite steep as it leads down to the beach. Take your time, as it looks worst than it is, and you'll make it safe and sound.
Then, all you need to do is take a well-deserved swim in the sea!
Folegandros Katergo Beach Tips
The beach is an unorganized one with no facilities, meaning you need to take your own food and water with you as you can not find any there.
There are no trees or shelter at the beach, so consider bringing your own umbrella or other shade.
The sand quality is small pebbles, but you can still easily put a beach umbrella up.
Pack a snorkel if you have one – it's a great area to see fish in crystal clear water!
Start your hike early, especially if in Folegandros in August!
Save some energy for the return hike!
Want to find out more about Folegandros? Check out my blog post on the best things to do in Folegandros Island in Greece. And if you need to know how to get to the island in the first place, read how to get from Athens to Folegandros.
Travel Resources for Greece
Planning a trip to Greece? These travel resources will make the whole process a lot easier!
Best Beaches in the Cyclades
Are you something of a beach lover? You might be interested in these other travel guides to beaches in the Cyclades islands of Greece.
---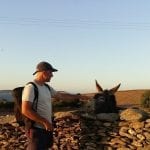 –
Dave Briggs
Dave is a
travel writer
originally from the UK, and now living in Greece. In addition to creating this travel blog post about how to access the beautiful beach of Katergo, he's also written hundreds more travel guides to Greek destinations all over the country. Follow Dave on social media for travel inspiration from Greece and beyond: