The Ios to Tinos ferry service only operates in July, August, and September when there is one ferry every day. The journey takes 3 hours and 15 minutes.
Ios Tinos Ferry Route
If you're looking to travel from Ios to Tinos by ferry, there are a few things you need to know about the Ios -Tinos ferry service.
The main point is that this is considered a tourist route, and so ferries don't operate between these two islands all the year round. Instead, the Ios ferry to Tinos only sails in July, August and September which is the high season in Greece.
During this time, there is one service every day. The journey takes approximately 3 hours and 15 minutes and the ferry company is Golden Star Ferries.
Ferry Tickets and Golden Star Ferries
For the 2022 season, passengers can expect to pay around 46 Euros for the ferry ticket. The vessel sailing this route is the SUPEREXPRESS.
You can generally expect faster ferries to have more expensive tickets prices. Check out Ferryhopper for Greek ferry tickets and up to date timetables.
If you want to travel outside of the tourist season, you could consider routes which go via other islands. Once such example might be a ferry from Ios to Mykonos and then Mykonos to Tinos. Another might be Ios to Syros and Syros to Tinos.
To see which ferry companies you could use in the shoulder season, and for ticket booking, use our ferry partners at Ferryhopper.
Tinos Travel Tips
Here's a few travel tips for visiting the island of Tinos that may help you plan an itinerary:
Ferries sail from the main ferry port, called Gialos in Ios. Arriving ferries dock at the island's port in Tinos Town in Tinos.
---
For places to stay in Tinos, I recommend using Booking. as you'll find the widest selection of hotels in Greece. They have a great choice of where to stay in Tinos and areas to consider staying include Agios Sostis, Agios Romanos, Chora (Tinos town), Pyrgos, Kionia, and Agios Ioannis Porto.
---
If you are traveling to Tinos in the busy summer months, I advise reserving hotels in Tinos a month or so in advance. I've a complete guide here to Tinos hotels: Best hotels in Tinos
---
Tourists should visit the following beaches in Tinos: Agia Thalassa, Agios Sostis, Agios Ioannis Porto, Rochari, Kolimvithra, Pachia Ammos, and Agios Romanos.
---
Ferryhopper is perhaps the easiest site to use if you want to buy tickets for the Tinos ferry online. The price for this route should be 46.00 Euro.
---
---
---
---
How to travel from Ios to Tinos FAQ
Questions that people ask about traveling to Tinos from Ios include:
How do we get to Tinos from Ios?
The only way to make a trip from Ios to Tinos is by taking a ferry. There is only 1 ferry a day between July and September sailing to the Cyclades island of Tinos from Ios.
Is there an airport in Tinos?
There's no airport on Tinos island, so the only way to go to from Ios to Tinos is by taking a ferry. The closest airport to Tinos is at Mykonos.
How long is the ferry crossing from Ios to Tinos?
The ferries to the Greek island of Tinos from Ios take around 3 hours and 5 minutes. Ferry operators on the Ios Tinos route may include Golden Star Ferries.
Where do I buy ferry tickets to Tinos?
The best place to look at Greek ferries online is Ferryhopper. Although I recommend you book your Ios to Tinos ferry tickets in advance, you could also use a local travel agency in Greece.
The Ios to Tinos Ferry Service is the only way to travel between these two popular destinations in the Cyclades islands group. The travel time is 3 hours and 15 minutes on a ferry operated by Golden Star Ferries.
Have you taken any ferry trips on this route? Do you have any questions? Leave a comment below and I'll get back to you!
---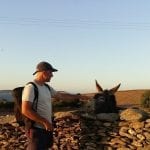 –
Dave Briggs
Dave is a
travel writer
originally from the UK, and now living in Greece. In addition to creating this travel blog post about ferries from Ios to Tinos, he's also written hundreds more travel guides to Greek destinations. Follow Dave on social media for travel inspiration from Greece and beyond: