Wondering where to stay in Serifos, Greece? This guide will show you the best areas and hotels in Serifos for your next vacation.
Serifos Island
Serifos is a small Greek island in west of the Aegean's Cyclades Group. It's a quiet Greek getaway island, quite different to the big name destinations close by.
Serifos has excellent beaches all around, most of which can be reached on foot or by bus. Visitors to Serifos should explore the mines at Mega Livadi and bring sturdy shoes to follow the endless trails all over Serifos – it is one of best islands in Cyclades for walking. The Chora of Serifos is worth exploring with its whitewashed hill-top village that offers stunning views.
Best Areas To Stay In Serifos
In the past, most of the accommodation in Serifos was located in or around the main port Livadi. In the last few years, more hotels in Serifos have sprung up in Chora as well as some of the beach areas.
You can now find unique, boutique hotels in some amazing locations on the island. There's something like 100 properties listed on Booking alone!
Related: Best hotels in Greece
Map of Hotels in Serifos
You can find hotels on Serifos island using the map below. It's interactive, so as you zoom in and out, you will discover new places to stay along with a guide price.
You might find it useful to check out the guest reviews when selecting a hotel in Serifos to see what other travelers thought of the place.
Best Hotels in Serifos
Here's a look at some of the popular hotels in Serifos. There's a link under each one so you can click through to check the availability and prices on the dates you're thinking of staying.
Keep in mind that the high season (July and August) will have more expensive prices and less availability. Even though Serifos is not one of the most popular destinations in Greece, it's advisable to book rooms well in advance.
Looking for a treat on your getaway to Serifos? Try the The Superior Suite. It is the largest and most secluded suite at the hotel, with a private pool and terrace with views of the port and Serifos Chora.
The Rizes Hotel is a 3-star hotel located in Simpotama, within the area of Agios Sostis.
The property offers port transfer, a sun terrace with magnificent view of the harbour and the main town, and a spacious lounge with free Wi-Fi point.
Each apartment is air-conditioned and equipped with kitchen facilities, bathroom with built-in shower and hairdryer.
Some accommodation at this Serifos hotel have private pools
Breakfast is served between 09:00 and 11:00 each morning.
The pool area includes a 100 square metre pool, a restaurant and café-bar
Find out more on room availability and prices per night here: Rizes Hotel
Coco-Mat are an eco-friendly company with a lovely philosophy. Their boutique hotels are al purposefully designed with style in mind, and are perfect for a relaxing holiday. Their Serifos hotel located in Vagia is no different, and seems to blend in perfect harmony with the feel of the island.
The Coco-Mat Eco Residences on Serifos are a bioclimatic complex of 13 former miners' cottages located on Vagia Beach.
A bar, restaurant, and garden are all available at this vacation rental. A free WiFi connection is accessible in the lounge.
The furniture, pillows, and bedding materials used in COCO-MAT eco-friendly apartments are all made from natural, non-metallic materials.
Spacious apartments with balconies overlooking the Aegean Sea have a sitting area with a flat-screen TV
Greek breakfast is served daily; light meals & drinks available throughout day at lounge bar.
Car rental services offered; wedding/banquette venue possibilities exist here too!
Free parking & port transfer arranged upon request
Search for last minute deals on this hotel: Coco-Mat Eco Residences Serifos
Serifos isn't all luxury hotels and suites. If you want to save some money, enjoy being around other campers, and be within easy walking distance of the beach, try the camping at Serifos! Don't expect it to be quiet in August though.
The property is a short walk (1 minute) from the beach with pitches having garden and sea views.
It has a restaurant, 24-hour front desk, bar, garden, seasonal outdoor pool and barbecue.
Free WiFi and private parking are available on site.
Car rental service is also offered at the accommodation.
Points of interest near Coralli Camping include Livadakia Beach, Karavi Beach and Livadi Beach
Find out more here: Coralli Camping
The Naias hotel offers more simple, clean rooms in a quiet location. Guests comment on how helpful the owners are, and also say that it offers great value for money. A more typical Cycladic studio rooms type hotel!
2 minute walk from the beach.
It is located in Livadi, on the South-East coast of Serifos Island.
The port is 500 m away.
The Cycladic-style rooms come with air conditioning, a fridge and a TV.
They all have a bathroom with free toiletries and a hairdryer.
Guests can find taverns serving local specialties in the main town, which is within proximity.
This hotel in Serifos received great reviews. Read them here: Naias Hotel
Medusa Rooms has an excellent location being close to the beach and the port. It's also a good hotel to stay in Serifos for hiking to different parts of the island. There's a range of different room types, and guests leave very positive reviews.
3 minutes walk from the beach.
It offers air-conditioned units with partial or unobstructed views over the Aegean Sea.
Guests will find restaurants, bars and mini markets within 350 m from the property.
Check out booking availability here: Medusa Rooms & Apartments
The Serifos Blue Apartments has terrific review, although guests do feel let down by the Wi Fi. It is located in Ramos, near Karavi Beach. The biggest apartment has a fully equipped kitchen, which makes it a good choice for families.
Serifos Blue offers accommodation in Rámos, 750 m from Karavi Beach.
Free private parking is available on site.
There is a flat-screen television and satellite channels in the apartment. Some units include a terrace or balcony with sea views. There is also a kitchen that includes an oven and refrigerator. A stovetop, coffee machine, and toaster are also included.
Each unit has its own bathroom with a shower, bathrobes, and slippers
Serifos Blue also includes a barbecue
Make an online travel booking here: Serifos Blue
What to do in Serifos
• There are plenty of things to see and do on Serifos such as visiting the monastery on the north of the island, exploring the mines at Mega Livadi, and following the endless trails all over the island.
• The Chora of Serifos is a magical place with whitewashed hill-top village that is worth visiting.
•There are beaches all around the island of Serifos, most of which can be reached on foot or by bus.
• Psili Ammos is the most famous beach on Serifos and it is great if you're traveling with kids.
How to get to Serifos
There is no airport on the island of Serifos, and so you can only get there by ferry. The most popular route is to take a ferry from Athens to Serifos.
The island is also connected with some of the other Greek islands in the Cyclades chain. The better connected islands with Serifos include Sifnos, Milos, Kimolos, and Kythnos.
I recommend Ferryhopper when it comes to finding ferry timetables and schedules. You can also book e tickets which makes the travel experience a lot easier!
Getting around Serifos
Unless your hotel is in Livadi, you might want to hire a car or ATV to get around the island. There is a public bus that runs between Livadi and Chora somewhat infrequently.
Read my tips on renting a car in Greece if you haven't hired one before!
Useful to know
There are supermarkets, automobile rentals, a gasoline station, an ATM, a pharmacy, a post office, and a regional medical center on the island of Serifos.
FAQ About Serifos Hotels
Where can I sleep in Serifos?
Livadi is the main area to find accommodations in Serifos, and there are also places to sleep in Chora. Additionally, you can find a boutique hotel or two tucked away near some beach areas of the island.
Where is Serifos Greece?
Serifos is a small Greek island in the Aegean's Western Cyclades. It is located between the islands of Sifnos and Kythnos.
Does Serifos have luxury hotels?
Serifos has several luxury hotels to choose from, but there are (thankfully!) no full inclusive resorts on this quiet Greek island.
What is Serifos known for?
Serifos has established itself as one of the greatest Greek islands for couples, families, and groups of friends, and it is becoming increasingly popular with tourists. It is a quiet, low key destination when compare with the more famous Mykonos.
What is the best time of year to visit Serifos?
Serifos is best visited in the summer months, and the sea is warm enough tfor swimming between May and October. Although it is a quiet, laidback island, Serifos does get busier in August.
---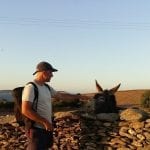 –
Dave Briggs
Dave is a
travel writer
based in Athens, Greece. In addition to writing this guide to the best hotels in Serifos, he's written many more travel blog posts about Athens and other destinations in Greece. Follow Dave on social media for travel inspiration from Greece and beyond: