During the summer, there are no direct ferry connections between Folegandros and Anafi islands in Greece. The journey is still possible though, if you're willing to swap ferries at Santorini and perhaps stay overnight there.
Anafi island in Greece
Of all the Cycladic islands, Anafi is one of the most awkward to travel to. This is due to its geographical location on the south-eastern edge of the Cyclades islands group. Less ferries pass by on a daily basis, meaning that getting there can be a challenge.
As a result, while Folegandros and Anafi might look reasonably close together on a map, the journey between the two usually requires at last one ferry connection.
Folegandros Anafi Ferry Route
Perhaps somewhat surprisingly, you can actually find direct ferries between Folegandros and Anafi during the low season. The frequency is one or two crossings per week, and the journey times are around two hours and 20 minutes.
Even the price is good, starting at 10.40 Euro per passenger for a ticket!
The downside of course, is that these ferries only start operating in September through until February.
While I personally think that September is an excellent month to travel in Greece, most visitors planning a vacation seem to prefer June, July and especially August.
So, what do you do if you want to get from Folegandros to Anafi in the summer months>
Folegandros To Anafi Via Other Islands
During the busiest months for travelling in Greece, there are no direct ferries from Folegandros to Anafi. In order to travel to Anafi from Folegandros you would need to go via another island first.
The best islands to consider going via are Santorini. Other islands to consider would be Paros and Naxos.
If the Greek Gods are smiling on you on the day you want to travel, these trips will line up nicely and you won't need to hang around at a ferry port for too long. You should be prepared to stay the night on an island though if they don't.
Your trips would look something like this:
Folegandros to Santorini and then Santorini to Anafi
or
Folegandros to Paros and then Paros to Anafi
or
Folegandros to Naxos and the Naxos to Anafi
Anafi Island Travel Tips
A few travel tips for visiting the Greek island of Anafi:
The best place to look at Greek ferries online is Ferryhopper. I recommend you book your Folegandros to Anafi ferry tickets in advance, especially during the the months of July, August, and September.
---
Ferry operators on the direct Folegandros Anafi routes in the off season include SeaJets. Indirect ferry services will be operated by a variety of different companies.
---
Passengers should aim to reach their departure ports at least a half hour in advance of when the crossing leaves if they have a ticket already.
---
A great way to make sure your vacation is enjoyable is by staying in a good hotel. A good hotel will have all the amenities you need, like a pool, fitness center, and restaurant. It will also be in a great location, close to attractions and restaurants.
Feel free to browse through some of these hotels and accommodation choices in Anafi:
---
---
Related post suggestion: Renting a car in Greece – tips from a local
---
How to make a trip from Folegandros to Anafi FAQ
A few of the frequently asked questions about traveling to Anafi from Folegandros include:
How can we get to Anafi from Folegandros?
If you want to make a journey from Folegandros to Anafi you would need to go via another island first such as Santorini. There are no direct ferries sailing to the Cyclades island of Anafi from Folegandros during the high season.
Is there an airport on Anafi?
As there's no airport in Anafi, the only way to travel from Folegandros to Anafi is by the ferry services. The airport most close to Anafi is at Santorini.
How many hours is the ferry from Folegandros to Anafi?
With no direct ferries going to the island of Anafi from Folegandros, it is hard to calculate the exact travel time. If connections line up perfectly, it could be 8 hours or less. In the worst case, you may need to stay over night on Santorini.
Where do you get ferry tickets to Anafi?
One of the best places to look at ferry schedules and to book tickets online is at Ferryhopper. Although I recommend you book your Folegandros to Anafi ferry tickets in advance, you could also wait until you are in Greece, and use a travel agency.
---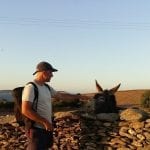 –
Dave Briggs
Dave is a
travel writer
based in Athens, Greece. As well as creating this guide to ferries from Folegandros to Anafi, he's also written hundreds more travel guides to Greek destinations. Follow Dave on social media for travel inspiration from Greece and beyond: