Your local's guide on where to stay in Skiathos island in Greece. Includes the best Skiathos hotels and different resort areas.
Looking for a Skiathos hotel? This article is your ultimate guide where to stay in Skiathos.
Skiathos Resorts
The Greek island of Skiathos is something of a conundrum. Popular with Brits and yet retaining it's Greek authenticity, small and yet there's 60 beaches, famous (thanks to Mama Mia) but still unknown.
With dense pine forests and hiking trails it could also be a naturists ideal destination – and yet that side of the island is rarely mentioned.
Skiathos is an intriguing place to take a holiday. There's lovely beaches, great nightlife, fantastic food, and unparalleled natural beauty. No wonder then, that people return year after year to stay in Skiathos for their summer holiday!
Best Place To Stay In Skiathos
The list below summarizes which is the best area to stay in Skiathos based on different types of traveler.
As might be expected with a Greek island, most of the accommodation in Skiathos can be found in coastal towns, villages, and settlements.
Skiathos Town: Ideal for first time visitors. Good public transport options if you don't want to rent a car. Great restaurants and nightlife. Related: Do you need to rent a car in Skiathos?
---
Koukounaries Beach: Perfect for beach lovers. Best beach on the island. Some good hotels nearby.
---
Megali Ammos: Resort area 5km from Skiathos Town. All nationalities on holidays to Skiathos end up here in July and August.
---
Troulos Beach: Small resort and town. Perfect choice for families with young kids.
---
Agia Paraskevi: Another option for families and people who like things quieter. Easy access to nature hiking trails.
---
Vasilias Beach: If you're looking for a luxury hotel in a spectacular setting.
---
Achladies: Next to Vassilias. Good for families. Limited choices for food and drinks at night.
---
Kanapitsa: Very quiet location. Nature lovers will love staying here.
---
Best Skiathos Hotels
The island of Skiathos is very small, but there is plenty of accommodation available. Take a look at the interactive map of Skiathos below. You can zoom in and out, and as you do, you will see more hotels and rooms appear, along with prices.
Best Hotels Skiathos
If you're planning to visit Skiathos this summer (or next!), be aware that July and August are the busiest months.
Hotels in Skiathos island Greece can book out quickly in the most popular areas, so it's a good idea to reserve ahead as far in advance as you can.
Skiathos Town Hotels
Staying in Skiathos Town puts you at the heart of the action in terms of nightlife, places to eat, and it's a lovely place to explore. There's not a beach in the town, but nothing is too far away on this small Greek island!
Regular bus services will take you to all the popular beaches and places of interest on the island, and you can easily rent a car for a few days. Staying in the town also gives you the option of an easy day trip to Skopelos.
Hotels in Skiathos Town
Some of the top rated Skiathos Town hotels and accommodations include:
Guests can take a refreshing dip at the outdoor pool, enjoy Mediterranean dishes and light meals in the on-site bar-restaurant or stay in spacious suites with furnished balconies. Deluxe suites have a yacht-like ambience while executive suites have their own private jacuzzis overlooking gorgeous views of the sea. The top end grand villa suite has its own terrace for guests to relax and soak up some sun. Mystery Skiathos is located just steps from town center and walking distance from Skiathos port making it an ideal place to stay in Skiathos.
Read guest reviews and more here: Mystery Skiathos Luxury Residence
The Bourtzi is a 4-star hotel just off the main street of Skiathos Town, with a lovely courtyard and swimming pool area. The minimalist rooms all have king size beds and flat screen TVs as well as air conditioning. The soundproofed rooms at the Bourtzi hotel are neatly designed with modern furnishings and stylish bathrooms that offer balconies overlooking the pool or sea views. Guests can enjoy buffet breakfast served by the poolside while relaxing on sun loungers. The Bourtzi also features an elegant cocktail bar located on the pedestrian road of Skiathos town which serves drinks & light snacks!
Read more: Bourtzi Hotel
Located in the old town of Skiathos and just a 4 minute walk to the beach. Meltemi hotel is near shops and restaurants as well as 5 minutes from Skiathos' centre – with its traditional fish taverns, bars and souvenir shops. Free WiFi is available throughout the premises so you can stay connected while on vacation. This is the closest hotel to the ferry port in Skiathos.
Read more and check availability: Meltemi by Manthos Hotels
If you're looking for a hotel with an Olympic-sized swimming pool, look no further than La Piscine Art Hotel. This adults-only hotel is located in a peaceful area just 5 minutes from the center of Skiathos. You'll enjoy relaxing by the pool and taking advantage of the free breakfast included in your stay. The staff at La Piscine Art by Philian Hotels go out of their way to ensure that guests have a relaxing holiday. Make sure to book your stay today!
Find out about free breakfast and free cancellation offers here: La Piscine Art Hotel, Philian Hotels and Resorts
Best Luxury Hotels Skiathos
The island has several luxury hotels you can stay at. They normally have free private parking, private pools, spacious rooms, and spa features. Some of the most notable of these are:
Discover the perfect getaway at this 5-star resort. Located just 2 minutes from sandy beaches of Vasilias. Enjoy direct access to the beach from the Kassandra Bay resort Suites or relax by one of their seawater pools or indulge in a spa session at the onsite wellness centre. The resort features 3 restaurants, an all-day snack bar and poolside bar so you can enjoy your stay without ever having to leave! Some units have a hot tub. The Kassandra Bay Resort Suite Spa has a privileged location at Vassilias Beach, but check out the guest reviews to see if it's for you.
Read more here: Kassandra Bay Resort, Suites & Spa
Discover a new way to experience the Mediterranean on Skiathos, Greece. With an exquisite location and unparalleled service, this 5-star hotel has direct access to Agia Paraskevi Beach – just one minute walking! The Skiathos Princess offers air-conditioned rooms with free Wi-Fi, a large pool and spa area surrounded by extensive gardens. All of their spacious en suite bedrooms come complete with luxurious toiletries, bathrobes and slippers for your comfort. 24 hour room service is available to make sure you are looked after at all times on your stay here in Skiathos.
Read more here: Skiathos Princess
The Mandraki Village Boutique Hotel is the perfect place to relax and escape the hustle and bustle of everyday life. With its stunning location by the famous beach of Koukounaries , elegant accommodation, delicious food and relaxing atmosphere, you'll be able to forget all your troubles and enjoy a truly memorable holiday. The Mandraki Village Boutique Hotel boasts a swimming pool and restaurant, free internet, and balcony, this hotel offers everything you need for a relaxing getaway. Plus, with breakfast included and Mediterranean cuisine available at the on-site restaurant, you'll be spoiled for choice when it comes to food!
Read more here: Mandraki Village Boutique Hotel
Simpler Studios and Rooms in Skiathos
Personally, I prefer a simpler but functional rooms when I travel. I'm not really interested in the TV and like little tavernas and restaurants to a hotel restaurant. I'm not interested in a hotel with a swimming pool, as there's a lovely big sea to swim in!
Generally, I'm after a clean studio type arrangement, preferably 25 sqm or bigger with a kitchenette facility so I can make breakfast myself and perhaps prepare a few snacks for the beach. In the shoulder season months (June and September) you can find some pretty keenly priced accommodation in Skiathos.
In the last few years in Greece this type of accommodation has ranged between 30 and 45 Euros a night (outside of August). Some suggestions for this type of hotels in Skiathos include:
Villa Jeanna (Troulos)
Studio Lefteris (Skiathos Town)
Maria Studios (Skiathos Town)
Dionisos Studios and Apts Skiathos (Strifilia, Koukounaries)
You can search for these and other hotels at my recommended partner Booking.com
Planning your holidays to Skiathos
Here are a few useful tips and guides to traveling to and from Skiathos:
FAQ About Skiathos
Some of the most commonly asked questions readers have about working out their Skiathos holiday plans include:
Is Skiathos Town nice?
Skiathos Town, with its whitewashed, terracotta-tiled roofs and overlooking the harbor, is a cosmopolitan and beautiful place. The waterfront and the cobbled pedestrian street Papadiamanti are lined with hotels, galleries, travel agents, tavernas, boutiques, and bars.
Is Skiathos Lively?
Skiathos has nightlife for all preferences. You can find all night bars and clubs in Skiathos Town and some resort areas, but there are also much quieter places where the only thing to do at night is enjoy a late meal and a few drinks.
How do I get from Skiathos Airport to Skiathos Town?
The bus no longer runs from Skiathos Airport to the town. Unless you want to walk (about 1 mile) the only option is to take a taxi. I recommend pre-booking a taxi with Welcome, as it will save you the hassle of haggling and waiting for a ride.
Is Skiathos good for couples?
Skiathos is highly recommended for couples. There are lots of boutique hotels to stay at, chic places to drink and endless places for lovely meals.
Is Skiathos Town busy?
July and August are the high season months in Skiathos, and the town is at its busiest during this time. Skiathos Town is the man settlement on the island, and so there is always something going on there!
Next read: Best things to do in Alonissos
---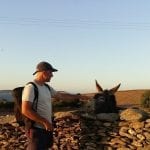 –
Dave Briggs
Dave is a
travel writer
based in Athens, Greece. In addition to writing this travel guide on the best hotels and places to stay in Skiathos, he's also written hundreds more travel guides to popular destinations all over Greece. Follow Dave on social media for travel inspiration from Greece and beyond: