Your local's guide to the best hotels in Skopelos, and which areas of Skopelos island are the best to stay for your holiday.
Skopelos Island Greece
Unspoiled Skopelos is the greenest of the Sporades islands in Greece. It has an unpretentious air to it, and despite its Mama Mia fame, still feels like it is waiting to be discovered.
Skopelos is larger than both neighbouring Skiathos and Alonnisos, and choosing where to stay in Skopelos really depends on what you intend to do when there.
If you are renting a car a car in Skopelos, you really have your pick of the entire island when it comes to staying at a hotel in Skopelos.
If you don't want to hire a car, and prefer public transport to get around Skopelos, it might make more sense to stay in Skopelos town.
Best Area To Stay In Skopelos
Here's a quick look at the main areas you can find accommodation in Skopelos, and the types of people each one might be more suitable for.
Skopelos Town: Most practical place to stay. Good amenities, transport links, restaurants. Convenient, but the nearby beach is not particularly special.
Loutraki/Glossa: Quieter than Skopelos Town. Good for couples. Good for day trips to Skiathos. Great for sunset drinks and meals.
Panormos: Small beach resort. Good for families (but a pebble beach). Lots of places to eat.
Stafylos: Summer season only.
Neo Klima: Feels more isolated but good budget choice.
Agnontas: Close to best Skopelos island beaches. Quiet.
Other areas: In addition to these main areas, there are also AirBnbs in Skopelos, boutique hotels, and places to stay that are outside of settlements if you have a rental car.
Best Hotels Skopelos
Here's a look at a map of Skopelos that shows the best hotels you can stay at. As you zoom in and out, you'll find more properties appear.
Important note: For some reason, many Skopelos hotels don't open their summer listings until March or April, which can make forward planning for your holiday difficult. Welcome to small island life in Greece!
Skopelos Hotels
With a lot of accommodation, Skopelos has a wide range of hotels and guest houses to choose from. Here's a look at the best Skopelos hotels :
This lovely hotel, which is only 600 m from the town centre and port, has breathtaking views of the sea and charming island homes.
Set in a picturesque, white-washed building with lush gardens and gorgeous views of the sea, this hotel complex features bright, inviting rooms and apartments with plenty of Greek character, refrigerators, included breakfast, and lovely pool/garden/sea vistas.
The architecture of Skopelos Village Hotel's 35 rooms and suites is similar to that of other Aegean Sea islands, but the inspired interior design provides for rest and freshness during carefree summers. Buffet breakfast is available every day.
The added features of the rooms include a refrigerator, microwave, stovetop and oven. Suites with contemporary furniture have amenities such as dishwashers and extra-large closets. This is an excellent location for couples to stay in.
Read guest reviews here: Skopelos Village Hotel
The Natura Boutique Luxury Hotel in Skopelos is 2 minutes walk from the beach at Loutrakion near the port. The hotel has a stylishly designed restaurant, a bar on the premises, and a spa. A Shuttle service from Skiathos Airport to Loutrakion Port can be arranged for travelers arriving by air, making the whole transfer process simple.
Read more here: Natura Luxury Boutique Hotel Skopelos
The Aeolos Hotel is a lovely hotel located 600 meters from the sea and town centre, with a good sized swimming pool. On the terrace in the morning, there is a buffet breakfast served with Aegean Sea and Skopelos Town views thrown in for good measure.
All rooms at the Aeolos have free Wi-Fi, a LCD satellite TV, and air conditioning. Each has an equipped balcony and some offer sea views – choose rooms on the higher floors if possible for more direct sea views.
On the sun terrace, there are loungers and umbrellas for guests as well as a hot tub. A children's pool and playground are available for smaller guests.
Skopelos Port and the Town center are a 10-minute walk. The scenic Stafylos Beach 3 km away.
Read more about the hotel facilities and availability here: Aeolos Hotel
Alkistis Hotel is set in an olive grove around 1.5 kilometers from Skopelos' town center and features well-equipped rooms with kitchenette, as well as free Wi-Fi. A restaurant overlooks the large swimming pool.
Alkistis Studios and Apartments offer peaceful, big, airy studios and apartments with classic furnishings. Each includes a dining area as well as a sitting room. Other amenities include a flat-screen TV, DVD player, and hairdryer in each apartment. The balcony in all apartments offers views of the pool or the landscaping around it.
Check the hotel rating and latest prices here: Alkistis Hotel
The Adrina Beach Hotel is a beachfront hotel on Adrina Beach, 12.5 kilometers from Skopelos town, near the village of Panormos. An outdoor salt-water swimming pool with sun beds and umbrellas is available as well as free WiFi access throughout.
This Adrina resort has apartments have a balcony or patio with views of the garden or sea. The rooms include a flat-screen satellite TV, air conditioning, and a mini fridge. Toiletry kits, slippers, and a hair dryer are available in the bathrooms
Read more about the Adrina Beach hotel here: Adrina Beach Hotel
This is a small, traditional Greek hotel, located about 12 km from Skopelos town. The Afroditi is located in a secluded area near Panormos beach and features simple, comfortable rooms and suites with refrigerators and nicely sized balconies. There are a few tavernas in the area, and buses into town depart from a bus stop near by.
Read more here to find out about other hotel facilities here: Afroditi
This hotel is just 3 minutes walk from the beach. Hotel Selenunda is a family run hotel, lovely, and also quiet. Located on the Loutraki hillside among pine trees, overlooking the Loutraki harbor, it offers self catering accommodation which is great for people who want to prepare a few of their own meals using the simple hot rings.
The Selenunda's air-conditioned studios and apartments are basic and neat, with white and blue decor and free Wi-Fi.
Read reviews and book this hotel in Skopelos: Hotel Selenunda
Poseidon, with an outdoor swimming pool, a bar, and self-catered rooms in a lush garden, is located 350 meters from Stafylos Beach. BBQ facilities, a playground, and free Wi-Fi are all available. Brits might want to try the English breakfast provided on request. Guests can take advantage of the 2-way transfer bewteen Skopelos Port, which is 4 kilometers from Poseidon, making it a good choice for people not renting a car.
All of the apartments have air-conditioning and are opened to a furnished balcony with views of the pool, garden, and Aegean Sea. There is a small oven with cooking hobs, refrigerator, and coffee maker in the kitchenette. A flat-screen TV with satellite channels and hair dryer are provided as standard.
Read more and check rooms online here: Poseidon Hotel
Check out my other cool hotel lists for destinations all over Greece: Best hotels in Greece
How to get to Skopelos
Once you've chosen a nice hotel on the island of Skopelos, perhaps you'd want to double check on how you are going to get there? Below are some useful guides on traveling to the Greek island of Skopelos as well as other islands in the Sporades.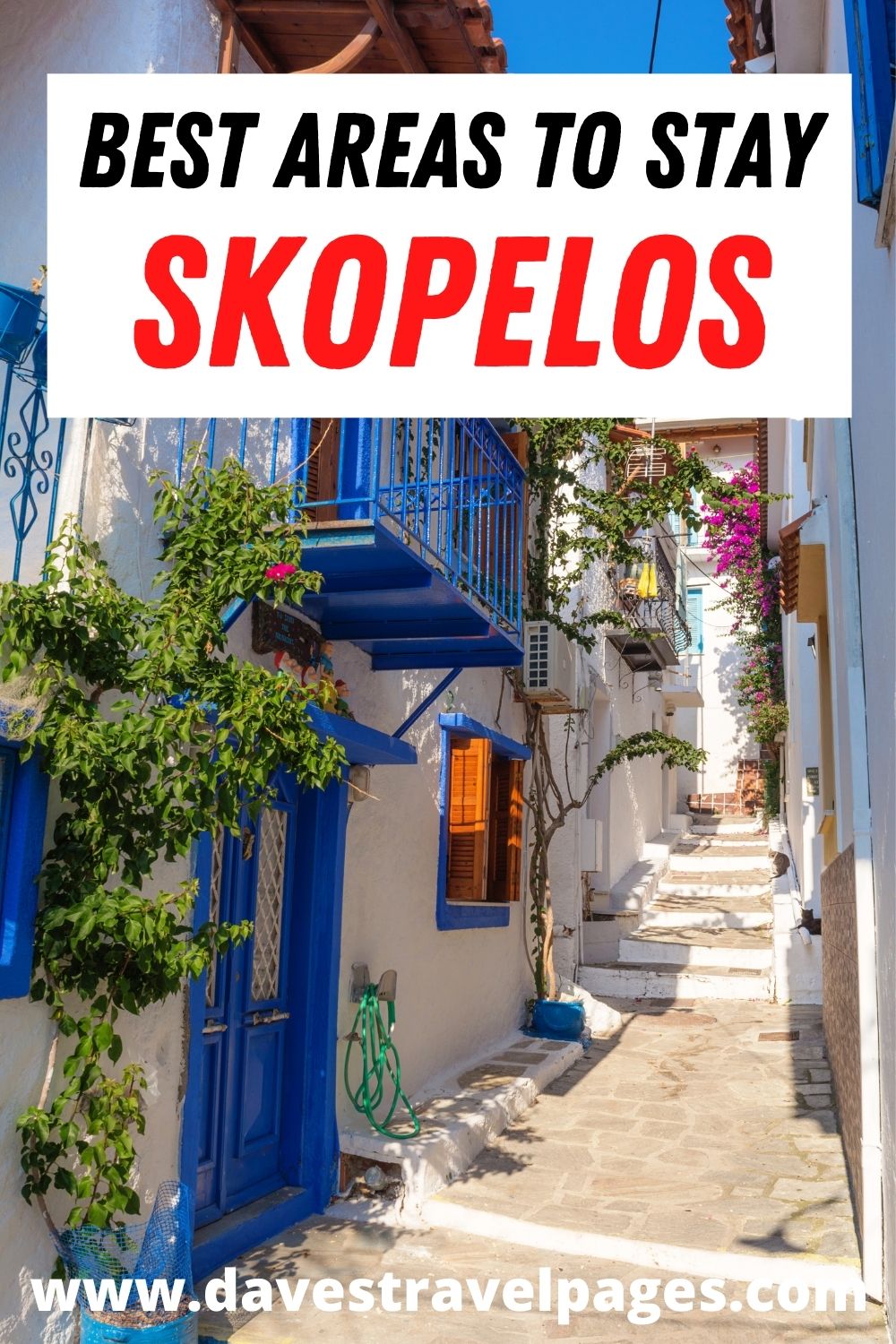 Staying in Skopelos FAQ
Readers who plan on staying in Skopelos (and elsewhere) will doubtless have many questions, and it is our goal to answer as many of these as possible.
Where should I stay in Skopelos?
If in doubt, aim to stay in Skopelos town. From here you can easily get to all the local tourists attractions using public transport (unless you rent a car), and there is plenty to do at night.
Can you stay in the Mamma Mia Hotel?
The hotel Bella Donna from the movie does not exist in real life as it was just a set constructed for filming.
Can you stay on the island of Skopelos?
Yes, there are plenty of places to stay on the Greek island of Skopelos. Whether you want a boutique hotel with spa facilities, or want to stay in simpler accommodation, there is something for everyone on Skopelos!
What are the beaches like in Skopelos?
Most of the beaches on Skopelos are pebble. People who visit both Skiathos and Skopelos tend to think the beaches of Skiathos are slightly better.
Whether you're looking for a quiet getaway or a family-friendly beach resort, Skopelos has something to offer everyone. Do you prefer luxury hotels or a quieter family run hotel when you travel? Have you stayed anywhere in Skopelos that you would recommend to other travelers? Please leave a comment below!
Next read: Best things to do in Alonissos
---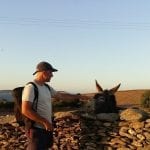 –
Dave Briggs
Dave is a
travel writer
based in Athens, Greece. As well as creating this travel guide on the best places to stay in Skopelos, he's also written hundreds more travel guides to Greek destinations. Follow Dave on social media for travel inspiration from Greece and beyond: