The Sporades islands in Greece are Skiathos, Skopelos, Alonissos and Skyros. They are known for their stunning beaches and beautiful nature with lush pine forests. This is also where the popular movie Mamma Mia was filmed. Here is all you need to know about this small Greek island group.
Sporades Islands Holidays
There's a possibility that you found this Sporades blog post for a couple of reasons. One, is that you want to plan a Sporades island hopping trip for your next vacation. The other, is that you've discovered the island of Skopelos in the Sporades is where the film Mamma Mia was made!
This guide to the Sporades islands of Greece will help fill in a couple of information gaps you might have. It covers what you need to know about each island in the Sporades archipelago, and how to travel between them. You'll also find links to more in-depth articles about each destination.
Introduction to the Sporades islands
The Sporades, also known as the Northern Sporades, are a group of islands in the Aegean Sea, to the east of the Greek mainland. They consist of four permanently inhabited and several uninhabited islets.
Skiathos – The biggest and most cosmopolitan island of the Sporades. Along with its beautiful beaches, it has the most bustling nightlife of the four. Has a small international airport.
Skopelos – Known for its beautiful nature and relaxed way of life. Here is where many scenes of Mamma Mia movie were filmed.
Alonissos – Ideal for quiet holidays. There is an incredible marine reserve, and an underwater museum open to certified divers. Many return visitors to the Sporades prefer Alonissos as it is less busy.
Skyros – Looking at the map, you will notice an island off the east coast of Evia island, Skyros. This is the southernmost island of the Sporades, though it belongs to the Regional Unit of Evia for administrative purposes.
---
How to get to the Sporades islands in Greece
If you are visiting Greece from abroad, the easiest way to reach the Sporades is by direct flight to Skiathos airport. In summer, you may also find charter flights to Skyros airport.
Alternatively, you can fly to Athens and then take a short domestic flight to either Skiathos or Skyros. Once at Skiathos, you could then take a ferry to your Sporades island of choice.
Another option has been recently added, with easyJet now flying from London to Volos airport. From Volos Airport, you would then need to get to Volos ferry port, and from there take a ferry to the Sporades islands.
Bottom line: Aim to get to either Volos Airport or Skiathos airport, and then take ferries. You can find flights at Skyscanner and ferry timetables at: Ferryscanner
---
Sporades Ferry Travel
You can only travel between each of the Sporades islands by ferry. There are no flights from one island to another.
You can check ferry timetables and book tickets online at: Ferryscanner
Skopelos and Alonissos can only be accessed by ferry from either Skiathos or Skyros. The trip from Skiathos is just over 2 hours.
Other ways to reach the Sporades islands include ferry trips from various mainland destinations, such as the ports of Volos, Agios Konstantinos, and Kymi / Mantoudi in Evia island.
I recommend using Ferryhopper to plan your island hopping trip in the Sporades.
---
Skiathos island – Cosmopolitan vibes and stunning beaches
Skiathos is the westernmost island of the Sporades, and it's the one closest to Greece's eastern coast. It's also the smallest of the four.
Skiathos offers a good mix of rich history, gorgeous beaches, lovely forests and lively, cosmopolitan vibes. Its international airport and good tourist infrastructure make it a popular destination with all types of visitors.
Beaches in Skiathos island
Skiathos island is full of beautiful sandy beaches. Most of them offer plenty of facilities, like beach bars, loungers and umbrellas. People who like quiet settings might find that the beaches in Skiathos are too busy.
Koukounaries beach, which is fully organised, is one of the best known attractions of the island. Nature is stunning, with the pine forest literally reaching all the way to the sand.
Behind the beach, you can explore the Strofilia lagoon. This is a natural reserve which is home to several rare seabirds.
The setting in Lalaria, which you can only reach by sea, is really stunning and different from the rest of the island. Crystal-clear, emerald waters, and tall, wild cliffs that might remind you of Milos or Kefalonia.
Other beautiful beaches in Skiathos include Agia Paraskevi, Kanapitsa, Xanemos, Megali Banana, Megalos Aselinos and Mikros Aselinos. If you hire a car, you can explore them all.
Take a look here at where to stay in Skiathos.
What to do in Skiathos island
Beaches aside, there are plenty of things to do on the small island.
Skiathos town, also called Chora, is the island's old capital and a must-see. The town is full of lovely red-roofed houses, narrow streets and pretty churches. Here is where you will find a lot of the island's nightlife and late night clubs, but also galleries organizing art exhibitions.
Papadiamanti street, named after the Greek poet, is the vibrant centre of the town, and is full of restaurants, cafes and chic shops. You will also find Papadiamanti's former house, now a museum dedicated to the popular poet.
Among the highlights of the old town are the ruins of the Venetian castle, located on a small peninsula across the bay. It was built in the 13th century, and is a lovely spot for an evening stroll.
People who enjoy hiking can explore the ruins of the Byzantine castle in Skiathos, on the north coast. It was built in the 14th century, to protect the island from pirate attacks. At the top of the hill, you can see the ruins of a few old churches, and enjoy the wonderful views.
Related: Do you need to rent a car in Skiathos?
Finally, don't miss the Monastery of Evangelistria, a beautiful 18th century monastery located in a peaceful environment.
This guide will show you how to get to Skiathos.
---
Skopelos – Setting for the Mamma Mia movie
Skopelos became world famous in 2008, as the main location for the famous Hollywood movie Mamma Mia. Many people added a visit here to their European bucket list as a result!
Located only a 30-minute ferry ride from Skiathos, it is a much quieter place than its lively neighbour.
Skopelos is ideal for relaxed holidays in a fantastic natural setting. It offers lovely beaches, lots of natural beauty and traditional tavernas where you can taste delicious local dishes.
Around 80% of Skopelos is covered by the virgin pine forest, olive groves and other trees, making it the greenest island in the Sporades.
The main places to stay in Skopelos are in Skopelos Town or the beach resort areas. For more information read these best areas to stay in Skopelos.
Beaches in Skopelos island
Skopelos has several lovely beaches. While many of them have beach bars, some of which are virgin and wild. Not all the beaches are not accessible by land, so you can explore by boat instead.
Some of the best beaches in Skopelos include the exotic Milia, the famous Kastani, known as the Mamma Mia setting, and Velanio, a naturist beach.
Nature lovers will like Perivoliou and Chondrogiorgi, which are quieter. As for the movie's wedding scene, this was filmed on the little chapel over Agios Ioannis beach.
What to do in Skopelos island
Overall, Skopelos is a great destination for people who want to escape the hustle and bustle of the city and take it easy.
Skopelos town is a traditional settlement, with a mix of lovely architecture from different periods.
The narrow, whitewashed streets in the old town are full of colourful bougainvillea trees and dozens of small churches. You will also find plenty of cafes, local tavernas and bars.
Outdoor activities in Skopelos include snorkeling, diving and kayaking, but also mountain biking, hiking and horse riding.
Mamma Mia Church – The famous church featured in Mamma Mia is easily visited and worth the trip.
If you only have limited time on Skopelos, you can consider taking a tour of the island. This way, you can see the highlights.
The popular movie is available on Netflix. Here are a few more movies inspired by Greece.
This guide will show you how to get from Skiathos to Skopelos. This guide shows you How to get to Skopelos island in Greece
---
Alonissos – Quiet nature and national marine park
The quiet Alonissos is the most remote of the Sporades islands. It is located just over 2 hours on the ferry from Skiathos, and is also connected with Skyros during the summer months.
Alonissos is a true paradise for nature lovers. There is a beautiful park reserve, a haven for rare marine life. You will also find gorgeous beaches, lush greenery and numerous hiking paths among the pine forests.
The Greek National Tourism Organisation is making special efforts to encourage sustainable tourism development in Alonissos.
Sea activities in Alonissos
Arguably the main highlight of Alonissos is the stunning national marine park, the first of its kind that was developed in Greece. Visitors can walk around, swim, dive and enjoy taking pictures of the wildlife in Alonissos and the nearby islands.
The island's most iconic resident is the Mediterranean monk seal, also known as Monachus – Monachus. You might also come across dolphins, loggerhead turtles, and a few hundreds different species of fish.
In terms of beaches, Alonissos won't disappoint. Many of them are virgin and wild, while others have some tourist facilities.
A few names to keep in mind – Agios Dimitrios, Glyfa, Leftos Gialos, Kokkinokastro, Milia, Megalos Mourtias, Mikros Mourtias, Tsoukalia, Gyalia.
Apart from its marine life, Alonissos is also a lovely place to explore by land. There are over a dozen hiking trails, some of which are easier than others. Follow them, and you will come across various types of animals, birds and plants.
Patitiri is the port and capital town of Alonissos island. This is where you will find some of the accommodation, as well as tavernas, cafes and a few bars. There is also an interesting folk museum where, among others, you can learn about pirate attacks in the Aegean Sea.
If you have time, walking along the hiking trail from Patitiri to Chora. It's an excellent way to enjoy the green surroundings of the island!
Finally, certified divers should visit the Alonissos Underwater Museum. Established in 2020, it presents an ancient Greek shipwreck, dating from 425 – 420 BC. The museum is located off the coast of Peristera islet, at a depth of 25 metres.
This guide will show you how to get to Alonissos.
---
Skyros – Ideal for explorers and nature lovers
Skyros, the largest of the Sporades, is quite different to the other islands. While its north side is green and fertile, the southern side is dry and arid, and will remind you of the Cyclades islands.
The island is ideal for relaxed, quiet holidays. Visitors will enjoy the mix of organized and wild beaches, pretty nature and meeting the Skyros pony, a rare horse breed.
Sandy beaches in Skyros
Skyros features several beautiful beaches with plenty of facilities, such as Kalamitsa, Magazia, Molos and Gyrismata. If you prefer quieter places, head to Agios Petros, Markesi, Agalipa or Atsitsa.
You should also leave room for a sailing trip around the little islets close to Skyros: Sarakino, Skyropoula and Valaxa. The boat will explore the various sea caves, and sail through the biggest one, called Pentekali.
What to do in Skyros
While Skyros is a great beach destination, there is also a lot of sightseeing. You will enjoy the towns and villages, the historical sites, and the Byzantine and Venetian monuments.
Apart from Chora, the main town, Skyros has a few traditional villages worth exploring. Visit Trahy, Linaria, Aspous, Aherounes and Molos, where you will find an incredible fish / seafood taverna called "Istories tou Barba".
The main attractions include the Skyros Castle, the archaeological museum, St George's monastery, the Folk museum and the prehistoric settlement in Palamari.
---
Frequently asked questions about the Sporades islands
Here are a few questions that visitors ask:
Which are the Sporades islands?
There are four main inhabited Sporades islands: Skiathos, Skopelos, Alonissos and Skyros.
How do you get to Sporades island?
You can get to Skiathos and Skyros by flight or ferry. Skopelos and Alonissos are only accessible by sea.
Which Greek island is Mamma Mia set on?
The popular movie is mostly set on Skopelos island, while some scenes were filmed on Skiathos and Mt Pelion.
Can you fly direct to Skopelos?
Skopelos has no airport. The best way to get to Skopelos is to fly to Skiathos, and then take a short ferry ride.
More guides to the Greek islands
For more guides to the Greek islands and how to travel around Greece, check out these articles:
Next Read: Best Quotes On Nature
---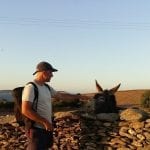 –
Dave Briggs
Dave is a
travel writer
from the UK who's been living in Greece since 2015. As well as writing this travel guide to Sporades island hopping, he's also created hundreds more travel blogs and itineraries for destinations all over Greece. Follow Dave on social media for travel inspiration from Greece and beyond: