There are no direct ferries sailing from Paros to Kythnos island in Greece. Instead, you'll need to combine ferry trips first from Paros to Sifnos, and then Sifnos to Kythnos. This ferry guide explains it all in more detail.
How to get from Paros to Kythnos
If you're looking how to travel from the Greek island of Paros on to Kythnos, let me tell you up front, this is not a straightforward journey to make.
These two islands in the Cyclades are not connected by a direct ferry service. This means if you want to travel from Paros to Kythnos, you will have to stop off at another island first.
The best islands to consider going via are Sifnos (the better option) and Santorini. There may be other indirect route possibilities with Ios, Folegandros and Milos.
On some days, you might only need to wait a few hours between ferries on Sifnos. Most of the time though, you should know you will probably need to stay overnight on the middle island.
Your journey would look like this: Paros > Sifnos (Get off the ferry. Wait for the Sifnos to Kythnos ferry). Sifnos > Kythnos
The average journey time would be around 24 hours.
Check Ferryhopper for the latest Paros Kythnos schedules, ferry operators and timetables.
Getting to Kythnos from Paros on indirect routes
Here's a few more specific guides on indirect route combinations using Cyclades island ferries that might be useful:
Kythnos Island Travel Tips
A few travel tips for visiting the Greek island of Kythnos:
For where to stay in Kythnos, I recommend looking at Booking. They have a great range of hotels in Kythnos and areas to consider staying include Loutra, Chora (Messaria), and Merichas.
---
If you are traveling to Kythnos in the the high season months of July, August, and September, I advise reserving apartments in Kythnos several months in advance.
---
Hiring a car is a good way to see the island of Kythnos as you can put together an itinerary to see things at your own pace. Read my tips on renting a car in Greece.
---
I find that the Ferryhopper website is the best place to book ferry tickets for the Cyclades islands online. I recommend you book your Paros Kythnos ferry route tickets in advance, especially during the tourist season you will find local travel agencies also sell Paros Kythnos ferry tickets.
---
Kythnos is a good hiking destination. Spring and the autumn months are the best time for this. Read what Greece in March is like to get a feel for what you might expect.
---
---
---
How to make a trip from Paros to Kythnos FAQ
A few of the questions readers ask about traveling to Kythnos from Paros include:
Can I visit Kythnos after Paros?
There are no direct ferry connections between Paros and Kythnos islands. This means that for most travelers, Kythnos does not make a logical choice as an island to visit directly after Paros. If the journey has to be made, it will involve swapping ferries on another island such as Sifnos. The total travel time for such a journey might be 24 hours.
How do you get to Kythnos from Paros?
You would need to go via another island first such as Sifnos (the better option) and Santorini. There may be other indirect route possibilities with Ios, Folegandros and Milos. There are no direct ferries sailing to the island of Kythnos from Paros.
Is there an airport on Kythnos?
The Greek island of Kythnos does not have an airport. The only way to get to Kythnos is by ferry.
How long is the ferry crossing from Paros to Kythnos?
With no direct ferries going to Kythnos from Paros, it is hard to calculate the exact travel time. If connections line up perfectly, it could be 9 hours or less. Most indirect trips will take 24 hours.
Where can I buy tickets for the ferry to Kythnos?
Ferryhopper is perhaps the easiest site to use when it comes to booking Ferry tickets online. Although I recommend you book your Paros to Kythnos ferry tickets in advance, you might also prefer to use a travel agency in Greece when you have arrived.
---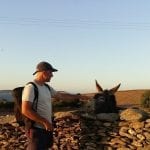 –
Dave Briggs
Dave is a
travel writer
who has been based in Greece since 2015. As well as writing this guide about ferries from Paros to Kythnos, he's written many more travel blog posts about destinations in Greece. Follow Dave on social media for travel inspiration from Greece and beyond: