You can travel to Skiathos by direct flights and by using ferries. This guide shows the easiest ways to get to Skiathos island in Greece.
With direct flights to Skiathos from the UK and other European countries, and excellent ferry connections with the Greek mainland, there are numerous options available when it comes to traveling to Skiathos island.
This guide will take you through the different ways to get to Skiathos so you can choose which might be the best for you.
Flying to Skiathos Airport
Not all Greek islands have airports, but fortunately, Skiathos in the Sporades islands group does.
Skiathos Alexandros Papadiamantis Airport (IATA: JSI, ICAO: LGSK) is located a few kilometres from Skiathos Town, and has connections with Athens (year round) and some destinations in Europe (seasonal).
If you can, flying to Skiathos is always going to be the most convenient option. Take a look at Skyscanner for available flights that might be suitable for you.
How to get to Skiathos from London
As most people reading this Skiathos travel guide are likely to come from the UK, I'll start with the London flights.
British Airways, Jet2, and TUI Airways all fly out of a variety of London Airports such as Stansted, London City, and Gatwick with direct flights to Skiathos.
If you're living in the Midlands, you might prefer a direct flight out of Birmingham instead, and northern airports include Manchester and Newcastle.
These UK Skiathos flights are seasonal (which means May to October ish), and often change from year to year.
Some are charter flights meaning you might have to book a package deal, which is a popular way for Brits to take their summer holidays.
As the travel industry recovers though, I think some of thee charter firms will start opening up seats for independent travelers. We'll see!
My UK readers might want to look at flight deals on Tui.
Check Skyscanner for more flights from the UK to Skiathos Airport.
Breaking news: In 2022, easyJet started a schedule that flies from London Gatwick to Volos Airport. For many UK holidaymakers, this is the nest best option to flying directly into Skiathos. From Volos Airport, you would take a bus to Volos main ferry port, and then it's just a short ferry ride over to Skiathos.
Check Greek ferry timetables and book tickets at: Ferryscanner
Athens to Skiathos flights
For people who can't fly directly to Skiathos, flying in to Athens first and then getting a connecting flight is the next best thing.
My recommendation is to always leave at least two hours between connecting flights. Some people cut it finer than that, but it only takes a slight delay to throw a spanner in the works.
There are daily flights from Athens to Skiathos in the summer months. Airlines that fly from Athens Airport to Skiathos Airport include Aegean Airlines and Sky Express.
Again, Skyscanner is your go-to source for information on airlines fly to Skiathos from Athens.
Also take a look at my guide on how to get cheap flights.
You can get from Athens center to the airport by bus, metro or taxi. Take a look at my guide here – Athens Airport to City Center.
Skiathos Ferry Schedules
Being a Greek island, Skiathos is of course connected to some of the Greek mainland ports as well as to other places in the Sporades island complex.
There are daily ferries from mainland Greece as well as from the neighbouring islands of Skopelos and Alonissos.
To look at how to get to Skiathos by ferry, book ferry tickets and get an idea for schedules and timetables, take a look at the Ferryhopper website
Ferry from Volos to Skiathos
The most frequent crossing from the mainland of Greece to Skiathos is from the port of Volos. If you're planning to travel by ferry, the Volos crossing should be the first one to consider.
There are around 5 ferries a day sailing from Volos to Skiathos. Journey times vary from 1 hour and 20 minutes to over 3 hours.
The earliest ferries to Skiathos depart at 07.45 in the morning, with the last ferry sailing at around 18.00.
Check Ferryhopper for more details.
Getting from Athens to Volos
Volos is in central Greece, around 320 kilometers from Athens and the port is in the city center. You may reach the city of Volos by car or intercity buses (KTEL). The trip from Athens to Volos takes approximately 3.5 hours.
KTEL buses leave every four hours or so from Athens KTEL Liosion Bus Station to Volos.
Note: You can also take a KTEL bus to Mantoudi Port in Evia island. This small port in northern Evia also has connections with Skiathos, but I think the majority of travelers looking to get from Athens to Skiathos will find it easier to go Athens > Volos > Skiathos.
Traveling from other Sporades Islands to Skiathos
Alonissos to Skiathos: The trip between Alonissos and Skiathos takes two hours by ferry.
Skopelos to Skiathos: The journey from Skopelos to Skiathos is about 30 minutes with a high-speed ferry and around 1.5 hours by conventional boat.
Again, if you're thinking to travel from other islands to Skiathos by ferry, take a look at Ferryhopper to double check your routes, times, and to book ferry tickets at no extra cost.
Ferry Port in Skiathos
The island of Skiathos has just the one port in Chora. Located on the southwestern part of the island, all ferries to the other Sporades islands as well as Volos and other destinations in Greece depart from here.
If you want to hire a car in Skiathos, you can find plenty of places around Skiathos port, and there are also ATMs cafes, shops, and tavernas.
Where to stay in Skiathos
First-timers to the island might prefer to stay in Skiathos Town, as there is easy access to everything you might need, and you can organize anything from here to see the island.
I've got a full guide here on where to stay in Skiathos, along with a selection of the best hotels in Skiathos.
Beach lovers might prefer to stay at Koukounaries Beach. This can be a popular area during the summer holidays, so best to reserve your hotels well in advance, particularly in August.
Other areas to consider staying on Skiathos island include Agia Paraskevi or Troulos for families, the Kalamaki Peninsula and Kolios.
I recommend Booking for making you hotel reservations on Skiathos.
Note that high season travel prices can be higher than other times of year, but even so, Skiathos remains a reasonably priced Greek island.
Onward Travel From Skiathos
If your time on Skiathos has given you a taste for more, continue your Greek island hopping adventure!
It's pretty straightforward to visit some of the other Sporades islands from here:
Skiathos – Skopelos: With a high-speed ferry, the route from Skiathos to Skopelos takes less than 30 minutes and the trip lasts around 1.5 hours with a regular boat.
Skiathos – Alonissos: It takes just two hours to make the crossing between Skiathos and Alonissos by ferry.
Book tickets at Ferryhopper
FAQ About Traveling to Skiathos island
Travelers planning a trip to Skiathos in the Sporades archipelago often ask questions such as:
How far is Skiathos from Athens?
The distance between Athens and Skiathos is about 255kms, which includes a journey by road and ferry. With a well timed ferry connection, it is possible to travel between Athens and Skiathos by car in just under 6 hours.
Where do you fly to to get to Skiathos?
Every year, Skiathos International Airport 'Alexandros Papadimantis' receives flights from Athens International Airport throughout the year. The flight time from Athens to Skiathos is about 30 minutes. From various locations across Europe, the airport also receives some seasonal flights.
How long is ferry from Athens to Skiathos?
There is no direct ferry to Skiathos from Athens. You would first need to travel to Volos, and then take the Volos to Skiathos ferry. The duration for the Volos Skiathos ferry is between 1.5 and 3.5 hours.
What ferries go to Skiathos?
You may travel to Skiathos from Alonissos, Skopelos, Thessaloniki (main port), Mantoudi, Volos and Agios Konstantinos by ferry. SeaJets, Hellenic Seaways, Anes Ferries, and Aegean Flying Dolphins provide the services for Skiathos Ferry crossings; there are up to 19 departures each day depending on the season.
How long is the ferry ride from Volos to Skiathos?
The ferry trip from Volos to Skiathos can take between 1.5 and 3.5 hours. I will depend on the ferry operator and the type of vessel.
Before you go, you might also like to read these other posts about Greek islands and for this or your next trip:
---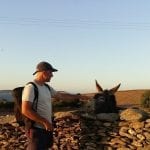 –
Dave Briggs
Dave is a
travel writer
based in Athens, Greece. In addition to writing this travel blog post about how to get to Skiathos island, he's also written many more travel blogs about destinations in Greece. Follow Dave on social media for travel inspiration from Greece and beyond: