This guide to the top rated hotels in Tinos will help you choose the best place to stay on this beautiful Greek island.
Tinos is a beautiful island in the Cyclades, Greece. It is known for its stunning beaches, charming villages, and great food. There are many best hotels and beach resorts on Tinos, so where to stay depends on your needs and preferences.
Where to stay in Tinos
The best areas to consider staying in Tinos include Chora (Tinos town), Sostis, Agios Romanos, Pyrgos, Kionia, and Agios Ioannis Porto.
If you don't have your own transport and don't want to rent a car in Tinos, staying in Chora makes the most sense. If you have your own vehicle or means of getting around, it doesn't really matter where in Tinos you stay
I've a guide here on how to get around Tinos if you're curious.
Tinos Hotels
Here's out list of top suggested Tinos Greece hotels. Further down, you will find a map of Tinos which shows places to stay all over the island.
Top Hotels in Tinos Map
Here's an interactive map of places to stay on the island of Tinos. As you zoom in and out, you will see more hotels and accommodation options appear, along with an indication of prices.
Keep in mind that August is the most expensive month and so Tinos hotels will vary in prices depending on the time of year you visit. I think that September is probably the best month to stay in Tinos for both hotel costs and the weather.
More Hotel Guides
Continuing your Greek island hopping adventures after Tinos? Here's a few more hotel guides for different islands in Greece:
---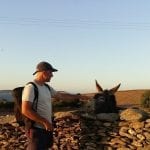 –
Dave Briggs
Dave is a
travel writer
who has been living in and writing about Greece since 2015. As well as writing this guide to the best Tinos hotels, he's written many more travel blog posts about destinations all over Greece. Follow Dave on social media for travel inspiration from Greece and beyond: