Find the perfect place to stay in Mykonos, with these hotels that are right on the beach – includes 5 star luxury and family friendly hotels!
The beaches of Mykonos are one the most famous attractions on this beautiful Greek island. With almost 40 kilometers of coastline, there is a beach for everyone.
Whether you want to relax in peace and quiet with your partner or play in the waves with your kids, you will find it here.
In this article, we'll run through some key factors that make up a great hotel near the beach in Mykonos so that you can get an idea of what to look out for when booking your next vacation!
Best Beach Areas in Mykonos With Hotels
You generally find that the best beach resorts in Mykonos fall into broad areas. These are:
Ornos beach – A family-friendly beach and popular resort area
Psarou Beach- A popular beach with a lively atmosphere
Platis Gialos Beach – Beautiful beach with shallow crystal-clear waters
What are some of the best beach resorts hotels in Mykonos?
The best hotels on the beach in Mykonos are those that have a private access to one of its many beautiful beaches. Some great choices of Mykonos beach hotels include:
Santa Marina Resort & Villas – Ornos Beach
Probably the best family-friendly luxury resort on the beach in Mykonos. The beachfront hotel offers a semi-private beach served by the world-renowned Buddha Bar Beach, an playground, and indulgent spa.
Ornos Beach is about a five minute walk away for more dining and beach club options. The hotel offers a free shuttle to the Old Town of Mykonos, which is just 10 minutes away.
Mykonos Blanc – Ornos Beach
One of the best hotels in Mykonos is located at the end of Ornos Beach, near a busy water taxi. This hotel offers spacious rooms and suites with private jacuzzis, or pools.
Many restaurants are close by for all tastes. Ornos beach is known for being one of the most family friendly in Mykonos, and so it's a good choice if you're traveling with kids.
Kivotos Mykonos – Ornos Beach
Another great choice of hotel on Ornos Beach. The Kivotos Mykonos is a beach hotel in the Mykonos, Greece that's perfect for families.
Located right on the pebbly and private beach, it has 2 pools (one indoor and one outdoor) with fun waterfalls and tiled terraces overlooking them. The bedrooms all have private terraces with some also boasting private pools.
Mykonos Blu – Psarou Beach
Mykonos Blu Psarou Beach offers an excellent location, with a private beach and easy access to all the major beaches in Mykonos. The hotel has everything you need for your perfect vacation from its luxurious rooms overlooking sandy shores or pools that overlook blue waters of Aegean Sea – it's also shielded from the winds! The Mykonos Blu is one of the premier hotels in Mykonos.
Spa-like suites combined with vibrant colors, a heated outdoor pool and sea view make this Mykonos hotel the perfect rest stop for beach fun.
Branco Mykonos – Platis Gialos Beach
This chic place is ideal for couples, whether on a honeymoon or not. Branco is a destination resort situated on the sand of Platis Gialos Beach in Mykonos.
Within walking distance to all activities, Branco features a trendy beach bar, modern Greek taverna, and an indoor/outdoor gym with yoga and meditation classes throughout the week. The Branco resort has some lovely rooms with minimalist style and makes for the perfect romantic hideaway.
Petasos Beach Resort – Platis Gialos Beach
The Petasos Beach Resort offers an ideal family-friendly beach vacation near the Mykonos beaches with a private sandy beach, warm salt water swimming pool, and miniature jacuzzi on the veranda.
The resort has 2 restaurants for your group's enjoyment. Located a short walk to popular Platis Gialos Beach and Psarou Beach.
Travel Tips for Booking a Beach Hotel in Mykonos
1. Know your budget
– Mykonos is an expensive destination, so be sure to do your research on the cost of living before booking a hotel. The average price for hotels in this area are $300-$500 per night with some reaching up as high at over 1000 euros! Be realistic about what you can afford and don't forget that there's more to Greece than just the hotel you are staying in!
2. Consider the location of the hotel and how close it is to attractions, restaurants, shops, etc.
– If you're looking for a hotel that is close to the beach, be sure it's not too far from everything else. You don't want your stay in Mykonos cut short because of how inconveniently located or expensive (or both) this particular resort was!
3. Make sure you know what amenities are included in your price (e.g., breakfast)
It might make sense to have at least breakfast included in the price of your hotel by the beach in Mykonos. Especially if you're not going to be able, or want the hassle of eating out every day.
4. Check reviews for any hotels that interest you to make sure they're a good fit for you
Checking the reviews of other people who have stayed, especially newer reviews, is helpful when it comes to deciding which beachfront hotel in Mykonos to stay at.
The reviews will tell you if the hotel is a good fit for your needs. For example, some people might not like that there's no air conditioning in their room and others won't mind at all! It makes sense to read through these before booking so it doesn't end up being an unpleasant surprise when they arrive or worse
5. Be flexible with dates if possible- prices can fluctuate depending on when you book!
If you're flexible with your dates, it's a good idea to book early. This will help ensure that the price is as low and affordable for when we arrive in Mykonos! The prices of hotels on beaches can fluctuate depending how far out from our arrival date they are booked- so booking earlier means more savings. Remember – August is always super-expensive for Mykonos hotels!
You might also want to check out these other posts about Mykonos:
FAQ About the Best Beach Hotels in Mykonos
Readers of my travel blog planning to stay in Mykonos have asked questions similar to the following:
Which area is best to stay in Mykonos?
People staying for just one night in Mykonos may prefer to stay in Mykonos Town. When staying for longer, it makes more sense to choose a Mykonos beach hotel in one of the resort areas of the island.
Where is the main area in Mykonos?
The capital, Mykonos Town, is located on the west coast and about 90 percent of the island's population lives there. The buildings in Mykonos' old town are painted white in the traditional Cyclades style.
Where do the rich and famous stay in Mykonos?
The ultra rich and famous stay on their luxury yachts which normally have helicopters! The secondary level rich and famous stay at luxury 5 star accommodation such as Mykonos Blu Grecotel Resort, St. John Mykonos Hotel, and private villas.
Where do the celebrities stay in Mykonos?
Those celebrities who do not have private yachts often rent luxury private villas in Mykonos.
---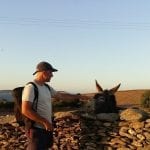 –
Dave Briggs
Dave is a
Greek travel blogger
originally from the UK, and now living in Greece. In addition to writing this travel guide to the Mykonos beach hotels and accommodation, he's written many other articles about traveling to Greece. Follow Dave on social media for travel inspiration from Greece and beyond: