Mykonos island in Greece is world-famous for its party scene, visited by A-List celebrities, and has incredible beaches. Still wondering why you should visit Mykonos this summer? Read on!
Why visit Mykonos Island, Greece?
When it comes to Greek islands, there's some stiff competition as to which is the most beautiful. There's Santorini, Naxos and Syros just to name a few.
When it comes to the most glamorous though, there is no competition at all. It's Mykonos!
This tiny island in the Cyclades of Greece has attracted jet-setters and party seekers for decades. But why is Mykonos so popular?
Reasons to visit Mykonos
Some places are so famous, that we all wonder what they are like in reality. Mykonos island is one of these places.
It has a reputation of a party island where anything goes, which locals and people who know it well can confirm. What's less well known though, is that you can also have quiet, relaxed holidays on a beautiful beach if you choose the best time to visit Mykonos in shoulder season.
It's also an open-minded island, and has been since the 60s. Naturists and gay couples have been welcome here for decades, much like hippies, budget travellers and celebrities.
Nowadays, we might more associate it with the jetset, money, and glamour, but this beautiful island in the Aegean of Greece has devoted fans, who return again and again. Will you be one of them?
Here are some reasons to visit Mykonos island.
1. Mykonos Town
Like most of the main towns in the Cyclades islands, the port town in Mykonos Greece is called Chora, which literally means "country". It's an extended tangle of maze-like of white-washed streets and traditional houses, and it really needs to be seen to be believed.
One of the central streets in Mykonos Town is Matogianni street. Check it out, and then wander around the back alleys. Getting lost in the side streets is part of the charm of this attractive Cycladic island, and it happens to everyone.
In Chora you will find several shops where you can buy Greek souvenirs or designer's clothes and jewellery. There are also plenty of restaurants, tavernas, hotels, bars and clubs.
Stroll to the quaint old port from the main town, where you will see several luxurious yachts, but also traditional fishing boats. There's a small beach nearby, where locals go for a quick swim.
If you are on a cruise and only stopping in Mykonos for a few hours, strolling around Mykonos Town is the best thing to do. You can even take a walking tour if you don't feel like exploring on your own.
Make sure you walk around to the famous Paraportiani church, another iconic symbol of the island. It is actually a combination of five different churches.
2. Little Venice and the iconic windmills
One of the most instantly recognizable parts of Mykonos Town is the picturesque Little Venice. This is a small area where you can sit for a coffee or drink with a beautiful sunset view. Some of the houses here are over 100 years old.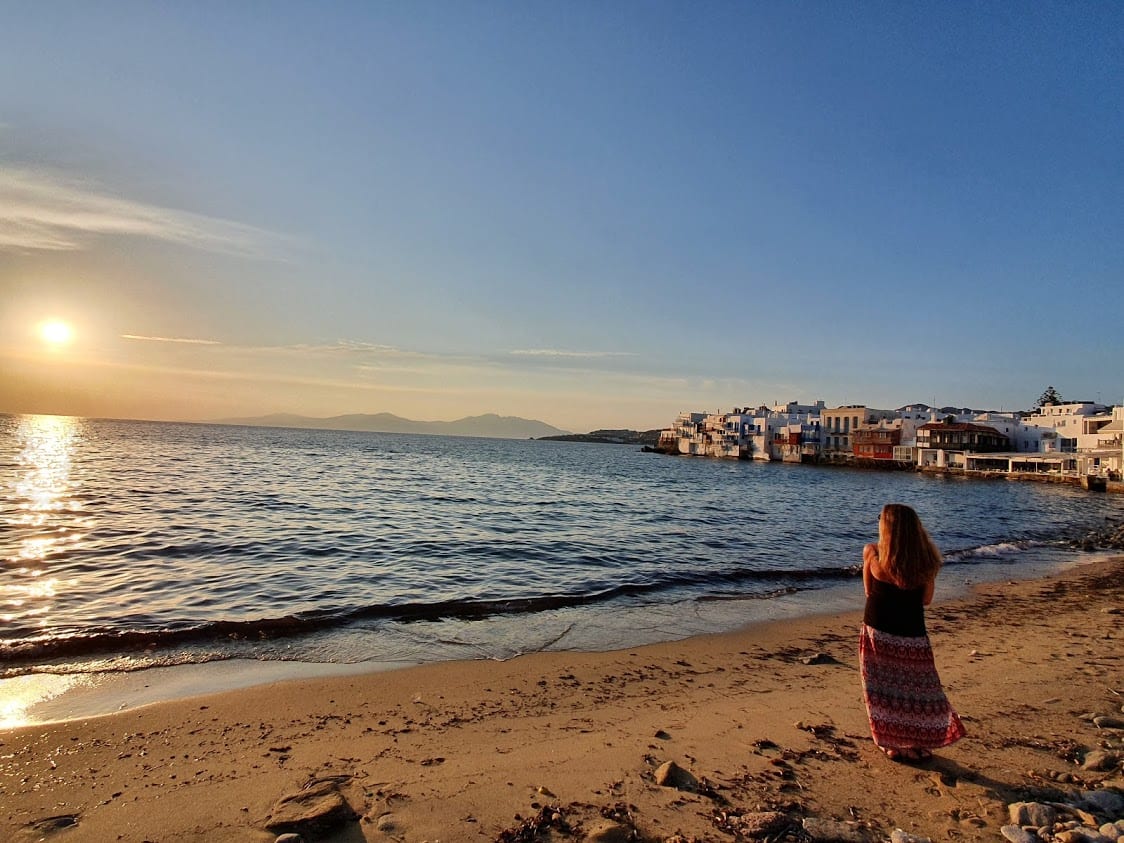 One of the most photographed trademarks of Mykonos is its series of traditional windmills. They are only a short walk from Little Venice, and you can easily reach them through some stairs, or a more adventurous footpath.
In fact, before the island became a tourist destination, the windmills were one of the main sources of income for the island. They were used to grind wheat into flour.
Today, you can walk around them and imagine what life must have been like 100 years ago, while enjoying one of the trademarks of the Greek islands.
Note – Mykonos is also known as the island of the winds. If the windmills weren't already a giveaway, you may experience windy days, particularly in the Meltemi season.
3. Parties and nightlife
Mykonos never sleeps. It's the ideal place to stay up all night, to party all day at the numerous beach-bars, or to just party for several days in a row. Clubbing is possible 24/7, and it's one of the main reasons to visit Mykonos.
Many of the nightclubs are located in Mykonos Town. The narrow alleyways and Little Venice start buzzing with people in the evening hours, and then the bustling nightlife begins.
Apart from Chora, you will find several beach bars around the island. They suit all tastes, from relaxed all-day café-bars, to bars with loud music and lots of dancing until the early morning hours. Famous DJs fly from all over the planet to play music here.
Don't forget that Mykonos was the first island in Greece with a thriving gay-friendly scene, as well as tolerance towards naturism. Don't expect partying in Mykonos to be tame!
4. Celebrity spotting
Mykonos has been popular with the rich and famous since the 1960s. It's the first of the Greek islands that became famous around the world. Hundreds of flights land in the international Mykonos airport.
These days, people go there to see and be seen. If you visit during the tourist season, you are likely to spot several jetsetters from all around the world. Who's this celebrity below?
Ok, not even a Z-List celeb!
Some of them may be spending much of their time in their private villas on yachts. Others can be seen on Super Paradise beach, Psarou or Elia beach. Still, don't be surprised if you see jet-setters walking around the streets in Chora.
Thousands of the rich and famous have visited the island in the past decades. Mykonos attracts the likes of Elizabeth Taylor, Marlon Brando, Mick Jagger, Leonardo DiCaprio, Mariah Carey, and Lebron James, to name a few. Many politicians and members of royal families also enjoy a few summer days on the island.
5. Mykonos Beaches
Mykonos has about 30 sandy beaches with incredibly crystal clear waters. Which ones to head for depends on what you are after on your Mykonos Holidays!
Some of the most famous Mykonos beaches where you can party all day and night are Paradise Beach, Super Paradise and Paraga.
Other popular beaches, like Elia, are where the VIPs and jet-setters go to see and be seen. Ornos beach, Platis Gialos, Agios Ioannis, Kalo Livadi and Agios Stefanos can also get fairly busy.
Related: Best Greek Islands For Beaches
You will find beach activities and water sports such as jet-skiing on most of the beaches in Mykonos. Kalafatis and Ftelia are popular with windsurfers.
Despite its high season wild party reputation, the island also has some quiet, pristine beaches where you can relax and take it easy. Make your way to Loulos, Fragias, Agrari or Agios Sostis, and you will forget everything about beach parties.
Our article on the best Mykonos beaches will help you find the ones that are more suitable for you. It also includes nudist-friendly beaches, as well as suggestions of beach hotels in each area.
6. Sightseeing in Mykonos
Mykonos has a long and rich history, and it has been continuously inhabited since the ancient times. Apart from its nightlife and beaches, there is plenty for visitors to see.
To begin with, there are hundreds of churches, which may seem a bit strange for an island with this reputation. Apart from the iconic Panagia Paraportiani in Chora, you will discover many more. Some churches worth visiting are Agia Kyriaki, Agios Nikolaos tou Gialou and Agia Eleni.
Apart from churches, Mykonos also has a few monasteries. The most impressive one is the Monastery of Panagia Tourliani in Ano Mera. Apart from the beautiful woodwork inside the temple, you can see several religious objects and icons. The Monastery of Paleokastro, which is full of Byzantine icons, is also worth a visit.
In Chora, you can visit the Archaeological Museum of Mykonos, which was built in 1902 to host findings from the nearby Rinia (Rineia, Rhenia) island. Today, Rineia is inhabited, and you can only visit on a half-day trip or by private boat to enjoy its pristine beaches. More on this right below.
7. Day trip to Delos from Mykonos
Delos is a small, uninhabited island close to Mykonos. It might come as a surprise to some people, but it was the most important island in the Cyclades in Ancient Greece.
According to Greek mythology, Delos island is where Apollo and Artemis were born. It is estimated that, around 90BC, almost 30,000 people lived on this tiny island. They came from different places and had different religious backgrounds.
Today, Delos is one of the most important UNESCO archaeological sites in Greece. The ruins of the ancient civilization which seem to cover the entire island still exist in reasonably good condition.
The best way to visit the ancient ruins at Delos is through an organized half-day trip, including a guided Delos tour.
Alternatively, you can go on a trip that combines a guided tour of Delos with a few hours on Rineia. You can take a look at some top-rated day trips to Delos here.
8. Armenistis Lighthouse
Armenistis Lighthouse can be found towards the north-west of the island of Mykonos. It is a popular viewing spot for sunsets, and in the summer months can be crowded. When we visited we were fortunate as there were only a handful of other people there.
You can get here in your own wheels or a taxi. If you are driving here in a rented car, note that it can get quite busy during peak season. After you leave your car, you can walk on a short unpaved path and reach the lighthouse. The views towards the nearby island of Tinos and the Aegean Sea are really beautiful!
9. Shopping
I'm not one to talk about shopping, but any list of the top things to do in Mykonos would be incomplete without a short mention! You will find all sort of expensive stores in the Old Town, and many well-known brands are represented.
Not many of the shops will be open outside the high season, but all the shops will be waiting for you in the summer! You'll find several well-known logos, brands, and upmarket products here.
10. The local cuisine
Greek food doesn't really need an introduction. While budget eating in Mykonos isn't exactly easy, it is possible to find local tavernas, cafe-restaurants and souvlaki places that won't cost an arm and a leg. Self-catering will definitely save you a few dozens of euros.
At the same time, if you are willing to splurge, the island has several top-rated restaurants. If you're a foody with a full wallet, the sky is the limit!
While in Mykonos, you should try some of the local specialties, such as the spicy kopanisti cheese. Louza, the famous Myconian pork delicacy made with the best meat cuts, is also another delicacy worth looking out for.
Do these reasons to visit Mykonos convince you to add it as the next destination to your bucket list? I hope so!
If you're planning a trip to Greece and want to find out more, please sign up for my free travel guides below.
When Mykonos isn't worth visiting
There are a couple of things to keep in mind when judging if Mykonos Greece is worth adding to your travel itinerary.
The first, is that I should emphasize that Mykonos is really only a summer destination only. In winter, the island virtually closes down, and it is far too cold to enjoy those great beaches. During the off season, even the nearby UNESCO World Heritage Site of Delos closes down!
Personally, I don't think it's worth visiting Mykonos between the months of November and May.
The other thing to keep in mind, is that Mykonos is not really going to offer you a 'real Greek' experience. Mykonos is really geared for a contemporary chic, well-monied crowd.
If you're after a more laid back, unpretentious environment, then other Greek islands such as Naxos would be a far better choice.
FAQ About Mykonos in Greece
If you're researching whether or not you should add a trip to Mykonos into your travel itinerary, these commonly asked questions and answers might be of help:
What is Mykonos known for?
Mykonos is known for its vibrant nightlife, beautiful beaches and hedonistic lifestyle. It attracts a mix of visitors that range from royalty arriving on massive private yachts, lower tier celebrities who want to see and be seen, and mere mortals such as you and I who want to see what all the fuss is about.
Is it worth going to Mykonos?
You should definitely visit Mykonos once in your life. Unless you are heavily into the party scene, most people will find that 3 or 4 days in Mykonos is enough time to experience the island's unique vibe, and see the main highlights.
Which is better Mykonos or Santorini?
We're really comparing apples and pears here, but if I could only visit one island out of Santorini and Mykonos it would be Santorini. Both islands cater unashamedly to the image they have created, but of the two, Santorini is the more genuine especially in the shoulder seasons.
Is Mykonos worth the hype?
Many first time visitors to Greece want to visit Mykonos because they've heard so much about it. Whether it lives up to the hype or not depends very much on the expectations you have of Mykonos. Keep in mind there are a 118 other inhabited islands in Greece that are a lot more genuine.
Is Mykonos worth visiting?
Absolutely! Mykonos is a stunning Greek island that is best visited between June and September. This is when the vibrant Mykonos nightlife and excellent beaches, are best enjoyed. The crowds can be overwhelming in the peak season, but if you want to experience exclusivity and luxury, Mykonos is an island to add to your bucket list.
Greek Island Hopping
Are you planning to visit Greece and want to try a little Greek Island Hopping? I've a few travel guides here that will help:
---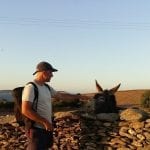 –
Dave Briggs
Dave is a
travel writer
who's been living in Greece since 2015. If you enjoyed reading this travel guide on whether visiting Mykonos is worth it, you might also like his other travel tips and guides to Greece. Follow Dave on social media for travel inspiration from Greece and beyond: