You can travel from Athens to Mykonos by ferry and direct flights with over a dozen connections every day. This guide shows you how.
Visiting Mykonos from Athens
One of the most popular tourist destinations in Greece is Mykonos. It's a small island in the Cyclades group, with beautiful beaches, amazing restaurants and bars, and some of the best nightlife in all of Europe.
Mykonos is often included in a Greece travel itinerary with other destinations. A popular combination is the Athens, Santorini and Mykonos itinerary for example.
As Athens is a main gateway into Greece, it's worth looking at the different ways of traveling to Mykonos from Athens.
Best Ways To Travel From Athens to Mykonos
There's two ways to visit Mykonos from Athens. These are to take a ferry from Athens, or take a flight.
If you're arriving in Greece at Athens Airport and want to get straight out to Mykonos, the best way is to take a flight.
If you're planning to spend a couple of days sightseeing in Athens first, and then want to get to Mykonos, the best way is to take a ferry.
Keep in mind that the tourist season in Greece typically runs from April to October, so you will find more flights and ferries running during this time. Also remember that the peak month is August, so I'd suggest booking any flight or ferry tickets well in advance if traveling during this time.
This travel blog lists all the possible ways to get from Athens to Mykonos in 2022. There's a lot of travel information here, so if you don't want to read it all, look at this:
What is the best way to get from Athens to Mykonos?
For most people, taking a ferry from Athens is going to be the best way to travel to Mykonos. There are between 8 and 12 boats per day operated by various different ferry companies. The Seajets high speed ferry crossing takes just 2 hours and 35 minutes. The conventional ferry crossings with the likes of Blue Star Ferries take around 4 hours. The slowest boat is just over 5 hours.
Check ferry schedules and timetables at: Ferryscanner
What is the cheapest way to get to Mykonos from Athens?
The cheapest option is the ferry. Mykonos ferry tickets start from around 29.00 Euros for the slower crossings. The fastest ferry to Mykonos from Athens costs around 57.70 Euros. By contrast, a Mykonos flight out of Athens costs over 100 Euro.
What is the quickest way to travel to Mykonos from Athens?
On paper, a flight to Mykonos should be quicker than a ferry ride. In reality though, by the time you've added together getting from Athens city center to the airport, checking in, getting your luggage back at Mykonos airport, and then getting from the airport to your hotel in Mykonos, you'll probably find the ferry boats to be quicker.
You can get cheap flights to Mykonos out of season, and if you are lucky enough to snap up a flash sail or bargain. I recommend Skyscanner as a way to keep an eye on the cheapest flights.
Where do ferries from Mykonos depart Athens?
All ferries depart from the two biggest ports of Athens, which are Piraeus and Rafina. Piraeus ferry port is the largest and most commonly used, especially for people staying in Athens city center. For anyone flying into Athens International Airport and wants to go straight to Mykonos by ferry, Rafina is more conveniently situated.
Where do ferries arrive in Mykonos?
The ferry from Athens arrives at the new port of Mykonos which is located in Tourlos, almost 2 km away from Mykonos town (Chora). There are taxis waiting at Mykonos port to transfer to your hotel in Mykonos. Public bus services are also available, and it is possible to walk to Mykonos town from the new port.
How much are the ferry prices?
A ferry ticket for the slower, conventional ferries can cost as little as 28.00 Euros, even in a busy month like July. Highspeed ferry tickets, on the other hand, can be as much as 58.00 Euro. You may find that off-season ferry tickets are cheaper than peak season ones.
Visit the Ferryscanner website to buy ferry tickets online to the Greek islands and to check schedules.
How to get to Mykonos from Athens
This article is divided into the following sections. Either scroll down, or jump through to the section that interests you most.
Athens to Mykonos by ferry
If you choose to go to Mykonos from Athens by ferry, you will get to see some of the Aegean Sea and a few other islands on the way. Some people decide to do a little island hopping before reaching Mykonos.
Depending on the route you take, the ferry from Athens may first stop at some of the following Cyclades islands – Andros, Tinos, Syros, Paros and Naxos.
Regular announcements are made so you know which ferry port you've arrived at, and if you should get off!
---
Choosing a ferry to Mykonos from Athens
If you do a quick search, you will see that there are a range of ferries going from Athens to Mykonos on a daily basis. In peak season, there can be anywhere up to 14 boats per day going to Mykonos.
There are several types of boats going from Athens to Mykonos. Some are bigger boats that take 4-5 hours to reach Mykonos but cost less. Others are smaller, highspeed ferry boats that are more expensive but can get you to the island in half the time.
Athens to Mykonos Ferry Price
Ticket prices vary widely, ranging from 20 to 94.7 euro for seats, and up to 99 cabins, which are only available on a few ferries. There are several discounts for children, depending on age, and some companies offer a 50% discount for ISIC holders.
Unlike flight prices that typically increase a lot on the days or weeks before a flight, ticket prices for a ferry trip are always the same.
Occasionally though, some ferry companies may release non-refundable, non-changeable tickets for certain ferry routes. In general, these must be booked months in advance.
---
Book ferry tickets to Mykonos
In high season, even the most expensive ferry tickets from Athens to Mykonos can be sold out. Make sure you book in advance, especially if your dates are set or you want a specific type of seat or cabin.
The days before Easter, the time around the Holy Spirit day (a Monday Bank holiday in May or June, falling on a different day every year) and pretty much all of July and August, can get really busy with holidaymakers.
All boats depart from the two biggest ports of Athens, which are Piraeus and Rafina. The trip from Rafina Port is quicker than the one from Piraeus.
As Piraeus port is quite big and chaotic, it is probably best to depart from Rafina if you can, which is also a lot closer to the airport than Piraeus.
---
Getting from Athens to Mykonos on Blue Star Ferries
One of the best known ferry companies in Greece is Blue Star Ferries. There are many Blue Star boats, typically named "Blue Star" plus the name of an island.
These boats are quite big, and they carry passengers and vehicles. They have restaurants, cafes, lounges, and even small shops selling clothes and books.
Depending on the day of the week and the season, there are one, two or three Blue Star ferries daily from Piraeus to Mykonos. They take about 4 or 5 hours to get to the island, and some of the routes are direct.
The cheapest option is to get a deck (economy) seat. Depending on how early you book the ticket, it can cost you anywhere from 20 to 40 euros. Note that the 20 euro options are non-refundable.
A deck seat means that you don't have a reserved seat, which can get a little tricky in summer as you may not be able to find a seat you like.
---
Getting the best seat on the ferry
The best option is to get a numbered "airplane" seat inside the ferry for 45.5 euros. This gives you the option to walk around the boat and the deck if you wish.
As the A/C is set to rather low temperature, make sure you bring a light jacket. There is also a business class option and several different cabin options, but as the trip isn't too long they are probably not worth it.
If time isn't really an issue, I suggest that you take a Blue Star ferry, and enjoy your trip. If your ferry stops at Tinos and Syros on your way to Mykonos, check out the beautiful ports!
Finally, Blue Star Ferries also runs a fast catamaran called Flying Cat 3. This is a small, fast vessel that will get you to Mykonos in just a couple of hours!
The catch is that there is no deck, and the size of the ferry means that your trip may be a bit unpleasant, especially if it's windy. Still, it's one of the fastest options, so it's worth considering. Tickets cost 51 euro.
You can check all the Blue Star Ferries here www.bluestarferries.com
Book ferries easily online at: Ferryhopper
---
Getting from Athens to Mykonos on the Hellenic SeaJet ferries
If you want to get to Mykonos as quickly as possible, your best choice is one of the high-speed ferries run by the Hellenic SeaJet company.
The word "Jet" is typically included in their name, and for good reason. The SeaJets will take you from Athens to Mykonos in 2 hours 20 minutes to 2 hours 40 minutes, depending on the vessel.
For 2020, there are three SeaJets going to Mykonos, two of them departing from Rafina. They all take vehicles and are fairly large ferries – nothing like the smaller SeaJet catamarans serving other routes in Greece.
The SeaJets have two or three types of indoor seats – standard, business and VIP. There are no cabins and there is only a small deck where you aren't really supposed to stay for the entire trip.
Standard fares start art 49 euro for ferries departing from Rafina, and just under 60 for the World Champion departing from Piraeus. Business or VIP seats cost 10-25 euros extra.
Check all the SeaJet boats out here https://www.seajets.gr/learn-about-seajets/fleet
---
Getting from Athens to Mykonos on the Golden Star ferries
The Golden Star ferries are a company operating three larger ferries with vehicle capacity from Rafina to Mykonos.
Superferry I and II take around 4.5 hours to get to Mykonos, stopping at Andros and Tinos on the way. Ticket prices start from 31 euros.
Alternatively, you can take the Superexpress, that only takes 2.5 hours. Standard tickets cost 45 euro, but note there is no deck, so your trip might not be as comfortable.
You can check the Golden Star Ferries here https://goldenstarferries.gr/en/our-fleet/
---
Getting from Athens to Mykonos on the Fast Ferries
There is one more ferry company travelling from Rafina to Mykonos, called Fast Ferries. Their bigger boats, Ekaterini P, Theologos and Fast Ferries Andros, offer budget options at 31 euro for deck seats.
---
Buying boat tickets from Athens to Mykonos – Which company to choose?
As mentioned above, one of the best ways to compare ticket prices and availability is a provider called Ferryhopper.
In terms choosing which ferry companies to use, the only suggestion is to avoid the smaller passenger boats that don't carry vehicles, as mentioned above, especially if you are a bit sensitive to sea sickness.
Get a numbered seat, explore the boat and go out to take in the views.
---
Buying boat tickets from Athens to Mykonos
It is important to know that you can buy your ferry ticket online.
Unfortunately, at the time of writing, only SeaJets and Golden Star Ferries offer e-tickets. Depending on who you are travelling with, you may have to collect your tickets at the port before you travel.
If you are planning to pick your Mykonos ferry tickets up just before your trip, make sure you are at the port very well in advance, as there will be more people queuing for the same reason.
However, if you buy your ticket through Ferryhopper, they can deliver it to your hotel in Athens for an extra fee.
Another option is to get your tickets from a travel agency after you arrive to Greece. This works well for people who have no set plans, but if you have booked your accommodation already there is no reason why you shouldn't book your boat tickets.
In fact, I don't recommended last minute booking in high season, especially if you are going to Mykonos!
---
Getting to Piraeus Port from the Athens airport and central Athens
In order to get to Piraeus from central Athens, you can get the green metro line, or maybe a taxi. Metro tickets cost 1.40, while the taxi to Piraeus port from downtown Athens shouldn't be much more than 10 euro.
Make sure you check if your driver is using the meter, or pre-book a taxi to lock in the price.
A bus also runs from Athens center to Piraeus Port. The most central pick up point for this is at Syntagma Square, and the journey takes around 45 mins.
To get to Piraeus port from the airport, you can use the Express Bus X96, the metro or the suburban railway.
The bus is actually the easiest option, as it leaves from the bus stop just outside the airport terminal and there are 3-4 buses per hour.
Tickets cost 6 euro – you will need to buy them at the kiosk just outside the bus and validate them on board.
Metro and suburban railway tickets cost 10 euro – if you are using the metro, you will need to change lines in Monastiraki station. You can also take a taxi, which should be around 50 euro.
Getting to Piraeus ferry port from the airport can take you anything from 45-50 minutes by taxi, to an hour and a half or so, if you take the bus.
If you are taking a boat from Piraeus to Mykonos, make sure you get there early – Piraeus is big and you will need to find your gate. Mykonos ferries depart from gates E6 / E7, which is very close to Piraeus metro / suburban railway station.
Here you can see a map of Piraeus port https://travel.viva.gr/Media/Media/ferries/Piraeus-Map.png If you can't read this, don't worry – our quick Greek lesson will help!
---
Getting to Rafina Port from the Athens airport and central Athens
If you are planning to take a boat from Athens to Mykonos just after you have arrived at the Athens airport, Rafina port makes more sense. Not only is it a smaller (and less busy) port, but it's also a lot closer to the airport.
A taxi to Rafina will cost less than 30 euro and will take you a half hour. There are also direct buses from the airport – the tickets cost 4 euro and you get them on board. The service departs at irregular hours which can be found here http://ktelattikis.gr/en/en_airport_timetable
If you are in central Athens, you can take a KTEL bus to Rafina Port from Pedion tou Areos, close to Victoria metro station in central Athens. This bus only costs 2.60 euro, and you can see timetables here: http://ktelattikis.gr/en/en_marathon_makri
---
Flying from Athens to Mykonos
If you are arriving at Athens International airport with an aim to head to Mykonos straightaway, you might want to check flights, since you will already be at the airport.
Flying from Athens to Mykonos only takes 40-45 minutes, so if time is important it's a good option. Flights arrive at Mykonos International Airport.
Airfares from Athens to Mykonos tend to be on the expensive side for such a short trip. Prices vary a lot, depending on when you are flying and how early you book your ticket, but expect to pay over 100 euro for a return ticket in the best case.
At the time of writing, four companies fly from Athens to Mykonos – Olympic Airways (Greek), Ellinair (Greek), Volotea (Spanish) and SkyExpress (Greek). Ryanair used to fly but no longer does – at some point they had one way tickets for 5 euro!
I've covered the air companies in another article covering transportation from Athens to Santorini but here is a short summary:
---
Flying from Athens to Mykonos with Olympic Air / Aegean Airlines
Olympic Air / Aegean Airlines is a generally reliable and service oriented company, and they have won multiple awards.
The lowest priced ticket option, called GoLight, includes a standard piece of hand luggage up to 8 kgs and a personal item. If you want checked luggage you have to pay extra for it.
One-way ticket prices from Athens to Mykonos start from about 50 euro in low season, but can cost over 200 euro at peak season or if you book last minute.
Check out their website https://en.aegeanair.com/ and here https://www.olympicair.com/en
---
Flying from Athens to Mykonos with Volotea
The Spanish company Volotea has several flights per day in summer. Once you get past their rather confusing booking system, you can actually get very good deals for flights from Athens to Mykonos, especially if you don't need any add-ons.
It is possible to get a return ticket from Athens to Mykonos for under 45 euros. They also have a MegaVolotea membership, for even lower prices.
Check them out at www.volotea.com
---
Flying from Athens to Mykonos with SkyExpress
SkyExpress is a small Greek company flying within Greece. The flights are not always picked up by SkyScanner or Kayak.
The basic fare includes a personal item and a piece of hand luggage of up to 6 or 8 kg. In addition, you can check another piece of luggage of up to 23 kg, depending on your airfare.
Have a look at www.skyexpress.gr
---
Flying from Athens to Mykonos – Which company is the best?
As the flight from Athens to Mykonos is very short, some people will just go with the lower budget option. Olympic Air is the same company with Aegean Air. Within Greece, it's the best known from these three companies.
If you are flying Mykonos just after you have arrived from abroad, allow enough time for customs, immigration etc. I would suggest at least a couple of hours between your arrival and your flight to Mykonos.
---
Tips for buying flight tickets from Athens to Mykonos
Search engines are the way to go, but you might want to check SkyExpress separately, as their flights might not appear on Kayak or Skyscanner.
At the same time, if you know that you are going to Mykonos months before your trip, make sure you subscribe to the companies' newsletters, to be informed of any promotions they may be running.
Apart from those promotions, ticket prices rarely go down, so it's best to book them when you know your dates.
On arrival at Mykonos Airport, you can have a taxi waiting for you at no extra cost. Here's the easy way to get and airport taxi at Mykonos airport.
---
The best way to get from Athens to Mykonos
All things considered, the best way to get from Athens to Mykonos will not be the same for everyone.
If time is the main concern, a flight will be the way to go. However, if budget is more of a concern, taking the slow boats will generally be your best option.
That said, make sure you check airlines from time to time – Volotea in particular might have really good deals.
In our case, living in Athens, a slow boat ride from Rafina would be our preferred option – it's a less chaotic port, so you don't need to be there hours in advance, and the trip is really pleasant.
---
What is so special about Mykonos?
Mykonos is a very popular destination with tourists and locals alike, especially in July and August. In fact, it was popular long before Santorini got famous around the world.
People like Marlon Brando and Jackie Kennedy had visited in the 1960s, when the island was still pure. At the time there was no port or airport on the island, so people had to be transported on small boats.
These days, Mykonos has a busy port and an international airport, and it's one of the most famous destinations in the Mediterranean. In addition, it's a popular cruise stop
What to expect in Mykonos
Mykonos brings up images of wild parties, clubbing, the Greek – and not only – jet set, the rich and famous, a thriving LGBT scene, and also nice beaches, naturism, and awarded restaurants.
Check out this article on things to do in Mykonos, and this other one on the 10 best Mykonos tours and day trips.
High season in Mykonos is much shorter than Santorini's high season, but it is quite intense.
As such, accommodation and transportation can generally be booked out weeks in advance, so if you are travelling in high season, make sure you book early. I recommend Booking as a place to search for hotels in Mykonos online.
There is still a chance that you will get last minute rooms and tickets, but they cannot be guaranteed, or you will be left with the most expensive options.
FAQ About Travel Between Athens and Mykonos
Readers looking to get from Athens to the Greek island of Mykonos by ferry or plane often ask questions similar to:
Is it better to fly or ferry from Athens to Mykonos?
If you plan to go directly to Mykonos after landing at Athens International Airport, it is better to take a connecting flight to Mykonos from Athens. If you want to spend a few days in the city of Athens first, it is better to take a ferry from the Athens ferry port at Piraeus to Mykonos.
How long is the high-speed ferry from Mykonos to Athens?
The quickest fast ferry to Mykonos takes around 2 and a half hours to make the journey from Athens to the port at Mykonos. Most ferries take 3 or 4 hours.
How much is a boat from Athens to Mykonos?
When buying ferry tickets you should expect to pay anywhere between 29 and 89 Euro, depending on the ferry company and type of vessel. The faster the ferry, the more expensive the ticket is likely to be.
How far is ferry from Athens to Mykonos?
The distance from Piraeus Port in Athens to Mykonos is around 160km.
What is the main Athens ferry port?
Piraeus is the main ferry port in Athens, although ferries to Mykonos do also sail from Rafina Port.
Please pin for later
If you're in the early stages of planning a trip to Greece, why not pin this image on one of your boards for later?
Further Reading
---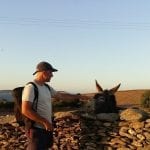 – Dave Briggs
Dave is a travel writer who's been living in Athens since 2015. In addition to writing this guide on traveling from Athens to Mykonos, he's created hundreds of other travel itineraries and blog posts about Greece which you can find here on Dave's Travel Pages.
Follow Dave on social media for travel inspiration from Greece and beyond: