There are 6 ferries a day sailing from Mykonos to Santorini during the summer operated by SeaJets, Minoan Lines, and Golden Star Ferries. Read on to discover the latest Mykonos Santorini ferry schedules, and how to book ferry tickets online.
Mykonos Santorini Ferry Route
The islands of Mykonos and Santorini are two of the most popular destinations in Greece. As there are no flight schedules between them you can't take a plane, so the only way to get from Mykonos to Santorini is by ferry.
Fortunately during the high season, you can expect 4 or 5 Mykonos to Santorini ferry crossings per day. The quickest ferry ride from Mykonos to Santorini takes just 1 hour and 55 minutes on a high speed ferry. The slowest ferry on the same route takes 3 and a half hours.
In this guide, I'll give you a few inside tips on getting to Santorini after visiting Mykonos, but if you want to look at the current ticket availability I suggest you take a look at this website >> Ferryhopper.
Mykonos to Santorini Ferry Schedules
There are three main ferry companies that sail between Mykonos and Santorini (and the opposite way Santorini to Mykonos). These are SeaJets, Golden Star Ferries, and Minoan Lines.
SeaJets offer the most ferries, with three crossings to Santorini from Mykonos per day. These are on their vessels WorldChampion Jet, SeaJet 2, and Power Jet. For 2022, all the SeaJet ferry crossings from Mykonos to Santorini cost the same price at 79.70 Euro.
Golden Star Ferries have one ferry a day called the SuperExpress, which is marginally cheaper at 70.00 Euro for passengers to get from the Greek island of Mykonos to Santorini.
Finally, Minoan Lines have three ferries per week sailing to Santorini from Mykonos on their vessel the Santorini Palace. Minoan Lines is the cheapest ferry line sailing from Mykonos to Santorini with tickets for passenger starting at 59.00 Euro.
Booking Ferry Tickets
While you can use a local travel agency when you are in Greece, it's much better and easier to book your ferry ticket online.
While each ferry company does have their own website, I recommend you use Ferryhopper to check the Mykonos ferry timetables. It's easier to compare travel times and prices of other ferries in one place, and when you book your ferry tickets online for the Mykonos to Santorini transfer it doesn't cost you any extra.
Note: For ferry travel in the high season, and particularly for ferry trips between Mykonos and Santorini, you should book your tickets at least a few weeks in advance. This goes the same for any onward journeys to other islands.
Departing Mykonos
The departure port in Mykonos is sometimes referred to as Mykonos New Port. It is located just 2 kilometres or so from Mykonos town.
There are regular buses running to the Old Port timed for when the ferries to Santorini depart. You can also take a taxi to the port – I advise to book these ahead of time.
It is suggested that you be at the departure port one hour ahead of when ferry rides are scheduled to leave.
Arrival in Santorini
Santorini ferries arrive at the main ferry port, sometimes referred to as Athinios Ferry Port. You definitely don't want to walk from the port to wherever your hotel is in Santorini, as there is a long, steep section of road to get up first which would be a nightmare to hike in the summer!
In the tourist season, there are buses waiting to meet ferry arrivals in the port, which will take you to Fira. Tickets may only be purchased with cash; each ticket costs €2.30/person and the trip is about 20 minutes long.
If you are not staying in Fira, you would need to take another bus from there to your destination.
Unless your hotel host is collecting you from the port, you might find it easier to pre-book a taxi to take you from the port to your Santorini hotel. You can do that easily here: Welcome Taxis.
If you're staying a while on Santorini, you might want to hire a car to get around. If that is the case, it might be a good idea to arrange to pick up your car rental at the port.
You can look for car rentals in Santorini here: Discover Cars
Never hired a car in Greece before? Read my tips on renting a car in Greece.
Insights into Ferry Companies and Boats
All three ferry companies that sail from Mykonos to Santorini operate high speed ferries. This means that you might not be able to go out on deck for fresh air as you can with a large ferry.
The strong Meltemi winds blow through the Cyclades islands in July and August. Hope for a smooth journey, but plan to take something for sea sickness just in case!
None of the ferry companies operates a year round service between Mykonos and Santorini. SeaJets begin operating a daily service from the 1st of April, and as the year progresses, more connections are added up until August, when you'll find the most availability.
This means that if you were planning a shoulder season trip from Mykonos to Santorini, you might not be able to get from one island to another directly.
Note that in previous years Blue Star Ferries included transfers from Mykonos to Santorini on the Blue Star Delos, but that is no longer the case.
Getting from Mykonos to Santorini on the Golden Star ferries
In 2022, Golden Star Ferries have a daily boat crossing from between Mykonos and Santorini. The vessel is the SuperExpress, and it can take vehicles.
The ferry departs Mykonos at 09.50 and arrives in Santorini at 12.40. The total journey time with this ferry company is 2 hours and 50 minutes. Ticket prices begin at 70.00 Euro for a foot passenger.
Dimitris Mentakis graciously offered us some of his fantastic photos to use in our articles. This is one of them!
For more information on the Golden Star Ferries ferry schedule, you can check their website: Golden Star Ferries. Also check Ferryhopper.
Getting from Mykonos to Santorini on the Hellenic SeaJets ferries
One of the main companies travelling from Mykonos to Santorini island, is a company called Hellenic Sea Jets. They have 3 ferries per day on this crossing and they all cost 79.70 Euro for passengers.
The first ferry leave Mykonos at 09.50 and arrives in Santorini at 11.45. The journey time is 1 hour and 55 minutes on the WorldChampion Jet. It's the quickest ferry, but does not carry vehicles. It might be smaller, so if you are prone to sea sickness you might want to choose a different crossing.
The second daily SeaJets ferry leaves at 11.00 and arrives at 14.30. This is a longer journey of 3 hours and 30 minutes.
The last ferry to Santorini that SeaJets provide every day, is the 12.40 crossing, which arrives at 15.25.
You can either get your tickets from FerryHopper, or directly from the Hellenic Seajet Website where you can also check their ferry schedules.
Getting from Mykonos to Santorini on Minoan Lines
In peak season, Minoan Lines run the Santorini Palace Highspeed from Mykonos to Santorini three times a week. The days this vessel sails are Thursday, Saturday, and Monday.
It might be a relatively slow ferry trip at 3 hours, but it is the cheapest option at 59.00 Euro. Perhaps a choice for budget minded island hoppers!
Buying a Mykonos to Santorini ferry ticket – Which company to choose?
The choice of ferry operators is yours. In general you will need to consider if money is more important to you than time. Just bear in mind that smaller ferries can give you a hard time if you get seasick easily.
Are there any direct flights from Mykonos to Santorini?
You might think that because both islands have airports, there would be flights from Mykonos to Santorini, especially during the summer.
This is not the case though. There are currently no plans to offer direct flights Mykonos to Santorini. Santorini Airport and Mykonos Airport only have connections with Athens and European cities and not each other.
Comparing Mykonos and Santorini
The two Cyclades islands are quite different from each other.
Santorini has the amazing landscapes and views to the volcano, the picturesque blue domed churches, the stunning sunsets over the Aegean Sea, and the unique wineries.
Mykonos is more of a party island, a place where many people go to see and be seen, a cosmopolitan destination – but it's also a really pretty place. The beaches in Mykonos are far better than the beaches in Santorini!
Are there any travel alternatives?
The only way to travel from Mykonos to Santorini is by ferry as there is no direct flight. Unless you are celebrating something special and want to splurge that is, in which case you can always try the Mykonos to Santorini helicopter route!
So, when you're planning your Greek islands trip, keep in mind there are no direct Mykonos to Santorini flights. If you had to fly because you had an aversion to ferries and boats, you'd have to take flights in and out of Athens, which would end up being rather time-consuming.
Travel from Mykonos to Santorini
Ask anyone who is travelling to Greece for the first time where they want to go, and they will most likely mention three destinations – Athens, Mykonos and Santorini .
For most visitors, these are the three places they have heard the most about, and also the most likely to include in a week's vacation to Greece.
The question is though, what is the easiest way to get from one place to another? The answer is by ferry, but there is more than one to choose from!
Previously, I've written a guide on
how to get from Athens to Santorini
and
how to get from Athens to Mykonos
. This guide on island-hopping covers
how to get from Santorini to Mykonos by ferry
.
The best way to get from Mykonos to Santorini
Ask five people for the best ferry from Mykonos to Santorini, and you are likely to get five different answers.
In fact, the answer is really up to you. There are a range of ferries available, you would just have to find the one that suits your timetable and budget best.
If you want to travel Mykonos to Santorini with a vehicle, you'd also need to make sure you choose a vessel that will carry it.
FAQ About Island Hopping Mykonos to Santorini
Here are some of the most frequently asked questions readers have about taking a ferry to Santorini from Mykonos.
How do you get from Mykonos to Santorini?
The only way to travel from Mykonos to Santorini is by ferry, as there are no direct flights between the two islands. There are up to 5 ferries per day during the summer months. In the off season, there may not be any ferries at all.
How long is the ferry ride from Mykonos to Santorini?
The ferry trip from Mykonos to Santorini takes between 1 hour and 55 minutes and 3 hours and 30 minutes. Travel times vary due to the ferry type and weather conditions.
How much is the ferry from Mykonos to Santorini?
The cheapest ferry ride from Mykonos island to Santorini is via Minoan Lines. They have three ferries a week on the Mykonos Santorini route, and the cost for passengers is 59.00 Euro.
Our preferred website to check schedules for the Mykonos to Santorini ferry route, is a third-party provider called FerryHopper, showing itineraries and prices for most boat trips in Greece.
Many passengers find buying tickets through FerryHopper is very easy, and most ferry operators now offer e-tickets. If you do have to physically collect them, you'll need to drop by an agent or the port at Mykonos before your departure for Santorini.
Note: Ferries leave from Mykonos New Port just outside of Mykonos Town. Your ferry will then arrive at Athinios Port in Santorini. This is sometimes referred to as New Port.
What are the ferries in Greece like?
The Greek ferry fleet is operated by dozens of different companies, with varying sized vessels. Take a look here for an indepth guide to Ferries in Greece.
Which is better, Mykonos or Santorini?
These two popular islands are very different in nature. Without doubt, Mykonos has the best beaches, but Santorini has the most impressive views and overall charm.
Mykonos to Santorini Day Trip
Theoretically, it looks possible to go from one island to another and back in a day, but in practice it just doesn't work. Especially if you want to spend time at the must-visit spots in Santorini and enjoy the sunset.
So, no Santorini-Mykonos day trip – Unless you're rolling in cash and take the helicopter option for air travel of course!
Santorini Transfers
If you are looking how to get to and from Santorini ferry ports check out my detailed article here: Santorini Transfers. Alternatively, one of the options below might appeal if you want to pre-book a transfer to the island hotels and accommodation in Thira and Oia.
Accommodation in Santorini
Once you have your ferry ride to Santorini organized, the next step is planning which hotels to choose from! If you're looking for hotel views over the caldera, this guide to the best sunset hotels in Santorini is essential reading.
Onward Travel From Santorini
If you are planning to visit other Greek islands after Santorini, you might want to take a look at this Santorini island hopping guide.
Pin this guide on the best way to travel from Mykonos to Santorini
Love Pinterest as much as I do? you'll probably have a board or collection of pins for Santorini and Greece already.
Feel free to use the image below on one of your boards. This way you can come back to read this travel guide on how to get to Santorini from Mykonos later.
Additional note: You might also be interested in these travel guides on how to get from Naxos to Santorini and ferries from Mykonos to Naxos. If you want to find a way to travel straight to Santorini as your first stop on a Greece vacation, read this guide on how to get to Santorini.
Have you been to both Santorini and Mykonos island? Let us know which ferry you used, and what you thought to it so we can add to this guide on how to go from Mykonos to Santorini.
---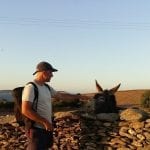 –
Dave Briggs
Dave is a
travel writer
from the UK who has been living in Greece since 2015. As well as writing this guide about how to go from Mykonos to Santorini, he's written hundreds of other insightful travel guides to Greek islands and destinations. Follow Dave on social media for travel inspiration from Greece and beyond: