Experience the best things to do in Ioannina, Greece! Explore the castle town, visit Ali Pasha Museum, walk around Lake Pamvotida and enjoy the fantastic local cuisine.
The top things to do in Ioannina include walking around Ioannina castle walls, enjoying Lake Pamvotida, savoring the fantastic local cuisine and much more! Take a look at the map to see where Ioannina is.
What to see in Ioannina
Spread out along the shores of enigmatic Lake Pamvotida, lays Ioannina, capital of the Epirus region of Greece. Pronounced Yannena in Greek, Ioannina is a captivating city that effortlessly blends history, culture, and natural beauty. This city is a treasure trove waiting to be discovered and explored.
Ioannina's rich history dates back to the Byzantine Era, but it was during the rule of Ali Pasha in the 18th century that the city flourished. The city is steeped in legends and tales of Ali Pasha's rule, which are reflected in the well-preserved architecture and historical sites scattered around the city.
Ioannina has a problem though. It's too often overlooked by people criss-crossing this part of Greece as they head to catch a ferry at Igoumenitsa. At best, people use it as a convenient overnight stop. More often than not, they drive straight through.
And that's a shame. Because there are plenty of things to do in Ioannina if you have a spare day or two. Don't believe me? Take a look for yourself!
Whether you will visit Ioannina on your way to or from the port at Igoumenitsa, or want to spend a few days in the town to explore the Epirus area, here's the best things to do in Ioannina when there.
Things to do in Ioannina
I've now visited Ioannina twice over the last 8 years of living in Greece. Once, was as part of a bicycle tour in central Greece. The other time was for a three day break, after having returned from visiting Corfu and Paxos.
As with almost every part of Greece I visit, I was both times amazed by the sheer number of things to see in Ioannina.
You could easily spend 2 or 3 days here and not see it all. I know there's some things to see in Ioannina I've still got left on my list. I guess I'll be returning some day soon!
Realistically though, most people may only be able to spare a day to see Ioannina. With that in mind, here's some of the places you should include on you Ioannina sightseeing itinerary.
Ioannina Castle
Lake Pamvotida (Ioannina Lake)
Ioannina Island
Silversmithing Museum
Fethiye Mosque
Byzantine Museum of Ioannina
Municipal Ethnographic Museum of Ioannina
Archaeological Museum of Ioannina
House of the Despot
Perama Cave
1. Ioannina Castle
If there is only one thing you do when in Ioannina, it should be to visit Ioannina Castle. The castle is at the heart of the historic centre of Ioannina, and also houses many of the attractions I've already listed above.
While the castle of Ioannina is free to enter, some of the buildings within, including the silversmithing museum and Byzantine museum have entry fees.
Also within the outer walls, homes, shops, restaurants and hotels sit side by side. On the higher sections, there are two separate citadels, these are the northeastern citadel, and the Its Kale citadel. I made a video there which shows the highlights of walking around the castle.
Ioannina Attractions
Whilst you are walking around and with the castle of Ioannina, you should take the opportunity to visit the following places of interest.
2. Fethiye Mosque
The Fethiye Mosque within the Kale section of Ioannina Castle dates back to the 1430's. Originally constructed from wood, it was later rebuilt in stone, and then finally remodelled in the 1700's by the legendary Ali Pasha. His family mausoleum is still located in front of the mosque.
When I originally visited the Fethiye Mosque in Ioannina, I was not able to go inside. In 2023, it was possible to go inside during opening hours.
3. Byzantine Museum
The Byzantine Museum is also located within Ioannina castle. It's open every day of the week apart from Tuesdays.
The Byzantine Museum in Ioannina exhibits a collection of icons, silversmithing artefacts, and other items from the Byzantine period. The ticket you buy here will also give you access to the Fethiye Mosque.
5. Silversmithing Museum of Ioannina
The silversmithing museum is a real highlight of visiting Ioannina. Run by the Piraeus Bank Group Cultural Foundation (who have several excellent cultural museums around Greece), the purpose is to keep the memory and heritage of Ioannina's silversmithing history alive.
Inside, you'll find some excellently laid out displays showcasing the tools and methods used by silversmiths through the ages. It includes the processing of silver, as well as turning that silver into objects like jewellery.
If you're interested in this aspect of Ioannina's history or jewellery making, then add it into your sightseeing itinerary.
5. Municipal Museum of Ioannina
You can find the Municipal Museum of Ioannina inside the Aslan Pasha Mosque (yes, another mosque in Ioannina's castle!). This museum has a lovely little display that demonstrates how the Muslim, Jewish and Christian communities of Ioannina lived and worked side by side.
There is also a collection of decorative furniture, clothing and other items dating back through the ages. The Municipal Museum of Ioannina is worth a half hour of your time at the very least.
6. Lake Pamvotida
Often referred to as Lake Ioannina, Lake Pamvotida is the most dominating natural feature of town. People staying at the campground will of course have a lakeside view from when they wake up in the morning. Others might choose to take a walk along the lakeside of Pamvotida – especially nice on a warm sunny day!
During our visit in June 2023, there were a series of outdoor art installations all along the waterfront of the lake. As this is a university town and a creative hub of the country, these sorts of things tend to happen quite often in Ioannina. Ask around when you visit Ioannina to see if there are any events happening when you are there!
7. Ioannina Island (Ali Pasha Museum and Monasteries)
When visiting Ioannina, be sure to take the inexpensive boat over to Ioannina island on Lake Pamvotida. It costs 2 Euros each way, and you can find the Ioannina island ferry schedule on the small shelter by the lakeside from where the ferry departs (about every half hour).
The island has a village which is interesting to walk around, and is a nice place to pick up some souvenirs. There is also a museum there displaying artefacts from the era of Ali Pasha, and several monasteries.
We spent about 2 hours on the island, but felt that three might have been a bit better.
8. Perama Cave and Day Tours from Ioannina
Ioannina is a good place to be based in order to explore the surrounding region of northwestern Greece. If you have your own transport, you can take side trips from Ioannina up into the mountains to see small villages, and the highlights already mentioned. You'll love the archaeological site of Dodoni sanctuary, and Vikos gorge!
The absolute most important thing to do though, is to visit the Perama cave. It's just a few kilometres outside outside of Ioannina, and if you haven't got your own vehicle or bicycle, you can take a taxi there.
The Perama Cave is the second largest in Greece and one of the largest in the Balkans region. Tours (you have to go with the guide) go through the caves every 20 minutes or so, and the place is stunning. If you've never visited a cave system before, Perama Cave is a must see when visiting Ioannina!
Getting to Ioannina
If you are wondering how to get to Ioannina, the city is well-connected by road and air. There are regular flights from Athens to Ioannina, and the city is also accessible by bus from major cities in Greece. You can take a Ioannina to Athens bus from here, which takes about 5 hours travel time.
If you're feeling adventurous, you could even opt for a scenic drive through the mountains of Epirus.
Thinking of renting a car in Greece to see Ioannina along with other places of interest in Epirus? I recommend Discover Cars for car rentals in Greece!
Where to stay in Ioannina
Ioannina offers a wide range of accommodations to suit every traveler's needs. From luxury hotels overlooking Lake Pamvotis to quaint guesthouses nestled within the city's old town, you'll find something that suits your preferences. There's even a campsite right by Ioannina's lake!
In fact, I've previously stayed at the campground in Ioannina, which is positioned right on the lakeside. It was a basic but pleasant enough place to stay for a couple of nights, but I can't imagine staying there much longer.
The campground has space for tents as well as plenty of space for campervans. If you are travelling in a van from the port at Igoumenitsa to Ioannina during the peak month of August, you might need to reserve a space for your campervan in advance at the campground in Ioannina.
If you are travelling by bicycle I don't think you'll have much problem finding space.
Hotels in Ioannina Greece
If the campground isn't your style, then there are plenty of Ioannina hotels to choose from. There's something for every budget, ranging from boutique hotels within the historic centre to the impressive Grand Serai Congress and Spa Hotel.
On my last Ioannina visit, I stayed at the Stonehouse Ioa. This was a full size apartment for around 50 Euros a night (2023 prices). It was about 15 or 20 minutes walk to get into Ioannina center from there, and it had parking for our car.
You can search for hotels in Ioannina below.
Where to Eat in Ioannina
Gastronomy is an integral part of Ioannina's appeal. The city is famous for its culinary delights, particularly its pies, frog legs, and trout. Be sure to try Ioannina's local cuisine at one of the many traditional tavernas dotted around the city.
I highly recommend Fysa Roufa for its basic, no-nonsense hearty meals (particularly the chicken pie!). Another of the good Ioannina restaurants to eat is Epikairo, which specialises in smaller plates. If you are traveling as a couple, order 3 or 4 different dishes to get a variety of tasty dishes!
Greece Ioannina Things To Do FAQ
If you've got a trip planned to Northwestern Greece and want to include a trip to the Ioannina region, these frequently asked questions might help:
Is Ioannina worth visiting?
Ioannina is a lovely city in every season, and it's worth at least a couple of days on a larger trip around Epirus. You can also base yourself in the city centre and then go and explore surrounding places of interest such as the ancient site of Dodoni.
What is Ioannina famous for?
Ioannina is known for its quaint and historic old town center. Due to its student population, Ioannina also has good coffee shops and nightlife, and can be quite a budget friendly destination in Greece.
How long should I stay in Ioannina?
There are a lot of things to do in Ioannina making a stay of one or two days worthwhile. If you are a slower traveler, Ioannina makes a good base to spend a week, as you can explore the wider region of Epirus.
What historic sites are there in Ioannina?
The 'big three' attractions of Ioannina are Ioannina Castle, the Perama Caves, and the beautiful Lake Pamvotida.
Is Ioannina good for outdoor activities?
Ioannina is a good place to indulge in all manner of outdoor adventure activities including rafting, hiking, canyoning, river trekking, and mountain biking. Lake Pamvotis is also good for kayaking and other watersports.
What to do in Ioannina
Ioannina is a lovely city in every season, and it's worth at least a couple of days on a larger trip around Epirus. You can also base yourself in the city centre and then go and explore surrounding places of interest such as the ancient site of Dodoni. What makes Ioannina so special? It has plenty to offer for history buffs, foodies, nature lovers, outdoor enthusiasts – there really is something for everyone! If you have any more questions about what to do or where to stay while visiting Ioannina Greece don't hesitate to contact us here by leaving a comment below!
Please pin this guide on what to do in Ioannina for later.
You might also be interested in these travel blogs about Greece
---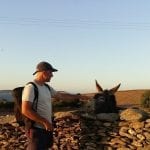 –
Dave Briggs
Dave is a
travel writer
living in Athens, Greece. In addition to writing this guide on reasons to visit Ioannina in Greece, he's also written hundreds more travel guides to Greek islands popular destinations. Follow Dave on social media for travel tips and inspiration from Greece and beyond: