Spend a day or two in the town of Ioannina, and see visit highlights such as Ioannina castle, Ali Pasha museum, the silversmithing museum and more!
The top things to do in Ioannina include walking around Ioannina castle walls, enjoying Lake Pamvotida, savoring the fantastic local cuisine and much more!
Visit Ioannina
Spread out along the shores of enigmatic Lake Pamvotida, lays Ioannina, capital of the Epirus region of Greece. Pronounced Yannena in Greek, it's a vibrant city with a rich and full history.
Ioannina has a problem though. It's too often overlooked by people criss-crossing this part of Greece as they head to catch a ferry at Igoumenitsa. At best, people use it as a convenient overnight stop. More often than not, they drive straight through.
And that's a shame. Because there are plenty of things to do in Ioannina if you have a spare day or two. Don't believe me? Take a look for yourself!
Whether you will visit Ioannina on your way to or from the port at Igoumenitsa, or want to spend a few days in the town to explore the Epirus area, here's the best things to do in Ioannina when there.
Things to do in Ioannina
I visited Ioannina as part of a bicycle tour in central Greece. As with almost every part of Greece I visit, I was amazed by the sheer number of things to see in Ioannina. You could easily spend 2 or 3 days here.
Realistically though, most people may only be able to spare a day to see Ioannina. With that in mind, here's some of the places you should include on you Ioannina sightseeing itinerary.
Ioannina Castle
Lake Pamvotida (Ioannina Lake)
Ioannina Island
Silversmithing Museum
Fethiye Mosque
Byzantine Museum of Ioannina
Municipal Ethnographic Museum of Ioannina
Archaeological Museum of Ioannina
House of the Despot
Perama Cave
1. Ioannina Castle
If there is only one thing you do when in Ioannina, it should be to visit Ioannina Castle. The castle is at the heart of the historic centre of Ioannina, and also houses many of the attractions I've already listed above.
The castle has different sections. Within the outer walls, homes, shops, restaurants and hotels sit side by side. On the higher sections, there are two separate citadels. I made a video there which shows the highlights of walking around the castle.
Ioannina Attractions
Whilst you are walking around Ioannina Castle, you should take the opportunity to visit the following places of interest.
2. Fethiye Mosque
The Fethiye Mosque within the Kale section of Ioannina Castle dates back to the 1430's. Originally constructed from wood, it was later rebuilt in stone, and then finally remodelled in the 1700's by the legendary Ali Pasha. His family mausoleum is still located in front of the mosque.
3. Byzantine Museum
Closed during my visit (keep that in mind if visiting on a Monday!), the Byzantine Museum in Ioannina exhibits a collection of icons, silversmithing artefacts, and other items from the Byzantine period.
4. Municipal Museum of Ioannina
You can find the Municipal Museum of Ioannina inside the Aslan Pasha Mosque (yes, another mosque in Ioannina). This museum has a lovely little display that demonstrates how the Muslim, Jewish and Christian communities of Ioannina lived and worked side by side.
There is also a collection of decorative furniture, clothing and other items dating back through the ages. The Municipal Museum of Ioannina is worth a half hour of your time at the very least.
5. Silversmithing Museum of Ioannina
I didn't have time to visit the silversmithing museum, but it's always there for next time! If you're interested in this aspect of Ioannina's history or jewellery making, then add it into your sightseeing itinerary.
6. Lake Pamvotida
Often referred to as Lake Ioannina, Lake Pamvotida is the most dominating natural feature of town. People staying at the campground will of course have a lakeside view from when they wake up in the morning. Others might choose to take a walk along the lakeside of Pamvotida – especially nice on a warm sunny day!
7. Ioannina Island
When visiting Ioannina, be sure to take the inexpensive boat over to Ioannina island on Lake Pamvotida. The island has a village which is interesting to walk around, and is a nice place to pick up some souvenirs. There is also a museum there displaying artefacts from the era of Ali Pasha.
8. Day Tours from Ioannina
Ioannina is a good place to be based in order to explore the surrounding region of northwestern Greece. If you have your own transport, you can take side trips from Ioannina up into the mountains to see small villages, and the highlights already mentioned. You'll love the archaeological site of Dodoni sanctuary, and Vikos gorge!
There are also a number of organised day trips from Ioannina castle town you can choose from. Some of these day tours from Ioannina are shown below.
Where to stay in Ioannina
I stayed at the campground in Ioannina, which is positioned right on the lakeside. It was a basic but pleasant enough place to stay for a couple of nights, but I can't imagine staying there much longer.
The campground has space for tents as well as plenty of space for campervans. If you are travelling in a van from the port at Igoumenitsa to Ioannina during the peak month of August, you might need to reserve a space for your campervan in advance at the campground in Ioannina.
If you are travelling by bicycle I don't think you'll have much problem finding space.
Hotels in Ioannina Greece
If the campground isn't your style, then there are plenty of Ioannina hotels to choose from. There's something for every budget, ranging from boutique hotels within the historic centre to the impressive Grand Serai Congress and Spa Hotel. You can search for hotels in Ioannina below.
Greece Ioannina FAQ
If you've got a trip planned to Northwestern Greece and want to include a trip to the Ioannina region, these frequently asked questions might help:
Is Ioannina worth visiting?
Ioannina is a lovely city in every season, and it's worth at least a couple of days on a larger trip around Epirus. You can also base yourself in the city centre and then go and explore surrounding places of interest such as the ancient site of Dodoni.
What is Ioannina famous for?
Ioannina is known for its quaint and historic old town center. Due to its student population, Ioannina also has good coffee shops and nightlife, and can be quite a budget friendly destination in Greece.
How long should I stay in Ioannina?
There are a lot of things to do in Ioannina making a stay of one or two days worthwhile. If you are a slower traveler, Ioannina makes a good base to spend a week, as you can explore the wider region of Epirus.
What historic sites are there in Ioannina?
The 'big three' attractions of Ioannina are Ioannina Castle, the Perama Caves, and the beautiful Lake Pamvotida.
Is Ioannina good for outdoor activities?
Ioannina is a good place to indulge in all manner of outdoor adventure activities including rafting, hiking, canyoning, river trekking, and mountain biking. Lake Pamvotis is also good for kayaking and other watersports.
What to do in Ioannina
Ioannina is a lovely city in every season, and it's worth at least a couple of days on a larger trip around Epirus. You can also base yourself in the city centre and then go and explore surrounding places of interest such as the ancient site of Dodoni. What makes Ioannina so special? It has plenty to offer for history buffs, foodies, nature lovers, outdoor enthusiasts – there really is something for everyone! If you have any more questions about what to do or where to stay while visiting Ioannina Greece don't hesitate to contact us here by leaving a comment below!
Please pin this guide on what to do in Ioannina for later.
You might also be interested in these travel blogs about Greece
---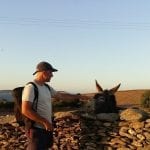 –
Dave Briggs
Dave is a
travel writer
living in Athens, Greece. In addition to writing this guide on reasons to visit Ioannina in Greece, he's also written hundreds more travel guides to Greek popular destinations. Follow Dave on social media for travel inspiration from Greece and beyond: