The Greek island of Rhodes is worth visiting for its great weather, rich history, stunning beaches, vibrant culture, and easy island hopping opportunities.
Is Rhodes Greece Worth Visiting?
Rhodes is a captivating Greek island in the Dodecanese archipelago. It combines ancient wonders with picturesque beaches, vibrant culture, and a strategic location for island hopping. From historical sites to outdoor adventures, Rhodes offers a diverse and unforgettable experience for travelers.
Rhodes attracts visitors from around the world, and while Brits know the island quite well, it's more of an unknown factor for US visitors.
I've visited Rhodes about half a dozen times now, and can easily see myself going back soon. If I find that it's such an enjoyable place with plenty to see and do, I'm sure you will too!
Reasons For Visiting Rhodes
If you're undecided on whether or not to go to Rhodes, here's some reasons that might attract you, and persuade you that Rhodes is worth visiting and adding to your Greece travel itinerary.
1. Rhodes is easy to get to
Rhodes is well-connected and easily accessible by both air and sea. You can fly there directly from the UK and European cities, and it connects with Athens as well.
By Air: The most common way to reach Rhodes is by flying into Diagoras International Airport (RHO). Many international airlines operate regular flights to Rhodes from various cities in Europe and beyond. Once you arrive at the airport, you can easily reach your accommodation by taxi or public transportation.
Related: How to get from Rhodes Airport to Rhodes Town
By Sea: If you prefer a more scenic and leisurely journey, you can reach Rhodes by ferry. There are ferry connections from various Greek islands and mainland ports, including Athens (Piraeus), Crete, Kos, and Santorini. Ferry services vary depending on the season, so it's advisable to check schedules and book your tickets in advance.
Within Greece, domestic flights and ferries are available to connect you to Rhodes from other cities and islands, offering flexibility in your travel plans.
Regardless of the mode of transportation you choose, reaching Rhodes is relatively straightforward and offers a gateway to exploring the beauty of this captivating island.
Related: How to get from Athens to Rhodes
2. Rhodes Has Great Weather
Rhodes enjoys a Mediterranean climate with long, hot summer months and mild winters. The island receives over 300 days of sunshine annually, making it a year-round destination.
The best time to visit is during the spring (April to June) and autumn (September to October) months when the temperatures are pleasantly warm, ranging from 20°C to 25°C (68°F to 77°F). These seasons offer comfortable weather for exploring the island, enjoying the beaches, and engaging in outdoor activities. I found that hiking is much more pleasant in April and May than in August!
Summers (July to August) can be hot, with temperatures often reaching above 30°C (86°F), making it ideal for beach lovers. August is the most popular time of year to visit Rhodes, but it doesn't make it the best time to go – especially if you prefer to avoid crowds!
Winter (December to February) is mild, with temperatures around 15°C (59°F), making it a quieter time to visit and explore the historical sites. This is a good time for a city break in Rhodes town, although direct international flights to Rhodes may be far fewer in the winter.
Find out more: Best time to visit Rhodes
Also read: Where is hot in Europe in December
3. Rhodes Is Good For All Budgets
Rhodes caters to travelers with varying budgets, making it a suitable destination for everyone.
Accommodation: Rhodes offers a wide range of accommodation options to suit different budgets. From budget-friendly guesthouses, hostels, and self-catering apartments to mid-range hotels and luxury resorts, there is something for every traveler's preferences and financial means.
Dining: When it comes to dining, Rhodes offers a diverse culinary scene with options to fit different budgets. You can find affordable local tavernas and casual eateries where you can enjoy delicious Greek cuisine without breaking the bank. Additionally, there are upscale restaurants and waterfront dining establishments that offer fine dining experiences for those seeking a more extravagant culinary adventure.
By the way, if you are traveling to Greece soon, check out my tips on taking money out of ATMs in Greece
4. English Widely Spoken & Easy to Get Around Rhodes
For those concerned about language barriers, fear not! English is widely spoken in Rhodes, making communication a breeze.
Getting around the island is also convenient, thanks to an efficient transportation system. Buses and taxis are readily available, allowing you to effortlessly navigate the island and discover its many treasures.
If you're staying in Rhodes for more than a few days, you might want to rent a car to get around. Car rentals in Rhodes can be very affordable, particularly in the shoulder seasons as there is a lot of competition between car rental companies.
Also read: Do you need to rent a car in Rhodes?
5. Rhodes Has Amazing Historical Sites
On of the main things that Rhodes is known for is historical sites.
Rhodes Old Town: Step into the medieval city charm of the UNESCO World Heritage Site, wander through narrow streets, explore ancient mosques, and marvel at the Palace of the Grand Master.
Lindos Acropolis: Climb to the top of the acropolis in Lindos, revealing ancient ruins, including the Temple of Athena Lindia, and offering stunning views of the village and the sea.
Ancient Kamiros: Explore the archaeological site of Ancient Kamiros on the northwest coast, where you can wander through the remains of an ancient city, including houses and an impressive water and drainage system.
Monolithos Castle: Visit the picturesque Monolithos Castle, situated on a rocky hilltop, and admire the medieval ruins while enjoying panoramic views of the surrounding landscapes.
Also read: Best Rhodes Day Trips
6. Rhodes Has Beautiful Beaches
Rhodes boasts a plethora of breathtaking beaches where you can unwind and soak up the Mediterranean sun.
Faliraki Beach, with its crystal-clear waters and vibrant atmosphere, is perfect for those seeking a lively beach experience. For a more secluded and tranquil ambiance, head to Anthony Quinn Bay or Tsambika Beach.
Located at the southern tip of Rhodes, Prasonisi is a unique beach where the Aegean Sea meets the Mediterranean Sea. It is a haven for windsurfers and kitesurfers, thanks to its strong winds and ideal conditions.
Whether you're looking to relax on golden sands or engage in thrilling water sports, Rhodes' beaches have something for everyone.
7. Rhodes Has Plenty Of Outdoor Activities
Rhodes is an outdoor enthusiast's paradise, offering a multitude of activities to satisfy your adventurous spirit. I've previously gone hiking and sea kayaking in Rhodes. Never cycled there yet, but I'm sure it's only a matter of time!
If water sports are your passion, dive into the vibrant underwater world through snorkeling or indulge in windsurfing along the coast. Guided tours and adventure experiences are readily available, ensuring unforgettable moments for nature lovers and thrill-seekers alike.
8. Enjoy Greek Coffee Culture In Rhodes
Coffee holds a special place in Greek culture, and Rhodes is no exception. Immerse yourself in the local coffee culture by visiting traditional cafés and experiencing the art of sipping Greek coffee.
I visited Apollona and a traditional Kafenio (Καφενείον Περνός & Στου Πλαστήρα) for a traditional Greek coffee, made by heating the coffee on hot sands. It tasted magnificent!
Start your day with a strong cup of "ellinikos" and savor the flavors while indulging in people-watching or engaging in conversations with friendly locals. The quaint coffee spots of Rhodes offer an authentic taste of Greek hospitality.
9. Souvenir Shopping in Rhodes
No trip is complete without picking up unique souvenirs, and Rhodes offers a plethora of options.
Explore the local markets and shops, where you'll find treasures such as handmade ceramics, traditional textiles, and local delicacies.
Visit the famous Street of the Knights for artisan crafts and jewelry or venture into the heart of Rhodes Old Town for an authentic shopping experience brimming with local charm.
Perhaps the best place in Rhodes to pick up souvenirs is Lindos – I've never seen so many on display, and in such a great setting too!
10. Good Start and End Point for Greek Island Hopping:
Rhodes serves as an excellent starting and ending point for Greek island hopping adventures. Positioned strategically within the Dodecanese Islands, it provides easy access to neighboring islands.
From here, you can embark on unforgettable journeys to places like Symi island, Kos, and Patmos. The well-connected ferry network ensures smooth transitions and endless opportunities for exploration.
Check out these islands near Rhodes you can reach by ferry.
Is It Worth Going To Rhodes FAQ
If you're still unsure whether Rhodes is worth visiting, these questions and answers might help:
Is Rhodes worth going?
Rhodes is definitely worth visiting, with its rich history, stunning beaches, vibrant culture, and convenient island hopping opportunities, ensuring an unforgettable and diverse travel experience.
How many days should I spend in Rhodes?
To fully explore Rhodes and its major attractions, it is recommended to spend at least 3 to 5 days on the island, allowing time for historical sites, beach relaxation, and immersing yourself in the local culture.
Why do tourists visit Rhodes?
Tourists visit Rhodes for its historical significance showcased in the UNESCO-listed Rhodes Old Town and Lindos Acropolis, picturesque beaches, vibrant nightlife, delicious cuisine, and the opportunity to explore other Greek islands easily from its strategic location.
Why is Rhodes so popular?
Rhodes is popular due to its captivating blend of historical sites, stunning beaches, vibrant culture, and convenient accessibility, making it an ideal destination for history buffs, beach lovers, and those seeking a diverse and memorable travel experience.
Is Rhodes good for couples?
Absolutely! Rhodes offers a romantic ambiance with its charming Old Town, picturesque beaches, sunset views, and cozy restaurants. It provides a perfect setting for couples to create unforgettable memories together.
Is Rhodes safe?
Rhodes is generally considered a safe destination for travelers. Like any tourist destination, it's important to take common safety precautions such as being aware of your surroundings, safeguarding belongings, and following local laws and customs.
Is Lindos worth visiting?
Definitely! Lindos, with its ancient Acropolis overlooking the village and stunning coastline, is a must-visit destination in Rhodes. The combination of historical significance, breathtaking views, and charming atmosphere makes it well worth exploring.
---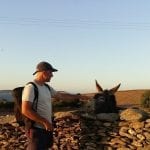 –
Dave Briggs
Dave is a
travel writer
based in Athens, Greece since 2015. In addition to writing these guide about if Rhodes is worth visiting on your next vacatoin, he's also written many more travel blogs about destinations in Greece. Follow Dave on social media for travel inspiration from Greece and beyond: