Use this guide to the most important must see places in Greece to start planning where to visit on your next Greek vacation.
Must See Attractions In Greece
Greece, a land where the past meets the present, offers an adventure steeped in ancient history and modern charm.
From the 18 UNESCO World Heritage sites to the sun-kissed Greek islands, and the awe-inspiring mainland, a trip to Greece is a journey through the epochs of Western civilization.
Almost everyone has heard of the top tier destinations of Athens, Santorini and Mykonos, and indeed this is a popular travel itinerary for first time visitors. There are hundreds more must see places to visit in Greece though, both on the islands and the mainland.
I've been living in Greece for over 8 years now, and still discover new things that amaze me, even in places I've visited many time before!
Whether you are visiting Greece for the first time or the twentieth, I'm sure you'll find something of interest on this list of must see places in Greece.
1. Athens
Athens is a city where history and modernity coalesce, offering a fascinating journey through ancient landmarks and contemporary urban culture. Ancient Athens was renowned for its contributions to Western civilization during its Golden Age. Today, it's a vibrant metropolis teeming with cultural and historical treasures.
As well as being an important place to visit, Athens is a good start and end point to your Greek adventure. There are transport links to everywhere else in the country either by flight, ferry or bus.
When planning ferry travel from Athens, I recommend: Ferryscanner
Must See Places in Athens
Acropolis and Parthenon with Acropolis Museum: The iconic Acropolis hill, crowned by the Parthenon, symbolizes ancient Athenian power and artistry. Nearby, the Acropolis Museum displays artifacts from the site.
Ancient Agora and Temple of Olympian Zeus: Explore the Ancient Agora, the heart of Athens' public life in antiquity, and the majestic ruins of the Temple of Olympian Zeus.
Plaka and Monastiraki Neighborhoods: Wander through the charming streets of Plaka and the bustling Monastiraki area, known for their lively markets, street art, and dining options.
Syntagma Square with the Changing of the Guard and National Garden: Witness the ceremonial changing of the guard at Syntagma Square and relax in the nearby National Garden.
Panathenaic Stadium and Mount Lycabettus: Visit the historic Panathenaic Stadium, host of the first modern Olympics, and enjoy panoramic views of Athens from Mount Lycabettus.
The National Archaeological Museum: This is the largest collection of artifacts from Ancient Greece in the world. If you're interested in ancient Greek history, the National Archaeological Museum in Athens is the place for you (allow 3 or 4 hours).
Start planning your Athens travel itinerary: How to spend the perfect 4 days in Athens
2. Santorini
Santorini is the most famous of the Cyclades islands. World-famous for its dramatic views, stunning sunsets, and white-washed buildings with blue domes, it's a quintessential image of Greek beauty.
Must See Places And Experiences in Santorini
Oia Village and Sunset Viewing: Oia is renowned for its quintessential Greek architecture and spectacular sunset views. It's a picturesque village with charming streets, boutique shops, and excellent dining options.
Fira Town and Caldera Views: As the island's bustling capital, Fira offers stunning views of the caldera, a variety of shops, cafes, and museums, along with fun nightlife. I highly recommend the Fira to Oia hike as one of the best things to do in Santorini.
Ancient Thera and Akrotiri Archaeological Sites: Explore the ancient city of Thera and the well-preserved prehistoric settlement of Akrotiri, offering insights into the island's past.
Red Beach and Kamari Beach: Experience the unique landscapes of Santorini's beaches, particularly the striking Red Beach with its volcanic red cliffs and Kamari Beach known for its black sand and clear waters.
Winery Tour and Wine Tasting: Santorini is famous for its unique vineyards and exquisite wines. A tour of the island's wineries, like Santo Wines, offers a taste of local flavors and insights into the winemaking process.
3. Mykonos
Mykonos is another famous Greek island in the Cyclades group. It's famous for its vibrant nightlife, gorgeous beaches, and iconic windmills. The island offers a mix of glamorous lifestyle and traditional Greek charm, making it a popular destination for travelers seeking both relaxation and entertainment.
Must See Places in Mykonos
Mykonos Town (Chora) and Little Venice: The island's capital, known for its picturesque narrow streets, white-washed buildings, and waterfront area called Little Venice, full of bars and restaurants with stunning sea views.
Windmills and Panagia Paraportiani Church: Iconic landmarks of Mykonos, the windmills offer great photo opportunities, while the Paraportiani Church is a remarkable example of Cycladic architecture.
Beaches – Paradise and Super Paradise: Renowned for their lively beach bars and clubs, these beaches are perfect for those looking to enjoy Mykonos' famous party atmosphere.
Delos Island Day Trip: A short boat ride from Mykonos, Delos is an uninhabited island and a UNESCO World Heritage site, known for its extensive and well-preserved ancient ruins.
Ano Mera Village and Monastery of Panagia Tourliani: A quieter side of Mykonos, Ano Mera offers a glimpse into traditional island life, with the beautiful monastery at its center.
4. Crete
Want to try some of the best Greek food in the country? Head to Crete, the largest of the Greek islands! It's a treasure trove of ancient history, beautiful landscapes, and deep-rooted culture. Due to its size, Crete is an ideal holiday destination for road trips or extended stays.
Crete is known for its diverse landscapes ranging from fine-sand beaches at Elafonissi to the White Mountains. It's other stand out features include a rich gastronomic culture and historical sites, including Europe's oldest city, Knossos, make it a fascinating destination for all types of travelers.
Must See Places in Crete
Knossos Palace and Heraklion Archaeological Museum: Discover the ancient Minoan civilization at Knossos Palace which may have been the root of the Labyrinth in ancient Greek mythology. The Heraklion Archaeological Museum is a must-visit for a deeper understanding of Crete's history.
Elafonissi Beach: Known for its pink sand and clear waters, it's a perfect spot for relaxation and enjoying the island's natural beauty.
Samaria Gorge: You can take a hike through one of Europe's longest gorges, offering beautiful scenery along the way.
Rethymno Old Town and Venetian Fortezza: Explore the charming streets of Rethymno's Old Town and the impressive Venetian Fortezza with excellent views.
Chania Old Venetian Harbor: A picturesque harbor surrounded by historical buildings, offering a blend of Cretan, Venetian, and Ottoman influences.
5. Rhodes
Rhodes is the largest of the Dodecanese islands and is known for its medieval town, beach resorts, ancient ruins, and remnants of its occupation by the Knights of St. John during the Crusades. The island offers a blend of beautiful beaches, historical sites, and lively towns, making it a popular destination for a variety of travelers.
Must See Places in Rhodes
Rhodes Old Town and the Palace of the Grand Master: Explore the UNESCO-listed medieval Old Town, with its historic streets and the impressive Palace of the Grand Master of the Knights.
Acropolis of Lindos: Visit the ancient Acropolis in Lindos, offering stunning views of the surrounding areas and a glimpse into the island's past.
Monolithos Castle: Perched atop a rock, this castle offers breathtaking views and a touch of medieval history.
Valley of the Butterflies: A unique nature reserve, especially popular in summer when thousands of butterflies congregate here.
Beaches – Tsambika, Anthony Quinn Bay, and Prasonisi: Enjoy the island's diverse beaches, from the serene Tsambika to the scenic Anthony Quinn Bay and Prasonisi, a paradise for windsurfers.
6. Corfu
Corfu, located in the Ionian Sea, is known for its rugged mountains and a coastline dotted with resort-studded bays. Its cultural heritage reflects years spent under Venetian, French, and British rule before it was united with Greece. Corfu Town, the island's capital, is a UNESCO World Heritage site, thanks to its elegant Italianate architecture.
Must See Places in Corfu
Corfu Old Town and the Fortress: Wander through the charming streets of Corfu Old Town, characterized by its Venetian architecture, and explore the Old and New Fortresses for panoramic views.
Paleokastritsa Monastery and Beaches: Visit the stunning Paleokastritsa Monastery and enjoy the beautiful beaches in the area, known for their crystal-clear waters.
Achilleion Palace: Discover this beautiful palace built for Empress of Austria Elisabeth of Bavaria, also known as Sisi, with its stunning gardens and views.
Kanoni and Mouse Island (Pontikonisi): Enjoy the iconic view of Mouse Island, especially from the Kanoni area, which offers one of the most photographed scenes in Corfu.
Mountain Villages and Corfiot Countryside: Take a trip to the mountainous villages of Corfu, such as Lakones or Pelekas, to experience traditional Corfiot life and enjoy spectacular island views.
7. Meteora
Meteora, located in central Greece, is famous for its monasteries perched atop towering rock formations. The name 'Meteora' means 'suspended in the air,' which aptly describes these remarkable Greek Orthodox monasteries. It's a UNESCO World Heritage site, blending natural beauty with cultural and historical significance.
Must See Places in Meteora
Great Meteoron Monastery: The largest and oldest monastery in Meteora, it offers fascinating insights into monastic life and stunning views of the surrounding landscape.
Varlaam Monastery: Known for its impressive frescoes and valuable relics, it's the second-largest monastery in Meteora.
Holy Trinity Monastery: Featured in the James Bond film 'For Your Eyes Only,' this monastery is renowned for its dramatic location and wonderful views.
Roussanou Monastery: Situated on a lower rock, it's easily accessible and offers a peaceful atmosphere with beautiful frescoes.
Hiking and Rock Climbing: The Meteora region is a paradise for hikers and climbers, offering a unique opportunity to explore the natural beauty and serenity of the area up close.
8. Thessaloniki
Thessaloniki, Greece's second-largest city, is known for its lively festivals, social events, and fun nightlife. The city has a long history, reflected in its diverse array of Byzantine, Ottoman, and Sephardic Jewish architecture. Thessaloniki is also known for its picturesque waterfront and culinary delights, making it a popular destination for both history enthusiasts and food lovers.
Must See Places in Thessaloniki
White Tower and Waterfront Promenade: The symbol of the city, the White Tower offers lovely views of Thessaloniki and its waterfront, a perfect spot for a leisurely walk.
Rotunda and the Arch of Galerius: These ancient Roman structures are a testament to Thessaloniki's historical significance, with the Rotunda being particularly notable for its impressive dome.
Ano Poli (Upper Town): This old part of the city provides a glimpse into Thessaloniki's past with its traditional houses, narrow streets, and stunning views of the city.
Aristotelous Square: The main city square is surrounded by impressive buildings and is a popular gathering spot for both locals and tourists.
Museum of Byzantine Culture: An essential visit for understanding the city's Byzantine heritage, the museum showcases a vast collection of art and artifacts.
9. Olympia Archaeological Site
Olympia, located in the western Peloponnese, is an ancient Greek sanctuary site dedicated to Zeus. It's famous as the birthplace of the Olympic Games, which were held here every four years from the 8th century BC to the 4th century AD. The site is rich in historical and architectural significance, showcasing ruins that offer insights into ancient Greek life and culture. Where else in the world could you stand in an ancient stadium that athletes competed on thousands of years ago?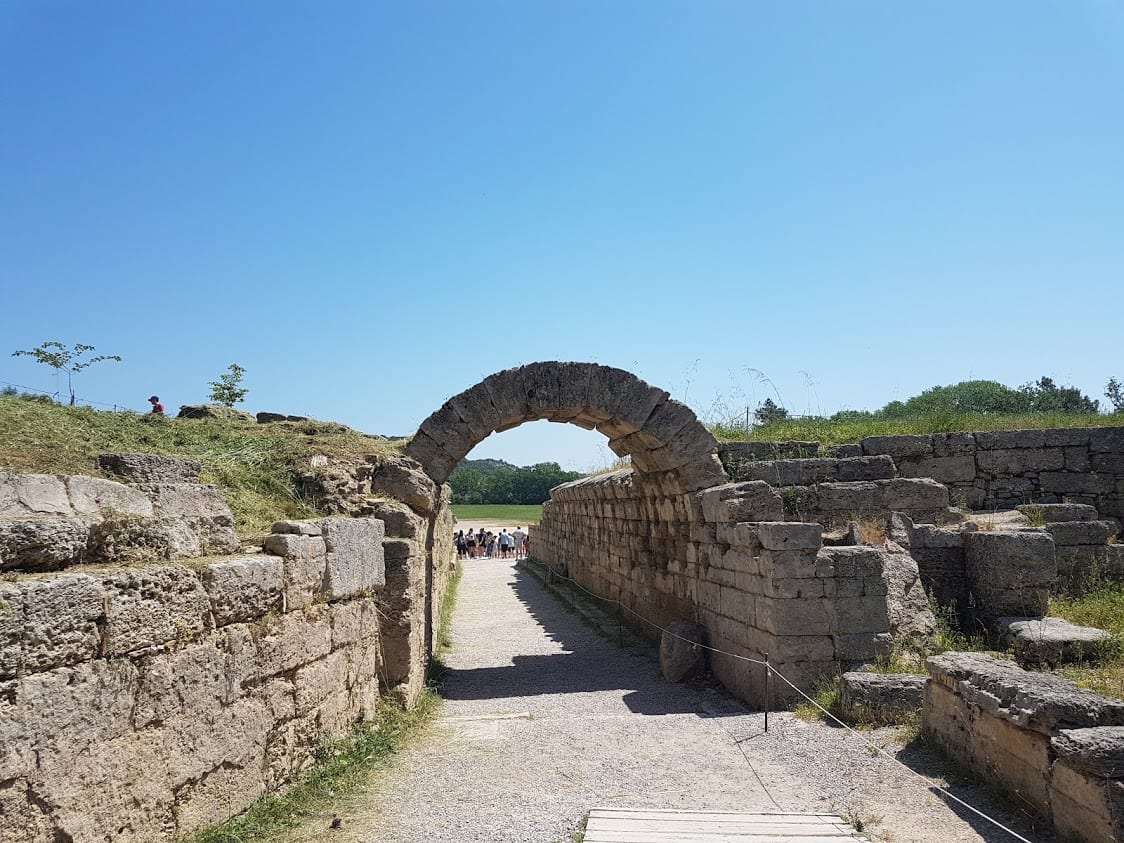 Top Attractions at Olympia Archaeological Site
Temple of Zeus: Once housing one of the Seven Wonders of the Ancient World – the statue of Zeus, this temple is a highlight of the archaeological site.
Stadium of Olympia: The original Olympic stadium, with a capacity to hold up to 45,000 spectators, offering a glimpse into the ancient sporting world.
Temple of Hera: An older and smaller temple next to the Temple of Zeus, it holds great significance in Greek mythology and history.
Archaeological Museum of Olympia: Home to important artifacts from the site, including pediments from the Temple of Zeus and the famous statue of Hermes by Praxiteles.
Ancient Gymnasium and Palaestra: These ruins provide an insight into the training facilities used by ancient athletes preparing for the Olympic Games.
10. Milos
Milos is another Cyclades island, known for its lunar landscapes and stunning beaches, is famous for its incredible scenery and natural beauty. The island's volcanic origin has created an array of unique geological formations, and makes it one of the best places to visit in Greece for beaches.
Must see places in Milos
Sarakiniko Beach: Known for its moon-like landscape with white volcanic rock formations.
Kleftiko Bay: Most people think this is only accessible by boat, but you can also hike there. Kleftiko is a former pirates' hideout is known for its crystal-clear waters and dramatic cliffs.
Plaka Village: The charming capital of Milos, offering scenic views, quaint streets, and the Archaeological Museum of Milos.
Catacombs and Ancient Theatre: Explore the historical significance of Milos through its well-preserved catacombs and the ancient theatre.
Fishing Villages of Klima and Firopotamos: Picturesque fishing villages with colorful syrmata (boat houses).
11. Naxos
Naxos is known for its long sandy beaches, great windsurfing and kitesurfing spots, and agricultural products. The island's central location in the Cyclades makes it an ideal base for exploring surrounding islands. Naxos offers a wealth of activities for visitors, from swimming and snorkeling at its golden sandy beaches, to hiking and exploring ancient sites.
Must See Places in Naxos
Portara (Temple of Apollo): The Portara is the iconic landmark of Naxos, a massive marble gateway that stands as a symbol of the island.
Naxos Old Town and Castle: Explore the charming streets of the Old Town and the Venetian Castle, offering a mix of history and local life.
Agios Prokopios and Agia Anna Beaches: Known for their crystal-clear waters and golden sands, these beaches are ideal for relaxation and water sports.
The Villages of Halki and Apiranthos: Visit the traditional mountain villages of Halki and Apiranthos to experience the authentic Naxian culture and architecture.
Temple of Demeter: An ancient temple dedicated to the goddess Demeter, located near the village of Sangri, showcasing classical Greek architecture.
12. Kefalonia (Cephalonia)
Kefalonia island, located in the Ionian island group, boasts a diverse landscape, from rugged mountains to idyllic beaches. The island also has a rich cultural heritage, with a mix of Venetian, Byzantine, and Roman influences evident in its architecture and archaeological sites. It's famous for its picturesque villages, like Fiskardo and Assos, and natural wonders like Myrtos Beach.
Must See Places in Kefalonia
Myrtos Beach: Renowned for its striking beauty, Myrtos Beach features dazzling white pebbles and turquoise waters, surrounded by steep cliffs.
Melissani Cave: A unique underground lake where sunlight creates a magical blue hue in the water. Boat tours offer a unique way to experience this natural wonder.
Assos Village: A charming and colorful village, Assos is set against a backdrop of lush greenery and offers a serene, picturesque environment.
Fiskardo: A beautifully preserved village with colorful Venetian-style buildings, bustling waterfront, and chic atmosphere.
Saint George's Castle: Perched atop a hill, this Venetian fortress offers panoramic views of the island and insights into Kefalonia's history.
13. Delphi
Delphi, located on the slopes of Mount Parnassus, was considered the center of the world in ancient Greek religion. Ancient Greeks would make pilgrimages from far and wide to consult the famous Oracle of Delphi, where the priestess Pythia delivered prophecies. The site is a UNESCO World Heritage site, blending incredible natural scenery with ancient ruins.
Must See Places in Delphi
Temple of Apollo: The main temple at Delphi, once home to the Oracle and known for its impressive columns. It's one of the most important ancient monuments in Greece.
Delphi Archaeological Museum: Houses important artifacts from the site, including the famous Charioteer of Delphi and the Sphinx of Naxos.
Ancient Theater of Delphi: Offers a spectacular view of the entire sanctuary and the valley below.
Tholos of Delphi: A circular building that is an architectural masterpiece, known for its harmony and beauty.
Castalian Spring: An ancient sacred spring that was used by pilgrims who came to consult the oracle.
14. Ioannina
Few tourists make it out to Ioannina. The city is famous for its silverwork and its beautiful setting by Lake Pamvotida. Ioannina's old town is a maze of narrow streets lined with Ottoman-era buildings, Byzantine churches, and lively cafes.
Top 5 Must-See Places in Ioannina
Ioannina Castle: The oldest Byzantine fortress in Greece, the castle houses several museums and offers a glimpse into the city's past.
Lake Pamvotida and the Island: The picturesque lake features a small island accessible by boat, home to monasteries and traditional tavernas.
Perama Cave: One of the largest and most impressive caves in Europe, located just a short drive from the city center.
Archaeological Museum of Ioannina: Showcases artifacts from the region's rich history, including items from the ancient city of Dodona.
Aslan Pasha Mosque: A well-preserved Ottoman mosque that now houses the Municipal Ethnographic Museum, offering insights into the city's multicultural past.
15. Zakynthos
Zakynthos, a gem in the Ionian Sea, is renowned for its exciting nightlife and stunning beaches. The island is a haven for sea turtles and boasts the iconic Navagio Beach, surrounded by towering cliffs and famous for its shipwreck. Zakynthos Town, with its Venetian castle and bustling harbor, is a blend of modern and historic charm.
Must See Places in Zakynthos
Navagio Beach (Shipwreck Cove): Accessible only by boat, this picturesque beach features a famous shipwreck, crystal-clear waters, and dramatic cliffs, making it a photographer's paradise.
Blue Caves: Carved by erosion, these stunning sea caves shimmer with blue and green hues, best explored by boat trips that allow you to swim in their ethereal waters.
Zakynthos Marine Park: Located in Laganas Bay, this protected area is crucial for the conservation of the endangered Loggerhead sea turtles, offering an opportunity to witness these majestic creatures in their natural habitat.
Bochali Hill: Overlooking Zakynthos Town, Bochali offers breathtaking panoramic views, a Venetian Castle, and the picturesque Agios Georgios church amidst peaceful, fragrant gardens.
Keri Caves: These lesser-known caves, accessible by boat, offer a serene escape with opportunities for swimming and snorkeling in secluded, clear waters surrounded by natural beauty.
Must See Greece FAQ
Readers wanting to visit Greece often ask questions similar to:
Where is the prettiest place in Greece?
While many people consider Santorini to be the prettiest place in Greece, anyone who has been to Meteora will tell you that the landscapes there with the monasteries dotted among the huge rocks make Meteora one of the prettiest places to visit in Greece.
Where is the best place to go in Greece for the first time?
Many first time visitors to Greece, who may only ever got to Greece once in their lives, tend to choose Athens, Mykonos and Santorini for their itinerary. There's no one right answer though, as Crete and Rhodes are also great places to visit in Greece for the first time.
What activities can be done in Greece?
Activities in Greece include exploring ancient ruins, island hopping, enjoying gorgeous beaches, savoring Greek cuisine, embracing local culture, outdoor adventures, and diving into ancient world of Greek mythology.
What do most people do in Greece?
Most visitors explore historical sites, island-hop, relax on beaches, sample Greek cuisine, immerse in local culture, and engage in outdoor activities like hiking and scuba diving.
How many days in Greece is enough?
A 7-10 day trip allows you to explore Athens and nearby islands. For broader exploration, consider 14 days or more. Spend 3 weeks to a month for a deep, immersive experience.
What is the number one attraction in Greece?
The Acropolis in Athens, with its iconic Parthenon, stands as Greece's top attraction, showcasing ancient history and architectural brilliance.
Re-read something in this article you missed
---
–
Dave Briggs
Dave is a
travel writer
from the UK who's been living in and writing about Greece since 2015. As well as writing this guide to the must see places in Greece, he's also written hundreds more travel blog posts about other destinations in Greece. Follow Dave on social media for more
Greece travel ideas
: