The Greek island of Kefalonia is known for its wonderful beaches and unique geological formations. One of them is the impressive Drogarati Cave. Here's some background information about Drogarati, including how to visit.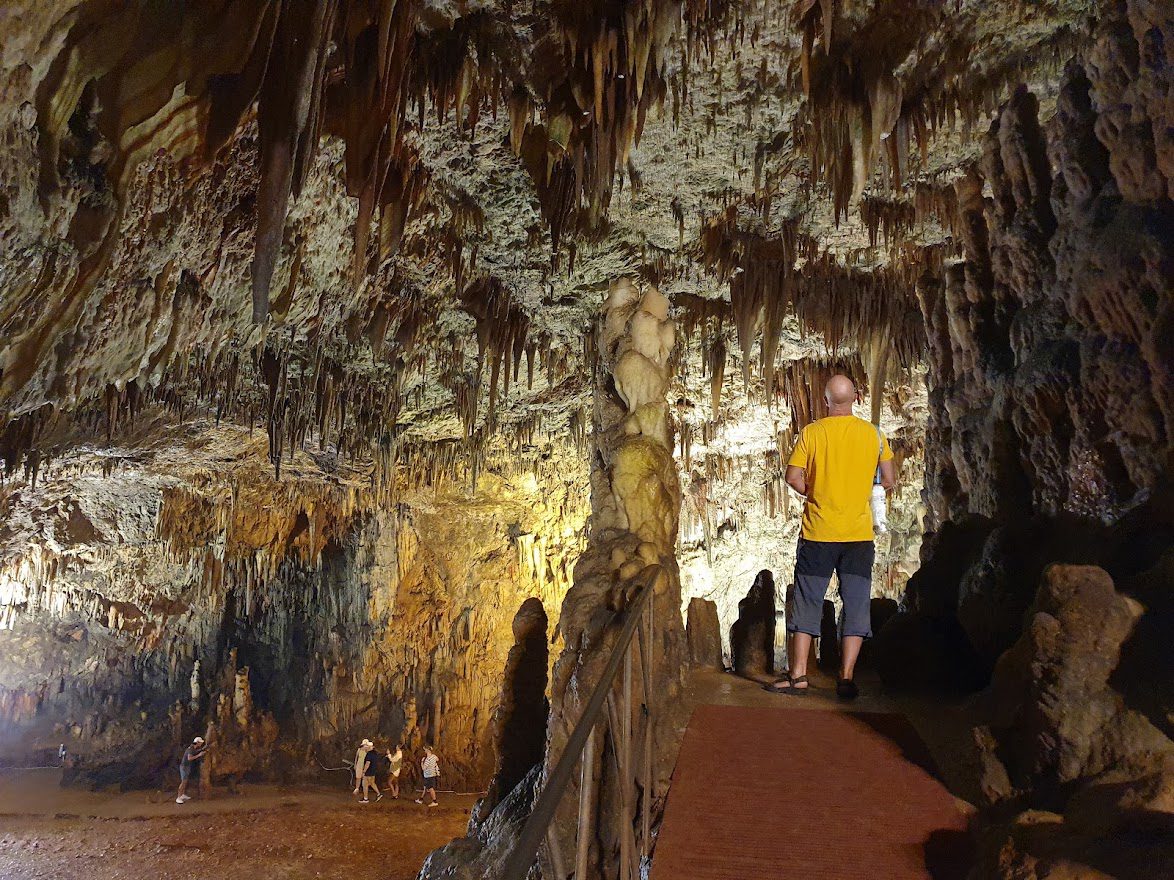 The imposing Drogarati Caves
The caves of Drogarati are among the top attractions in the Greek island of Kefalonia in the Ionian Sea.
They are located at the area of Chaliotata, close to Melissani Lake and Sami port, on the eastern coast of the island.
Cave Drogarati is estimated to be around 150 million years old. It was discovered in the 18th century, after a strong earthquake caused a part of the roof to collapse and exposed the cave's entrance.
The cave first opened to the public in 1963. Thousands of tourists visit every year, especially during the summer season. It's an amazing attraction, for adults as well as kids.
What does Cave Drogarati look like?
Cave Drogarati is a truly impressive cave, not least because of its size. It is 95 metres deep, and visitors can walk on the well-laid out corridors and staircases.
Once you enter the cave, you will see a long corridor leading to a natural platform called the Royal Balcony. It is easily accessible, and offers a fantastic view of the whole cave.
The cave's main hall, called the Chamber of Exaltation, is incredibly big. It measures about 65 by 45 metres and is 20 metres high!
Wandering around Drogarati cave is fairly easy, as the inclination isn't too steep. By comparison, other caves in Greece and the Greek islands are almost vertical. A good example is the Cave of Antiparos.
Stalactites and stalagmites in Drogarati Cave
Cave Drogarati has lots of beautiful stalactites and stalagmites. Some of them have been destroyed over the years, due to earthquakes and also human activity. Fortunately, there are still many left.
Stalactites are the formations hanging from the ceiling, whereas stalagmites are the ones rising up from the floor. These remarkable formations are created as water drips down from the ceiling, and then falls onto the ground.
The main mineral in stalagmites and stalactites is calcium carbonate, also known as calcite. This mineral causes the water to eventually harden, and create the formation. It takes about 100 years for 1 cm of stalactite to be created!
Their colour depends on the water's content in other minerals and organic compounds. You can see yellow, orange, red and green stalactites and stalagmites.
Touching these sensitive formations can stop their future growth. This is because skin oils can prevent the new deposits from clinging on to the existing surface. So, please pay attention when you are walking around.
Concerts in Drogarati Cave
Due to its unusually large size, the Chamber of Exaltation can fit several hundreds of people. You will immediately realize its great acoustics – you can even hear people whispering from across the large Chamber.
For these reasons, the cave has been used on the past to host concerts of classical music and other cultural events. Popular Greek artists like Maria Callas and Maria Farantouri have performed here.
Here is a short video of one of those concerts. Notice how the walls of the cave beautifully reflect the lights!
I know of very few caves in the world that have been used for concerts. If you've ever been to any, please leave a comment below.
The rare geological phenomenon of Drogarati Caves
Drogarati cave extends beyond the areas which are open to the public. Speleologists and other scientists believe that the cave is connected to other sea caves in Kefalonia.
In fact, Kefalonia and the nearby Ithaca island are both known for their geodiversity. There are dozens of unique geosites you can visit, including more caves and sea caves, beaches and weird rock formations.
Visit the official website of Kefalonia and Ithaca Geopark for more information on the island's geological history, and the present form of the numerous geosites.
Visiting Drogarati Cave
Drogarati cave is close to the port of Sami, and there are numerous signs that you can follow if you are driving. If you are coming from Argostoli, you will need to take the main road which connects Sami to the capital.
Pre-book a taxi in Kefalonia using: Welcome Pickups
There is a large, easily accessible parking area and a couple of cafes where you can have a break.
In 2021, the entrance fees were 4 euro for adults, and 3 euro for children. Opening hours may vary by year, but generally speaking the cave is open from 10 am to 6 pm during the summer months.
The cave has a constant temperature of about 18 degrees. For most people, this will be a very welcome break from the high temperatures during the summer season.
Visit Melissani Lake and Drogarati Cave in the same trip
Most people visit Drogarati cave along with the famous Melissani Lake nearby. This popular attraction in Kefalonia is a cave inside a lake, which you can visit on a quick boat trip.
If you have your own means of transportation, you can access both caves independently, at your own pace. Alternatively, it may be easier to take a guided tour of the island.
This tour combines Drogarati caves, Melissani lake, Robola winery, and a visit to the picturesque towns of Asos and Fiskardo. It's great value, and offers a fantastic introduction to the island.
There are also more tours of the island that you can fully customize, such as this one.
Drogarati vs Melissani Cave
Like most people, I visited Drogarati and Melissani Cave on the same day. Given Melissani Lake's reputation, I was more looking forward to visiting that one.
According to many online reviews, the best time to visit Melissani Cave is midday, as the light is best if you want to take photos.
We aimed to arrive there just after 11 am. To our surprise, there were no queues to enter the cave.
We paid the 6 euro fee, and immediately boarded one of the little boats that take you around. It was an interesting place to visit, but our tour lasted for about 15 minutes at most.
The boatman said that tours normally last for a shorter time, as they have to accommodate visitors who come from cruise boats and they are on a schedule.
I have to say, I found Melissani Lake rather underwhelming given its reputation, and was glad I didn't have to wait to enter. I enjoyed Drogarati Cave a lot more, as I could wander around and explore at my own pace.
If you can only go to one of these Kefalonia Caves, I'd suggest Drogarati. If you have time while you are in Kefalonia, it's definitely worth visiting both.
Related: Where to stay in Kefalonia
Frequently asked questions about Drogarati Cave in Kefalonia
Here are some questions that visitors ask about the amazing Drogarati Cave:
Where is the Drogarati Cave?
Drogarati Cave is on the Greek island of Kefalonia, in the Ionian Sea. It is located close to an area called Chaliotata, a 10 minute drive from Sami port.
Can you swim in Drogarati Cave?
There is no water in Drogarati Cave, and you can only explore it on foot. There are a few beaches close to Drogarati where you can go for a swim. The closest one is Antisamos, a beautiful pebbly beach with stunning nature.
How do you get to Drogarati Cave?
Drogarati Cave is a 10 minute drive from Sami port town in Kefalonia. If you don't have your own transportation, you can check the public bus itineraries, or take one of the coach tours of Kefalonia.
Why is Cave Drogarati so special?
Drogarati Cave consists of a very large hall with excellent acoustics. Numerous concerts and similar events have been organized here in the past.
What is Kefalonia famous for?
Some of the top attractions that you shouldn't miss in Kefalonia include Myrtos beach, Melissani Lake and Drogarati Caves. The island is also known as the location of the Hollywood movie Captain Corelli's Mandolin.
Looking for other things to do in Kefalonia? Read all about Assos in Kefalonia next!
---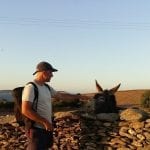 –
Dave Briggs
Dave is a
travel writer
from the UK who's been living in Greece since 2015. As well as writing this travel guide to Kefalonia caves, he's also created hundreds more travel blogs and itineraries for destinations all over Greece. Follow Dave on social media for travel inspiration from Greece and beyond: