Kefalonia is one of the Ionian islands in Greece. It's famous for its beautiful beaches, lovely mountainous landscapes and many coastal villages. In this article, I will help you decide where to stay in Kefalonia.
An introduction to Kefalonia island
Kefalonia is the largest of the Ionian group of islands, which are located to the west of mainland Greece. It has an international airport, and is a well-liked summer holiday spot with visitors from the UK and all over Europe.
The island is largely mountainous, with beautiful forest landscapes, olive groves and some of the best beaches in western Greece.
There are dozens of towns and pretty traditional villages in Kefalonia, making it an ideal destination for people who like to explore.
Visitors can also enjoy two impressive castles, a few museums, numerous monasteries and churches, good restaurants and lively cafes.
I've a great guide here you can read on the best things to do in Kefalonia.
But with such a big island, where is the best place to stay in Kefalonia Greece?
Best areas to stay in Kefalonia
As the island is so big, choosing where to stay in Kefalonia isn't easy! Public transport is somewhat limited, which makes it harder to explore the island without your own vehicle.
After driving all around and staying at 4 different areas, here are my suggestions on where to find accommodation in Kefalonia, Greece.
Argostoli
Skala
Lassi
Trapezaki
Agia Efimia
Fiskardo
Lixouri
You can see them on a map here: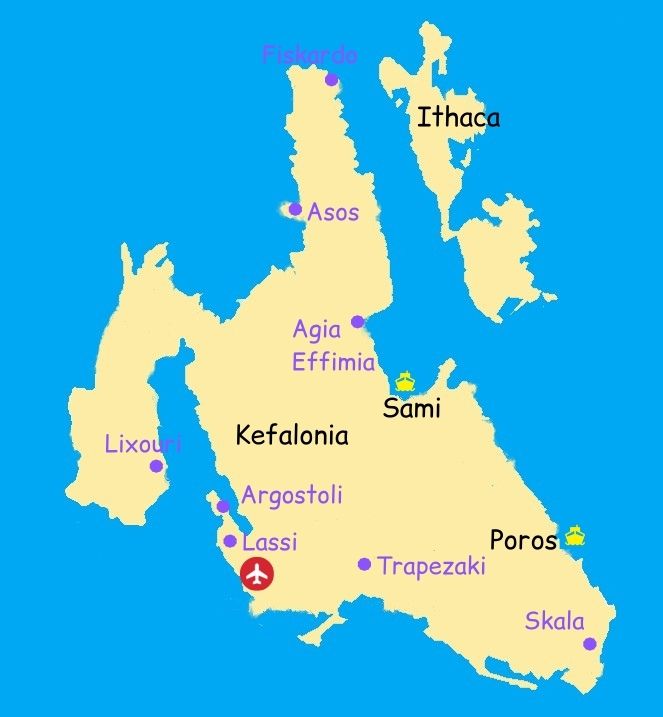 Travel Tip: In August, you should pre-book a taxi from the airport to your hotel in Kefalonia using: Welcome Pickups
1. Argostoli – The vibrant capital of Kefalonia
The capital and largest town of the island is Argostoli, a vibrant town overlooking a natural harbour. It is located on the south-west side of Kefalonia, a 15-20 minute drive from the airport.
Like most other towns and villages in Kefalonia, Argostoli was destroyed after a strong earthquake in 1953. It was rebuilt from scratch, and today has a population of about 10,000 people.
Argostoli is an ideal base if you are only in Kefalonia for a few days and you want to enjoy some Greek culture and nightlife. There are a couple of beaches in the town where you can swim, though the best beaches in Kefalonia are further out.
Things to do in Argostoli
Visitors will enjoy the nice cafes and restaurants along the main square and the busy pedestrian street, Vergoti. This is the best place in Argostoli to sit for an evening drink, and watch the people go by.
In the mornings, you can take a stroll on the lovely coastal promenade and try to spot any sea turtles swimming in the sea. For wonderful views of Argostoli, cross the impressive pedestrian De Bosset bridge.
Many boat trips depart from the marina in Argostoli, taking you to different beaches on the island. There is also a larger ferry, which crosses the bay and gets you to the second biggest town, Lixouri.
Tip: wherever you end up staying in Argostoli, make sure you go for a meal at a fantastic Greek taverna, called "I Palia Plaka". It was so good that we went back twice!
Museums in Argostoli
Anyone interested in Greek culture should visit the Korgialenio Historic And Cultural Museum, where you can see various objects and clothes from the previous century.
Another interesting museum is the Focas Cosmetatos Foundation. Here, you can watch a very interesting video about the earthquake that literally shaped the island's recent history.
A few minutes out of Argostoli, you will also find the Botanical Gardens, featuring many types of local plants. It's a nice, cool place to spend an hour or two. You can get a combined ticket, including entrance to the Focas Cosmetatos Foundation.
Where to stay in Argostoli
Even though we didn't stay in the capital town itself, we walked around several times, both during the day and in the evening.
A great budget hotel is Argostoli Bay view. The location is excellent if you want to explore the town, and the apartments are spacious and modern.
If you want to enjoy wonderful views of Argostoli bay and the De Bosset bridge, check out Tourist Boutique Hotel. It is located right on the coast, and is open year-round.
Finally, if you are looking for a luxury hotel in Argostoli, Canale Hotel and Suites is a great choice. Overlooking Argostoli bay, this gorgeous hotel offers different types of rooms, some of which have a jacuzzi.
2. Skala – A popular beach town
The coastal town of Skala, on the south eastern coast of Kefalonia, is a popular resort for beach holidays. It is about an hour's drive from the airport by private taxi or car.
The main attraction here is the wonderful Skala beach, which stretches for about 5 kilometres. Here, you will find a wide range of tourist facilities.
There are several relaxed beach bars with sunbeds and umbrellas, a few tavernas, and various water sports. You will also find free areas where you can put your own towel.
Skala is an ideal location to stay in Kefalonia if you just want a few days by the beach, combined with a relaxed ambiance. It's one of the most self contained resorts in Kefalonia, but if your main purpose is to explore the island, you may find that the location is a little remote.
Things to do in Skala
The best thing to do in Skala is to spend your time on the beautiful sandy beach!
Other than that, the small town has plenty of tavernas, cafes and all-day cafe-restaurants. The nightlife is fairly relaxed, and you can often catch some live music.
As the resort is often preferred by British visitors, most mini markets in the area offer a range of UK products. Some restaurants have extensive menus, which often include international cuisine rather than just Greek dishes.
In terms of sightseeing, you can visit the Roman villa at the entrance of the town – don't expect to be overwhelmed though. Once you want to explore more of island, you can hire a car and go on a few day trips!
Check out my car rental tips article if you've never hired a car in Kefalonia before!
Where to stay in Skala Kefalonia
There is a wide range of hotels, villas and rooms to let in the popular resort. Most of them are just a short walk from Skala beach.
We were happy with our stay at Alexander Apartments, private self catering accommodation. The ground floor apartments have no view. If you don't mind stairs, it's best to ask for a studio on the second floor.
People looking for a mid range hotel could check out Hotel Zephyros. It's located a little out of the town, but still walking distance from everything, including a couple of cool beachfront bars.
One of the best hotels in Skala is Melidron. The spacious, modern rooms are tastefully decorated. The hotel is only a stone's throw from Skala beach, and there is also a large swimming pool.
3. Lassi – A lively tourist resort
When I was first researching where to stay in Kefalonia, I came across the name Lassi several times.
Lassi is an area just a few minutes out of Argostoli, the capital. According to most of the descriptions I read, it is a lively resort with lovely sandy beaches and plenty of things to do.
This all sounded ideal, and I was looking forward to spending some time there.
My opinion of Lassi
I was rather disappointed when I explored Lassi. There was a very touristy feel to it, which I haven't seen in many places in Greece – at least not to that extent.
While there were many places to eat, I wouldn't say any of them qualified as traditional Greek restaurants. They seemed to mostly cater for tourists.
The beaches were quite nice, but they were full of umbrellas and loungers, with very little free space.
While Lassi is definitely lively and offers tons of restaurants and options for nightlife, I personally wouldn't recommend it and was glad I hadn't planned to stay there.
Where to stay in Lassi
The fact that I didn't like Lassi doesn't mean that other visitors wouldn't enjoy it! So here are a few of the best places to stay in Lassi.
For visitors with their own vehicle, a great budget choice for Lassi would be Oskars Studios. They offer a range of self catering apartments and are ideally located, close to both Lassi and Argostoli.
Close to Makris Gialos beach, you will find Thalassa Boutique hotel. It's an excellent choice if you want to be close to the best of Lassi, and also be able to relax by the pool if you prefer.
If you are looking for a beachfront villa, check out Klaritz Luxury suites. They offer spacious apartments with all amenities, as well as a hot tub.
For a special occasion, you can't go wrong with Electra Kefalonia. Located in the area of Svoronata, a little out of Lassi, it offers spa and wellness facilities, and is the best luxury hotel to stay in Kefalonia.
4. Trapezaki – Ideally located if you want to explore
If you want a quiet base to explore Kefalonia with your own vehicle, consider the area close to Trapezaki beach and Moussata village.
It is a 20-minute drive from Argostoli, while being close to some of the nicest sandy beaches in Kefalonia, like Lourdata, Pessada and Kanali. The Venetian castle of St George is a 15 minute drive away.
The area around Trapezaki has plenty of seasonal accommodation, as well as a few cafes, tavernas and restaurants.
We stayed here for a week, which gave us plenty to time to explore Argostoli, all the south beaches, and a few villages up on Aenos mountain.
Where to stay in Trapezaki
Our choice for Trapezaki was the wonderful Apsedes studios. Our spacious self-catering studio had everything we needed, including free private parking. Bonus – it was a really quiet location with amazing views of the Ionian Sea.
Just across the street from Apsedes, we saw Trapezaki villas, which looked fantastic. This family run hotel would also be ideal for longer stays, as the villas feature dishwashers, washing machines and private pools.
5. Agia Efimia – Picturesque coastal village
Once a small fishing village, Agia Efimia is another great place to stay in Kefalonia. It is a small, picturesque town on the east coast of the island. It has a large marina, and is a popular place for sailing boats to stop.
Agia Efimia was our favourite place to stay in Kefalonia, and it would be ideal for a longer stay. It has many tavernas and cafes, several mini-markets and a lively vibe due to the marina.
Walking distance from the town centre you will find a few small, pebble beaches. Go early to catch the sunrise, and you will have your own private beach!
Day trips from Agia Efimia
Agia Efimia is ideally located if you want to explore some of the highlights of Kefalonia.
Allow a half day to visit the famous Myrtos beach, which is by far the most photographed beach in Kefalonia. There is plenty of free parking, but if you are travelling in high season try to get there early, as it can get full.
Myrtos is an impressively long and wild shingle beach with vibrant turquoise waters. Photos don't really do it justice! Take care when you go for a swim, as the surf can be quite powerful.
Later in the day, visit the fantastic Asos castle on the western coast, only a short drive away. Get there with plenty of time before sunset, hike to the top of the castle and enjoy the views.
More here: Assos in Kefalonia
On another day, you can explore the island's popular landmarks: Drogarati cave, Melissani cave and the nearby Antisamos beach. If you don't have your own vehicle, several tour operators provide this day trip.
You can also take a day trip to Fiskardo, and explore the northern side of Kefalonia.
Where to stay in Agia Efimia
Our choice for Agia Efimia was the Seasons of Nickolas, a small family-run hotel. The spacious studios are decorated in bright colours, and have all amenities. The owner was really friendly and gave us lots of tips about Kefalonia.
A short walk from the picturesque village, you will find Kefalonia Horizon villas. This would be a great option for larger groups and longer stays.
6. Fiskardo – Cosmopolitan vibes on the northern tip of Kefalonia
If you are staying in Kefalonia for several days, you could consider spending a night or two in cosmopolitan Fiskardo, on the northern tip of Kefalonia. It is one of the few places on the island which wasn't affected by the 1953 earthquake.
The beautiful village is built right on a large, natural bay, and is a popular stopping point for sailing boats and yachts. The coastal promenade is full of cafes and restaurants.
If you are in the mood for some exploration, you can follow an easy hiking path across the bay, and get to the Venetian lighthouse.
Apart from the easily accessible Fiskardo beach and Foki beach, the peninsula has several secluded beaches. Some of them, like Kimilia and Dafnoudi, are only accessible on foot.
Where to stay in Fiskardo
While we didn't stay in Fiskardo ourselves, it is a popular place to stay in Kefalonia. Accommodation here tends to be more expensive than in other areas of the island, and there are several luxury villas with a swimming pool.
Some of the best value apartments in the area are Fiscardo studios, overlooking the bay. Nearby beaches include Emplisi and Manali.
If a luxury hotel is more your style, try Melmar View. The infinity pool and views of the bay will remain unforgettable!
7. Lixouri – The authentic side of Kefalonia
If you look at the map of Kefalonia, you will notice that it looks like it's split in two parts. This is, in fact, what many of the locals say – that the Paliki peninsula on the west, is a whole different island.
As you are driving towards Lixouri, the capital, you will notice that the surrounding countryside is entirely different from the rest of the island. There are many olive trees, vineyards and low bushes, and the ground has a different colour.
While this side of the island is still popular with tourists, it somehow seemed to be more authentic. We even had the chance to help out in some grape picking, which was great fun!
What to do around Lixouri
The coastal town of Lixouri is refreshingly authentic. You will see locals of all ages walking around, and sitting at the numerous cafes and bars around the main square. It comes alive in summer, when the younger people go out for the evening.
Walk on the coastal promenade, and you will see several fishing boats. You will probably see the larger ferry, which connects Lixouri with Argostoli.
The Paliki peninsula has a good mix of sandy and pebble beaches. Our favourite was Petani on the west coast, which looks a little similar to Myrtos beach. Another popular one is Xi beach, with its unique red-coloured sand.
One of the best places to watch the sunset from in this area is right outside Kipoureon monastery. Or you can drive a little further out to a small, inexpensive taverna called Stathis, with a basic Greek menu and superb sunset views.
Where to stay in Lixouri
Lixouri is a great base to explore Paliki peninsula, if you have your own vehicle.
A great budget option in Lixouri is Belezza Villa, located close to the main square and all the nightlife.
For luxury accommodation a little out of Lixouri, check out Diwani Luxury villas, close to Lepeda beach, in the small village of Lepeda.
How to get to Kefalonia
Like many other Greek islands, Kefalonia has an international airport. In summer, there are numerous flights to and from several European countries. You can also find domestic flights from Athens, year-round.
The island has two main ferry ports: the busy working port of Sami, and Poros. There are smaller ports and marinas around the coast, like Fiskardo and Agia Efimia.
Ferries connect Kefalonia with ports in mainland Greece such as Patras, as well as other Ionians, like Ithaca, Lefkada or Zakynthos, on a daily basis.
How to get around Kefalonia
Kefalonia is one of these Greek islands where a vehicle is very useful if you want to explore. The public buses are not very frequent, and the towns and villages aren't always well connected.
If you are not planning to rent a car, the best areas to stay are Argostoli, Skala, Lassi and Agia Efimia. I would personally avoid Trapezaki and Fiskardo without a car.
Best place to stay in Kefalonia FAQ
People travelling to Kefalonia island often ask the following questions:
What is the best area to stay in Kefalonia?
There are many areas to stay in Kefalonia. These include Argostoli, the island's capital, Lassi, a popular tourist resort, Skala, a lively coastal town, Sami, Agia Efimia, Fiskardo and Trapezaki. Holiday makers may prefer the resort town of Skala, while people on the island for just a few days may find Argostoli a more convenient location.
Where should I stay in Kefalonia without a car?
If you are not planning to rent a car, the best areas to stay in Kefalonia include Skala beach, Lassi, Argostoli and Agia Efimia. However, Kefalonia is a large island and there's a lot to see, so renting a car is totally worth it.
Are there any sandy beaches in Kefalonia?
Kefalonia has several beautiful sandy beaches. Some of the best are Lourdata, Skala beach, Megas Lakkos, Xi beach, Katelios, Kaminia beach, Mounda, Platis Gialos and Makris Gialos.
Is the sea warm in Kefalonia?
Most people visiting Kefalonia in summer or early autumn will find the sea temperature very pleasant. If spending any time on the famous Myrtos beach, you will be in and out the sea all the time!
Is there only one airport in Kefalonia?
Kefalonia has an international airport (EFL), which welcomes flights from several European countries and domestic flights from Athens.
What is the best time to visit Kefalonia?
If you want to enjoy the beaches, the best time to visit Kefalonia is summer and early autumn. People who are interested in exploring the hiking trails will also find that spring is very rewarding.
More travel guide to the Ionian Islands
Want to continue your Greek island hopping experience after spending time in Kefalonia? These other travel insights might be useful reading:
---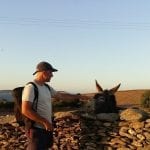 –
Dave Briggs
Dave is a
travel writer
from the UK who lives in and writes about Greece. As well as creating this travel guide to finding the best place to stay in Kefalonia, he's also written many more Greece travel blogs about destinations throughout the country. Follow Dave on social media for travel inspiration from Greece and beyond: