There are 3 daily ferries from Ios to Naxos. The quickest travel time between these two Greek islands is just 45 minutes. This guide has everything you need to know about taking a ferry between Ios and Naxos islands.
How to get from Ios to Naxos
If you're looking to travel from Ios to Naxos, you should know that the only way to do so is by taking a ferry.
Fortunately, there are many ferry services on the Ios Naxos route, particularly during the popular high season travel period in Greece.
You can expect 3 and sometimes 4 ferries a day sailing from Ios to Naxos. These ferries to Naxos from Ios are operated by Blue Star Ferries, SeaJets, and Golden Star Ferries.
Ferries to Naxos from Ios
It's definitely worth looking at the ferry schedules and timetables on Ferryhopper for this route connecting the Cyclades islands of Ios and Naxos.
While the travel time between the fastest and slowest ferries is negligible (the quickest ferry from Ios going to Naxos takes around 45 minutes, the slowest ferries take around 1 hour and 5 minutes), the price difference between ferry tickets can be huge.
I've seen the cheapest tickets for Ios to Naxos ferries start at 8.50 Euro, while the most expensive can be over 40 Euros!
If you are flexible on your travel dates, you might find some good deals on the cost of your Greek island hopping trip from Ios to Naxos.
Check out Ferryhopper for Greek ferry tickets and up to date timetables.
Naxos Island Travel Tips
A few travel tips for visiting the island of Naxos:
Ferries sail from the main port, called Gialos in Ios. Arriving ferries dock at the port in Naxos Town (Chora) in Naxos. You'll see the famous Portara of Naxos as soon as you arrive!
---
For rooms to rent in Naxos, I recommend looking at Booking. They have a great selection of apartments in Naxos and areas to consider staying include Moutsouna, Filoti, Apollonas, Agios Georgios, Agios Prokopios, Naxos Town, and Plaka. Take a look at my guide: Where to stay in Naxos
---
Spend time on some of the top rated beaches in Naxos: Aliko, Plaka, Kastraki, Agia Anna, Agiassos, Agios Georgios, and Psili Ammos. Again, I've got a great guide you might want to read (I really enjoyed visiting all the beaches in Naxos to write this one!): Best beaches in Naxos
---
I find that the Ferryhopper website is the best place to book ferry tickets online. You can also use local travel agencies on the islands, which are normally located in the port towns. Considering visiting other islands nearby to Ios? Look at my guide to Islands near Ios.
---
---
---
How to take the journey from Ios to Naxos FAQ
A few of the frequently asked questions about traveling to Naxos from Ios include:
How do I go from Ios to Naxos?
The only way to make a trip from Ios to Naxos is by ferry. The travel time ranges from 45 minutes to 1 hour and 5 minutes for ferries sailing on the Ios Naxos route.
How far is Ios from Naxos?
Between Naxos and Ios, the distance is 35 miles (56 km). You can only travel from Ios to Naxos by ferry, and during the summer, there are 3 or 4 ferries per day connecting these two Greek islands.
Is there an airport in Naxos?
There is a small airport on Naxos – Naxos Island National Airport IATA: JNX, ICAO: LGNX. This airport currently only has flights going to and from the main Athens Airport.
How long is the ferry ride from Ios to Naxos?
The ferries to Naxos island from Ios take between 45 minutes and 1 hour and 5 minutes. Ferry operators on the Ios Naxos route may include Blue Star Ferries, SeaJets, and Golden Star Ferries.
How can I buy tickets for the ferry to Naxos?
One of the best places to look at ferry schedules and to book tickets online is at Ferryhopper. Although I suggest you book your Ios to Naxos ferry tickets in advance, you could also use a local travel agency in Greece.
---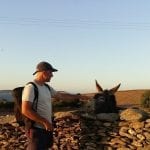 –
Dave Briggs
Dave is a
travel writer
from the UK who lives in and writes about Greece In addition to writing this blog post about ferries from Ios to Naxos, he's created many other Greek island travel guides. Follow Dave on social media for travel inspiration from Greece and beyond: