You might find that the best hotels in Syros to stay are in Ermoupoli if you are just visiting the island for a few days. This guide has some top suggestions.
Where to stay in Syros
If you are staying for just a night or two in Syros, I'd suggest choosing a hotel in Ermoupoli, the island's grandiose capital. You'd want to spend at least a day in Ermoupoli anyway sightseeing, and it is a fascinating place to explore.
While the Greek island of Syros does have beaches, they are not in the same league as those on Milos, Mykonos, or Naxos. If you do want to go to the beaches in Syros, you can reach them just as easily on a day trip from Ermoupoli.
These best hotel Syros include places to stay in Ermoupoli as well as some beach areas such as Galissas. I've included a few luxury hotels with pools so you can enjoy your stay in Syros even more!
Best Hotels in Syros Greece
Hotel Ploes is a luxury hotel located just meters from the city center of Ermoupolis, and it is housed in a listed Neoclassical building from the early 19th century. It has elegant rooms, a trendy café-bar, and a secluded swimming pool.
Handmade carpets, genuine Venetian chandeliers, and hand painted ceilings adorn the rooms and suites of this former private estate. They come with marble bathrooms, as well as private spa baths and hammams in some cases. Most rooms have views over the majestic town of Ermoupoli and the Aegean Sea.
Read hotel reviews on Tripadvisor: Hotel Ploes
1901 Hermoupolis is located approximately 300 meters from Syros Port. The hamam and on-site bar are available for guests' use.
The rooms at 1901 Hermoupolis offer Laura Ashley bedding and Tempur mattresses. Some of the rooms include a lounging area to unwind after a long day. A flat-screen TV is available for viewing. Take in the scenery from your balcony or patio, or relax with a cup of tea by the sea or garden.
Read hotel reviews on Tripadvisor: 1901 Hermoupolis
This hotel is located at Galissas Beach, which is about 15-20 minutes away from the ferry port in Ermoupoli.
All of the apartments at Benois have a balcony with views of the pool, village, or Aegean Sea. Each is equipped with an air conditioner and a minibar as well as a TV.
It has a bar and free Wi-Fi throughout the property. A short walk away are restaurants, cafés, and shops.
Read reviews on TripAdvisor: Hotel Benois
Map of Syros Greece Hotels
Want to look at more Syros hotels? Take a look at the interactive map below.
Note: You'll find that hotels sometimes remove their listings in the off-season. There will be more complete listings of hotels in Syros from between April and October.
You might also want to read:
---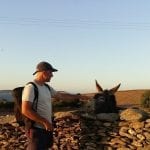 –
Dave Briggs
Dave's
travel writer
from the UK who's been living in Greece since 2015. As well as writing this guide to the best hotels Syros, he's also created hundreds of other travel blog posts about destinations all over Greece. Follow Dave on social media for travel inspiration from Greece and beyond: