There are between 2 and 3 weekly ferries going from Ios to Milos depending on the season. The quickest crossing on the Ios Milos route is 3 hours and 34 minutes.
How to get from Ios to Milos in Greece
As Ios does not have an airport, the only way to travel from Ios to Milos is to take a ferry.
The ferry route between these two Cyclades islands can be quite a strange one. Often times, especially during the peak month of August, there may only be 2 ferries a week.
Then, somewhat inexplicably, you might find 4 ferries a week in September and October.
If you're planning to travel to Milos after spending time in Ios, the best thing to do is check Ferryhopper for the latest timetables and departure dates.
Blue Star Ferries Ios-Milos
The Blue Star Ferries vessel Artemis is the anchor of the Ios to Milos ferry route.
It sails one a week every Friday at 18.35, arriving at Adamas port in Milos at 22.50.
The Blue Star Ferries takes 4 hours and 15 minutes, and travels both in the high season and low season.
I find that Ferryhopper is a good website to use to book Greek ferry tickets online.
Zante Ferries
In some months they offer just one ferry from Ios to Milos per week, in other months they might have 3.
Usually, it is their vessel Dionosios Solomos which leaves early in the morning either at 08.35 or 09.05.
Take a look at Ferryhopper to buy your ferry tickets online.
Note: The ferry operator might be called Zante Ferries, but no, the ferry doesn't go on to Zante!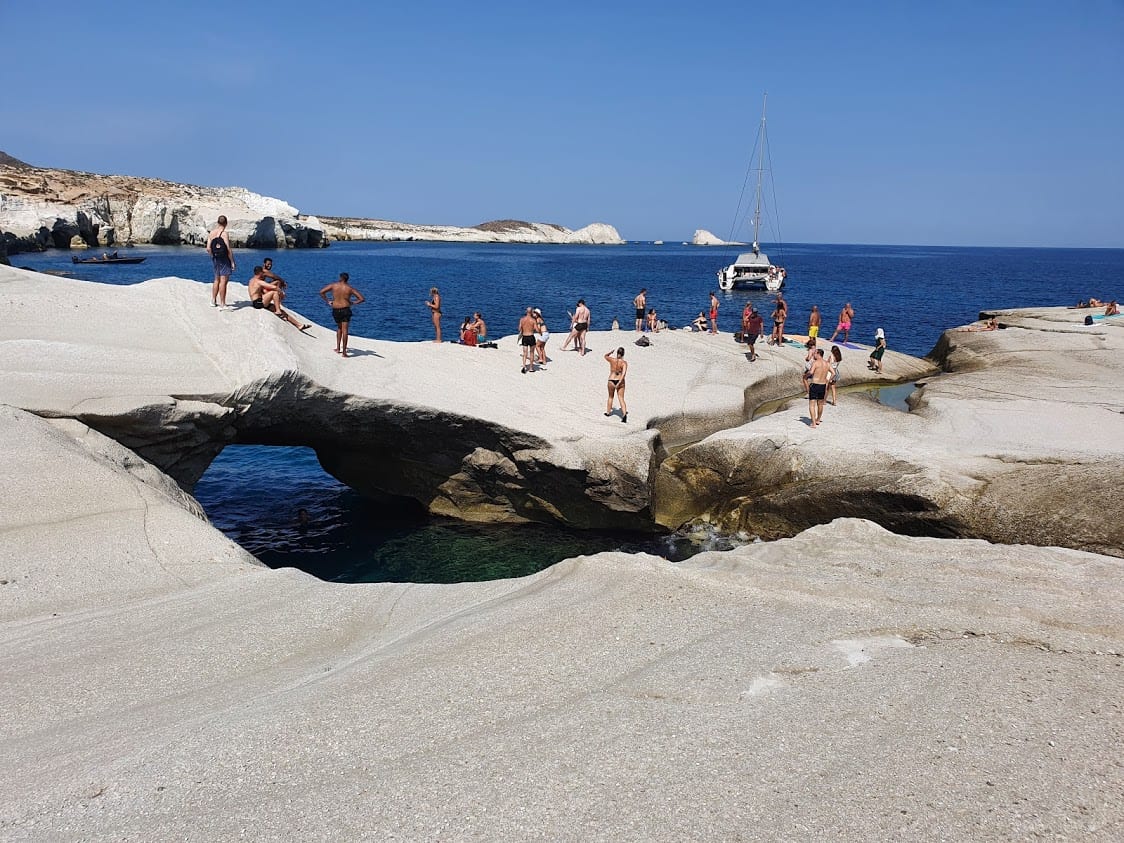 Milos Island Travel Tips
A few travel tips for visiting the Greek island of Milos:
---
---
---
---
---
---
How to make the trip from Ios to Milos FAQ
Readers sometimes ask these question about traveling to Milos from Ios include:
How do I go from Ios to Milos?
Zante Ferries and Blue Star Ferries provide the service between Ios and Milos. This route is available all year round and costs between 14.50 and 48.00 euros, depending on whether you travel with a high-speed or conventional ferry.
How long is the ferry from Ios to Milos?
The ferries to the Cyclades island of Milos from Ios take between 3 hours and 45 minutes and 4 hours and 15 minutes. Ferry operators on the Ios Milos route may include Blue Star Ferries and Zante Ferries.
Where do you get ferry tickets to Milos?
I find that the Ferryhopper website is the best place to book ferry tickets online. Although I recommend you book your Ios to Milos ferry tickets in advance, you could also wait until you are in Greece, and use a travel agency.
How many days do you need in Milos?
Three days is the minimum amount of time to spend in Milos, Greece. Milos is an island with a picturesque natural terrain that includes rocky beaches and clean water. The villages of Milos are known for their attractive, traditional architecture.
Where can I stay in Milos without a car?
In Milos, Greece, Adamas is a fantastic location to visit without using your automobile. On foot, you may easily reach the major sights. The best accommodation in Adamas is Santa Maria Village and The White Suites.
---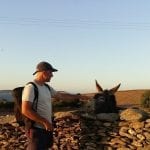 –
Dave Briggs
Dave is a
travel writer
based in Athens, Greece. In addition to writing this travel blog post about ferries from Ios to Milos, he's also written many more travel blogs about destinations in Greece. Follow Dave on social media for travel inspiration from Greece and beyond: