During the high season, there is one ferry per day sailing from Folegandros to Mykonos, and the crossing takes 4 hours and 50 minutes.
Visiting Mykonos after Folegandros
If you are considering going to Mykonos after spending time on Folegandros island in Greece, you'll find that there is one ferry per day or 7 ferries per week.
Due to the distance between these two Greek islands in the Cyclades, the travel times are not the quickest, and average out at 4 hours and 50 minutes.
Additionally, the Folegandros Mykonos ferry route is operated by just the one company – SeaJets. These are expensive ferry services to take, and tourists should expect ferry ticket prices to be around 84.70 Euros.
The ferry schedule has the ferry departing Folegandros at 11.30 every day, and arriving at Mykonos sometime around 16.20.
For all the latest ferry schedules, journey times, and ticket prices for this ferry trip, you should visit Ferryhopper where you can also book a ticket online.
Traveling to the Greek island of Mykonos Travel Tips
These insights and tips should help you plan your itineraries when visiting Mykonos island after Folegandros:
Ferries sail from Karavostasis port in Folegandros. Passengers should aim to be at the departure ferry port at least a half an hour before their ferry trips start.
---
Ferries arrive at New Tourlos port, a few kilometres from Mykonos main town. Public transport will take you into Mykonos Town, or you can take a taxi if your final destination is elsewhere on the island.
---
Whatever time of year you visit Mykonos, you'll want to pre-book your accommodation well in advance. Take a look at my guide here: Where to stay in Mykonos.
---
Areas to consider staying include Platis Gialos, Psarou, Mykonos Town, Ornos, Agios Stefanos, Agios Ioannis, and Megali Ammos. I stayed in Ornos, and found it a convenient location – although I did have a car to get around the island.
---
Readers recommend visiting the following beaches in Mykonos: Agrari, Super Paradise, Platis Gialos, Paradise, Lia, Agios Sostis, and Kalafatis. Take a look at my guide to the best beaches in Mykonos.
---
The best place to look at Greek ferries online for Mykonos and other islands in the Cyclades group is Ferryhopper. I suggest you book your Folegandros to Mykonos ferry tickets in advance, especially during the tourist season.
---
---
There's plenty of other islands you can also visit after Folegandros – and they're a lot closer. Here's a look at islands near Folegandros.
---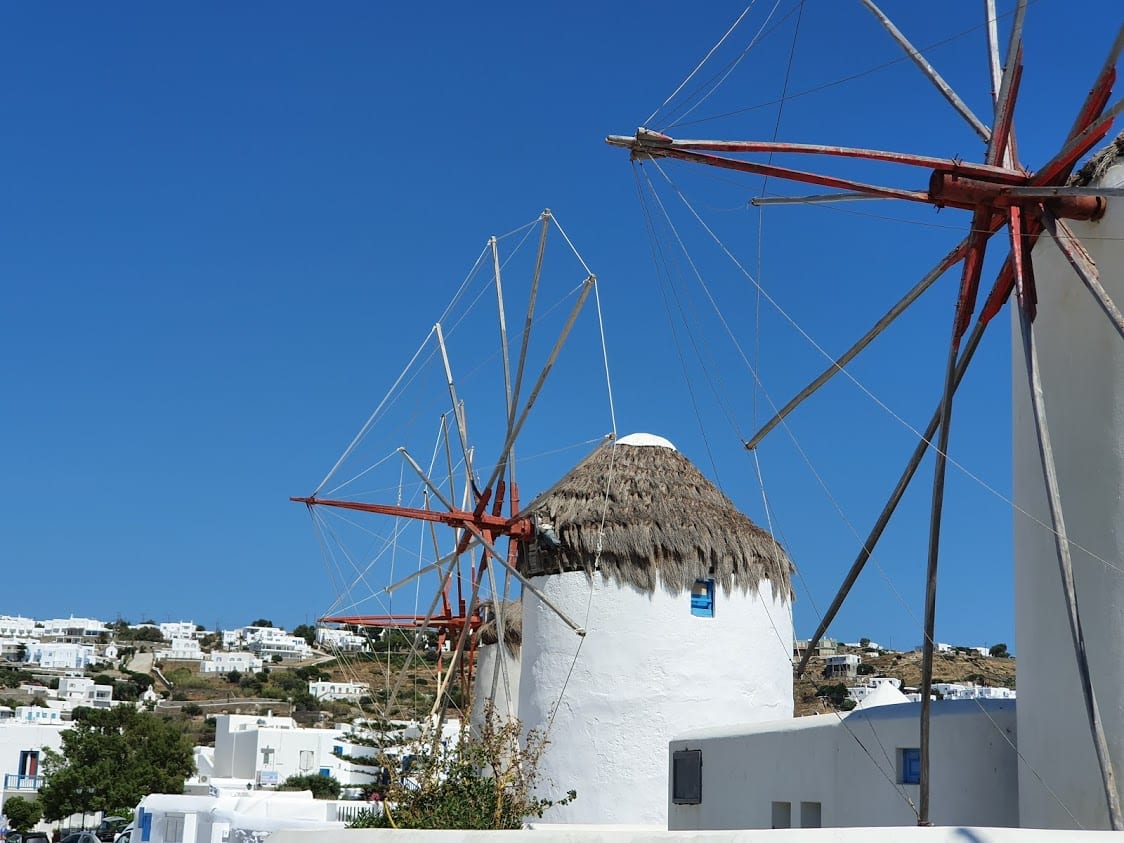 What to do in Mykonos
The beaches and the clubs are the big drawcards for Mykonos, but there are other things to add into your itinerary!
• Mykonos is a great place to go clubbing, with venues like Cavo Paradiso and the Skandinavian Bar & Club.
• The iced coffee or cocktails in little Venice are a must-try.
• Delos island is a great day trip option, with its archaeological site.
• Mykonos also has some excellent museums, like the archaeological museum of Mykonos and the Aegean maritime museum.
How to get from Folegandros to Mykonos FAQ
Some commonly asked questions visitors have about traveling to Mykonos from Folegandros include:
How can I get to Mykonos from Folegandros?
The only way to make the trip from Folegandros to Mykonos is by ferry boat. There is 1 ferry a day sailing to Mykonos from Folegandros during the summer season.
Which ferry operators sail from Folegandros to Mykonos?
The only ferry company which offers crossings from Folegandros to Mykonos is SeaJets, and these ferries only sail in the high season.
How many hours is the ferry from Folegandros to Mykonos?
The ferries to the Cyclades island of Mykonos from Folegandros take around 4 hours and 50 minutes. It is a direct ferry, but may stop at other ports on different islands along the way.
Where can I buy tickets for the ferry to Mykonos?
Ferryhopper is perhaps the easiest site to use when it comes to booking Ferry tickets online and working out an itinerary. Although I suggest you book your Folegandros to Mykonos ferry tickets in advance, you might also prefer to use a travel agency in Greece when you have arrived.
I hope these insights have helped prepare you for your upcoming Greek island vacation in Mykonos. If you have any questions about this ferry trip and Greek island hopping, just leave a comment below!
---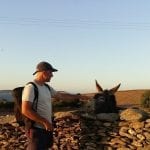 –
Dave Briggs
Dave is a
travel writer
who spends his time traveling around and writing about Greece. In addition to writing this blog post about ferries from Folegandros to Mykonos, he's created hundred's more travel guides. Follow Dave on social media for travel inspiration from Greece and beyond: