September is a great time of year to visit Athens, with lots of exhibitions, events, concerts. Here's some things to do in Athens in September.
Visiting Athens in September
There is something special about Athens in September. People have returned back to the Greek capital refreshed from their summer vacations on the islands, and the city has a renewed life and energy.
I think September it's a great time of year to visit Athens before moving on to the Greek islands to squeeze the last out of the summer months.
In addition to the usual attractions and Athens experiences, there are an endless amount of events, exhibitions, shows and other things to do.
Here's why to love Athens in September.
What September in Athens is like
Once you have lived in a place for a while, you start to notice its rhythms and cycles throughout the year. This is definitely the case with Athens, and the two most contrasting months are August and September.
Most people don't realise that August is the month when there is a virtual exodus of Athenians. Huge numbers of people leave the city for their summer vacations, and some businesses close for a couple of weeks.
You can even easily find parking spots even in central Athens in August. Crazy, but true!
That changes in September though when everyone returns, and Athens gets back to its almost chaotically busy and noisy self.
What makes September in Athens so special though, is all those people have returned with renewed optimism, energy, and creativity.
In a way, it feels like people are setting new resolutions and goals, which to a certain extent they are.
There is a Greek phrase you might hear often from June onward, which is 'apo septemvrio' (from September). This is used when making future plans that no one really wants to start during the summer.
Athens Weather in September
One question I am often asked, is what is the weather like in September in Athens.
I find the Athens weather in September to be just about perfect, especially towards late September. In fact, what really makes September the best month to visit Athens, is the weather.
The insanely hot heat of August has faded away, and we're left with warm temperatures during September in Athens which is far more enjoyable.
You might still need to visit the Acropolis in early morning or late afternoon in order not to melt on hot and sunny days in September, but its still warm enough to comfortably sit outside and enjoy a taverna meal at night.
During the daytime, you can expect high temperature of 28 degrees and evening low temperature of 20 degrees. There's plenty of sunshine, and very little rain in Athens during September.
Things to do in Athens Greece in September
In addition to seeing all the normal points of interest in Athens such as the Parthenon, Temple of Zeus, and Acropolis, there are also special events and activities you can enjoy during September when visiting Athens.
Let's start with ….
Events in Athens in September
In September everyone returns from their vacations, breathing new life into the city. Dozens of exhibitions, shows and concerts crop up all over Athens, and there is a palpable sense of creativity.
Take a more detailed look here for events and festivals in Athens.
Shows, Exhibitions, and Events in Athens
It feels that there are more events and exhibitions held in Athens in September than at any other time of year. From photography exhibitions to live music concerts, there is something for everyone.
One weekend, I had to decide between the Athens Bike Festival at Technopolis, or the Athens Flying Week Air Show held at Tanagra Airport. I decided on the Air Show, which made for something a little different for me!
I might have also set a new life goal to own a helicopter. It's a plan in progress!
Full Moon Events in Athens
Whilst August may be the most celebrated month for full moon events such as outdoor concerts, September is a worthy contender.
There is something almost magical about listening to music under a clear sky, with a full moon shining overhead.
One year, I attended the '100 Guitars for Greece' event at the Herodion Theatre on the slopes of the Acropolis. I really can't imagine a more perfect venue for an outdoor classical guitar concert!
Outdoor Cinemas in Athens Finish in September
Outdoor cinemas are still quite popular in Athens and throughout Greece. They don't run all year of course, just during the months when the weather is at its finest.
September is really the last month to watch a movie at an open-air cinema. If you're staying in the center of Athens, you could consider Cine Paris , located at Kydathineon 22, next to Filomousou Square in Plaka. Another option is Cine Thisseio.
Visit Athens City Highlights and Attractions
You'll of course want to see the essential points of interest during your trip to Athens. Typically, the extended summer opening hours for archaeological sites and museums run through September. This makes it easier to work out a city itinerary as you'll have more time to play with.
The Athens points of interest you might consider visiting during your Athens tour include:
The Acropolis (and Parthenon)
The Acropolis Museum
Temple of Olympian Zeus
Ancient Agora
National Archaeological Museum
Plaka
Monastiraki
Lycabettus Hill
Athens Side Trips
September is still a great month to take a day trip from Athens to surrounding places of interest. This is because the daylight is still relatively long, making such tours worthwhile.
Key places of interest you might consider as a day trip from Athens include:
Delphi
Mycenae and Epidaurus
Cape Sounion and the Temple of Poseidon
Meteora (Although it's a LONG day!)
Nafplio
Fresh Grapes in Greece
September heralds the start of the grape picking season, and these find their way to market. At one Euro per KG, it's pretty hard to go wrong!
I think one of the things I love most about living in Greece, is the abundance of fresh, seasonal fruit and vegetables. It is certainly making my diet a healthy one.
By the way, can you name the grape variety shown here? Extra bonus points for you if you leave a comment below!
Shopping in Athens
To be perfectly honest, this had to be pointed out to me by the Mrs. I'm not really one for window shopping, or noticing what goes on with fashion. Typical guy, I suppose!
Anyway, apparently, the fashions change at this time of year. You will see the autumn clothes hit the Athens store in September, more boots rather than shoes on display, and more sales or offers as summer stock is cleared.
Personally, I bought a new T-Shirt back in March 2016, so I don't need any new clothes quite yet!
Hotel Prices Drop in Athens in September
It is at this time of year, that hotel prices in Athens start to drop. You can pick up some surprisingly good bargains if you look around.
To save you the time though, I have put together a list of the best 10 hotels near the Acropolis in Athens. I am nice like that!
Visiting Athens in September is a great idea, because the temperatures are not as high as July and August, and the archaeological sites still open late.
During the last weekend in September, the museums and archaeological sites are free for entry. You might be interested in this complete list of all the museums in Athens.
Bike in Athens
Whilst you can always take a cycling tour of Athens throughout the year, September is ideal because of the weather. It feels a lot more pleasant because of the temperatures, and also there are slightly fewer tourists.
Read my experiences of exploring Athens by Bike.
Last Swim of the Summer
Finally, one of the best reasons I love Athens in September, is the continuing quest for the last swim of the summer. Will it be this weekend or next weekend? The only way to make sure, is to continue going to the beach every weekend until the water temperature is too cold!
In 2016, the 18th of September it was still good enough to hit the beach for a few hours and swim in Rafina (the closest beach to where I live). In other years I've managed to swim at beaches around Athens through September and right into October!
If you're planning to spend time in Athens during September, this could be a great chance to check out the Athens Riviera scene!
Related: Best time to visit Greece
Reasons to Love Athens in September
Just what makes Athens in September so special? I think it is a combination of things.
September seems to be a transition month, where people switch from 'holiday mode' to 'reality mode'. There are seasonal changes, where new fruits hit the markets, and the temperature starts to drop a little.
In general, there just seems to be a lot to see and do. I think it's the best month to visit Athens by far.
Greece Travel Guides
If you are thinking of visiting Athens in September, you might like to check this article out on what to see and do in 2 days in Athens.
If you have early flights or arrive late, you might also be interested in these hotels near Athens airport.
Want to try island hopping? Take a look at Best Greek islands in September to visit for a beach holiday.
Planning Trips To Athens For September FAQ
Readers who are thinking to take a few days in Athens during the month of September often ask questions similar to:
Is September a good time to visit Athens?
September is a great month to see Athens, as there are lots of fun events on, the ancient sites still have long opening hours, and the evenings are still warm enough to enjoy meals in outdoor tavernas and drinks at rooftop bars with an Acropolis view.
Is Athens too hot in September?
The average high temperature during the day time in September is around 28 degrees. At night, this goes down to 20 degrees. Overall, September is perhaps the most pleasant month to visit Athens.
Is September a good time to go Greece?
September is perhaps the best time for planning trips to Greece. There are not so many tourists around, the temperatures are still warm, and the prices for hotels have gone back to normal after the August peak season.
What is Athens like in September?
Athens has a uniquely creative vibe during September. It's a great month for cultural events, and the nightlife is also vibrant at this time.
What are the best Greek islands to visit in September from Athens?
The Saronic islands are the closest islands to Athens, and easily visited on a day trip.
---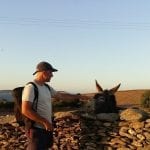 –
Dave Briggs
Dave is a
travel writer
who has been living in Greece since 2015. In addition to this travel blog post about Athens in September, you will find hundreds of other insights, guides, and itineraries for Greece on this site.
Follow Dave on social media for travel inspiration from Greece and beyond: