During the summer, there are up to 4 daily ferries from Athens to Koufonisia island in Greece. The Athens to Koufonisia ferry journey takes between 4.5 and 9.5 hours.
Located to the south east of the much larger island of Naxos in the Cyclades of Greece, is Koufonisia. It's still a low key Greek island destination, but is gaining in popularity year on year thanks to its fantastic swimming and laid back atmosphere.
Traveling from Athens to Koufonisia
The islands of Koufonisia do not have an airport, so the only way to reach them is by taking a ferry ride. There are a couple of ways to do this depending on which ferry schedules and options are most suitable for you.
One, is to fly from Athens to Naxos, which is the large neighboring island of Koufonisia. From Naxos, you could then take a ferry trip to Koufonisia. More here: Naxos to Koufonisia.
Using this option may save 1 or 2 hours total travel time, but only if flight and ferry connections to Koufonisia line up nicely enough.
The simplest way to travel from Athens to Koufonisia is by ferry.
Ferries to Koufonisia from Athens
During the summer months (which is when most tourists will travel), there can be up to 4 ferry services a day sailing from Athens to Koufonisia.
Although we can say it's a direct ferry as in you would not need to swap ships on an island, the ferry would make stops at other Greek islands along the way.
During the summer travel season, ferries leave from Piraeus and Rafina ports to Koufonisia.
Piraeus to Koufonisia
There are two ferry operators who sail from Piraeus Port in Athens providing the Athens Koufonisia service, which are Blue Star Ferries, and SeaJets.
Typically, Blue Star Ferries have larger and slower boats on this route. Seajets is quicker, and perhaps a little more expensive.
A special note should be made on getting to Koufonisia by ferry in August (which is the high season) – Tickets can sell out quite quickly and some ferries become fully booked. It's best to book ferry tickets to Koufonisia in August a few months in advance whenever possible.
Ticket prices for the ferry from Athens to Koufonsia start at around 31 Euro. Ferries for Koufonisia depart from Piraeus Port of Athens.
I recommend Ferryhopper as a platform where you can research Koufonisia ferry timetables and book your ferry tickets online.
Rafina to Koufonisia
Rafina is a much smaller port than Athens Piraeus. It is a useful ferry port to leave from if you have just arrived at Athens International Airport, and want to go to the islands without spending any time in Athens itself.
During the tourist season, you will find one ferry per day sailing from Rafina Athens to Koufonisia. The ferry operator name is EKATERINI P. FAST FERRIES.
This is a relatively slow crossing at 7.5 hours, but cost effective at 34.00 Euros for a foot passenger. This crossing is less likely to sell out than the ferries leaving from Piraeus which can make it quite appealing.
Use Ferryhopper to plan your island hopping itinerary, check schedules, and book a ferry ticket online.
Koufonisia island in Greece
The name Koufonisia is a plural in Greek, and this is because Koufonisia consists of two islands – Ano Koufonisi and Kato Koufonisi. Only one of these, Ano Koufonissi, is inhabited, and this is where accommodation is found.
Koufonisia has one of the largest fishing fleets in Greece in proportion to its population, and locals often joke that there are more boats than people on this island of barely 400 people. Perhaps the joke is even true, but that means there's some excellent fresh seafood dishes to be eaten in the tavernas!
As it's only a small island, Koufonisia is easy to get around, and hiring a bicycle or hiking will help you explore some of its charms. It's also easy to take a boat trip to Kato Koufonisia, as well as go for a boat tour around the island.
All in all, Koufonisia is a great next step for anyone who's traveled around Greece for a bit, and now wants to go experience some of its smaller and more unique islands.
Koufonisia Island Travel Tips
Make your Koufonisia trip planning a little easier with these insights:
Booking is the website I use to find the best hotels in Koufonisia. Most accommodation is located in and around Chora. I've previously stayed at Archipelagos hotel, a few minutes walk from the village.
---
A good hotel can make a vacation great by providing all of the amenities that you need when away from home.
Some of the best Koufonisia places to stay are:
---
For Athens to Koufonisia ferry tickets, take a look at the Ferryhopper website.
---
Passengers are advised to be at Piraeus Port at least an hour before the ferry to Koufonisia is scheduled to depart. Use Welcome for organizing taxis to and from Piraeus Port to central Athens or the Airport.
---
---
What to see in Koufonisia Greece
Some of the highlights of Koufonisia you'll want to experience when you visit include:
Take a boat tour to experience the coastline of Koufonisia
Enjoy the Ano Koufonissi beaches of Foinikas, Loutro, Italida, and Pori
Relax on the Kato Koufonissi beaches of Nero, Detis
Hike the paths and trails of Ano Koufonissi
Indulge in fresh fish tavernas, and try local specialties like the urchin salad
Soak up the charm of Chora
Check out my full guide here on things to do in Koufonisia.
FAQ About Traveling To Koufonisia
People planning to travel between Athens and Koufonisia ask similar questions such as:
How do you get to Koufonisia from Athens?
During the summer months, you can take a direct ferry from Athens to Koufonisia. Ferries leave 5-7 times a week during peak season. Another option, is to either fly or take a ferry to the bigger island of Naxos, and then take a ferry to Koufonisia from there.
Is there an airport on Koufonisia?
There is no airport on Koufonisia, and so the only way to reach the island is by ferry. The closest airport is a domestic airport in the neighboring island of Naxos, so it is possible to fly to Naxos from Athens and then take a local ferry to Koufonisa. Alternatively, you can take a direct ferry from Athen Piraeus Port to Koufonisia.
Where does the Koufonisia ferry leave from in Athens?
The ferry to Koufonisia from Athens departs from Piraeus Port. Piraeus is the largest ferry port in Greece, and you should be at your departure gate at least an hour before the Koufonosia ferry is due to sail.
How long does the Athens to Koufonisia ferry take?
The travel time from Athens to Koufonisia can vary between 7 and 9.5 hours, depending on the type of ferry taken. Generally speaking, the faster the ferry, the more expensive the tickets to Koufonisia will be.
How do I buy ferry tickets for Koufonisia?
The best place to purchase tickets for ferries to Koufonisia from Athens online is Ferryhopper. You can also book tickets at a local travel agency when in Greece.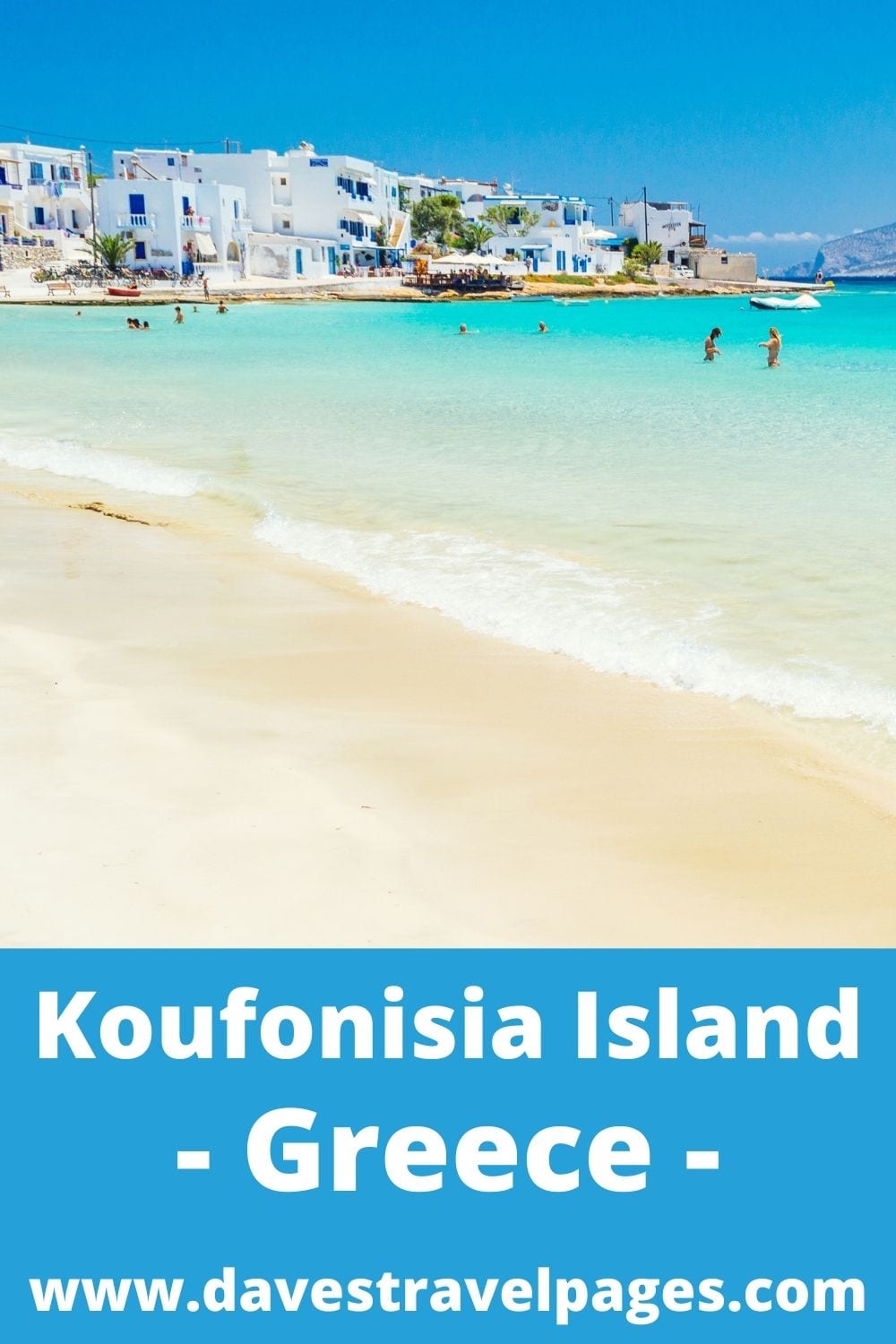 ---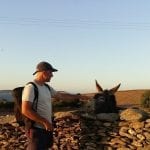 – Dave Briggs
Dave is a travel writer who's been living in Athens for the last five years. He's visited many of the smaller Greek destinations such as Koufonisia island, as well as the more well-known places in Greece. He has a somewhat ambitious goal of visiting every Greek island (there's over 200!) and writing about them all.
Follow Dave on social media for travel inspiration from Greece and beyond: