If you are travelling from Athens to the Greek islands, this list of the best hotels in Piraeus port will be useful if you have an early departure or late arrival.
Ferries to the Greek islands
If you are visiting Greece, chances are you will also want to visit one or more of the Greek islands. While it is possible to get to some by a short flight from Athens airport, others you can only get to by ferry.
The main ferry port of Athens is known as Piraeus, and from here you can get ferries to many of the Greek islands. As some ferries depart in the early morning or arrive late at night, often times it makes sense to stay in Piraeus overnight.
In this article, I have listed the best hotels in Piraeus Greece. But first…
Where is Piraeus?
Piraeus is the main Athens ferry port, located about 10 kms out of central Athens. Most boats to the Greek islands depart from Piraeus port, though some ferries depart from Rafina and Lavrio ports that are smaller ports a little further out from central Athens.
You can easily get to Piraeus port from the airport and the centre, using either public transportation or a taxi. I've a guide here for you to read: How to get from Athens Airport to Piraeus
Why stay in Piraeus?
If you are arriving into Athens airport and have an early morning ferry on the next day, it makes more sense to stay in Piraeus than in central Athens.
Similarly, if your ferry from your island of choice returns in Piraeus late in the evening, you might prefer to stay at one of the hotels near Piraeus port and head to the centre (or to the airport) on the next day.
The port of Piraeus is quite big, and has 12 gates where ferries and cruise boats dock. When you book your ferry ticket, you will be informed of the gate that you are departing from.
For most people, it makes sense to stay at a hotel near their departure gate. This map of Piraeus port will help you decide.
Hotels Piraeus Greece
There are plenty of hotels near Piraeus port Athens. Many of them are very close to the metro station, while other are a small distance away, but closer to some of the gates where boats depart from.
Best Hotels in Piraeus
Below, you'll find our top choices for hotels near Piraeus port Athens, and why we think they may be suitable for you. Click on the read more button to be taken through to our partner Booking.com where you can see more details, prices, and of course reviews.
Hotels in Piraeus Athens
You might be interested in this selection of the best hotels in Piraeus Greece:
Hotels near Piraeus Port Greece FAQ
Readers looking for a room to stay near Piraeus cruise port often have similar questions to ask when it comes to planning their trip. Some of them include:
Is Piraeus worth visiting?
There is more to Piraeus than meets the eye, and there is a hidden side to this port city which is definitely worth taking the time to explore and discover.
What is the location of Piraeus in relation to the rest of the city of Athens, Greece?
The port of Piraeus is located on the Athenian coast, southwest of Athens city center, near the eastern shore of the Saronic Gulf.
Which Piraeus city hotel has the best views?
The Piraeus City Hotel has what must be the best views from a hotel in Piraeus. You can enjoy a delicious meal on the rooftop garden, while admiring the views out over the harbor.
How much is a taxi from Piraeus to Athens Airport?
You can expect the taxi ride from hotels near port of Piraeus to Athens International Airport to cost around 50 Euros.
Greek Ferry Information
You may find the following guides to taking Greek ferries from Piraeus to the islands useful:
Pin this guide for later
Feel free to add this guide to the best Piraeus hotels to one of you Pinterest boards for later. This way, you'll be easily able to find it again.
Piraeus Port Hotel Guide – Wrapping up
There are no shortage of conveniently located options for accommodation in Piraeus. It's very easy to locate rooms that you may use as a base to explore the city on foot. Whether you're searching for a newly refurbished hotel with stunning views or prefer a budget hotel to stay for just the one night, you'll discover plenty of possibilities.
Have you stayed at a hotel near the main port of Athens? Did you have a great stay and would recommend it to others? Leave a comment below, as guest reviews really help other people thinking to stay near the cruise terminal!
---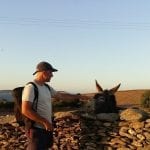 –
Dave Briggs
Dave is a
Greek travel blogger and writer
originally from the UK, and now living in Greece. In addition to creating this article about popular hotels you can stay at in Piraeus, he's written hundreds of other travel guides to destinations all over Greece. Follow Dave on social media for travel inspiration from Greece and beyond: