Just returned from a big trip and looking for ways to keep your travel memories alive? Here's 11 tips you'll love!
People have been traveling for centuries, seeking new experiences and sights to behold. The desire to explore is a natural one, and it's no wonder that travel is so popular. But what happens when we return home from our travels? How do we keep those memories alive?
If you don't take steps to preserve your memories of travel, they can quickly fade from your mind. Here are some tips for keeping your travel memories alive.
1. Create a travel journal
Creating a travel journal is one of the best ways to keep your memories alive. You can write about your experiences, feelings, and thoughts in a journal, and you can look back on it whenever you want.
Travel journal writing needn't be hard – you can simply jot down whatever comes to mind as you're traveling. Or, if you prefer a more structured approach, you could start with prompts like "What did I think about when I first saw the Acropolis in Athens?" or "How did my feelings change after island hopping in the Dodecanese islands?"
I've still got travel journals from previous trips in the 1990s which I really enjoy reading. Rumour has it, I also had hair when I traveled during this time as well!
2. Send yourself postcards
Another great way to keep your memories alive is to send yourself postcards from the different places you've visited. Whenever you get one, place it in a special box or display, and spend some time looking through it.
I love sending myself postcards because they instantly transport me back to my travels, even if they're just small glimpses into my experiences.
Related: 20 Reasons To Travel Around The World
3. Take pictures and videos (lots!)
If I have an regrets from my adventure travel by bicycle of cycling England to South Africa and Alaska to Argentina, it's not taking enough photos. I've still got great memories, but I wish I had more visual evidence of my experiences. When people ask me for travel tips, I always say that you can never take enough photos!
Nowadays, it's so easy to take pictures and videos with our phones, so there's really no excuse not to. And don't just take holiday snaps of the big sights – take pictures of the small things too, like the meals you eat, the people you meet, and the things that surprise or amaze you.
4. Make a scrapbook or photo album
If you're not the journaling type, or if you want to supplement your journal with visuals, then why not create a scrapbook or photo album of your travels? This is a great way to keep all your memories in one place, and it also makes for a really lovely coffee table book.
Creating a travel scrapbook or travel photo boo for each trip is one of the most creative ways to keep travel memories alive, and it's something you can re-visit whenever you want to relive those experiences.
Related: Camping Captions
5. Start a Blog!
Did you know that I've been blogging here at Dave's Travel Pages since 2005? Yes, really! The great thing about keeping a travel blog, is that it's a wonderful way of not only keeping the travel memory of my adventures alive, but also being able to share them with others.
It always makes me happy when someone plans a long distance cycling trip and asks for some tips because they read through my online travel journals. Over the years, not only did the blog help keep my travel memories fresh, but it also turned into a full time business! It proves you never really know where the road might lead when you travel.
6. Choose unique souvenirs
Choose souvenirs that truly reflect the location you've visited, and think about what makes it special – whether it's its history, culture, or natural beauty.
This might be something as simple as a rock from the beach, or as unique as a local craft item. I'm sure if you visit somewhere like Marrakech as shown below, you'd find some awesome things to take back with you!
Souvenirs are often seen as just trinkets we buy on our travels and usually stash away in drawers when we get home. But instead of choosing mass-produced items that could have been bought anywhere, choose souvenirs that will help you keep your travel memories alive.
7. Keepsake Box
Memory boxes are a great way to keep all your travel memories in one place. You can store things like boarding passes, foreign money, ticket stubs, postcards, and maps in a memory box, and it's a really lovely way to keep your memories alive.
When I'm feeling nostalgic about my travels, I often go through my old keepsake box, and it gives me a real boost to remember the amazing places I've been.
8. Picture Frame Your Tickets And Currency
My absolute favorite way of keeping the memory of an epic trip alive is to create a collage in a picture frame. Usually, I bring together travel pictures, leftover money and foreign currency, plane tickets, entrance stubs, and business cards from my travels.
It's such a simple way of keeping the memories alive, and it makes for an excellent piece of art that you can hang on your wall as a constant reminder of all the amazing adventures you've been on.
Related: Advantages and Disadvantages of Traveling by Plane
9. Print coasters, mugs, and fridge magnets with your favorite photos
If you want to go one step further than just framing your travel photos, then why not turn them into coasters, mugs, or magnets? These are all great ways of bringing a little bit of your travels into your home, and they make for really lovely gifts too.
You can find companies that will print your photos onto all sorts of things, a browse online and see what takes your fancy.
10. Organize a reunion with travel buddies
Relive those good memories by organizing a get together with people you have traveled with or new friends you made along the way. Sharing travel stories is a fun way to reconnect with old friends and share new adventures together.
11. Start planning the next trip!
Why not start planning your next epic adventure as soon as you get back home, or just a couple of months after your trip?
You'll always be thinking of your previous trips as you plan the next one, and your favourite travel memories will give you ideas of what you'd like to do at a new destination!
Travel Tips
You might find these other travel tips useful reading:
Preserve Travel Memories – Product Ideas
Here's some products on Amazon that you might find will help you keep all your memories from trips organized:
Keepsake Boxes
Cameras (Digital/Film)
Journal Notebook
Photo Album
Maps
Some final thoughts:
Why it's important to keep your travel memories alive?
There are many reasons why it's important to keep your travel memories alive. The most obvious one is that they're a reminder of all the amazing adventures you've been on.
What is a memory box?
A memory box is a physical object that can be used to store memories from a past event, such as a trip. Often, these boxes contain small items such as tickets, postcards, and photographs from the experience.
What are some ways to preserve your travel memories?
A great way to preserve your memories is to make a scrapbook. This can be a really fun project, and it's a great way to relive your experiences while you're working on it.
How to make the most of your travel memories?
There are many ways to make the most of your travel memories. One way is to keep them organized, so you can easily reminisce about all the amazing adventures you've been on. You can do this by creating a photo album, memory box, or collage.
What are the benefits of keeping your travel memories alive?
There are many benefits of keeping your travel memories alive. One of the most obvious ones is that they're a reminder of all the amazing adventures you've been on. They can also help to boost your mood when you're feeling nostalgic, and can provide inspiration for your next trip.
I hope you've enjoyed some of these great ideas about keeping your travel memories fresh after the journey home. Do you have any other ideas or suggestions to share to others? Please leave a comment below to help out the community!
Next read:
---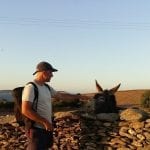 –
Dave Briggs
Dave is a
travel writer
who's now living in
Greece
. If you enjoyed reading these ways of preserving travel memories, you should also take a look at his other travel blog posts! Follow Dave on social media for travel inspiration from Greece and beyond: