Which Greek islands are the best to visit in May? Here, we look at what's good, what's not, and give you some inside tips.
Traveling to Greece in May
May can be a good month to visit Greece, as there aren't so many tourists and the weather is just starting to warm up. There are a few caveats which you should probably be aware of though.
In this guide, I want to line up your expectations with a little reality so you can pick which Greek island to visit in May!
Greek Islands May Weather
Let's start by talking about what weather you can expect in May. Currently, I am writing this guide in Rhodes, one of the most southerly islands in Greece. Theoretically speaking, if anywhere in Greece has good weather in May it should be Rhodes!
And, it's partially true. The sky is clear blue outside, the sun is shining, and it's a lot warmer than the rest of Northern Europe.
It isn't perfect though. Right now, we have very strong winds meaning that even with the sun shining it can be a little chilly. And for me personally, it's too cold to swim in the sea!
The last couple of days were overcast, and while there was very little rain, we did get some. Right at the beginning of the month, we had great weather for a kayaking trip along the Rhodes coast.
What does all this mean?
Bottom line: While you might get sunny weather, you can't entirely plan for a beach holiday on the Greek islands in May. It's simply not reliable enough. This means that when it comes to choosing a Greek island in May, you'll want to think about other activities you can do when the beautiful beaches are not so appealing to be on.
Related: Best time to visit Greece
Hottest Greek islands To Go In May
The southern Dodecanese islands and Crete are likely to have the warmest weather if you're planning island hopping in May. The Cyclades islands and Ionian islands are likely still a little fresh for sea swimming, but will have pleasant enough weather all the same.
Are the Greek islands still closed in May?
Many people don't realise that the tourism industry all but closes down on the islands in the winter months. While the main tourist hubs might have some establishments open, the smaller villages are often closed until May.
As a result, May is a crossover month. Some places will be open (such as tavernas, hotels, shops etc), but others will be getting themselves ready by adding new paint, stocking up etc.
What does all this mean?
Bottom line: The Greek islands are not really a year round destination. You shouldn't expect everywhere to be open on the islands in May. Some tourist resorts which are party central in August may be ghost towns at the start of May!
Why May isn't a great time to go to Mykonos
Mykonos is one of the most popular Greek islands to visit. Images of beach parties and crazy nightlife have sold the island in the minds of many as a premier destination.
This means that people might be tempted to go to Mykonos in May. It kind of makes sense, I mean it's shoulder season, there's far fewer tourists, and of course it's cheaper!
The thing is though, very few nightclubs will be open, the beaches and sea might be too chilly to enjoy comfortably, and there's not a lot going on.
In my opinion, May can be a great time to experience Mykonos before the crowds arrive, especially if you want to go to the UNESCO World Heritage Site of Delos island.
Exploring the narrow streets of Mykonos Town is certainly more enjoyable without the summer crowds! If you want lively parties and beach life though, you won't really find it in May and you'll probably be disappointed.
What are the best Greek islands to visit in May?
Hopefully, I've explained well enough that you can't really expect reliable beach weather in May, and that party destinations such as Mykonos and Ios won't have many parties!
So, it's best to look at islands that have more to offer than just beaches and bars. Fortunately, Greece has dozens of them! Here's my choices of which Greek islands offer a good mix that makes them a good holiday destination in May.
Santorini
After saying that Mykonos is not such a great island to visit in May, you might be surprised to see I've listed another Cycladic island to travel to in May instead.
The reason, is that Santorini and Mykonos are two very different islands. For example, no one really visits Santorini for the beaches, as they aren't that great when compared to those of other Greek islands. No one is really going to Santorini for the party scene either.
Instead, people who visit Santorini are doing so to experience the incredible Caldera views, the amazing sunsets, the fascinating history and to walk around Oia.
I also highly recommend the hike from Fira to Oia. All this can be done in May, and with fewer other visitors that the peak season months, it's a lot more enjoyable.
Of course, the weather in Santorini in May isn't as good as the summer months, and you can expect much cooler evenings (needing a light jacket!) than you might realize.
The main benefits though, are the cheaper prices, less crowds, no queues for and more availability of hotel rooms at sensible prices.
Rhodes
Rhodes in the Dodecanese is one of the best Greek islands to visit in May. It's a big island with lots to see and do, meaning if the weather is poor when you go, you'll always be able to find some activity to do to fill your days.
Rhodes Old Town is a great place to walk around, with plenty of medieval architecture and history to explore. The Palace of the Grand Master is one of the most popular tourist attractions on the island, and definitely worth visiting!
The beaches around Rhodes are some of the best in Greece too, so if the forecast is good, you'll be able to get tanned early on in the year. Try Anthony Quinn Bay for some relaxing swim if the water is warm enough in May.
Too cold to swim? Why not try a kayaking tour in Rhodes instead. It was great fun!
Rhodes is one of the most popular destinations in the Dodecanese islands of Greece. If you're visiting in May, I'd suggest locating yourself in Rhodes town, as you'll be able to explore the medieval castle, and have easy access to other parts of the island using public transport or car hire.
Crete
The largest island in Greece never closes down, and there is always something to do in May! Take you pick from archaeological sites, hiking trails, fishing villages, and mountain villages when you go to Crete.
Crete also has some of the best beaches in Greece, with the added bonus they are generally warmer than other parts of the country at that time of year. The average temperature in Crete in May is a balmy 23 degrees Celsius!
Crete also has a bustling nightlife, so if you're looking for some late-night fun in May, this island can provide. You'll find something almost all night long too if you're staying in Heraklion! One note though – the Malia /Stalis area is likely to be very sleepy has it might not have opened yet.
Overall, Crete provides a great mix of things to do that are suitable for pretty much any traveler, whether it's their first trip to Greece or their fiftieth!
Corfu
The Ionian islands are typically colder and a little rainier than other island groups, but you shouldn't discount Corfu in May. It's a beautiful island that has plenty to offer visitors, and the weather is often good enough to enjoy the beaches too.
Corfu town is a great place to walk around, with its Venetian architecture and lively cafes and bars. If you want to explore further afield, there are regular buses that run along the coast to other towns and villages.
Corfu is a great destination for those looking for an island with plenty to see and do. If you head here in May, I'd recommend renting a car so that you can explore the island at your leisure.
Hydra
Hydra is a popular day trip destination from Athens, but you could consider staying here a little longer! The island is car-free, meaning you can walk anywhere on the island without worrying about traffic.
The atmosphere here is relaxed with a laid back vibe, and you really feel like you're getting away from it all when you visit Hydra.
In May, the beaches are quiet and a good place to relax. There are also some great hiking trails and places to explore too, so if the weather turns bad there's still plenty to do on this beautiful island!
Andros
You might not hear much about the island of Andros in Greece – but you can fill in the information gap by checking out our travel guide to Andros now available on Amazon!
Andros is a beautiful island located in the Cyclades, and it's a great place to visit in May. The weather is usually good at this time of year, so you can enjoy the beaches and the outdoors.
There are plenty of things to see and do on Andros, from exploring the medieval Venetian castle to visiting the beautiful villages dotted around the island. There's also some great hiking and cycling trails to enjoy if you want to get out in nature a little.
Overall, Andros is an undiscovered hidden gem of Greece that should be on your list for this May! Give it a try and I'm sure you won't be disappointed!
Islands of Greece in May FAQ
Readers looking to choose the best Greek island to visit outside of the summer months often ask questions similar to:
What is the best Greek island to visit in May?
Each of the islands listed have their own unique charms that make them perfect for a visitor in May. If you're looking for an island with plenty to do and see, I'd recommend Crete. If you're looking for a more relaxed atmosphere, Hydra or Andros might be a better choice.
Is May a good time to visit the Greek islands?
The weather can be variable during the month of May, so it's best to visit an island with a lot of variety such as ancient sites and quaint villages for days the beach doesn't work out.
Where is warmest in Greece in May?
The warmest place in Greece in May is usually the island of Crete. However, the weather can be variable during this month, so it's best to check the forecast before you travel.
Is Greece warm in May?
Yes, Greece is warm in May, but the weather may not be as constantly hot or cloud free when compared to other times of year.
Which Greek island has the best sandy beaches?
The best Greek islands for sandy beaches include Mykonos, Ios, Naxos, and Milos.
Conclusion
May is a great time to visit Greece because you can enjoy the beaches on days with warmer temperatures and nature lovers will find it's a good time to explore the outdoors. Lower prices and smaller crowds also make May a good time to visit the Greek islands.
Just keep in mind that the weather can be a little unpredictable in May – don't book a holiday in May to the Greek islands based on the assumption that every taverna and hotel will be open, and you'll be lazing on beaches in sweltering heat. While it will be comfortably warm, it's up to the Greek Gods what weather you'll experience!
Have you visited any of these islands in May? Or do you have any recommendations for other great places to visit in Greece during this month? Let us know in the comments below!
Also read:
---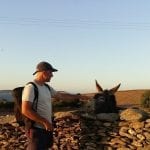 –
Dave Briggs
Dave is a
travel writer
who's now living in
Greece
. If you enjoyed reading this guide to the Greek islands in May, you should also take a look at his other travel blog posts! Follow Dave on social media for travel inspiration from Greece and beyond: