As there are no direct ferries from Mykonos to Kea, the best way to travel is to first take a ferry from Mykonos to Syros, and then another ferry from Syros to Kea island.
How to get from Mykonos to Kea
Despite their relative close proximity to one another, it's actually pretty awkward to travel from Mykonos to Kea island.
Kea island does not have an airport, so flying is not an option, and there are no direct Mykonos Kea ferry crossings either.
This means that the only way to reach Kea from Mykonos, is to go via another island first and swap ferries there. Even that doesn't guarantee you could get there on the same day though, as ferries don't run every day.
Another possible solution (not one I would personally choose), would be to go from Mykonos to Rafina port on the Greek mainland by ferry, then take a bus to Lavrio port, and then travel by ferry from Lavrio to Kea island.
If you have ever been brave enough to try this route, please leave a comment at the end of this post!
In short, traveling between these two Cyclades islands is a bit of a pain! Take a look at ferry schedules on Ferryscanner to see what I mean!
Ferries to Kea from Mykonos
If you're still determined to go ahead and want to visit Kea directly after Mykonos despite no ferry operators providing direct ferries, here's what you need to do:
The simplest, if not most flexible solution, is to first take the Mykonos to Syros ferry. As Syros is the capital of the Cyclades islands in Greece, it has connections with most of the other islands in the chain.
Ferries from Mykonos to Syros run 2-3 times a day during the summer tourist season, with crossings times taking from a half hour to an hour.
So far so good!
Taking a Syros to Kea ferry is more of a problem though. There are only around 2-3 ferries per week, although the journey time is pretty quick with the fastest ferry taking just under 2 hours to make the journey.
If you do decide to spend the night or even a couple of nights on Syros, check out my guide: Best things to do in Syros.
For your ferry tickets, prices and timetables, I find that Ferryhopper is a good website to use. They have a neat island hopping option, where you can put potential journeys like this one in, and it will give you different options based on your dates of travel.
Note that some ferry timetables are only updated a couple of months in advance. So, if you are looking in February for ferries in September, don't be surprised if you can't see any yet!
Kea Island Travel Tips
A few travel tips for visiting Kea:
---
---
---
---
Where to stay in Kea island
Some suggestions of places to stay in Kea include:
How to make a trip from Mykonos to Kea FAQ
A few of the frequently asked questions about traveling to Kea from Mykonos include:
How can you get to Kea from Mykonos?
The only way to go from Mykonos to Kea is by ferry, although there are no direct crossings available. To make the trip, you'll firs need to go from Mykonos to Syros, and then swap ferries to take another one from Syros to Kea.
Does Kea island have an airport?
There is no airport on the island of Kea. The closest airports are in Athens, or on the island of Syros (which isn't really all that close).
How long is the ferry crossing from Mykonos to Kea?
The journey to the island of Kea from Mykonos involves swapping ferries at the island of Syros. As the time to make such a trip would depend on the available connections and the day you travel, and exact time is not possible to give.
How do I buy ferry tickets to Kea?
Ferryhopper is perhaps the easiest site to use when it comes to booking Ferry tickets online. Although I recommend you book your Mykonos to Kea ferry tickets in advance, you might also prefer to use a travel agency in Greece when you have arrived.
---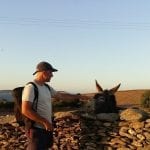 –
Dave Briggs
Dave is a
travel writer
based in Athens, Greece since 2015. In addition to creating this guide to ferries from Mykonos to Kea, he's written many more travel blog posts about destinations in Greece. Follow Dave on social media for travel inspiration from Greece and beyond: