The best way to get from Mykonos to Kimolos, is to first take the Mykonos to Milos ferry, and then take the Milos to Kimolos ferry.
Kimolos island in Greece
It's hard to imagine two islands more different than Mykonos and Kimolos. One is brash and all about the image. The other doesn't seem to care less about tourism. No prizes for guessing which one is which!
Kimolos is perhaps not an obvious choice for an island to visit after Mykonos, but you are going to be VERY happy you went there.
It's a quiet Greek island getaway with friendly locals, some incredible food, nice beaches, and a charming village to spend your evenings. There's also a sense of island community there.
How many other Greek island destinations do you know set up an outdoor cinema in a crumbling old castle in the autumn that it is free for all to go to?
How to get from Mykonos to Kimolos
As there is no direct ferry between Mykonos and Kimolos, a little Greek island hopping is involved to get between the two!
The journey involves taking a ferry from Mykonos to Milos, and then taking a ferry from Milos to Kimolos. Whilst this might seem relatively straight forward, there are a couple of minor complications.
The first, is that the ferry from Mykonos to Milos arrives at a different port than the ferry from Milos to Kimolos departs from. This means you will have to travel from the arrival port (Adamas) to the departure port (Pollonia).
If you have your own vehicle, it's no problem as it takes around 20 minutes to get between the two ports in Milos. If you don't have a vehicle, you'll need to look into taking a bus or taxi.
This may then lead to a second complication. Namely that if you don't make the connection in time, or if indeed there is no suitable connection, you may need to spend the night in Milos.
Due to the fact that ferries can become delayed in Greece, I would suggest not planning a connection with a time any shorter than two hours just in case.
Milos is a lovely island in any case, and it will give you a chance to check out Sarakiniko Beach in the morning before you leave for Kimolos!
Mykonos Milos Kimolos Ferry Tickets
The Mykonos to Milos stage of your journey is very easy to organize using Ferryhopper. There is normally at least one ferry per day leaving from Mykonos to Milos, and you can pre-book your tickets online.
If your ferry is due to arrive in Milos any time after 20.00, I would suggest planning on spending the night in Milos to take the hassle out of your trip.
The Milos to Kimolos stage of the journey can not be pre-booked in advance. This is a locally owned ferry, but rarely sells out, especially for foot passengers only.
You can check out their website itineraries: Kimolos Link. The last ferry from Milos to Kimolos leaves around 22.00.
Kimolos Island Travel Tips
A few travel tips for visiting Kimolos island:
For places to stay in Kimolos, have a look at Booking. They have a great choice of apartments in Kimolos, with Psathi, Chora and Aliki being good areas to stay. If you are traveling to Kimolos in the busiest time of summer, I advise reserving hotels in Kimolos a month or so in advance. I've a guide here on where to stay in Kimolos
---
---
One of the best places to look at ferry schedules and to book tickets online is at Ferryhopper. Note that the local ferry between Milos to Kimolos may not show on their schedules, so you should visit the website I mentioned earlier.
---
---
---
What to see in Kimolos Greece
Kimolos is a great island to relax, enjoy some good food, and appreciate the natural beauty. Beach time is always going to be important of course, and you'll most likely spend your evenings in Chorio.
I've a full guide here on the best things to do in Kimolos.
How to take the journey from Mykonos to Kimolos FAQ
Some commonly asked questions about traveling to Kimolos from Mykonos include:
How can we get to Kimolos from Mykonos?
If you want to make the journey from Mykonos to Kimolos the best way is by using a ferry. There are up to there are no direct ferries sailing to Kimolos from Mykonos, so you will first need to take a ferry from Mykonos to Milos. Once in Milos, you will then need to transfer from Adamas Port to Pollonia Port, and from Pollonia Port take the local ferry to Kimolos island.
Is there an airport on Kimolos?
There is no airport in the island of Kimolos, so the only way to make a journey from Mykonos to Kimolos is by using the ferry network. The airport nearest to Kimolos is at Milos, but this airport does not have flight connections with the airport in Mykonos.
How long is the ferry ride from Mykonos to Kimolos?
The Mykonos to Milos ferry journey takes between 3 and 5 hours. The drive from Adamas to Pollonia in Milos takes around 20 minutes. The Milos to Kimolos part of the journey on a different ferry takes around half an hour. There may be some waiting time between connections.
Where do you get ferry tickets to Kimolos?
Ferryhopper is perhaps the easiest site to use when it comes to booking tickets for the Mykonos to Milos section of the journey. For the Milos to Kimolos ferry journey, you can buy tickets at the port in Pollonia in Milos.
Where can I find ferry schedules and timetables for ferries in Greece?
While most ferry operators have their own websites, you can find all the ferry timetables for crossings between popular destinations in the Greek islands at Ferryhopper. This includes when you need a ferry connection for journeys that involve more than one boat such as the Mykonos Kimolos itinerary.
---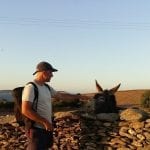 –
Dave Briggs
Dave is a
travel writer
originally from the UK, and now living in Greece. As well as writing this travel guide about ferries from Mykonos to Kimolos, he's also written hundreds more travel guides to Greek destinations. Follow Dave on social media for travel inspiration from Greece and beyond: