Did you know that Santorini only has a population of 15500 people, and that its official name is actually Thira? Find more Santorini facts and trivia in this article!
Here are some fun and interesting facts about Santorini in Greece you might not know. These random and insightful Santorini facts are a fascinating quick read!
What is Santorini known for?
Santorini is perhaps the most famous of the Greek islands. It's certainly one of the most photographed! As soon as Santorini is mentioned, images of blue domed churches and whitewashed buildings spring to mind.
Nowadays, we associate Santorini as a bucket list destination. A place to experience a once in a lifetime vacation, where we can enjoy unparalleled views from boutique hotels, savour fine dining, and soak up the glorious Santorini sunset.
There's more to this beautiful Greek island than meets the eye though, as you'll soon discover with our guide to these fascinating Santorini facts! For example, did you know that Santorini is thought to be the worlds only inhabited caldera?
Fun facts about Santorini in Greece
We've gathered some general trivia, statistics and information about Santorini Greece and put them in one place here.
If you learn any other things you think might be a good addition during your holidays in Santorini, leave a comment at the end of this post!
Looking for a full guide to Santorini. Here you go: Santorini Travel Blog
Which country is Santorini in?
Santorini is an island belonging to the Cyclades chain, in the Aegean Sea of Greece. The Greek islands closest to Santorini are Folegandros, Anafi, and Ios.
What does Santorini mean?
The island that we now know as Santorini has had many names. In ancient times, Santorini Island was known as Strongili, which means round in Greek.
After Greek independence, it was referred to as Thira after its capital city. The name that eventually stuck though, was Santorini.
This name originated in the thirteenth century, and is a reference to Saint Irene, from the name of the old cathedral in the village of Perissa. The name Santorini is a contraction of the name Santa Irini.
What does Thira mean?
The capital of Santorini is called Thira (also written Thera or Fira). It was named after Thiras, a legendary figure who is sometimes named as a Mycenaean, and other times as a Spartan.
He is thought to have colonized the island along with his followers 600 years after the Minoan Eruption.
What does Oia mean?
Oia is the northern town on the island, and the most popular spot to enjoy the Santorini sunset.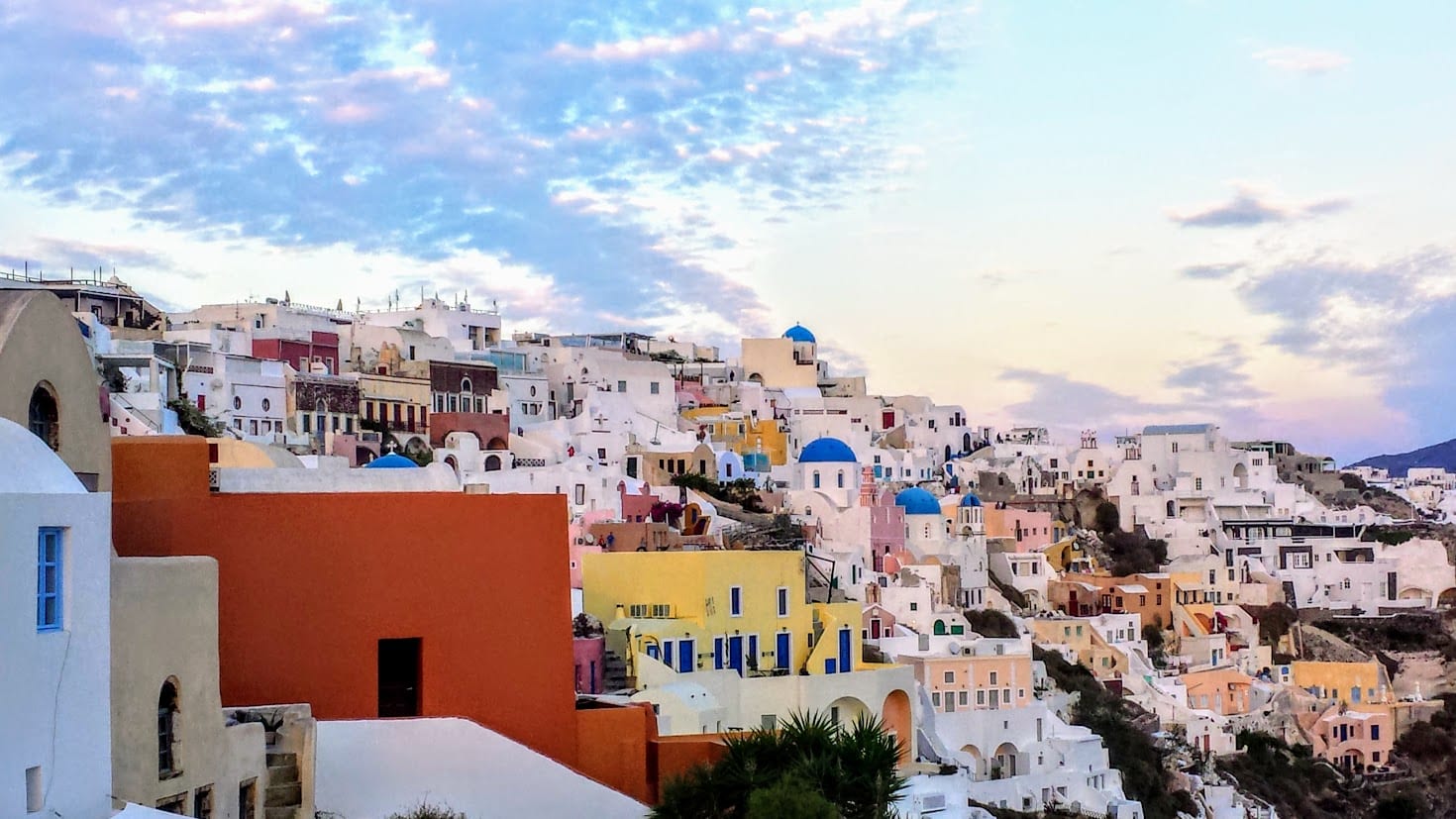 According to some locals, the word Oia is from the Doric dialect of Greek meaning 'far'.
What is the population of Santorini?
According to the 2011 census, the Santorini population is 15,550. This local population expands in the summer months especially in the peak time of July and August.
Was Santorini Atlantis?
People have been searching around the world for the mythical land of Atlantis for centuries. One of the possible locations for Atlantis is thought to be Santorini.
This is likely because Santorini was partially destroyed by a volcanic eruption which matches parts of Plato's musings about Atlantis.
Traces of ancient civilizations have been found on Santorini, particularly at Akrotiri, and these are currently thought to be from the Minoan civilization. So far, no advanced technology has been uncovered!
What is the name of the volcano in Santorini?
Santorini is known for its caldera views, and you can also take the ever popular volcano trip where you can see smoke rising from the ground. What is the Santorini volcano actually called though?
Whilst referred to as the Santorini volcano, the main crater is now on the nearby formed island of Nea Kameni. So perhaps it should be called the Nea Kameni volcano instead.
Has the volcano on Santorini ever erupted?
The volcano has erupted several times throughout history and probably pre-history. The most famous of these is called the Minoan Eruption.
This cataclysmic event was thought to have taken place around 1600BC, and had devastating consequences on the island. Ash and pumice stone can be found as far away as Egypt and Greenland.
Curiously, it seems that the Minoan population of Akrotiri had prior warning to the main eruption, or had felt a series of tremors leading up to the main event. No human remains have been found there.
Major eruptions from the volcano at Santorini since then have taken place in 1707–1712, 1866–1870, 1925–1928, and 1939–1941.
Santorini Pumice Facts
Due to the geology of Santorini, pumice stone was available in large quantities. Before tourism became the main industry of the island, millions of tonnes were exported in order to make cement.
Pumice extracted from the mines of the island was used in the construction of the Suez Canal. The mines were closed in the 1980s.
There are multi-colored beaches
Due to its volcanic nature, you can enjoy spending time on multi-colored beaches during your Santorini holidays.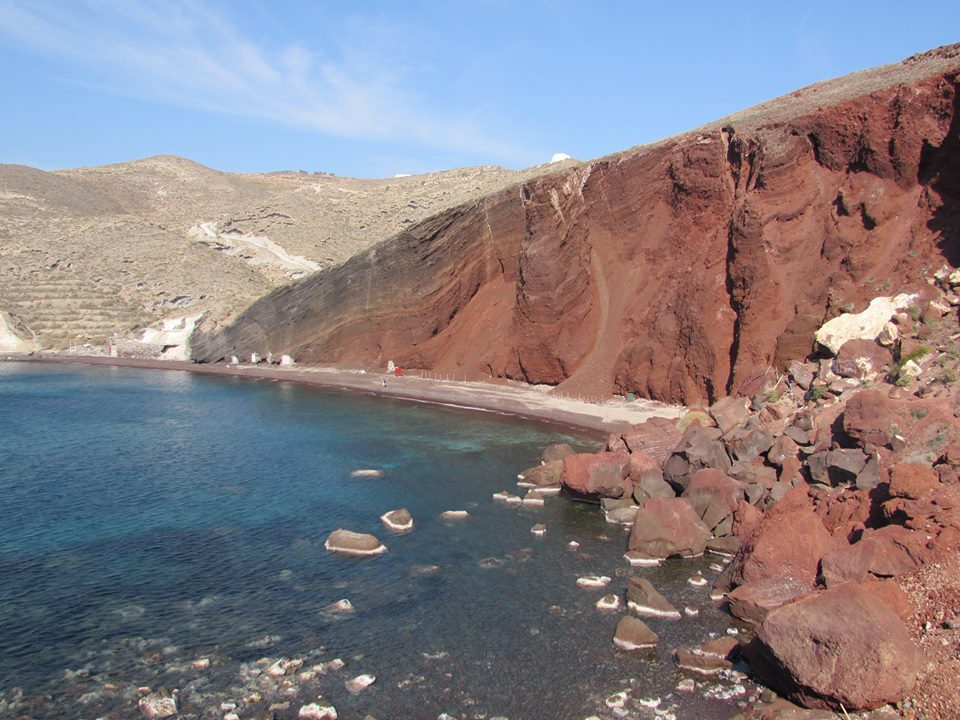 There is the famous Red Beach, and also black and white beaches! Check out this guide to all the best beaches in Santorini.
Winemaking in Santorini
With 18 (or by some counts more than 20!) wineries, Santorini is a great place to enjoy a wine tasting experience. Wine has been made on the island for over 3000 years, so it's fair to say the islanders know a thing or two about making it!
There are over 40 grape varieties grown on Santorini, and some excellent local vintages. Often, less than 10,000 bottles of Santorini wine per year are made by the wineries, so they export very little.
The best way to savour their unique flavors is on a wine tasting experience. More here: Best wine tours in Santorini.
What is some famous Santorini food?
Santorini is known for its gastronomic delights, with world-class chefs serving up some incredible menus. Perhaps the most authentic dish from Santorini though, is humble fava.
Fava has been grown on the island for over 3500 years, and is a yellow split pea that is uniquely suited to grow in the dry, mineral rich soil. Fava is cooked with water, salt, pepper, and served with onion in a puree like form. Yum!
What movies were made in Santorini?
Here are some of the more popular films that were at least partially filmed in Santorini:
Lara Croft Tomb Raider: The Cradle of Life (2003)
The Sisterhood of the Travelling Pants (2005)
D' Agostino (2011)
Summer Lovers (1982)
Santorini Blue (2013)
Take a look here: Movies about Greece
What is Cycladic Architecture?
You've probably seen photos of white painted villages and churches with blue domes, and so have an impression of what Cycladic Architecture might be.
Typically, it take the form of minimalism and cube shaped buildings, which are then finished with whitewash. Doors and windows normally have another simple colour which is traditionally blue.
Why are the buildings in Santorini blue and white?
One of the things that makes the beautiful island of Santorini stand out so much are the whitewashed houses and churches with painted blue domes. This dates back to 1938, when in an effort to combat a cholera outbreak, whitewash was used to paint the houses. The blue was added later under a direction from a dictatorship as being more representative of the Greek flag.
Santorini Island FAQ
People who want to find out more about the famous island of Santorini in Greece often ask questions similar to:
What is Santorini best known for?
Santorini is arguably the most famous island in Greece. The Santorini architecture of whitewashed buildings, blue domed churches and Cycladic chic balances well with the island's landscape, making it one of the most beautiful islands in the world.
How old is Santorini?
Human settlement on Santorini dates back to at least the Neolithic era, while the island itself is millions of years old.
Why is Santorini interesting?
Santorini has established a solid reputation in the tourism industry over the last several years, and it is now one of the most famous destinations on the planet. The beautiful sunsets over the caldera and picturesque streets full of white-washed homes are iconic.
What makes Santorini so popular for tourists?
Santorini is a beautiful Greek island with spectacular turquoise seas and charming villages. Activities to experience include trying the island's wines, walking along the volcanic caldera, enjoying incredible sunset views, and taking boat tours around Santorini.
When did the Santorini volcano erupt?
A massive volcanic eruption, perhaps one of the largest volcanic eruptions in mankind's history, occurred on Thera (now known as Santorini) in 1646 BC. The Thera eruption covered the ancient city of Akrotiri in volcanic ashes and caused a gigantic tsunami that may have affected Crete, the largest island in the southern Aegean Sea.
Pin these fun Santorini facts for later
If you have a collection of pinterest boards, you might want to add this random Santorini facts pin to one of them. That way, you and others can easily find this post about Santorini island Greece again later.
If you are planning to travel to Santorini island in Greece, you may also be interested in:
---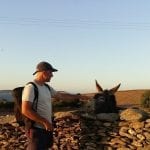 –
Dave Briggs
Dave's
travel writer
from the UK who since 2015 has been living in Greece. As well as creating this blog about Santorini interesting facts, he's also written hundreds of other travel blog posts and itineraries for travel destinations all over Greece. Follow Dave on social media for travel inspiration from Greece and beyond:-