What is Santorini like in November? Twice as nice, with half the crowds! Here's my experiences of visiting Santorini in November.
Santorini Greece in November
The island of Santorini is perhaps the most popular destination in Greece. As a result, it can get very busy particularly during the summer months.
If you'd like to travel there but would prefer it to be less crowded, you might be asking yourself when is the best time to visit Santorini.
The answer is low season, with November being a good time to go to Santorini with no crowds.
This is when we visited, and we enjoyed our holiday there so much we created this easy to read travel guide on some things to do in Santorini in November.
Santorini Weather November
First things first though. You may want to know what's the weather like in Santorini in November.
To be perfectly honest, the weather in Santorini in November can be a little hit and miss. You can get very sunny days, but you may also get rain and wind. You may be able to go for a swim, but some people will find it too cold. Additionally, most people will need a jacket in the evening.
The average temperature in November in Santorini is around 17˚C, with highs of 19˚C and lows of 14˚C.
If this sounds too cold for you, check out my guide to the best time to visit Greece for warmer weather!
Is Santorini open in November?
In terms of hotels, restaurants and bars, you shouldn't really worry as there will be plenty of tourism options, especially in early November. For Santorini, this is still a touristy month, although it's not peak season, like July and August.
In addition, you will find that accommodation prices will be a lot lower. So if you want to visit Greece's most popular island and luxury hotels with half the crowds and at half the price, November is a perfect month to visit Santorini.
I've a guide here on Where to stay in Santorini.
How to get to Santorini in November
There are always ferries to Santorini from Athens, as well as flights. To check timetables and to buy ferry tickets for travel to Santorini and other Greek islands, I recommend Ferryscanner.
That's me (Dave Briggs) in the photo above, getting ready to take a ferry from Piraeus Port Athens to Santorini.
Although it's getting to the low season, there may also be some international flights arriving directly at Santorini airport. Flight prices from Athens are generally great value as well.
Is Santorini worth visiting in November?
We spent a week in Santorini in November a few years ago, and found it perfect for our taste. There were very few crowds, and there were enough places to have coffees, snacks and meals.
In terms of the weather, it was mellow, and ideal for most activities. We spent all of our daytime in t-shirts, and only needed light jackets during the evenings.
A big bonus, was that accommodation and car rentals in Santorini were a lot cheaper in November. Check out Discover Cars if you want to rent a car for a day or two in Santorini, and Booking for hotels to stay at in November.
All in all, we were pleasantly surprised with taking a holiday in Santorini in November, and we would definitely consider visiting again during the off-season.
Can you swim in Santorini in November?
We didn't go for a swim, but as we live in Greece we are not exactly deprived of beach time – we just prefer it warmer!
For many people, swimming and relaxing on the beach is an important part of their vacation. As you would expect, Santorini has several unique beaches all around.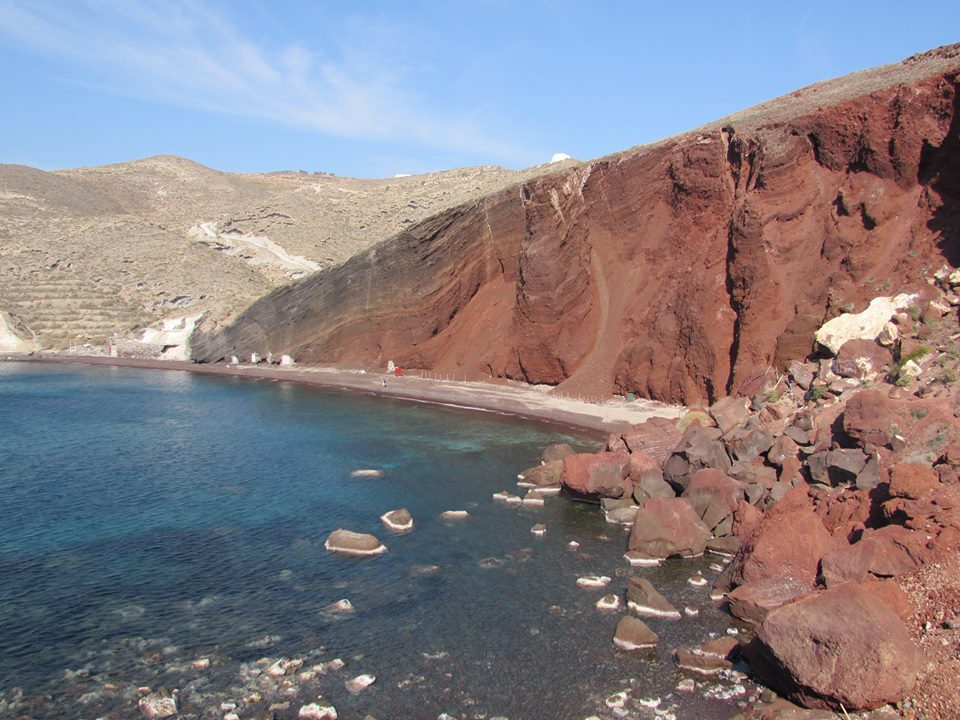 Some of the most popular beaches are Perissa, Perivolos, the Red Beach and the White Beach, where you can get by boat. In my opinion, they aren't as nice as beaches in other islands or the Peloponnese. They are picturesque, but they are not extraordinary.
I guess I am trying to justify why we didn't really mind not going for a swim. In reality, the water wasn't particularly warm. Though the days was fairly sunny, it was also kind of overcast – nothing like the scorching summer sun.
That said, we saw a few people swimming here and there – after all, if you can only go to Santorini once, you may as well make the most of it!
Overall, if swimming is important to you but you prefer to avoid peak season, it might be best to go to Santorini in October instead.
Take a look here for a complete guide to the Santorini beaches.
Best things to do in Santorini in November
For people who are interested in sailing, hiking, exploring quaint villages, sightseeing, and soaking up the views, November is a perfect month to visit. Here's some suggestions of what to do in November in Santorini Greece.
Sailing around Santorini
Like all Greek islands, Santorini is great to explore by sea. Depending on the season, there are various sailing tours, taking you to different parts of the island. While in summer you will literally find dozens of different sailing tours, there is less choice in November.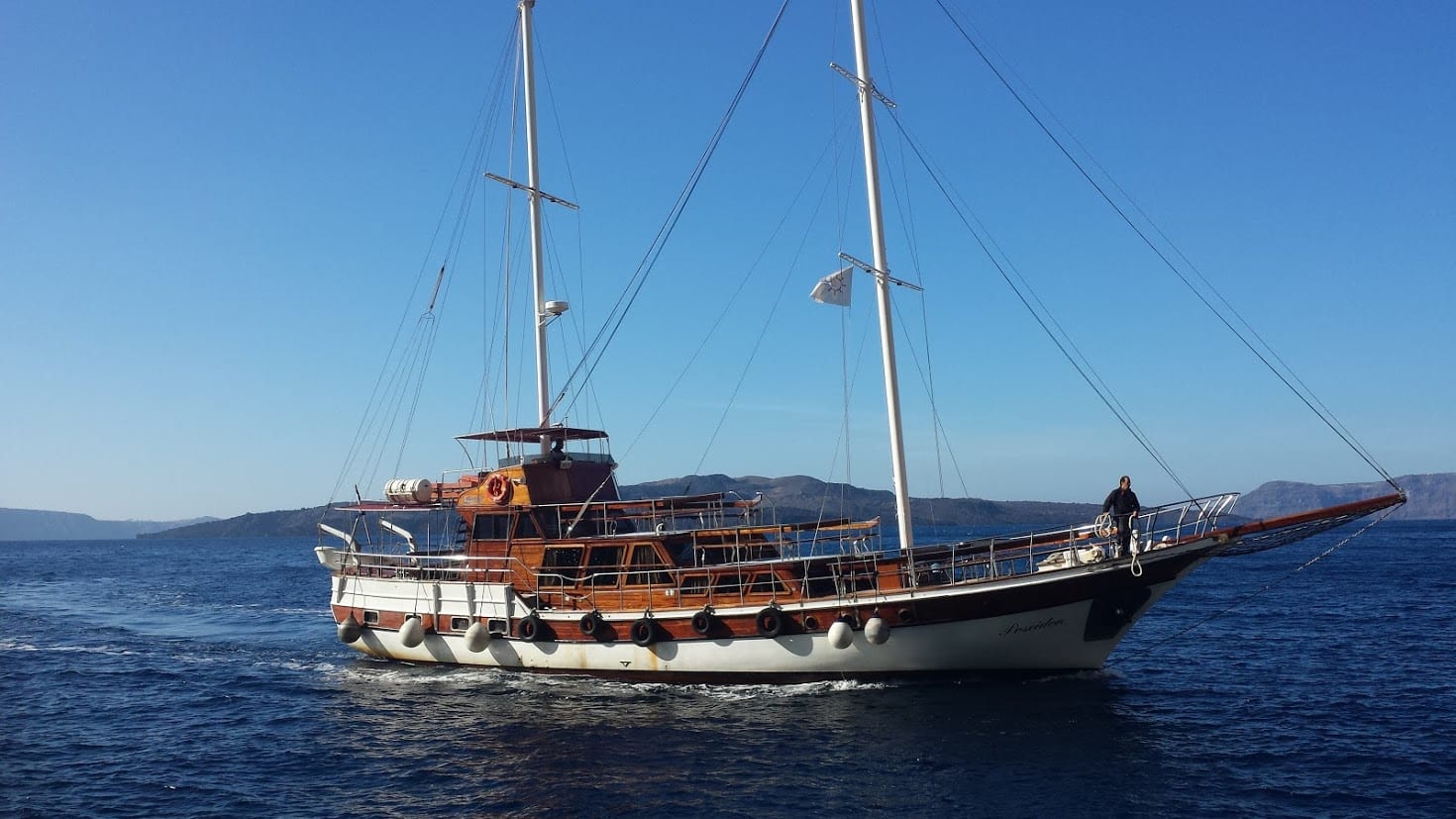 One of our favourite activities when we visited Santorini in November was our sailing trip. We sailed to the small volcanic islands, and then walked up the volcano's caldera. The views were really breathtaking, and the landscape is quite surreal – or rather unreal!
Weatherwise, the conditions were perfect to climb up the volcano. In fact, we couldn't imagine going up the volcano in summer. The black volcanic soil retains a lot of heat, so it can be unpleasant at best, even on a windy day.
This article lists some of the best boat tours in Santorini. While many of these tours include time for swimming and snorkelling, I would choose the volcano sailing tour if I went to Santorini in November.
In fact, the volcano tours also include a visit to the hot springs, where the sea temperature is above 30 C / 86 F at any time of year! Don't be put off by the smell – just dip in and enjoy the thermal baths.
I recommend Viator for booking your November tours and activities in Santorini.
Enjoy the famous Santorini sunset
The one thing everyone knows about Santorini is that it has a fabulous sunset, so this one is a no-brainer!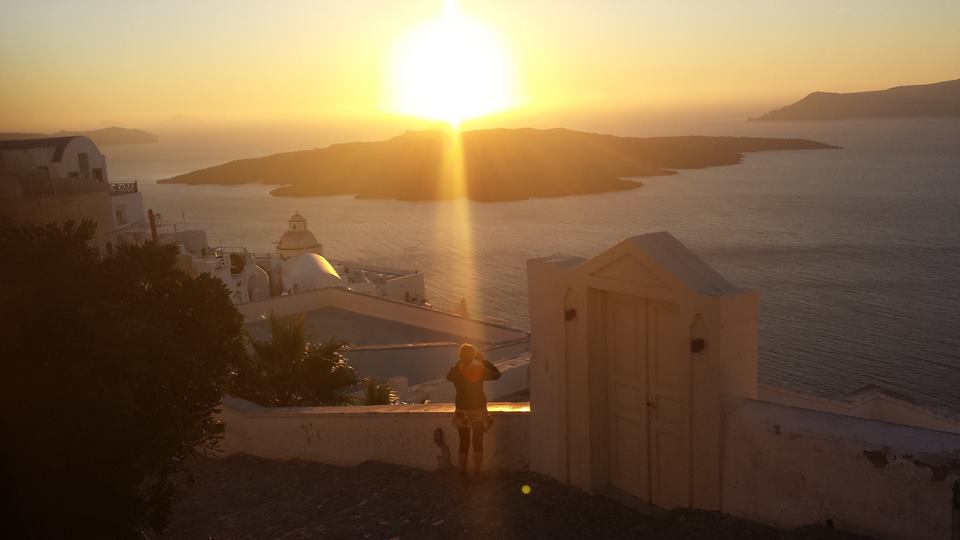 One of the most popular places to enjoy the sunset from is the quaint Oia village. Unlike in summer, you may actually have whole parts of the village to yourself. At least that's what happened to us when we visited Santorini in November.
That said, Oia is just one of many places to see the sunset. Any village or town on Santorini's western side offers a view to the volcano. In fact, I vaguely remember that our favourite spots for the sunset were actually in Fira (Thera), as well as Firostefani and Imerovigli, which are a short walk from Fira. Still, there is something magical about the ambiance in Oia.
As you would expect, many Santorini hotels offer views to the caldera. Your balcony would be a lovely place to enjoy the views from – perhaps with a glass of local vinsanto wine. Another bonus is that a caldera view hotel is much better value for money in November than in high season.
Just remember that sunset in Santorini in November is quite early, roughly between 17.00 and 17.30 depending on the exact date. So get there in time!
Hike from Fira to Oia
This was our favourite activity when we visited Santorini island in November. It's a 10 km (6 miles) long path, which we would describe as fairly easy. There are just a couple of somewhat uphill spots but nothing too challenging. Bonus – it's free, though you can go with a guide if you prefer.
We set of from Fira, where we were staying, and headed towards Oia, where we stayed for (guess what) the sunset. Some people do it the other way round.
When we were in Santorini, there was plenty of time to catch the bus back to Fira after the sunset. However, as bus schedules may change every year, check the time of the last bus. Or you can always take a taxi.
We found the weather really ideal for the hike. It was warm enough for t-shirts, but the sun wasn't too strong, and we were happy with our all-weather hiking shoes.
The hike took us about 4 hours, as we stopped several times on the way to admire the views, take photos and have a small picnic we had brought with us.
At the time, no stores were open on the way from Fira to Oia, but this may differ every year. You could probably do it in 2,5 hours if you wanted, but what's the rush?
More info here: Walking from Fira to Oia.
Hike from Kamari to Ancient Thera to Perissa
Here's another nice walk you can do in Santorini when the weather is cooler in November. The walk from the black sand coastal resort of Kamari follows a cobblestone path to the archaeological site of Ancient Thera.
Spend an hour or so exploring this site, and then continue the walk down to the other black sand resort of Perissa.
Even in November you may want to do this as early as you can, and on a clear day, you will get some amazing photos of the coast.
More here: Hiking from Kamari to Ancient Thera to Perissa
Visit the wineries in Santorini
And now everyone's favourite activity – the winery tour! Given its small size, Santorini has an incredibly rich wine production.
The island produces several different types of grapes, like Athiri and Assyrtiko (whites) and Mandilaria and Mavrotragano (reds). The distinctive Vinsanto is made of several types of sun-dried white grapes.
Many of the wineries in Santorini are popular with tourists. You can visit in your own hired car, or take an organized tour, which typically includes visits to 3-4 wineries.
This extensive article about winery tours in Santorini might help. My suggestion is to take a sunset tour, which will bring out some of the best things the island has to offer.
Don't miss Ancient Akrotiri in Santorini
Santorini is a small island, but it has plenty of archaeological sites and museums. The best known is the settlement of Ancient Akrotiri, which is possibly a Minoan settlement dating from the Bronze Age.
Ancient Akrotiri was destroyed in the 17th century BC, when a volcanic eruption occurred, similarly to Pompeii. The settlement was entirely covered by lava, ashes and dirt, and was only discovered in the 1860s. As they were hidden under all the debris, the ruins have been very well preserved.
The archaeological site only opened for the public to visit a few years ago. It has been covered by a giant shed, in order to protect the ancient findings, but also visitors. You can walk all around the settlement on a wooden walkway.
To get to Akrotiri you can either use a bus, which is what we did or hire a car. If you want to find out more about its history, you can also book a tour with a licensed guide.
Walk around Fira and Oia in Santorini
By far the two most popular towns in Santorini are Fira and Oia. Fira (sometimes Thira) is the island's main town, and Oia is the most photographed village, due to the views and the sunsets.
If you are after authenticity, you may be a little disappointed, as these two towns are quite touristy. Still, you will definitely enjoy walking around and finding unique viewpoints.
In addition, if you are a history and culture fans, you should definitely check out some of the museums. Fira is home to both the Archaeological Museum of Thera and the Museum of Prehistoric Thera, where you can see many important ancient relics. There are also several art galleries and exhibition centres, though some of them might be closed for the season.
As for Oia, we suggest that you spend some time wandering around and enjoying the views and overall atmosphere. We have seen summer photos in recent years and are very happy we visited Santorini off season, as there were very few people then.
In our experience of Santorini in November, Fira had several places for meals or drinks, while Oia was significantly quieter and offered much less choice. This was partly why we chose to stay in Fira, and we were happy with our choice.
Explore the lesser known villages of Santorini
After you've seen Fira and Oia, my suggestion is to hire a car and drive around the island. Santorini is small, and you can easily drive around in one day, stopping at the most important villages. Even better, keep the car for a couple of days, and then you will have time to see a lot more.
A few kilometres out of Fira town, you can find Messaria village. The mix of neoclassical and Cycladic houses is really interesting. Messaria overlooks the caldera, and you can stop for a drink or meal with a view.
Places to visit here include the neoclassical Argyros Mansion / museum and Canava Santorini ouzo distillery. Messaria is quite lively, as this is where many locals live all-year-round.
Don't miss out the medieval Pyrgos village, which may be the most beautiful on the island. Climb up the Venetian fort and enjoy the rewarding views. Also, check out if the Museum of Icons and Ecclesiastical Artefacts, inside the former Agia Triada chapel, is open. You can see many religious artefacts, and even if you don't know much about the Greek Orthodox religion you will most likely be impressed.
On your way to / from Perissa beach, stop at Emporeio. This is a traditional village built in a specific way to keep it safe from outsiders. Houses are built next to each other forming a circle, and there is only one entrance to the village.
In the past, Emporeio used to be a fairly rich village – its name means "commerce", so it should be a giveaway. There are many old churches and windmills all around, and you will love it if you are interested in photography.
Megalochori village is home to the unique cave houses, built in the rocks. It's one of the nicest villages to visit, and you will find plenty of restaurants and cafes. As it's facing west, you can also enjoy the sunset.
Other villages worth passing by in Santorini include Finikia, Karterados, Vothonas, Vourvoulo, Mesa Gonia and Ekso Gonia. Just follow the map, and don't worry about getting lost – Santorini is small, so you can easily find your way back!
Enjoy the food in Santorini, Greece
Not all restaurants open in November, but enough do that you'll never go hungry! In our experience eating out in Santorini was a lot more enjoyable without the crowds or the need to book a table in advance.
Local dishes worth trying include the sun-dried Santorini tomatoes, fried tomato-balls, the unique fava beans, and the local white eggplants. If you like cheese, ask around for a fresh cheese called chlorotiri, which can however be tricky to find.
In addition to these, there are several local fish dishes, as well as pork and rabbit specialties. In terms of desserts, look for the simple barley cookies called copania, and the Santorini pudding that goes well with the vinsanto wine.
Santorini has restaurants for all tastes and budgets. Not everywhere is super expensive, and there are always budget options like souvlaki and various bakery snacks.
Some of the tavernas that have been getting consistent good reviews over the past years are Metaxi Mas in Ekso Gonia, Roza at Vourvoulos, to Paradosiako in Mesaria and Nikolas and Kapari at Fira.
That said, follow your instinct, and you may discover something that wasn't on a guide!
FAQ About November Santorini Travel
If you're going to visit Santorini in the winter months, you might be interested in reading these questions from other readers:
Is November a good time to visit Santorini?
Santorini's best months to visit are between late April and early November, when the weather is pleasant and there is little rain. The sunsets in mid-November may be more beautiful than they appear during the summer.
How hot is Santorini in November?
November is the last full month of autumn, and while the 55-66°F/13-19°C average temperature range may feel warm compared to Northern Europe at the same time of year, the water temperature of the sea is just a little too cold to swim comfortable.
Is Santorini expensive?
Santorini can be one of the more expensive islands in Greece, but in November and the winter season, you will find that Santorini hotels are a lot more affordable than in the peak tourist month of August.
Does Santorini shut down in winter?
Santorini never fully closes down for tourism, although you may find that from late November until February many restaurants and shops won't be open.
What is Greece in November like?
November in Greece is generally mild with temperatures ranging between 10°C (50°F) and 18°C (65°F). The days tend to be sunny, while evenings can be cooler after sunset. November is the off-season and archaeological sites can have shorter opening hours. Don't expect to spend much time on the beach, but visiting Greece in November is a good idea for people who want to enjoy sightseeing without the crowds.
You might also want to read: