There are 1 or 2 ferries per day going from Ios to Syros island in the summer months, with the quickest travel time taking only 1 hour and 50 minutes. Here, we look at your different options on the Ios Syros ferry route, where to get tickets, and more travel information.
How to get from Ios to Syros
The Greek island of Syros is the administrative capital of the Cyclades group of islands.
Famous for its neo-classical buildings and colourful domes that give it an almost regal aesthetic, it is a very different island compared to Ios.
You can only reach Syros from Ios by taking a ferry, so if you want to travel between these two islands, this guide is just for you!
Ios Syros Route
During the tourist season, you can expect 1 or 2 ferries a day from Ios to Syros. These ferries to Syros from Ios are operated by SeaJets and Blue Star Ferries.
Out of season, the number of ferries might be reduced to just one a week.
For information about the ferry operators, crossing time, and latest prices, I recommend using Ferryhopper.
Blue Star Ferries Ios – Syros
The Artemis is the regular ferry provided by Blue Star Ferries on the Ios to Syros route. It's a car ferry, so you can take vehicles on board.
This ferry sails once a week, usually on a Saturday leaving at 11.20 and arriving in Syros at 16.15.
The Artemis is considered a 'subsidized' ferry, which, which means it has the cheapest ferry tickets – I've seen them start from 15.00 Euro for foot passengers.
If you're not in a rush, and the day it sails works out for you, conventional ferries like this are the most cost effective way to travel from Ios to Syros.
To book ferry tickets online and check out the latest schedules, visit Ferryhopper.
SeaJets Ferries to Syros from Ios
Ferry operator SeaJets puts on seasonal ferries from Ios to Syros according to demand.
During July and August, you can expect one crossing per day on the route between Ios and Syros.
These are fast ferries, with the quickest crossing taking just 1 hour and 50 minutes.
As a rule, the faster boats are generally more expensive when it comes to ferry ticket prices. Don't expect to pay much below 64.70 Euro per person on the SeaJets ferries on the Syros – Ios route.
Syros Island Travel Tips
A few travel tips for visiting Syros island:
---
---
---
---
---
---
How to make a trip from Ios to Syros FAQ
Some commonly asked questions about traveling to Syros from Ios include:
How do we get to Syros from Ios?
The only way to make the journey from Ios to Syros is by using a ferry, and there are 1 or 2 ferries a day. The Ios Syros ferry route is currently operated by 2 ferry companies which are Blue Star Ferries and SeaJets.
Is there an airport in Syros?
Syros Island National Airport offers domestic flights to and from Athens International Airport. Sky Express are currently the only airline to fly this route.
How long is the ferry crossing from Ios to Syros?
The ferries to the Cyclades island of Syros from Ios take between 1 hour and 50 minutes and 4 hours and 55 minutes depending on the ferry operator and the type of vessel they are using. The quickest ferries have the most expensive tickets.
Where can I buy tickets for the ferry to Syros?
The easiest way to get hold of ferry tickets in Greece is by using Ferryhopper. You can also check timetables and scedules for the Syros to Ios ferry route and others as you plan your Greek island hopping trip in the Cyclades.
Which ferry companies sail from Ios to Syros?
The Blue Star Ferries ferry company operates year round crossings on the direct route between Ios and Syros. SeaJets operate direct ferries between Ios and Syros only in the tourists season (April through until October).
Where do the Syros ferries arrive?
All the ferry companies operate crossings that arrive at the main port of Syros in Ermoupoli.
If you are interested in getting to Syros from Ios, this article should provide some useful information. We've looked at the different ferry routes and ticket prices available for traveling between these two islands during tourist season and out of season.
If you want help planning your itinerary or need more travel tips about where to stay while visiting Syros island, we recommend reading my destination guide on the best things to do in Syros! The fastest ferries take 1 hour and 50 minutes but might not be as cost effective when it comes to the best price per person – consider booking early if possible during the high season so that there is no chance of missing out.
Finally, subscribe for updates about Greece's most popular destinations and other islands.
---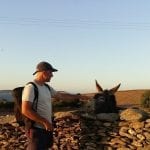 –
Dave Briggs
Dave is a
travel writer
from the UK who lives in and writes about Greece. As well as creating this travel guide to ferries from Ios to Syros, he's also written many more travel blogs about destinations in Greece. Follow Dave on social media for travel inspiration from Greece and beyond: