Some of the most popular Kimolos beaches include Prassa Beach, Aliki Beach, and Mavrospilia Beach. This guide to the best beaches in Kimolos island in Greece is designed to help you choose the best places to enjoy the sea and sand on this quiet Greek island.
If you're spending any amount of time in Kimolos Greece, you'll want to go to the beach sooner or later. After all, that's what a Greek island vacation is all about!
This blog post is just about the most complete guide to the beaches of Kimolos you can get. Enjoy the read!
Kimolos Beaches
If you're looking for things to do in Kimolos, visiting the beach is likely to be near the top of your list!
Great news – Kimolos has some lovely beaches to choose from. While a few of the beaches on Kimolos can only be reached on foot or by sea, the majority of them are easily accessible by car or ATV.
Many of the Kimolos beaches are natural with no facilities nearby, though this may change from year to year. There are a couple of more organized ones, but even these are mostly sleepy.
Note: If you're spending any amount of time on Kimolos, you'll probably want a vehicle to check out the beaches. Take a look at this guide on how to get around Kimolos for more details.
Our Favourite Beaches in Kimolos
As a couple who prefer natural, unspoilt beaches, we found Kimolos to be a true paradise. Most of the beaches on the island are wild, with picturesque rock formations, and sometimes we were the only visitors.
Our favourite beaches in Kimolos were Mavrospilia, Soufi, Bonatsa, Kalamitsi and Klima. In addition, we loved our time on Polyaigos, and would totally recommend a boat trip.
Before you head out to the beach…
You should make a mental note that the northern-facing beaches in the Cyclades islands are not suitable to swim when the meltemi winds blow. Don't know what the meltemi winds are? Wait until you get to the islands!
On days with strong meltemi winds, head to the beaches in the south of Kimolos and you should be fine. You can also check with your hotel as to which beaches they recommend on windy days.
Ok, with that out of the way, let's dive in. Beginning from the port town, Psathi, and going clockwise around the island, here's a list of the beaches in Kimolos.
1. Psathi Beach
This small sandy beach, right by the port, has a few loungers and umbrellas. You can spend a few hours here, checking out the small ferries connecting Kimolos with Milos.
While many people visit Kimolos on a day trip from Milos, there is nothing stopping you doing the opposite. With that said, you'd definitely struggle to choose what to do in Milos in only one day!
As Psathi is the port town, you will find a few rooms to let, as well as cafes, restaurants and travel agencies.
2. Ennias Beach
If you are driving from Chorio or Psathi towards the south of Kimolos, you will see a sign pointing to Ennia / Ennias beach. This tranquil bay is full of large pebbles that would make it uncomfortable to lie down, unless you bring your own lounger.
3. Aliki Beach
"Aliki" means "salt pan" in Greek, and there is a salt pan here indeed. The beach itself is quite long, with a combination of sand and pretty colourful pebbles along with a few cedar trees.
While the salt pan behind the beach is dry in summer, it is home to over 260 species of migratory birds during spring and autumn. It looked really cool after a long rainy day.
As we were staying right on Aliki beach, we explored the south coast several times. All in all, we thought that the next two beaches, Bonatsa and Kalamitsi, were nicer.
4. Bonatsa Beach
In Greek, "Bonatsa" is a word used to indicate calm waters. Indeed, Bonatsa is a large, protected sandy beach with shallow water, and therefore popular with families.
You will find some cedar trees for shade. We were also told that loungers are installed on some years, but there were none when we visited. There are also a few rooms to let and a couple of restaurants nearby.
5. Kalamitsi
Next to Bonatsa, you will find Kalamitsi. There are actually two beaches here, both with cedar trees. The first one, which is west-facing, is sandy and the next one is pebbly.
Kalamitsi is great for snorkelling and relaxing with a view of Milos. There is also a fantastic little taverna with delicious, home-made dishes with ingredients from their own backyard. Read more here: Best places to eat in Kimolos. The owners also rent out a few rooms.
6. Fykiada Bay
Best translated as "seaweed area", this bay is probably better suited for photos than for swimming. We were told that it's a good spot for spearfishing.
Over here, you will see some photogenic remains of the island's mining industry. The backdrop of rusted metal and a blue sky was very appealing.
7. Dekas Beach
This long, sandy, west-facing beach was super quiet when we visited. Apparently, it's a popular spot with free campers, naturists and couples. You can access it through an easy dirt road.
8. Ellinika Beach Kimolos
Ellinika (meaning "Greek") is the location where the town of ancient Kimolos existed. The small islet opposite the beach, Agios Andreas, was once connected to the mainland, until a strong earthquake destroyed the ancient city.
Many of the ancient artefacts discovered on the island were found in this exact area. Others still remain at the bottom of the sea, which makes the beach a popular place for snorkellers. Agios Andreas is swimming distance, when the winds allow. There is no Greek Island without some Ancient History!
We were looking forward to snorkelling at Ellinika beach and exploring the ancient ruins. However, a few locals warned us that it might be difficult to locate them.
As we were mostly unlucky with the winds when in Kimolos, swimming too far from the coast wasn't possible. So maybe we never found the right spot.
In all honesty, we aren't certain that the stones and ruins that we saw underwater were ancient indeed. You will hopefully be luckier – or you can use your imagination, like we did!
In addition to snorkellers, Ellinika gets popular with freecampers and naturists. We found that a little strange, as we didn't think the beach itself was too special. In addition, the seabed is very rocky, so going in the sea can be tricky. If you want a relaxed day, we suggest spending your time on the next beach, Mavrospilia.
9. Mavrospilia
This natural sandy beach was our favourite one in Kimolos. The setting is wild and rugged, with some pretty white rocks, called Asprogremna, jutting out of the sea.
On a calm day, strong swimmers will be able to snorkel around the cool rocks, swim to Ellinika beach, and maybe head out to Agios Andreas island.
Mavrospilia was also our favourite spot to see the sunset from. You can walk along the shore and climb on the rocks to appreciate the beautiful, wild views towards the barren Antimilos.
10. Agioklima and Fidaki
These remote beaches are accessible by a hiking trail (see chapter "Outdoor activities in Kimolos"). Head here if you are a fan of thermal springs. There are also plenty of trees for shade, so you can stay for several hours. Don't forget your snorkel!
11. Monastiria and Soufi Beaches
These two beaches are located to the north-east of Kimolos. You will have to take a long dirt road to get here. If you have a 4WD, you can probably drive all the way to Monastiria. In our case, we left the car up on the hill, and continued on foot.
Monastiria is a wild, beautiful beach, surrounded by impressive, wild rocks. It's best avoided on days with northern winds, as it's very exposed.
If you hike for about 20 minutes from Monastiria, you will get to Soufi (marked as Soufli or Souphi on Google Maps). This is a protected beach with many cedar trees, which seemed to be a popular spot for free camping.
Surprisingly, there is also a small house on the right hand side of the beach. There's also a well-weathered camp kitchen which looks like it hasn't been used in years!
12. Vromolimnos
The name of this beach isn't appealing at all – it means "dirty lake" in Greek. Regardless, we decided to come here and check it out. Our advice – don't bother, as this beach is indeed not very pretty at all!
If you follow the trail towards the west for a few minutes, you will see some beautiful white rocks jutting out of the sea.
13. Prassa Beach Kimolos (Agios Georgios)
Prassa, also known as Agios Georgios, is one of the most popular beaches in Kimolos. It is very picturesque, with coarse white sand and clear turquoise water. It's one of the few beaches on Kimolos with a beach bar, loungers and umbrellas.
On the south side, near a concrete pier, you can find some thermal waters. Not that you'll need them on a hot summer's day!
Despite its natural beauty, we didn't find Prassa beach very relaxing. There is a mining area nearby and large trucks go up and down the road, so there is lots of noise and dust.
Regardless, it's worth coming here for a couple of hours, and that amazing blue water is extremely photogenic. You can also swim to the nearby islet, Prassonisi – just be aware of any boats going around. And if you are lucky, who knows – you might come across a Monachus Monachus seal.
14. Klima beach
Klima beach is under a half hour walk from Chorio, right after the only gas station on the island. There's a good mix of sand, pebbles and several cedar trees, providing much needed shade.
15. Goupa Karra – Rema Fishing Villages
These two fishing villages are popular to visit, mostly because of the quaint fishermen's houses. Rema has a rather non-descript pebbly beach. In addition, there are many flat rocks all around, from where you can jump in the crystal-clear blue sea.
When it's not windy, the water here is amazing. The nearby rock formations, known as Revmatonisia or Rematonisa, are ideal for snorkelling. When in Goupa, keep a look out for the Elephant Rock!
FAQ About Kimolos Travel
Readers who visit this travel blog looking for information on the most popular beaches in Kimolos often have other questions about traveling to this island in the Western Cyclades:
How do you get to Kimolos from Athens?
You can either choose to fly from Athens to Milos and then take the frequent local ferry which travels between the two islands, or you can take a direct ferry boat from one of the Athens ports to Kimolos.
Do you need a car in Kimolos?
As with other Greek islands, there is a public transport system you can use to get around, and which you can use to travel to the more popular beaches. Hiring a car does give you more freedom though, and although Kimolos is a relatively small island, you'll be able to see a lot more of it.
How big is Kimolos?
Located in the Aegean Sea, Kimolos is 37.43 km² in size.
Does Kimolos have an airport?
There is no airport on the island of Kimolos. Other islands with an airport nearby include Milos, Paros and Santorini.
How do you get to Kimolos in Greece?
You can only reach Kimolos by ferry. There are frequent connections with the neighboring island of Milos, other nearby islands in the Cyclades, and Athens.
Planning a trip to Kimolos island in Greece? In addition to this look at the best Kimolos island beaches, you might find the following travel guides useful:
---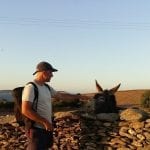 –
Dave Briggs
Dave is a
travel writer
currently based in Greece As well as writing this travel guide to the best Kimolos beaches, he's written hundreds of other insightful travel guides to Greek islands and destinations. Follow Dave on social media for travel inspiration from Greece and beyond: