In order to travel from Milos to Antiparos, you first need to take a ferry to Paros. This Greek island hopping guide shows which ferries to take.
Antiparos island in Greece
Antiparos has always had a somewhat alternative vibe, but has in recent years started to see a little more development. This is in part due to neighbouring Paros gaining a much higher profile, which resulted in some people relocating to the island next door.
Offering a laid-back pace of life combined with good nightlife, you'll be experiencing a unique side of Greece in the company of backpackers, naturists, rockers, and even Hollywood stars (Tom Hanks has a villa on the island).
If you're planning to visit Antiparos directly after Milos, you'll need to do a little Greek island hopping first though!
Travel from Milos to Antiparos
Even during the peak months of summer, there are no direct ferries from Milos to Antiparos. In order to travel to Antiparos from Milos you would need to go via Paros first.
There's normally at least one daily ferry from Milos to Paros running, and on 3 days a week you may find two ferries running. The travel time from Milos to Paros is around 1 hour and 45 minutes, and you can pre-book ferry tickets at Ferryhopper.
The nest stage of the journey from Paros to Antiparos takes barely half an hour. The only slight confusion is that there are two possible ports you can leave from in Paros. I suggest you read my guide on the Paros to Antiparos ferry service for more details.
Note that tickets for the Paros Antiparos crossing can not be reserved in advance online at the moment.
Antiparos Island Travel Tips
A few travel tips for visiting the Cyclades island of Antiparos:
---
---
---
---
How to get from Milos to Antiparos FAQ
Some commonly asked questions about traveling to Antiparos from Milos include:
How do you get to Antiparos from Milos?
To travel from Milos to Antiparos you would need to go via Paros first, as there are no direct ferries sailing to the island of Antiparos from Milos.
Is there an airport in Antiparos?
Antiparos has no airport, with the closest one being on Paros. Although both Milos and Paros have airports, you can not fly between the two islands.
How many hours is the ferry from Milos to Antiparos?
With no direct ferries going to the Greek island of Antiparos from Milos, it is hard to calculate the exact travel time. If connections line up perfectly, it could be 6 hours or less. In the worst case, you may need to stay over night on Paros.
How do I buy ferry tickets to Antiparos?
You can buy ferry tickets for the Milos Paros leg of the journey by using Ferryhopper. For the Paros to Antiparos part of the journey, you will need to buy the tickets at the port you leave from.
---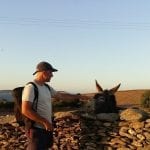 –
Dave Briggs
Dave is a
travel writer
who has been living in Greece and writing about the country since 2015. As well as writing this guide about traveling from Milos to Antiparos, he's written hundreds more guides to other destinations in Greece. Follow Dave on social media for travel inspiration from Greece and beyond: