There are several Paros to Antiparos ferry connections per day. Depending on which ferry you take, the Paros Antiparos trip takes 15-30 minutes.
Visiting Antiparos from Paros
Antiparos is a small Greek island close to the better known Paros. Once a favourite destination of alternative travelers, it became famous in the 2000s, when Tom Hanks and Madonna started visiting.
Antiparos is a popular day trip from Paros, but it can keep you occupied for days. This is why it has devoted return travellers who enjoy the combination of laid-back life and abundant nightlife.
At the same time, the island has largely kept it alternative vibe, and is popular with campers, naturists and rockers of all ages.
There are several foot passenger ferries per day from Paros to Antiparos leaving from the main port in Parikia during the summer months. In addition, local ferries with vehicle capacity depart from Pounda port a few times per day.
How to get from Paros to Antiparos
The only way to travel from Paros to Antiparos in Greece is by sea. In fact, unless you have your own sailing boat or yacht, you will need first need to get to Paros in order to get to Antiparos.
Ferries to Antiparos depart from two ports in Paros. These are Parikia and Pounda.
Ferries to Antiparos from Paros
Small foot passenger boats departing from Parikia port, the main port in Paros. On most years, these boats run from Easter to October and the ferry ride takes around half hour to get to Antiparos. There are several boats a day, and as exact itineraries may change now and then, it's best to ask around for the latest information. Tickets cost around 5 euro.
---
Bigger passenger / vehicle ferries departing from Pounda (or Punda / Pounta) port, on the west coast of Paros. These ferries depart several times a day, year-round, and they take under 10 minutes. Passenger tickets for these ferries cost a little over 1 euro. You'll pay more to take your vehicle on this car ferry.
---
Up-to-date information and tickets for these ferries can be found at the port or local travel agents. Note that you cannot buy your tickets in advance for either of these boats. In 2020, credit cards were not accepted, so make sure you have some cash with you.
---
In general, you can easily get a last-minute ticket on your boat of choice. That said, if you are taking the foot passenger boat from the main port town Parikia during peak season, it's best to get to the port 20-30 minutes before departure.
In terms of ferries to Paros, the best website to check routes and book your tickets is Ferryhopper. Paros ferry timetables are normally updated a couple of months in advance.
Popular routes to Paros include:
Tips for which Antiparos ferry to choose
The Paros Antiparos services from Parikia are ideal for foot passengers, and people staying in the town.
If you are arriving to Parikia on a late evening ferry, you won't be able to get a connection to Antiparos. In this case, you should get to Pounda to catch the larger ferry, which runs late in the evening. Unless you are planning to take a taxi to Pounda, my suggestion is to head directly to the bus stop, as the buses generally get full very quickly.
If you are arriving to Paros by flight and want to get to Antiparos, it makes more sense to take the ferry from Pounda, which is closer to the airport than Parikia.
There are frequent buses to Pounda from many areas of Paros. You can see the bus itineraries here.
Antiparos Island Travel Tips
The Greek island of Antiparos may be much smaller than Paros, but there is a lot to do, so it definitely deserves a few days. Here are a few travel tips for visiting Antiparos island.
Most of the accommodation in Antiparos is close to the port town. This is the best area to stay if you want a bit of life, especially if you are not planning to rent a car. If you are visiting Antiparos during the summer months, it's best to book your hotel in advance. For hotels in Antiparos, I recommend using Booking.
Strictly speaking, you won't need a car in Antiparos, as most of the highlights are walking distance from the port. There is also a bus in summer, which takes you to the main places of interest. However, you could always rent a car for a day and explore the whole island.
With this in mind, there is no right or wrong answer to the question "how long to stay in Antiparos". Though you can easily see the highlights in a few hours, you will get a better understanding of this island if you stay longer.
What to see and do in Antiparos Greece
For decades, Antiparos has been popular with certain types of travellers. The island's campsite was famous all around Greece for its relaxed, alternative vibe. At the same time, its nightlife, though not as wild as on other islands, was quite unique, with an abundance of rock clubs. Inexpensive tavernas, wild sandy beaches, beautiful sunsets and one of the biggest caves in the Cyclades completed the picture.
These days, Antiparos is all of the above and a lot more. The best things to do in Antiparos include the following:
Explore the amazing Antiparos cave, which is home to the oldest stalagmite in Europe. The ticket includes admission to the Historical and Folklore Museum.
Stroll around the small port town and visit the Antiparos castle
Visit Agios Georgios, a quaint settlement to the southwest of the island
Relax on the sandy beaches
Explore the numerous tavernas and bars
Enjoy the amazing sunset at Sifneiko Beach
Pass by disco La Luna, a trademark of the island, during the small hours
Take a boat tour to Despotiko island
FAQ About Traveling To Antiparos
Here are some questions often asked by people planning to travel between Paros and Antiparos:
How do you get to Antiparos from Paros?
The only way to travel from Paros to Antiparos is by sea. There are frequent local ferries and passenger boats that service the Paros Antiparos route.
Is there an airport on Antiparos?
While Paros has an international airport, the island of Antiparos can only be accessed by sea.
Where does the Antiparos ferry leave from in Paros?
The foot passenger boats from Paros to Antiparos leave from the main Parikia port. If you have a vehicle, you will need to take a ferry from the smaller Pounda port.
How long does the Paros to Antiparos ferry take?
Depending on the ferry you take, the Paros Antiparos crossing will take between 15 and 30 minutes.
How do you fly to Antiparos?
The small island of Antiparos does not have an airport, so you can not fly there. The nearest airport is located on Paros, which has flight connections with Athens.
Travel Guides To Greece
You might also be interested in these other posts and travel guides:
---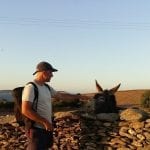 – Dave Briggs
Dave is a travel writer who's been living in Greece since 2015. He's used that time wisely (or so he thinks) by traveling to dozens of Greek islands and writing guides about them such as this one on how to travel from Paros to Antiparos by ferry.
Follow Dave on social media for travel inspiration from Greece and beyond: