There are no direct ferries from Milos to Thirasia island in Greece. In order to travel between the two, you would have to swap ferries in Santorini.
How to get from Milos to Thirasia
The Greek island of Thirasia is the much lesser known neighbouring island of the far more famous Santorini. Thirasia is a delightful place to visit, far different in nature than Santorini.
If you want to travel to Thirasia as your next island after Milos, you should be aware that there are no direct ferries. What you will need to do, is first take a Milos to Santorini ferry, and then take a ferry from Santorini to Thirasia.
Note that although both Milos and Santorini have airports, you can not fly between the two islands.
Milos to Santorini: There is normally at least one ferry per day sailing to Santorini from Milos. The travel time is approximately 2 hours and 15 minutes.
Santorini to Thirasia: The ferries leaving Santorini for Thirasia depart from a different port. So, on arrival in Santorini, you would need to get to Ammoudi port which is near Oia. From here, there are several foot passenger ferries per day sailing for Thirasia. Check out my previously linked dedicated guide for more details.
Thirasia Island Travel Tips
A few travel tips for visiting Thirasia island:
---
---
---
---
Ferries from Milos to Thirasia FAQ
Some commonly asked questions about traveling to Thirasia from Milos include:
How do you get to Thirasia from Milos?
The best way to make a journey from Milos to Thirasia is by ferry, but you would need to go via Santorini first. There are no direct ferries sailing to the island of Thirasia from Milos.
Is there an airport in Thirasia?
Thirasia island does not have an airport, and so flying between Milos and Thirasia is not an option. The closest airport to Thirasia is on Santorini.
How many hours is the ferry from Milos to Thirasia?
With no direct ferries going to Thirasia from Milos, it is hard to calculate the exact travel time. If connections line up perfectly, it could be 6 hours or less. In the worst case, you may need to stay over night on Santorini.
How do I buy ferry tickets from Milos to Thirasia?
The best place to look at Greek ferries online is Ferryhopper. You will only be able to book your Milos to Santorini part of the journey in advance. |For the Santorini to Thirasia part, you will need to buy a ferry ticket at the port in Ammoudi.
Greek Islands you can reach from Milos
Are you considering other Greek island destinations to visit directly after Milos? Here are a few other travel guides on how to get to islands close by:
---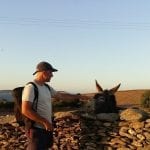 –
Dave Briggs
Dave is a
travel writer
who has been based in Greece since 2015. As well as creating this guide to ferries from Milos to Thirasia, he's written hundreds more guides to other destinations in Greece. Follow Dave on social media for travel inspiration from Greece and beyond: