During the summer there is one daily ferry from Milos to Paros which takes 1 hour 40 minutes to make the journey. This is supplemented by a less frequent and slower boat which sails 2 or 3 times per week. Here's how to plan your Milos to Paros ferry trip.
How to get from Milos to Paros
The Milos Paros ferry route connects two of the more popular islands in the Cyclades of Greece. During the peak travel season, there is at least 1 direct ferry per day, and a couple of times a week, a second slower boat also runs.
These ferries to Paros from Milos are operated by SeaJets and Blue Star Ferries.
You can check timetables for the Milos ferry to Paros at Ferryhopper.
SeaJets is by far the fastest choice, runs every day, but is also more expensive. The journey takes just 1 hour and 40 minutes though, which means you will save precious travel time.
The more budget conscious traveler might prefer to take the slower Blue Star Ferries crossing which runs two or three times a week depending on demand. It's much slower though, at a whopping 7 and a half hours to make the Milos to Paros crossing.
A note about flying: Even though both Milos and Paros have airports, flights between the Cyclades islands of Milos and Paros are not possible. Those airports only connect with Athens. I've a guide here which explains more: Greek islands with airports.
Ferries from Milos to Paros
The ferries sailing to Paros (and most other islands) leave from Adamas port in Milos. It is worth checking though, as there is a smaller port in Pollonia, and you don't want to turn up at the wrong one by mistake!
High speed ferries mean that the quickest crossing from Milos going to Paros takes around 1 hour and 40 minutes. The slow ferry sailing to Paros from Milos island takes around 7 and a half hours.
As a rule, the faster boats are generally more expensive when it comes to ferry ticket prices. Try using Ferryhopper in order to book ferry tickets online and to check for up to date pricing and travel times.
Milos Ferry Paros
If you are considering other travel destinations after Milos such as Naxos or Santorini, take a look here: Ferries from Milos to other Cyclades islands in Greece.
Paros Island Travel Tips
A few travel tips for visiting Paros island:
Check out my guide on where to stay in Paros when choosing accommodation options on the island. Parikia and Naoussa tend to be popular locations. These are the easiest areas where you can walk to a lot of places, find plenty of tavernas to eat out, enjoy a little nightlife, and have good beach access. If you are traveling to Paros in the high season, I advise reserving accommodation in Paros a month or so in advance.
---
Ferryhopper is perhaps the easiest site to use when it comes to checking ferry routes and booking tickets online. Although I recommend you book your Milos to Paros ferry tickets in advance, especially during the busiest time of summer, you can also use local travel agencies once you are in Greece.
---
If visiting the Greek islands in August, be aware that ferries can on occasion sell out, especially on the smaller boats such as the Sea Jets mentioned in this post. This means you might only be able to travel on the slower conventional ferries.
---
---
---
What to see in Paros Greece
Paros is a popular destination in the Cyclades group of islands.
The best things to do in Paros include spending some quality time on the stunning Paros beaches and swimming in the beautiful sea's crystal clear waters.
Try to make time to see some of the natural aspects of the island by following a hiking path, checking out the strange rock formations of Kolymbithres Beach, and visiting caves.
Nights can be spent in a taverna or bar, and of course you must see the sunset with a cocktail in hand from a Parikia seafront taverna. Take a look here for more things to do in Parikia.
How to get from Milos to Paros FAQ
A few of the questions readers ask about traveling to Paros from Milos include:
How do we get to Paros from Milos?
The way to go to from Milos to Paros is by ferry. There are up to 1 and sometimes 2 ferries per day sailing to the Greek island of Paros from Milos during the summer tourism months.
Is there an airport on Paros?
Although Paros has an airport, flying from between Milos and Paros is not something you can do. If you want to fly from Milos to the Cyclades island of Paros you'd need to go via Athens if there are any flights that look suitable.
How long is the ferry crossing from Milos to Paros?
The ferries to the island of Paros from Milos take between 1 hour and 40 minutes and 7 and a half hours. Ferry operators on the Milos Paros route may include SeaJets and Blue Star Ferries.
Where can I buy tickets for the ferry to Paros?
I find that the Ferryhopper website is the best place to book Milos Paros ferry tickets online. Although I recommend you book your Milos to Paros ferry tickets in advance, you could also use a local travel agency once you have arrived in Greece.
---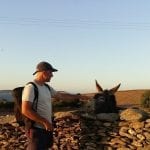 –
Dave Briggs
Dave is a
travel writer
from the UK who lives in and writes about Greece As well as creating this travel guide to ferries from Milos to Paros, he's written hundreds more guides to other destinations in Greece. Follow Dave on social media for travel inspiration from Greece and beyond: